The 2015 NamesCon conference continued full steam ahead with a busy 2nd day Monday (Jan. 12) at the Tropicana Hotel in Las Vegas. After a jam-packed business day and a wow-inducing Women in Domaining event, the show's crown jewel - the annual Water Night fundraising gala - was held with over $138,000 raised for the Water School! Here's a visual trip through an unforgettable day and night in the desert.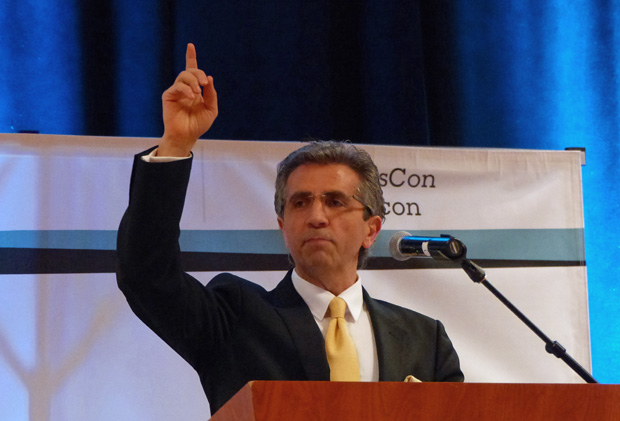 After a videotaped welcome from Nevada Governor Brian Sandoval, Monday got off to a quick start with wide ranging talks from Khaled Fattal of the MLi Group (above), the Domain Name Association's Executive Director Kurt Pritz (below) and Fiona Alexander of the U.S. Department of Commerce's NTIA. Later in the morning Mr. Fattal was again featured in a very productive session titled Turning Billions of Users Into Customers in the New Multilingual Internet & Landscape EcoSystem.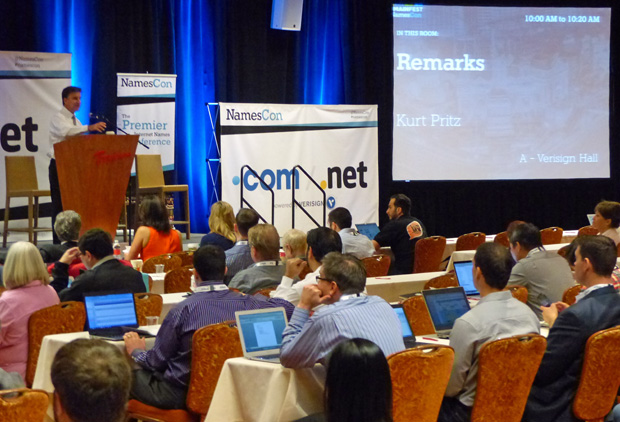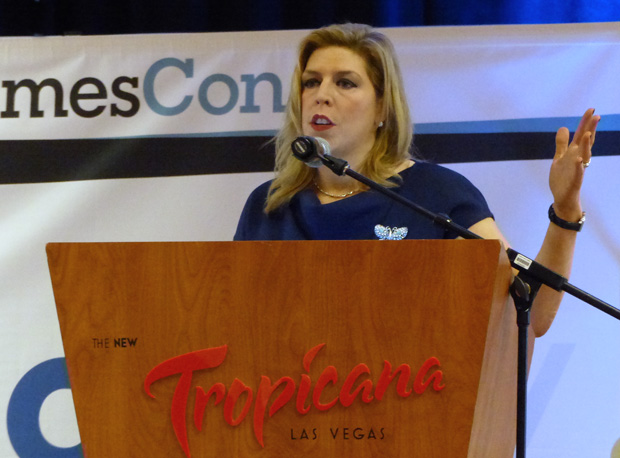 Above: Jennifer Wolfe (Wolfe Domain Digital Strategy) followed with comments on the early results from ICANN's massive new gTLD initiative and the challenges that remain ahead to increase recognition and corporate interest in the new extensions.
Below: ICANN Global Domain Division President Akram Atallah (right) offered more insight into the new gTLD program and other ICANN related matters during an engrossing interview conducted by DomainNameWire.com's Andrew Allemann.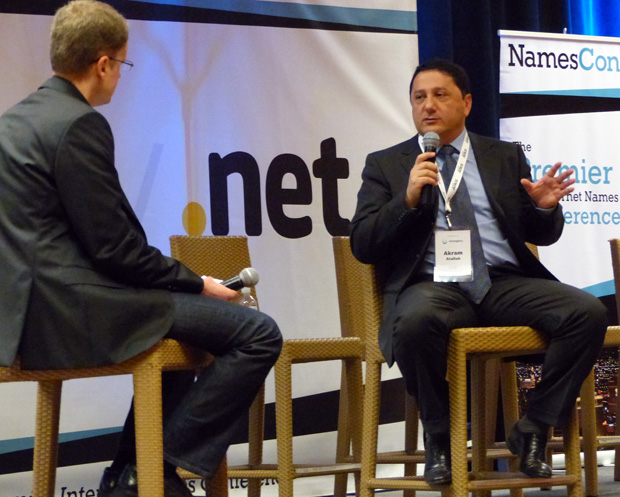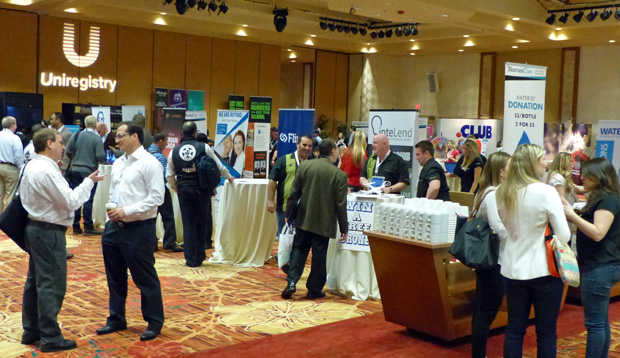 Above: The biggest and busiest conference Exhibit Hall we have seen in years drew a steady flow of traffic throughout the day, offering a great chance to meet vendors face to face, enjoy a cup of coffee and relax or hold impromptu chats in a spacious lounge area that provided lots of comfortable seating.
Below: Back in the conference rooms, four simultaneous sessions got underway including this one called Dot-Execute: Consumer Facing Marketing Efforts that are Working in TLD Launches. It featured (left to right): Moderator Braden Pollock, Theresa Geraghty (GoDaddy), Jeff Neuman (Neustar) and Jeff Sass (.CLUB). Meanwhile seminars in adjacent rooms covered A Day in the Life of a Corporate Brand Manager, Doing Domain Business in China and The Domain Development Life Cycle.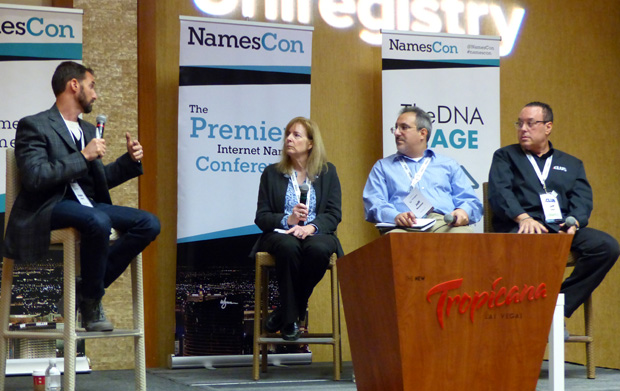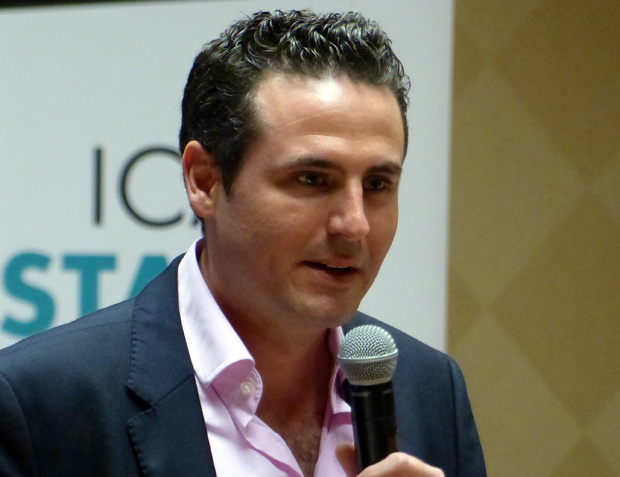 Above: After a lunch break attendees got a chance to get advice on selling domains from one of the world's top domain brokers - Jeff Gabriel of DomainNameSales.com. For many what they learned from Jeff alone will more than pay for what it cost them to come to Las Vegas. As part of NamesCon's multi-track agenda, other sessions running at the same time covered Domain Trademark Issues, The Power of the Right Domain or TLD, Building a Domain Into a Business in Under 60 Minutes with Joomla and another installment of TLD Registry's week-long Chinese Domaining Masterclass series.
Below: The next round of sessions featured a live edition of Domain Sherpa, hosted by Michael Cyger (left). His panelists (left to right) - Adam Dicker, Andrew Rosener (MediaOptions.com) and Page Howe (iLove.LA) all had a great time as did the standing room only audience.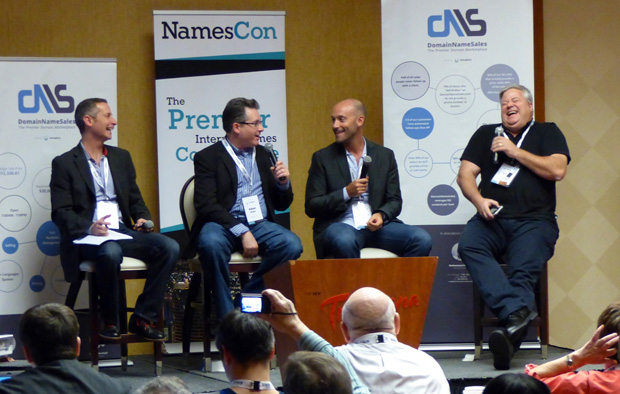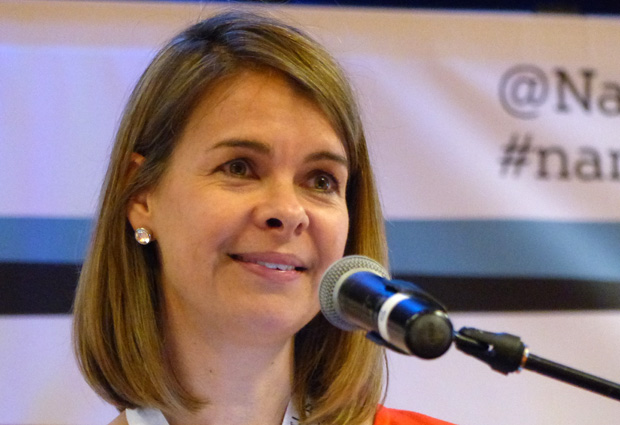 The mid-afternoon sessions also included Meet the TLDs (Session 1) that featured Kathy Nielsen of .GREEN (above) along with Angus Richardson (.KIWI), Stephane Van Gelder (OP3FT) and Jean-Christophe Vignes (NCC Group). Other sessions covered DNSSEC and Making the Most of Your .BRAND and the Evolving Internet.
Below: J. Scott Evans (Associate General Counsel at Adobe Systems and President Elect of INTA) closed the business day with back to back sessions - a wide ranging keynote talk followed by the potential that lies ahead in serving the Next Billion Internet Customers.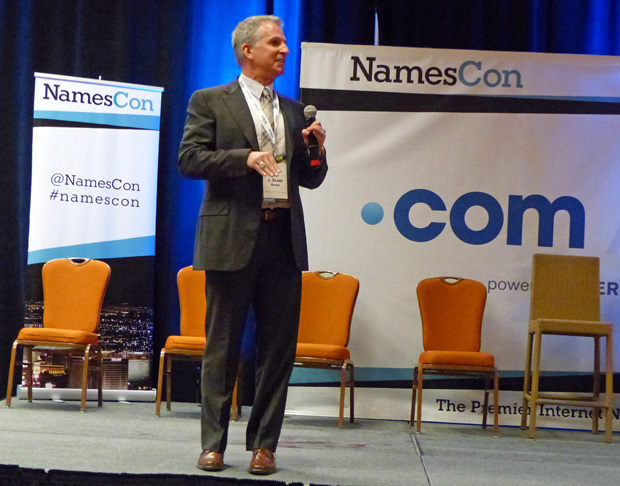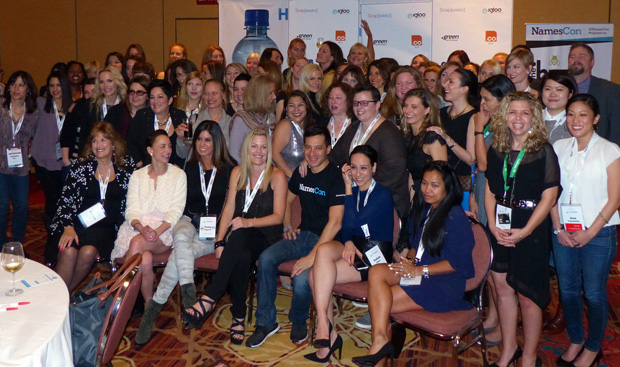 Above: While the business day was over the fun was just beginning with two big evening social events. It started with a joyous gathering of the many outstanding Women in Domaining from 7-9pm. In addition to enjoying each other's company the women chipped in thousands of dollars that they took down to the Havana Room where the big Water Night fundraising party got underway at 9pm. Their donations and those from fellow attendees that were matched by both NamesCon and NameCheap.com wound up raising $138,000 for the Water School!
Below: NamesCon's Water Night fundraising party gets underway with hundreds of attendees enjoying an event that ran past 1am Tuesday morning.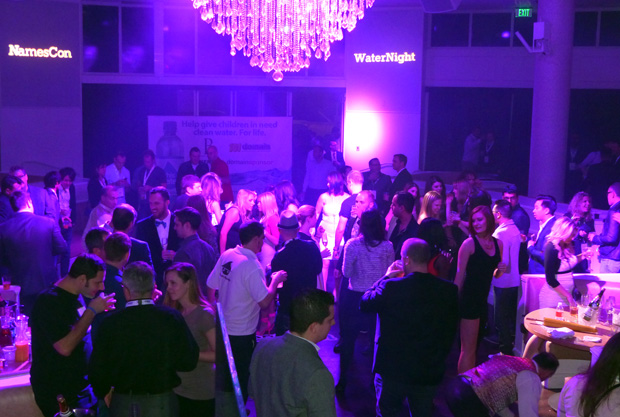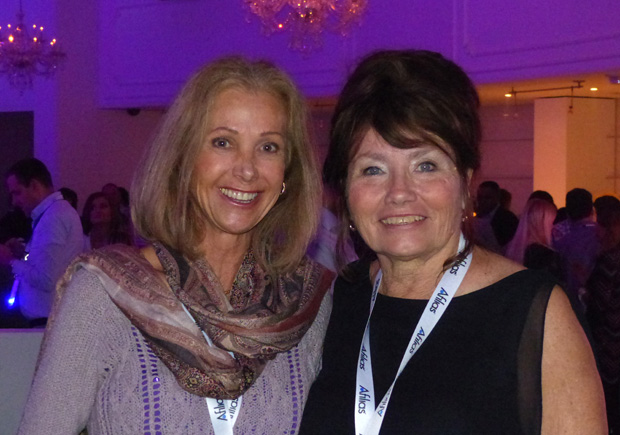 Above: Among the many beautiful faces in the crowd were Nancy Bianchi (Above.com) and Diana Jackson (DNJournal.com) and below (left to right): Ammar Kubba (Thought Convergence), master photo bomber Adam Strong, Norway's Truc Tran and Paul Goldstone (.CO.COM).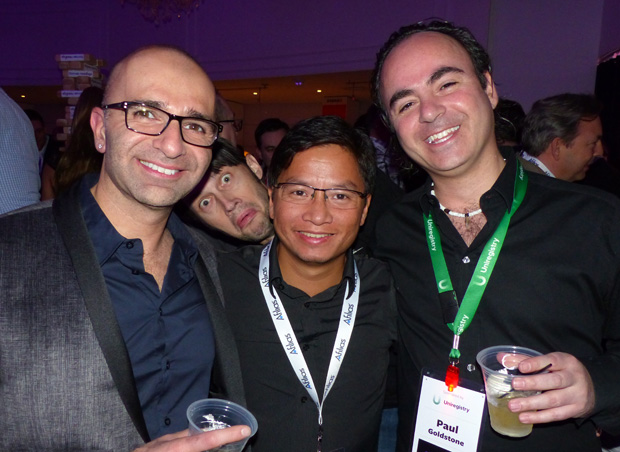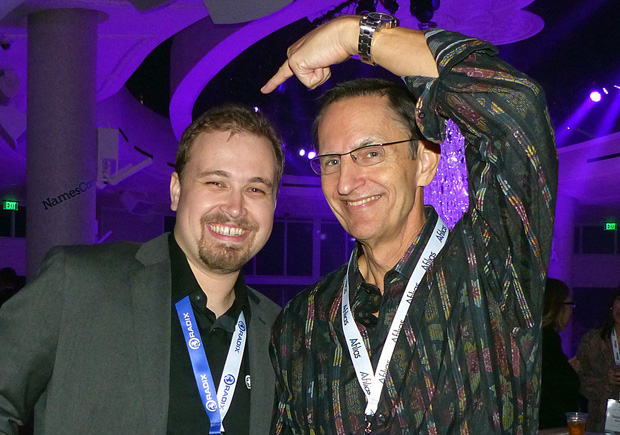 Above: A huge chunk of the $138,000 donated to the Water School was generated by pledges made to three brave and generous souls who agreed to have their heads shaved in exchange for donations to the life saving charity. In this shot I was enjoying a final look at the soon to fall locks of Radix Registry's Kevin Kopas.
Below: Kevin Kopas getting the coup de grace from veteran Water Night barber Gregg McNair.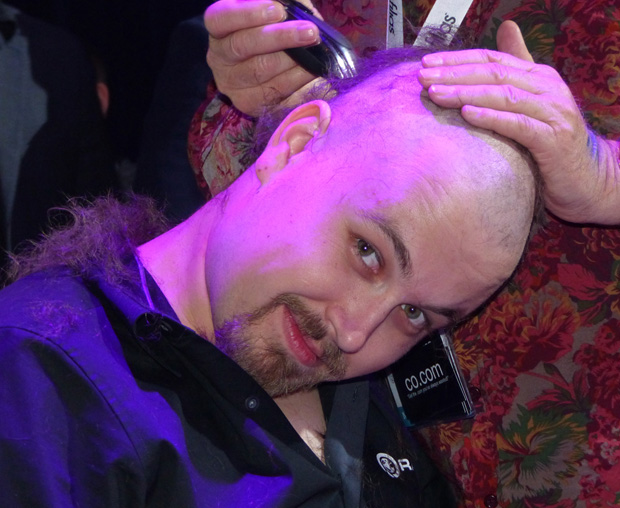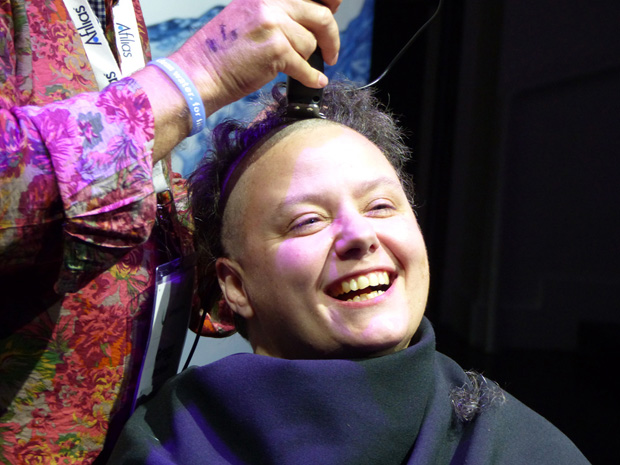 Above: Next on the hot seat was DNC Holdings President Kellie Peterson (who was soon followed by her DNC teammate Mike Robertson). Kellie and Mike were featured in our December Cover Story.
Below: When the deeds were all done, our heroes and they stylist (Mr. McNair) showed off their new hairdos (or is that hair don'ts). Whatever the case may be - they are more beautiful than ever in our eyes. Left to right: Gregg, Kellie, Mike and Kevin.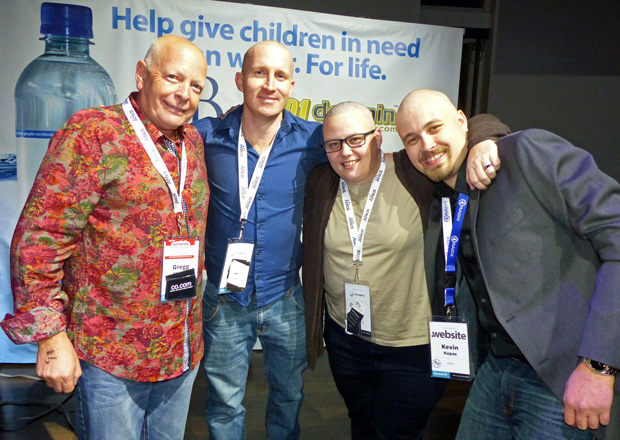 So another day and night (and part of another day) were in the books. In my next post from Las Vegas I will have photos and highlight from Day 3 Tuesday, including the big Tuesday evening live domain auction run by RightOfTheDot.com that drew a huge crowd and generated nearly $1 million!