whose mission is to spur growth in the Indian domain market by making the public and potential investors aware of the value of high quality domains and how they can benefit any enterprise.
Organizers expected the giveaway - which drew 1,000 online registrations - would result in hundreds of no shows (and it did) - but they didn't want cost to prevent people from hearing the message they are trying to spread. Those who didn't take advantage of the free offer don't know they missed a day that others pay

hundreds of dollars to be part of in other parts of the world. Despite the no cost policy there was no drop off in quality - in fact it was an extremely professional production that ranks with the best of any we have seen in covering dozens of industry conferences around the world over the past 11 years. I think that will be obvious to you as you scroll through the photos and highlights from day two in this article.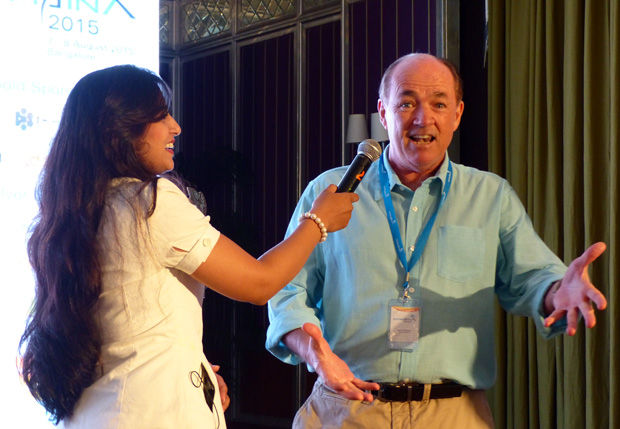 Above: After some of the first guests were in their seats DomainX hostess Sneha Bhati (left) kept them thoroughly entertained and engaged while they waited for the rest of the audience to get their nametags and make their way into the Taj West End Ballroom for the official start of the program. She did it by interviewing some of this year's international guests including Australia's Ned O'Meara from Domainer.com.au.
As soon as the sign in process concluded the day's busy agenda began with a traditional Indian Lamp Lighting & Inauguration ceremony. Again DomainX honored their international guests who traveled long distances to attend the show by making them part of the lamp lighting ceremony.

Ron Jackson (USA), Ned O'Meara (Australia), Zak Muscovitch (Canada) - seen with his candle in the photo at right - and Martijn Schneider (Netherlands) each lit a lamp channel before Indian domain pioneer Deepak Daftari concluded the process by lighting the last channel.
The first session then began with the first keynote address from Mr. Daftari - a frequent visitor to U.S. shows who is regarded by many of his countrymen as the "Father of Indian Domain Investors."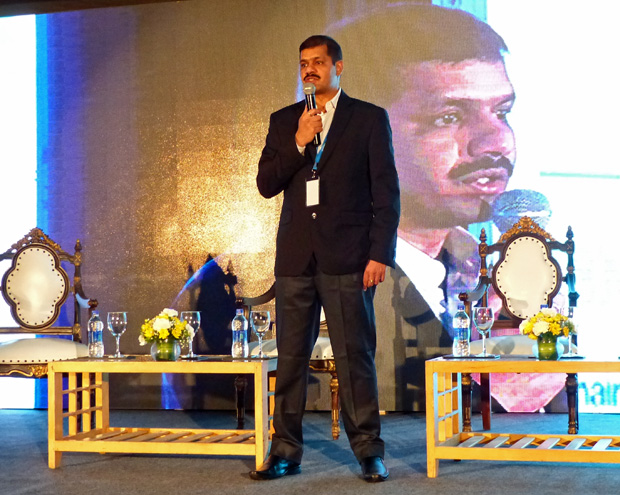 Deepak Daftari (eSiksha.com) delivering his keynote address
Saturday morning (August ) at the 2015 DomainX conference in Bangalore, India.
One the highlights of our trip to India was a chance to spend more time with Deepak and get to know him better. He is a humble man who goes about his business quietly, so few people know he ranks among the world's most successful domain investors and is also the owner of several profitable businesses and an investor in many others. He has also become part of DomainX's educational mission by serving as the conference's Brand Ambassador.

It was a pleasure to listen to the great advice in his keynote this morning and an honor to follow him in delivering the day's 2nd keynote. I have always been fascinated about the paths that led people into the relatively small and largely unknown business of domain investing. So, I shared my own journey with the audience - one that started as a radio/TV broadcaster, followed by a 12-year stretch in which I owned a string of record/CD stores. Then, when the Internet wiped out that

DNJournal's Ron Jackson addresses the DomainX audience
in the 2nd of Saturday's back to back keynote speeches.


business, had the good fortune to stumble upon domains and discover what made this industry more rewarding than any I've ever been involved with, especially on a personal level that has produced several lifelong friendships forged with kindred spirits in our always fascinating field.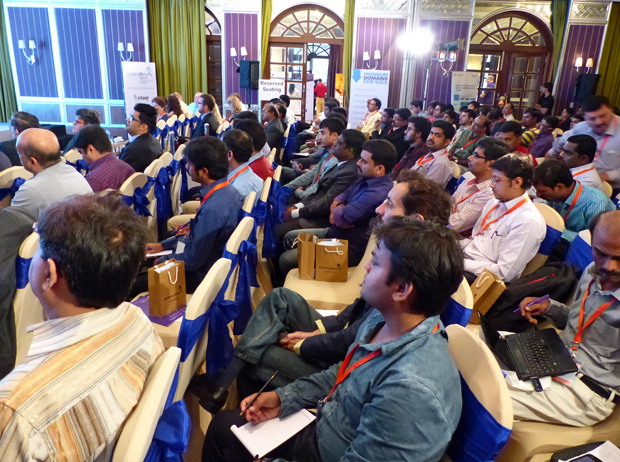 Above: A cross section of the audience at the final day of DomainX Saturday in India.
After the keynotes Deepak and I were asked to join international guests Ned O'Meara, Zak Muscovitch and Martijn Schneider, as well as DomainX Founder and CEO Manmeet Pal Singh at a press conference for local media interested in what was so important about domain names that prompted people from around the world to fly all the way to Bangalore for this gathering. When we reached the press conference room I was stunned to see TV crews and row after row of print and online reporters. It was a real home run in DomainX's quest to spread the domain gospel through India, one city at a time.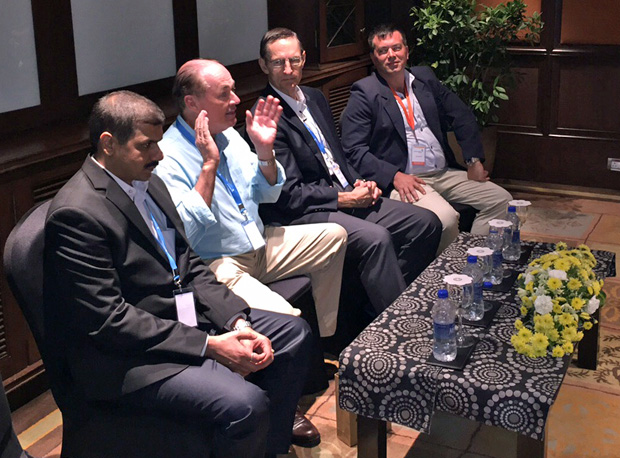 Above: (left to right) Deepak Daftari, Ned O'Meara, Ron Jackson and attorney Zak Muscovitch fielding questions from mainstream reporters in Bangalore, India. Another panelist, Martijn Schneider (HousingAgent.com), left his seat to take this photo and DomainX Founder Manmeet Pal Singh is also off camera answering questions. Press reports from this session are already starting to be filed as I write this.
Below: DNJournal's Ron Jackson fields questions about the domain business and what brought him to India from a KNN TV reporter (this photo also taken by Martijn Schneider).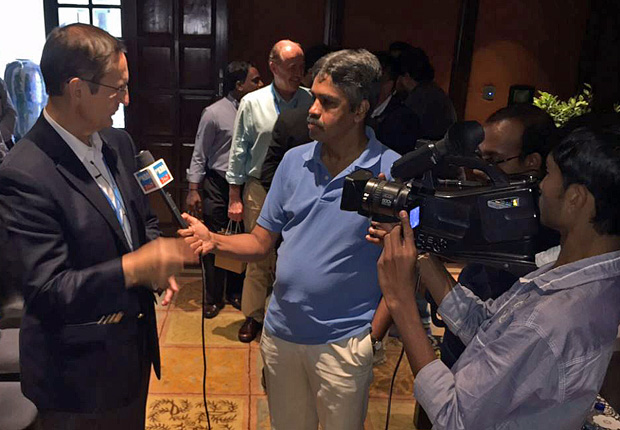 Below: At the same time the press conference was going on, .Desi Registry Principal Siddharth Ohri was on stage in the Taj West End Ballroom offering a presentation on the new gTLD that is probably closer to being a "Super ccTLD" in that it represents the culture, people and products originating from the Indian sub-continent (India, Pakistan, Bangladesh, Nepal, Sri Lanka).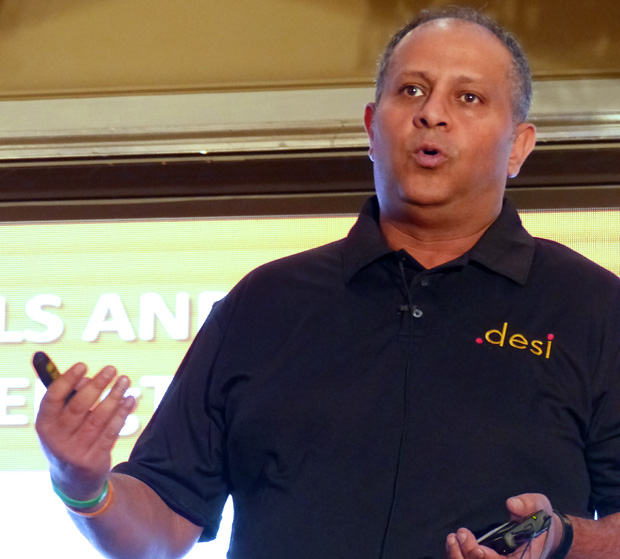 Below: Next up with a 90-minute outdoor lunch break on the fabulous Prince of Wales lawn at the Taj West End Hotel were guests were treated to a wide variety of Indian entrees and desserts. It was a beautiful day with great company and a terrific idea by DomainX to dine outdoors.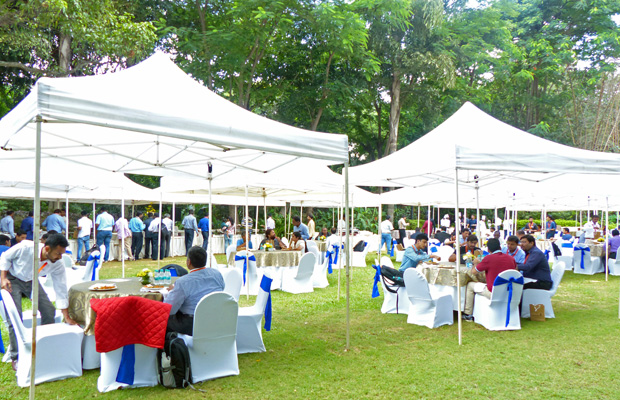 Below: The afternoon sessions resumed with a Legal Panel covering UDRP, URS and INDRP issues. Panelists included (left to right) Moderator Ankur Raheja, Na. Vijayshankar (CEO, CberLawCollege.com), Rodney D. Ryder (Partner, Scriboard.com) and Zak Muscovitch (Founder, DNAttorney.com).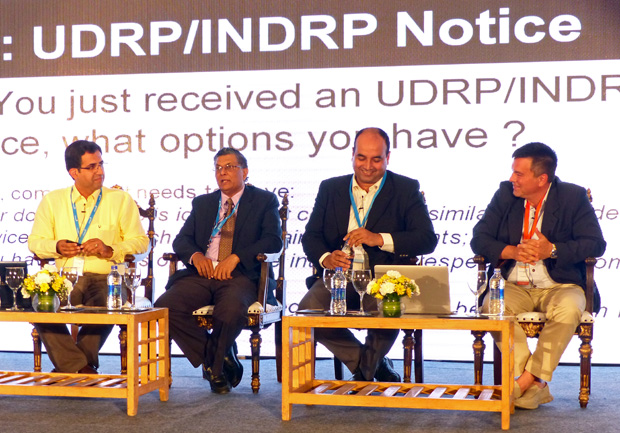 Next up, Sushanto Mitra, Founder & CEO of Lead Angels, seen in the photo below, discussed how Indian venture capitalists view the domain space in a talk hosted by Dr. Shurjo Ghosh.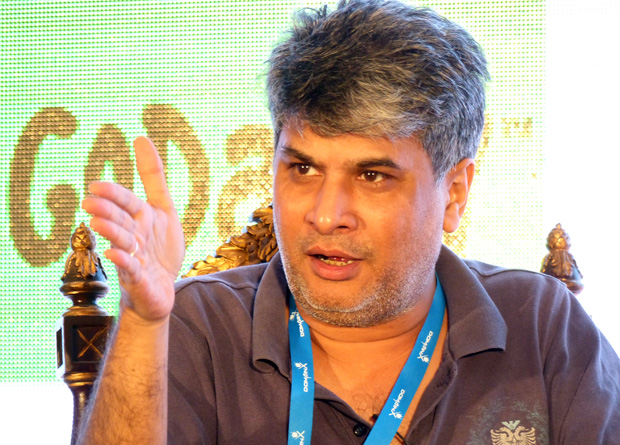 A presentation on IBM's Cloud Business, handled by IBM Cloud Business Development Leader Samarth Kholkar, filled the next spot in the agenda, followed by another presentation, this one from Joeri Bortslap (MD at Resello.com) who is seen during his talk in the photo below.
Below: Resello also had a spot in the sponsor exhibit hall adjacent to the main ballroom, an area that doubled as a coffee and cookie break lounge. That's where you see my wife Diana with our new friends Pradeep Kumar (left) and Ashvin Patel (right).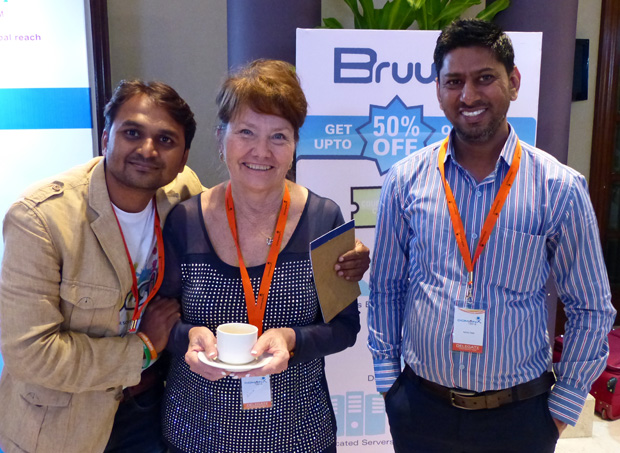 Below: Also in the exhibition hall, Sanjeev Sharma from SS Consultancy Services, was on hand to welcome vsitors to his OpenSRS/Tucows booth.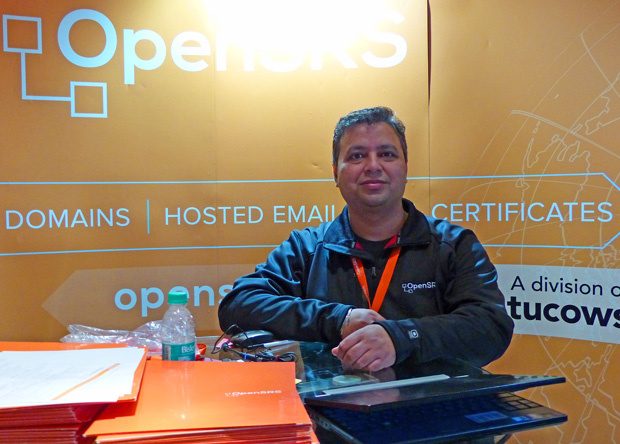 In the final business session of DomainX 2015, Deepak Daftari (center in the photo below) returned to host a Fireside Chat with Ned O'Meara (Domainer.com.au) at left and Martijn Schneider (HousingAgent.com) at right.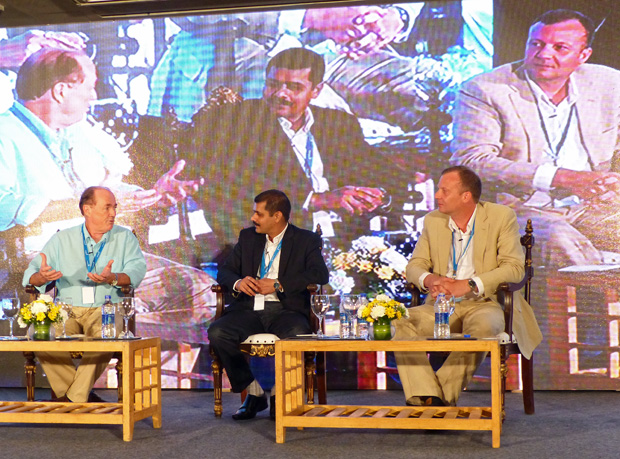 Below: While business was now done - the day was not over. It was time for a celebration as DomainX handed out their 2015 Awards. The first for Domain Magazine of the Year went to Ron Jackson for DNJournal.com.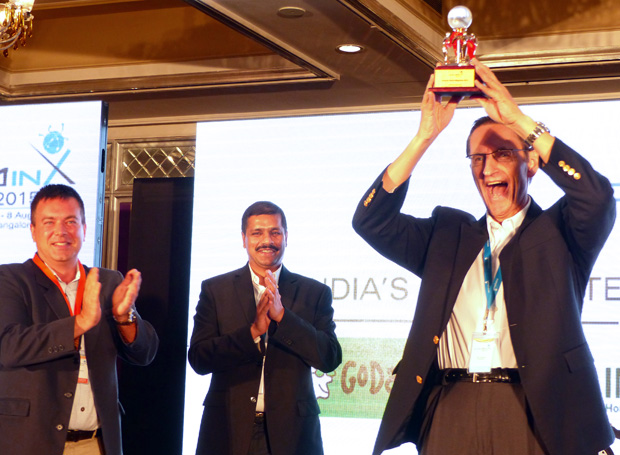 Below: The next award for "Rising Star" in Indian Domaining went to Aishwin Vikhona (Aishwin.com) earning him a hug from presenter Zak Muscovitch (left).
Below: DomainX then handed out thoughtful Thank You awards to 14 different show participants who made special contributions to the event, incuding Dr. Shurho Ghosh (at right below) with DomainX Founder & CEO Manmeet Pal Singh.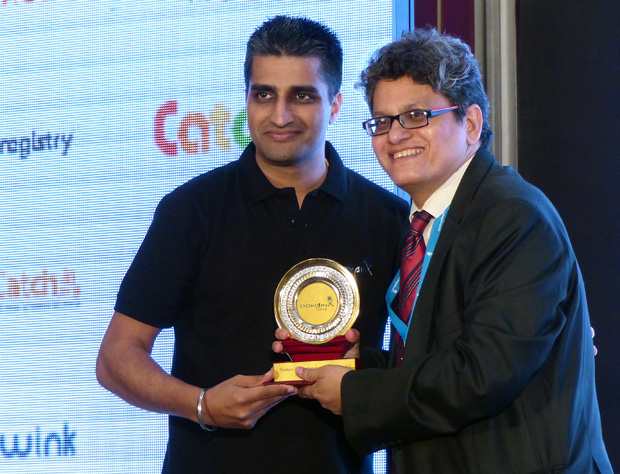 Below: Mr. Singh (at left) also presented three special recognition awards - momentos handed out to thank the co-organizing team of tjhe first DomainX last year - who are no longer with the organization. They are (left to right after Mr. Singh, Nishank Yadav, Email.biz's Anshul Goyal and Sibtain Zaheer).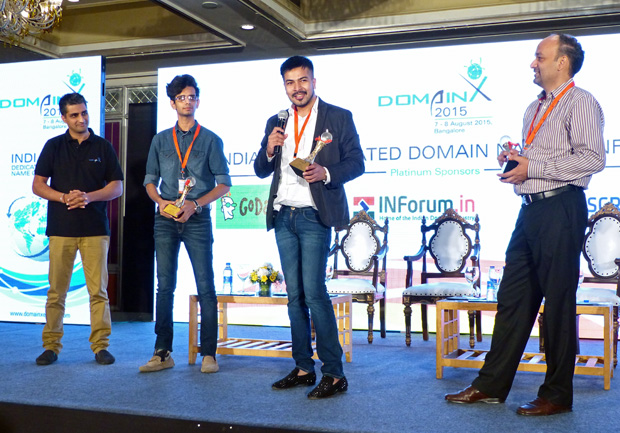 Below: Next, DomainX invited Ron Jackson to help Aishwin Vikhona (right) launch his new book - Sell Domains Fast (available in both paperback and ebook editions). The launch capped a big weekend for Aishwin as it accompanied his Rising Star award noted above.
Below: (Left to right) DomainX Co-Organizer Gaurav Kholi, team members Pankaj Vijayvargiya, Dhairya Cholera and Hardik Modi and Founder Manmeet Pal Singh then came onstage to thank everyone in the appreciative crowd for coming and making the second annual DomainX conference something truly special.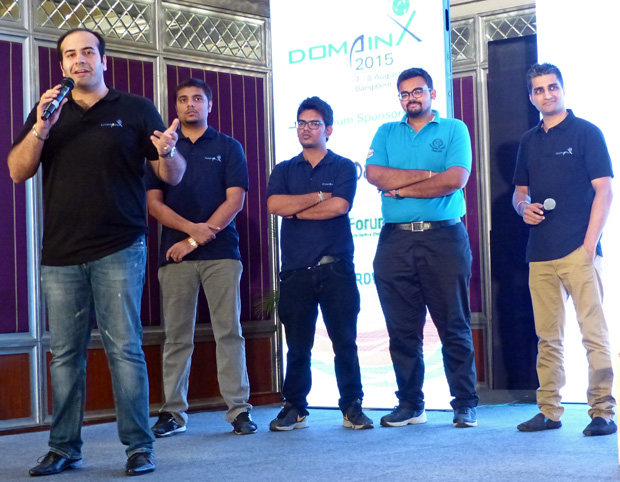 refers to the culture, people and products originating from the Indian sub-continent (India,Pakistan, Bangladesh, Nepal, Sri Lanka). - See more at: http://registry.desi/#sthash.1raetzCz.dpuf
With the final curtain having now come down on DomainX 2015 we can say that this show exceeded our expectations in every way - from the spectacularly beautiful Taj West End Hotel, to the sights and sounds of Bangalore to the non-stop networking Friday to the huge mainstream press response and informative and entertaining business day today, we could not have asked for more. It all made our first visit to India - a country we have quickly come to love - a trip we will never forget.