I spent all day Monday flying home from India after spending last weekend at the 2015 DomainX conference in Bangalore. As I result I didn't see the big news about Google launching a new holding company for their various enterprises called Alphabet on the domain ABC.XYZ until yesterday morning. I've spent some time since then reading some of the countless press reports that have understandably created a lot of excitement in the new gTLD community as well as expressions of continued skepticism from other quarters.
The news and opinions were everywhere including in our local paper, the Tampa Bay Times, this morning. This is obviously a major coup for new gTLDs and especially for .XYZ and its founder Daniel Negari. However, opinions on exactly how much impact it will have on overall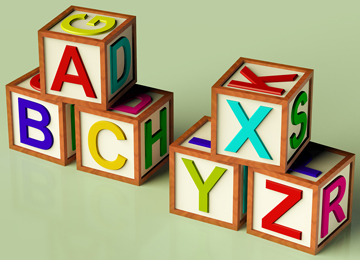 ABC-XYZ blocks image from Bigstock
new gTLD recognition and acceptance ranged from very little all the way up to Wired's breathless proclamation that the announcement signals the end of .com dominance. As is usually the case with such extremes, the outcome will likely fall somewhere in the middle but the fact remains no one knows for certain exactly where the needle will end up on that spectrum.
I personally think this is a really solid cornerstone to build on, but the new gTLDs will still need many more bricks in the wall. The thing that made .com dominant was that it was adopted by almost every major corporation around the world, so .com was seen everywhere you turned, becoming synonymous with the Internet. It is still everywhere you turn and I think it will take a lot of time for that to change. Even many new gTLD registries have admitted that uptake has not met their expectations to date. We will of course see more and more new gTLD raindrops hit the .com stone but that stone is so massive I suspect it will take a long time to erode it significantly. As for this specific case, Alphabet will not be a consumer facing site and Google's use of the name is a special case, something Alan Dunn broke down very astutely (as he always does) on his NameCorp blog.
In any case the Google play has given awareness of the existence of new gTLDs a big and much needed shot in the arm. This particular string - ABC.XYZ - also looks like a perfect match for the Alphabet name - demonstrating the branding possibilities opened by the arrival of new gTLDs. As developments like this occur it is always wise to assess them, case by case, and make a decision whether to stand pat or re-calibrate your own

investment plans. New gTLDs are going to be part of the game from now on, so if you like playing the game, as I do, you have to weigh how they are going to affect your stack of chips and place your bets accordingly. (For the record I have registered a limited number of new gTLDs in areas of special interest to me, budgeting a figure that would not hurt me even if those registrations are a total loss).
With this Google win and a tireless marketing effort at his back, it looks like Daniel Negari has already won big on his initial $185,000 bet (the initial application fee) on .xyz. I think the fact that the TLD's registration numbers have been enormously inflated by doling out a ton of free domains and thousands more for as little as a dollar apiece, has overshadowed the non-stop marketing spadework Negari and his team has done with registries, purple man mascots, bobsled teams - you name it. He has managed to keep his extension and himself in the spotlight ever since .xyz went live.

Were it not for the firestorm of criticism leveled at him (me being among those critics) for touting numbers inflated by giveaways as evidence of popular demand, I think people would have been lauding Daniel as one of the best marketers of a new extension ever (a la the .co folks) - and he would be deserving of that recognition. With the Google coup, he will still get those accolades on the broader business stage because the registration brouhaha was mostly "inside baseball" that mainstream media and the man on the street doesn't know or care about.

.XYZ Founder & CEO Daniel Negari
However anyone feels about "registration-gate" the man is getting results. If you happen to be in Southern California next week, and want to hear more about how he has done it - straight from the horse's mouth - Negari will be hosting the August 20 meeting of the Southern California Domainers at .XYZ headquarters in Los Angeles. You can register for the 6:30PM meeting here.