The Lowdown


September

2015 Archive

Subscribe to our RSS Feed

Here's the The Lowdown from DN Journal,
updated daily to fill you in on the latest buzz going around the domain name industry.

The Lowdown is compiled by DN Journal Editor & Publisher Ron Jackson.
Photos & Highlights From the Final Business Day at THE Domain Conference Tuesday Including the Domain Industry Award Winners
The second and final business day of the inaugural edition of THE Domain Conference (TDC) was held Tuesday (Sept. 29) at the Hyatt Regency Pier 66 Hotel in Fort Lauderdale.

Above: The day began with talks from Two Leaders of the Domain Industry on the Future & Developing a Business - those being two guys very well qualified to address those topics - DNForum.com owner Adam Dicker (left) and City Brand Media Founder Fred Mercaldo (right) who also owns Scottsdale.com.

Below: The second session brought three attorneys and Internet Commerce Association advocate Andee Hill (Donuts Inc.) to the dais to talk about ICA, UDP & URS - What's New. Left to right are Stevan Lieberman (APLegal.com), Ms. Hill, ICA Legal Counsel Phil Corwin and noted attorney (and Domain Hall of Fame member) John Berryhill.

Above: The morning sessions concluded with a talk on investment strategy delivered by published author and noted speaker Michael Poggi, founder of TheMillionairesGroup.com and Poggi Wealth Institute.

Below: One of the great things about the domain business is that we are one big family. Here's an example - before the Tuesday luncheon the thoughtful Co-Founders of THE Domain Conference (Howard, Barbara & Ray Neu) brought out a birthday cake to honor every attendee who had a birthday this month! Left to right are Eddie Sixto, Larry Fischer, Ilze Kaulins-Plaskacz, Diana Jackson, Adam Dicker and Markus Jackson.

Above: Before lunch was served at the Domain Industry Awards Luncheon, sponsored by Donuts Inc., I gave my I gave my annual State of the Industry talk covering the latest domain aftermarket sales trends. It was nice to again be able to report strong sales with median prices that are way up so far this year in most categories (up 14% for .coms and 8% for non .com gTLDs).

Below: After my talk my wife Diana took the stage to tell the story behind her new painting for The Water School. It was inspired by a great photograph that Braden Pollock took while on a trip to Africa. Braden and Dr. Gregg McNair (a Water School director) joined Diana to auction off the painting that wound up going for $6,500, with all proceeds going to The Water School. Left to right below are TDC Co-Founder Howard Neu, Braden Pollock, Diana Jackson and Dr. Gregg McNair.

Above: A closer view of Diana Jackson's painting sold to raise funds for The Water School.

Below: Next up it was time to hand out some awards! The Domain Industry Awards Luncheon began with Adam Dicker receiving the Developer of the Year Award, handed to him here by DomainSherpas's Michael Cyger. Michael would return to the stage two more times to pick up a pair of awards of his own - Blogger of the Year and Goodwill Ambassador of the Year.

Above: .CLUB also walked off with two major honors - Best Registry of the Year and Best Company of the Year. The entire .CLUB team came to the stage with CEO Colin Campbell holding the first of their two awards at center.

Below: The Best Registrar of the Year Award went to Go Daddy. Three company representatives were called to the stage to accept the honor - Joe Styler (holding the trophy) as well as Markus Jackson and Cory Lodder.

Awards also went to others who could not attend the conference - Ali Zandi for Domain Investor of the Year and Andrew Rosener for Broker of the Year. Plus, two new members were inducted into the Domain Industry Hall of Fame - Andrew Rosener and NamesCon Co-Founder Richard Lau. Congratulations to all of the winners!

Above: After lunch the business sessions resumed with a panel discussion titled Should You Sell or Build? Are There Alternatives to a Successful Domain Portfolio? that featured (left to right): Chad Folkening (Bidtellect.com), Solomon Amoako (Sedo), Adam Dicker (DNForum.com) and Michael Gilmour (ParkLogic.com).

Below: Next up the topic was How Do You Buy and Negotiate for High End Domains? Do You Need a Broker? The four leading brokers who offered their expert advice were (left to right): Tessa Holcomb (Igloo.com), Dave Evanson (Sedo), George Hong (Guta.com) and Larry Fischer (GetYourDomain.com).

Above: While many sat in on the business sessions others spent their time networking outside the meeting room or visiting company booths in the Exhibit Hall. At the 101Domain.com booth, Kimberly Zadroga and John Neu were on hand to welcome TDC attendees.

Above: With the day winding down back in the main ballroom a new session featured Two Leaders of the Domain Industry on the Future of Developing - Part II - with Zappy Zapolin (left) and Monte Cahn (RightOfTheDot.com) the featured guests interviewed by moderator Braden Pollock (far right).

Below: The final business session of this first edition of THE Domain Conference was about Digital Branding - Using Domains and Social Media. The panelists (left to right) were Zappy Zapolin, Yancy Naughton (HasTraffic.com), Brett Napoli (AmbitionInsight.com) and Jeff Sass (.CLUB). Moderator Jothan Frakes is at far right.

Though the business sessions were done at a conference that drew rave reviews from attendees and exhibitors alike, the show was not over. There were some private dinners around town Tuesday night and dozens of attendees wound up hanging out late to hop tables and talk in the spacious and comfortable lounge at the Pier 66 Hotel.

Also ahead was the always popular Farewell Breakfast in the revolving meeting room at the top of the hotel Wednesday morning. That was such a unique event I decided to do a separate post about it along with some final thoughts on THE Domain conference that I will publish Thursday (October 1). Now, having just gotten back from Fort Lauderdale, it is time to catch a few hours of sleep - something that was in short supply at TDC - but it was a small price to pay for such a wealth of information and the invaluable time spent with great friends old and new!
Photos & Highlights From the First Day of Business at THE Domain Conference Monday in Fort Lauderdale
The first full day of business at the inaugural edition of THE Domain Conference (TDC) Monday (Sept. 28) in Fort Lauderdale, Florida was a busy one, running from 9am to well past midnight at the Hyatt Regency Pier 66 Hotel.

Above: The first session was an excellent one featuring a half dozen experts from different regions around the world who provided an update on The Domain Industry Around the World. Business conditions can vary dramatically from one region to another and the panelists detailed what was happening in hot spots around the globe. From left to right on the dais are Alfredo Pinochet (LatinTLD), George Hong (Guta.com), Dan Schindler (Donuts Inc.), Michael Gilmour (ParkLogic.com), Ilze Kaulins-Plaskacz (ExcellentDomains.ca), Sevan Derderian (Uniregistry.com) and moderator Howard Neu.

Above and below: In the second session WordPress expert Brett Napoli of AmbitionInsight.com provided some terrific insight into how to build a successful website. There are a lot more necessary elements than you might think and Brett coverer them all in this session, as well as in individual or small group workshops he hosted throughout the day.

Above and below: THE Domain Conference has the busiest Sponsor Exhibit Area we've seen at a Florida show in years. With hot Coffee.club coffee and desserts on hand to help fuel conversation, it has been a very popular meeting place.

Above: Another shot from the exhibit area with the .CLUB booth in the background. .CLUB is TDC's Lead Sponsor this year.

Above: Verisign sponsored Monday's luncheon that featured a very interesting talk on the 30-year history of .com from Verisign's Senior Product Manager Duane Bailey.

Below: The Verisign luncheon attracted a full house with an excellent array of food from the Hyatt Regency Pier 66 kitchens.

Above: Morgan Linton (FashionMetric.com) delivering a fascinating keynote speech during the luncheon, detailing the remarkable journey he and his wife Daina have taken to turn their company into one that is positioned to dramatically change the way people buy clothes online. I learned a lot I didn't know that only reinforced my opinion of Morgan from the first day I met him - that he is an exceptionally smart, motivated entrepreneur, as is Daina - and that this couple is going to achieve great things.

Below: Dr. Gregg McNair (PPX International Chairman and philanthropist) being interviewed by Jothan Frakes in an illuminating fireside chat that kicked off the afternoon business session Monday. Gregg has had success in many businesses both inside and outside of the domain world and his formula for success is one that will have inspired many to follow his example.

Above: Next up was a panel discussion about Opportunities in the Latin American Market (a perfect fit for the South Florida venue) that featured (left to right): Antony Van Couvering (Minds+Machines), Alfredo Pinochet (DotLatin), George Verdugo (VisitSpace.com) and Pablo Rodriguez (.PR Registry).

Below: In the following session, .CLUB CMO Jeff Sass shared his business expertise in an interview with super moderator Braden Pollock (LegalBrandMArketing.com) at right.

Above: THE Domain Conference had a great agenda for its inaugural show including this lively panel discussion on New gTLDs - How Are They Doing in Today's Market? It featured (left to right) Jothan Frakes (FrakesOnAPlane.com), Solomon Amoako (Sedo), Colin Campbell (.CLUB), Dan Schindler (Donuts Inc.), Monte Cahn (RightOfTheDot.com), Alan Ezeir (Domain Cost Club), Antony VanCouvering Minds+Machines) and moderator Braden Pollock.

Below: The final session of the first business day was a wide ranging State of the Industry From Heads of the Industry panel discussion moderated by Michael Cyger. On the dais (left to right) are Chad Folkening (Bidtellect.com), Ron Jackson (DNJournal.com), Tessa Holcomb (Igloo.com), Scott Richter (Media Breakaway), Jeff Sass (.CLUB) and Chris Sheridan (Weebly.com).

Above and below: Of course the end of the business day just means its time for the evening networking to get started! That often includes private company dinners where service providers thank friends and clients for their support. These shots are from a dinner hosted by Donuts Inc. at the popular Yolo Restaurant in Fort Lauderdale. At top (left to right are): Kimberly Zadroga (101Domain.com), Braden Pollock (LegalBrandMarketing.com), Michael Gilmour (ParkLogic.com) and Marcus Jackson (GoDaddy.com). In the photo below Morgan Linton (left) fresh of his triumphant keynote speech earlier in the day) is congratulated by THE Domain Conference Co-Founder Howard Neu at Yolo.

Above and below: After dinner, Igloo.com hosted a party open to all TDC attendees in their private suite at the Hyatt Regency Pier 66 Hotel. Other than the banner at the door (above) there wasn't much indication that anything was going on inside. But once you opened the door and went inside, as you can see below, it was a different story !

The Igloo.com party went on way past midnight Tuesday morning. As I write this, the second and final business day (Tuesday) is winding down, though there will be more social activity tonight, as well as the Farewell Breakfast Wednesday morning in the revolving meeting room at the top of the Pier 66 Hotel. That being the case I won't have a chance to put together the Tuesday-Wednesday highlights until we are back home in Tampa Wednesday evening since will be heading out right after saying our goodbyes at breakfast (always one of my favorite events). Though it is not over yet, to this point TDC has been outstanding by every measure and appears to have secured a permanent place on the conference calendar tanks to the hard work of co-founders Howard, Barbara and Ray Neu.
Photos and Highlights from THE Domain Conference's Opening Night Party Sunday Evening
The inaugural edition of THE Domain Conference (TDC) officially began Sunday night (Sept. 27, 2015) with a gala Welcome Party in the revolving meeting room that sits on top of the Hyatt Regency Pier 66 Hotel in Fort Lauderdale, Florida. The 17-story high venue provides a spectacular 360-degree view of the scenic area bounded by the Atlantic Ocean to the east and the Intracoastal Waterway to the west.

As soon as guests stepped off the elevator their pictures were taken in front of a photo backdrop displaying logos of the many companies that stepped up to make this major industry event, founded by Howard, Barbara and Ray Neu, a reality. The party itself was co-sponsored by TDC lead sponsor .CLUB and the new .Miami TLD. In the photo at right are DN Journal's Diana Jackson (wearing a colorful sari inspired by a recent visit to India) and Trellian/Above.com Executive VP Nancy Bianchi.

Above: A talented solo guitarist set just the right mood for THE Domain Conference's Welcome Party Sunday night atop the Hyatt Regency Pier 66 Hotel in Fort Lauderdale.

Below: Germany's Key-Systems and their South Florida based Moniker domain monetization unit has a big contingent at TDC, including Key-Systems CEO Alexander Siffrin (far left) and Management Board member Jochen Kieler (far right). Their party included Moniker COO John McLaughlin (second from left).

Above: South Floridians Chris Leggatt (DomainHoldings Brokerage Director) and Bari Meyerson-Kissel (eNom) catch up at the opening night party.

Below: A family that "domains" together...(L to R) Marty Kaulins, Ilze Kaulins-Plaskacz, Ilze's son Gerrit and husband John. Ilze and John were also celebrating their 25th anniversary Sunday!

Above: Brothers and fellow domain brokers Hobi Michaelec (left) and Slade Michalec, who have made a big splash at DomainHoldings.com.

Above and below: A lunar eclipse Sunday night captivated people around the world, including those at THE Domain Conference who crowded onto the Pier 66 Hotel's rooftop deck when the full moon began going into eclipse a little before 10pm.

Above: On the way out at the end of a wonderful opening night at THE Domain Conference we bumped into industry veteran Aaron Kvitek, who joined Above.com as Senior VP for Strategic Marketing last month. Aaron, one of the nicest guys in the business, was instrumental in staging many DOMAINfest Global conferences when he was with Oversee.net.

As I write this it is early Monday morning and we are getting ready for a full day and night of business and social activities that will run from 9am-Midnight. With no foreseeable downtime in that stretch my next post from Fort Lauderdale - with all of the Monday photos & highlights - will likely be published here on Tuesday.
Photos & Highlights from DOMAINfest at THE Domain Conference & TDC Cabana Networking Sunday
A special "conference with a conference" - DOMAINfest at THE Domain Conference (TDC) - was held today at the Hyatt Regency Pier 66 Hotel in Fort Lauderdale, Florida. A full day of business sessions got underway at 9:30 this morning and continued until 6pm this evening. At 7pm, the inaugural edition of THE Domain Conference gets underway with a big Welcome Party in the revolving meeting room atop the Pier Hotel.

Above: DOMAINfest/NamesCon Co-Founder Jothan Frakes put this one-day DOMAINfest event together in a unique co-operative arrangement with TDC Co-Founders Howard, Barbara and Ray Neu. This photo was snapped this morning when Jothan welcomed attendees to DOMAINfest at TDC.

Below: The first session - aimed at industry newcomers (of which there are many in attendance) featured DNForum owner Adam Dicker who presented a great series of tips on how to increase your chances for success in the domain business.

Above: Next up was a pair of highly informative panel discussions on opportunities in Latin America and the Hispanic world - a perfect fit for the show's South Florida location. Barbara Neu helped focus the panelists on the theme at hand by handing out Cuban hats! Left to right are moderator Jothan Frakes, Pablo Rodiguez (VP, Puerto Rico's .PR Registry), Jochen Kieler (Key-Systems), George Verdugo (VisitSpace.com) and Alfredo Pinochet (CEO, LatinTLD).

Below: While DOMAINfest was going on inside, TDC Pre-Show Cabana Networking continued around the Pier 66 pool Sunday. In this shot, Jodi Chamberlain (fresh off her well received two-day Women's Meetup at the same hotel) is front and center. With her at right are Eddie & Barbara Sixto.

Above (left to right); Diana Jackson, TDC Co-Founders Barbara and Howard Neu,
and Susan Lawrence (Minds+Machines) at the TDC cabana Sunday morning.

Below: At the NameJet cabana the company's Director of Marketing,
Scott Pruitt, held court with his beautiful daughter Alysee.

I've often commented on how creative people in the domain are - demonstrating talent in fields far removed from the domain business. Michael Gilmour (ParkLogic.com) - at far right in this photo - is a prime example. He just published his first novel - Battleframe - and is already working on a sequel!

Michael, seen here with Rob Grant (left) and Eddie Sixto, signed free copies of the book during cabana networking Sunday. Often that kind of creativity is passed along to the next generation. As many of our readers know, Rob's daughter is music superstar Lana Del Rey, who latest hit album, Honeymoon, was just released.

Above: At the Protected Parking cabana, Hani Armstrong and Dave Roberts were on hand to answer questions about the company's unique domain monetization platform.

Below: After a lunch break both TDC cabana networking and DOMAINfest business sessions indoors continued. DOMAINfest switched gears in the afternoon running a triple-track format that had three different workshops going on simultaneously every hour from 2-6 pm (a total of a dozen sessions all together), assuring attendees could gain knowledge in the areas most important to them. Brett Napoli from Ambition Insight (facing the audience) shared his expertise on Wordpress in back to back sessions at 2pm and 3pm. The 2pm track also featured Jothan Frakes on ccTLDs and Angie Graves on Analytics & Tools.

Above: The 3pm track also featured a Domain and Law session moderated by Stevan Lieberman from Greenberg & Lieberman, LLC (top center in blue shirt) with ICA Legal Counsel Phil Corwin (in yellow shirt next to Stevan) also sharing his expertise. Also at 3pm, Chris Leggatt (Media Trackers-Florida) conducted a session on Domain Appraisal.

Below: The 4pm sessions included one on Domain Parking 2016 moderated by Michael Gilmour (ParkLogic.com), who is standing at left in this shot.

Also at 4pm, internet expert Angie Graves from Web Group Inc. (at left) covered the latest Trends in the domain world and the web at large. The 3rd session at that hour brought Chris Leggatt back to talk about Broker Thinking.

DOMAINfest at THE Domain Conference closed with a final round of "Topic Grind" sessions at 5pm including Jothan Frakes on New gTLDs, Stevan Lieberman in UDRP Questions and Adam Dicker on Domain Investors. It was a very ambitious daylong program that should pay great dividend to those who took advantage of all the experts had to share.

Now it's on to the TDC Welcome Party tonight (I'll have photos and highlights from that for you in my next post Monday)!
Photos & Highlights from Saturday Pre-Show Cabana Networking at THE Domain Conference in Fort Lauderdale
THE inaugural edition of THE Domain Conference (TDC) doesn't begin until Sunday evening but many early birds had already arrived in Fort Lauderdale by Saturday morning to get in some pre-show networking at the Hyatt

Regency Pier 66 Hotel. While the Womens Meetup for all businesswomen that I told you about yesterday was winding down with day two activities, people in town for TDC started getting together in the show's private poolside cabana area and other convenient gathering spots around the lush Pier 66 property.

Saturday (Sept. 26) began with a gorgeous sunrise. The shots above (looking east to the Atlantic Ocean) and below (looking west at the city skyline and Intracoastal Waterway) were snapped from our 15th floor balcony at the Pier 66 hotel that is perfectly situated between the two bodies water. The revolving meeting room two floors above us, where TDC's Welcome Party will be held Sunday night, gives you a fabulous 360 degree view of the entire scenic area around the show venue.

Above: Another shot from our balcony looks down on the Pier 66's spacious pool area as well as Orchids Restaurant (at lower right). TDC has reserved the entire area, including cabanas, around the pool at left. It opened to show attendees at 9am Saturday morning with people coming and going until well past 6pm. The cabanas will be open again all day Sunday.

Below: Down at ground level we gathered some of the early birds for this shot at the pool/cabana entrance to the area reserved for TDC. At front left is THE Domain Conference Co-Founder Barbara Neu (who launched the new show with husband Howard and son Ray).

Above: (left to right) Mike McConville (DomainHoldings), Jothan Frakes (DOMAINfest) and Chris Leggatt (DomainHoldings Brokerage Director) catching up during pre-show cabana networking.

Below: The beautifully landscaped grounds at the Hyatt Regency Pier 66 Hotel offer a wide variety of recreational activities. Here Morgan Linton from FashionMetric.com (right) who will be the keynote speaker at THE Domain Conference Monday, ponders his next move in a match on the giant lawn chess table against Michael Castello (Castello Cities Internet Network).

At right: Michael prevailed in the chess match but Morgan took the loss with his usual grace although he is insisting on a rematch before conference week ends!

Sunday will be a busy day at the Pier 66 Hotel. In addition to the cabanas being open for pre-show networking DOMAINfest at THE Domain Conference, a special one day event organized by Jothan Frakes, will present a full day of business sessions indoors from 9:30am to approximately 6pm. Then at 7pm Sunday evening, THE Domain Conference officially gets underway with the Welcome Party atop the Pier 66 Hotel.

The conference will continue with two full business days Monday and Tuesday then conclude with a Farewell Breakfast Wednesday morning. I will have Sunday's photos and highlights for you in my next post from Fort Lauderdale.
Diverse Day in Fort Lauderdale With Back to Back Fireside Chats Featuring Lori Anne Wardi and Bloody Mary!
The first of three consecutive events connected to the inaugural edition of THE Domain Conference (TDC) began today when veteran domain conference producer Jodi Chamberlain of 32Events.com hosted the first day of her two-day Women's Meetup in Fort Lauderdale. This event is not a domain conference - it's a business/lifestyle conference for women from all fields - but the domain community was still well represented by women who will be attending TDC who arrived early to take part in Jodi's Meetup as well (both are being held at the Hyatt Regency Pier 66 Hotel).

Some of those in the crowd were Ilze Kaulins-Plaskacz (the subject of our current

Cover Story), broker Tracy Fogarty and TDC Co-Founder Barbara Neu. Neustar Vice President Lori Anne Wardi was also there as a featured speaker (more on that in a moment). Another well-known figure in the domain world, Bianka Krausch, founder of Boca Raton based Talent Direct Agency, will be on stage tomorrow and has been very helpful to Jodi in putting the Meetup together.

Above: Women's Meetup Founder Jodi Chamberlain (left) speaking with an attendee during one-on-one networking in today's opening day of the Meetup in Fort Lauderdale.

Below: Keynote speaker Roy Assad, Founder of M&V Magazine kicked off the Meetup today.

I took part in the Meetup this afternoon after accepting Jodi's invitation to conduct back to back fireside chats with two very special women. I first interviewed Neustar VP of Registry Services and long time friend Lori Anne Wardi who had a great story to tell about helping build .CO from scratch into an asset that Neustar spent $100 million to acquire last year (Neustar wisely made Lori Anne part of their top management team after the acquisition). The audience clearly enjoyed the session and took Lori Anne's very good advice to heart.

Immediately after talking with Lori Anne, world class special effects makeup artist Bonnie Wiener - known as Bloody Mary - joined me on stage to tell her remarkable story. When Bonnie's plastic surgeon husband unexpectedly walked out on her she had to start over from scratch. On a whim she took an FX makeup course and went on to be one of the

Neustar VP Lori Anne Wardi and DNJournal's Ron Jackson right before their fireside chat today at the Women's Meetup in Fort Lauderdale, Florida.

world's greatest make up artists for movies and TV - specializing in blood and gore - hence the Bloody Mary brand. Bonnie has worked on many major movies including blockbuster Titanic and hit TV shows like The Walking Dead.

Bonnie became so well-known after Titanic she started selling he own lines of makeup and is now the #1 supplier of camouflage makeup to the U.S. military and has licenses to sell sports team face paint for dozens of pro and college teams. It is a multi-million dollar business that also led to the publishing of her book I Can Do This: The Bloody Mary Story. She also wrote a comic book that has been licensed by Universal. Hers is an amazing story of someone turning a major setback into a huge triumph and I thoroughly enjoyed interviewing her.

Bonnie Wiener - AKA Bloody Mary - during our fireside chat this afternoon.

The Women's Meetup will conclude with another full day tomorrow - coinciding with the first day of pre-show cabana networking for THE Domain conference. On Sunday there will be another day at the cabanas plus an entire day of conference inside a conference sessions for DOMAINfest at THE Domain Conference. TDC Then officially opens with a Welcome Party Sunday night. I'll have daily photos and highlights for you here.
DomainSherpa Publisher Michael Cyger Makes Strategic Investment in Domain Investment Platform Efty.com
Domain investment platform Efty.com has announced that DomainSherpa.com publisher Michael Cyger has invested in the company and will work with Efty Founders Doron Vermaat and Lionel Petitiaux to advance domain name investing. The Efty announcement said "this funding round will fuel continued growth in sales, marketing and product development for Efty in the multi-billion dollar domain name investing market...Demand for the resale of domain names is fueled by the more than 8 million businesses that start up each month around the world, most of which need a website and domain name."

Efty describes its service as one that "helps investors manage their domain investment portfolio, providing clear insight on performance while helping to boost leads, sales and revenue." Cyger said, "I've tracked the evolution of Efty for two years and am excited to join the team in creating the future of domain name investing. With the right tools domain name investing can be very profitable. I have no doubt that Efty will be the one indispensable tool that every professional investor will need."

Doron Vermaat, Efty's Head of Product, added, "We are excited to have a seasoned publisher like Michael join Efty as both an investor and team member because of his award-winning educational and publishing background, as

Michael Cyger

well as his financial services experience at both GE Capital and Citigroup. We see the opportunity that exists to empower investors to take control of their financial independence by investing in domain names and we have defined the roadmap to achieve this goal."

Efty.com's Executive Team
Summit in the Sun: South Florida Ready to Welcome Domain Pros from Around the World to THE Domain Conference
We will be spending most of the day Thursday en route to Fort Lauderdale for the inaugural edition of THE Domain Conference that gets underway with Pre-Show Cabana Networking Saturday morning (Sept. 26) at the Hyatt Regency Pier 66 Hotel. Diana and I are heading down a day early so I can prepare for a couple of onstage interviews I will be doing Friday for Jodi Chamberlain at her big Womens Meetup for area businesswomen that will run at the same hotel through Saturday (one of those interviews will be a fireside chat with Neustar Vice President and longtime friend Lori Anne Wardi).

THE Domain Conference's cabana networking for early birds will continue all day Sunday while a unique day-long DOMAINfest at THE Domain Conference event will be going on simultaneously indoors. DOMAINfest and NamesCon Co-Founder Jothan Frakes has put together an ambitious program for Sunday that will make DOMAINfest a perfect prelude to THE Domain Conference (which officially opens with a 7pm Welcome Party Sunday evening, followed by business days Monday and Tuesday then a Farewell Breakfast Wednesday morning.

The Hyatt Regency Pier 66 Hotel in Fort Lauderdale where THE Domain Conference will get underway this weekend and run through Wednesday morning (Sept. 30, 2015).

Jothan Frakes

Today I got some additional information from Jothan about this special DOMAINfest event. He told me, "This DOMAINfest kicks off the launch of a new conference series and what I would call an incredible collaborative approach to conferences. We're doing something new and innovative which is to focus on a specific topic around the Latin American market which is rich with opportunity. We will have 12 different micro networking sessions that are built around themes. These micro topic networking sessions are designed to attract people who are interested in talking about something specific and doing it at the front end of the conference so that like-minded individuals or service providers can connect and have the balance of the show to really build the relationships and discussions."

"The sessions are called topic grind and you can find sessions on things like brokering domains, parking, WordPress and other industry related topics. The sessions will be led by recognized leaders from the industry and will be an hour long so people can still enjoy the cabana networking by the pool that THE Domain Conference is offering on Sunday - but it sets the tone for the whole week and a great conference here in Fort Lauderdale!"

Conference organizers Howard, Barbara and Ray Neu tell me they are very excited about the number and quality of domain investors and service providers who have signed up for their first show after a decade spent co-producing the pioneering T..R.A.F.F.I.C. conferences. I will, of course have daily photos and highlights in this column from all of the activities in Fort Lauderdale starting Friday and continuing all the way through the conclusion of THE Domain Conference next week.
Service Providers Set to Woo New Clients at THE Domain Conference - Protected Parking May Offer Most Unusual Option
I often write about how important face to face networking at conferences is to success in the domain business. That applies not just to building relationships with fellow domain buyers and sellers but also making personal connections with key service providers. For example, if you have a portfolio of names that attracts a reasonable amount of traffic, choosing the right monetization company can make a significant difference to your bottom line.

There will be a wide variety of service providers, including several monetization companies, at THE Domain Conference, that opens this weekend at the Hyatt Regency Pier 66 Hotel in Fort Lauderdale, Florida. Several

Attendees networking at a South Florida Domain Pros meeting last February at the Hyatt Pier 66 Hotel in Fort Landerdale which will also be the site for THE Domain Conference that starts this coming weekend.

will be set up early in cabanas at the pre-show poolside networking that begins Saturday morning, including ProtectedParking.com, a domain monetization company with a unique approach to parking. In fact what they are doing is so different from conventional thinking it is hard for some people to get their head around it.

Dave Roberts
CEO, Protected Parking

People have always been advised NOT to hold trademark/brand related domain names due to the potential liability of not only losing the domains via UDRP, but also facing heavy financial penalties should a trademark/brand owner take it a step further and file suit. ProtectedParking (PP) says they have worked out an arrangement with many brand owners that lets PP monetize brand related names with the blessing of the partner companies involved. Still, among most domain investors there is an ingrained fear of legal issues surrounding such names. I got together with ProtectedParking's CEO, Dave Roberts, to get more information on just how protected domains are in the PP system.

"It's important to stress that the merchants and affiliate networks know exactly what we are doing – we have presented the model to them and they get it totally," Roberts said. "Frankly the previous situation of legal action and UDRPs was unsatisfactory and unworkable for merchants – expensive, unreliable, chasing domains with no traffic, and so on. Even the specialist law firms are looking at what we are doing and saying "thank goodness, we've been

wasting our time and here's a solution at last." There can be no guarantees but we are a trusted 3rd party intermediary and it is working - the merchants gain control of the traffic they want with no danger of competitors being offered, they control the customer journey and they only pay if the customer transacts. And domainers get paid.

The situation for domainers isn't made any worse by using us (it is probably made better) and they will get (much) more revenue."

I also asked Dave if PP limits names accepted into their system to only those associated with brands they have partnered with? And, if so, if they accept all names associated with partner companies or if names/portfolios submitted are required to meet specific guidelines?

Roberts said, "In short yes, we limit names to those associated with brands we have partnered with. We check all domains to be sure within reason that the consumer was seeking a specific merchant and this keeps traffic quality and conversions high.

The merchants are the source of all of the money so it's important to keep them happy!

"

Roberts said the individual sources of the traffic they provide (in other words the domain names that traffic comes from) are not disclosed to the merchants buying the traffic. I wondered if the system is meant primarily for people who already own brand associated domains, or if PP would suggest people make new registrations of this kind in hopes of monetizing them in the PP system. Lists of new domain registrations are made public daily and could easily be tracked by trademark/brand owners who wish to do so. Roberts said, "The system is meant primarily for people who already own brand associated domains. Most "lookalike" domains that get traffic are already registered so it is unlikely that we will have a significant effect on new registrations."

Another major difference between ProtectedParking and traditional parking companies is that PP monetizes through CPA – Cost Per Action – rather than the usual PPC (Pay Per Click). For those not familiar with the two systems, I asked him to explain the difference and why CPA is a superior solution for the names PP monetizes.

Roberts said, "You rightly say that we are different from PPC parking engines and we don't regard ourselves as a parking engine

CPA graphic from Bigstock

we think of ourselves as a trusted intermediary – we are not competition for Sedo, etc for example. We are only targeting domains that are brand associated (some/much of which is probably blocked by Google anyway) and with the merchants' agreement to take them traffic on the CPA model. For this specific section of traffic we see a regular revenue uplift of more than 400% and in quite a few cases an uplift of 20 times previous PPC revenue – it's a non-trivial improvement for domain owners and a good service to the merchants – a genuine win-win.

"

"CPA = cost per action which almost always means a purchase. The process is cookie based and the cookies can have variable times to live – normally 30/60 days but we have seen them with up to a year's life," Roberts added. "When the consumer buys a product or service within the lifetime of the cookie the merchant will pay PP a % (variable) of the purchase price which we share with the domain owner. Interestingly, if the consumer makes several purchases during the cookie's lifetime, we get a % of all of the purchases. As you might guess cash-flow can be slower than PPC but significantly higher pay-outs make it worthwhile. We are live in USA and UK now and will launch big time in Germany in the coming weeks."

(Left to right): Hani Armstrong, Marlon Phillips and Dave Roberts at the Protected Parking
cabana during the 2014 T.R.A.F.F.I.C. East conference at Miami Beach, Florida

If you have additional questions about Protected Parking you can connect with company representatives at THE Domain Conference (or by email at the addresses provided). Those on hand will be Hani Armstrong ([email protected]), Marlon Phillips ([email protected] )and Dave Roberts ([email protected]). They will be at the PP cabana all day Saturday and Sunday and you are welcome to just drop in or email them for an appointment.
.ORG Administrator PIR Calls on Kevin Kopas to Become Their Channel Manager for Asia
Public Interest Registry (PIR), the highly respected non-profit organization that administers the venerable .ORG TLD (as well as new extensions, .NGO and .ONG), has added a key new member to their team. Kevin Kopas started work today as PIR's Channel Manager for Asia. Kevin moved over from Radix Registry where he has been Channel Manager for the Americas. Kevin told me the opportunity arose after he met Lauren Price, the Director of Channel Management at PIR's .ORG, at a recent industry conference. He will report to Lauren in his new position.

While he loved his time and colleagues at Radix Kevin said, "I felt as though it was time to get some international experience and when this opportunity arose it was a perfect fit. Also my wife, Stephanie, and I have had a few other big changes in our lives. We just got married a month ago in Bali and we are moving to Austin, Texas for her new job with Dell. I am very lucky in that PIR is letting me work remotely from our new home. The position will involve travel to the normal domain industry conferences, on-site client visits in the region and visits to the PIR office in Reston, Virgina."

Kevin Kopas
PIR Channel Manager for Asia

Kevin and Stephanie Kopas went "native" for their wedding last month in Bali.

Many of our readers already know Kevin who also worked at Moniker and Web.com before joining Radix. He is a very personable young executive who makes friends everywhere he goes. We expect him to be a perfect fit for the outgoing and energetic team at PIR, an organization that has a long history of doing things right,
Over 43,000 Visitors Attended the DMEXCO Show That Closed Thursday in Cologne - Sedo Pleased With Results
That huge DMEXCO conference in Cologne, Germany that we told you about earlier this week concluded its two-day run Thursday (Sept. 17, 2015) with the final visitor count coming in at a mind boggling 43,484 people from all over the world! DMEXCO is Europe's biggest digital marketing expo and conference. Domain industry giant Sedo, who is also

based in Cologne, took advantage of the show's presence in their hometown to make a big splash on behalf of both their global domain sales platform and dozens of new gTLDs that have been brought to market by their registry partners.

Above: Sedo team members getting ready to welcome opening day visitors
to their booth at the DMEXCO conference Wednesday in Cologne, Germany.

Below: Sedo attracted many visitors to their booth by handing out free cups of frozen yogurt
with toppings named after new gTLD domain extensions they promoted at the huge show.

At top right Sedo team members Carolyn Rodon and broker Brian Michitti at the company's DMEXCO both Thursday.

Sedo Marketing Associate Carolyn Rodon told us they were pleased to see a constant flow of heavy traffic throughout the event. Ms. Rodon noted, "There were lots of good discussions with attendees including those representing digital marketing and advertising agencies as well as other multipliers - all interested in domain offerings and Sedo's services to obtain top premium names for their clients' campaigns. We were located directly across from the Vice booth which is the alternative news agency with a successful show running on HBO. Their booth certainly attracted a "hip" crowd and we were able to entice people to come over with our gTLD-topped frozen yogurt. Many tasty cool treats were served while educating all about what's new in domains in addition to what's now available to the right of the dot. Registry partners such as BostonIvy, Donuts, Top Level Spectrum (.feedback), Minds+Machines, .CLUB, Rightside and more were there in person sharing our large booth space and interacting with visitors."

At bottom right: Two representatives from Sedo registry partners, .CLUB's David Herman and .Beer's Patrick McCarthy at the Sedo booth.

Above: New domain extensions had a high profile at Sedo's booth throughout DMEXCO.

Below: The Sedo team, led by CEO Tobias Flaitz (standing at center), along with some of their registry partners, celebrate another great DMEXCO show Thursday in Cologne, Germany.
Number of Domain Names Registered Worldwide is Closing in on 300 Million + My Wife's Birthday Gets Off to a Sari Start
Verisign, who operates the .com and .net domain registries, released their latest Domain Name Industry Brief covering the 2nd quarter of 2015 Wednesday. The brief is available in two forms - a text rich .pdf file and an infographic (also in .pdf format) so you can pick the flavor you prefer.

The key finding from the new brief is that the number of domain names registered worldwide across all TLDs had climbed to 296 million at the end of 2Q-2015. That is 16.4 million more names that at the same point a year ago, representing a healthy 5.9% jump year over year.

Verisign reported registering a combined total of 8.7 million new .com and .net domains in 2Q-2015, a little more more than the 8.5 million register in the same quarter a year ago. At the

end of the quarter they had 118.5. million names in .com - by far the world's most popular extension - as well at 15 million in .net. Verisign also said total ccTLD registrations were approximately 138 million at the end of 2Q-2015. That is an increase of approximately 9.1 million domain names in one year, a 7.1% rise, year over year.

One other note today - this on the personal front. I want to publicly wish my wife Diana a very happy birthday. This is one of those big ones that ends in a zero, marking the start of a new decade. Though the years continue to roll by (we've been married for 31 of them) she never seems to age!

Maybe that is simply due to good luck in the genetics department but I think it has more to do with her attending so many domain conferences with me. Just about everybody in that creative crowd, regardless of their chronological age, is young at heart and generous in spirit - and I'm convinced those qualities are contagious and even manifest themselves physically.

By the way, in case you are wondering - no Diana is not from India but while we were there last month for the DomainX conference she often remarked on how much she loved the beautiful saris

It's Diana Jackson's birthday!

many of the women wear there. As luck would have it, in the course of the conference one of the many personable entrepreneurs we met was Ashvin Patel who, along with his wife Nisha, have their own ecommerce fashion site at DivaFashionSurat.com - one that specializes in saris!

Diana Jackson with Ashvin Patel (at right) from DivaFashionSurat.com
and Pradeep Kumar (left) at the 2015 DomainX conference in Bangalore, India last month.

When Diana told Ashvin how much he loved the colorful Indian garments he told her he was going to send her a sari (also spelled saree) and true to his word it arrived from India in plenty of time for her birthday. I think you will agree it a great look on her and - thanks to Ashvin & Nisha - when she wears it (at least in Florida) she won't have to worry about anyone showing up in the same dress! :-)
NamePros Auctions Raise Money for Medical Emergency - Nominations Open for Domainer's Choice Awards + Domains Loom Large at Medium.com
I have several things to share with you today. First, I got a note from NamePros.com forum administrator Eric Lyon telling me about a dire medical situation involving the wife of veteran domain investor Rami Steitiyeh. Unfortunately dire medical situations also often create dire financial circumstances, creating a disastrous double whammy for those involved, and such is the case here. The bottom line is Rami's wife is battling a potentially fatal Hepatitis C infection that will cost well into six figures to treat. Rami shares all of the details and documentation on this page at GoGetFunding.com.

In addition to the crowd funding effort and taking out a large bank loan, Rami is trying to liquidate his entire domain portfolio as soon as possible to raise funds needed to help meet the medical

Rami Steitiyeh and his wife in happier times.
(Profile picture from Rami's
Facebook community page)

bills. With his wife's condition deteriorating daily, time is of the essence. That's why the NamePros forum stepped in and offered to run a series of live and standard auctions (with no commissions or auction fees of any kind of) to expedite the effort. If you are in a position to help with any of the fundraising efforts or by simply spreading the word, the Steitiyeh family could certainly use that help now.

On another front, the Domainer's Choice Awards are officially back for 2015 with nominations for this year's award having opened today. You will find the complete list of 2015 Award categories here (and you can see a list of 2014 winners here).

All nominations have to be in by October 1, 2015 and you must register during the nomination stage if you want to vote in the final balloting to choose the award winners. The final voting will be handled by a third party company - Votenet.com - who requires a list of voters before the election itself goes live. To compile that list your email address will be

needed when you place your nominations but DCA promises your information will never be released to any third party for advertising purposes.

One final note, Morgan Linton, the FashionMetric.com Co-Founder who will be the keynote speaker at THE Domain Conference later this month, has authored a new article on domains that is getting a lot of attention at Medium.com. The piece, titled "What Every Startup Founder Should Know About Buying Domain Names" is aimed at one of the most active groups of end users (highly desired buyers that sellers want to reach most because end users will typically pay more to get a particular name for their enterprise than less motivated buyers will).

This is the kind of comprehensive well-written educational piece - distributed on an a very widely read platform - that is a huge help in building a better understanding of the high inherent value of quality domain assets in the mainstream business community. It is one worth bookmarking and sharing with potential buyers who, like all smart buyers, want to know they are making a good purchase decision based on sound business principals.

Morgan Linton
Co-Founder, FashionMetric.com

For inexperienced buyers, knowing how to buy a name is just as important as knowing what to pay. To many, buying on the aftermarket appears to be a very arcane and daunting process but Morgan addresses how to do that as well in an article that will be referred to over and over for a long time to come.
Sedo to Promote New gTLDs at Giant DMEXCO Conference in Germany This Week
Domain conferences are considered a success if they can attract a few hundred attendees so it might be a little hard to wrap your head around an Internet related show that is 100 times bigger than that. Such a show will be held Wednesday and Thursday (Sept. 16 & 17) when the 2015 dmexco digital marketing expo and conference

(Europe's largest in this field) will be staged at Congress Hall in Cologne, Germany with over 32,000 attendees on hand. Dmexco attracts marketers and digital communication professionals from a range of multi-national companies and agencies from all over Europe and beyond. Organizers say attendees will come from 84 different countries.

As most of you know, Cologne also happens to the be the home base of domain industry giant Sedo and, just as they did last year, Sedo will take advantage of dmexco's presence in their backyard to promote their partner's new gTLD

offerings to leading digital marketers. As a global domain sales platform, Sedo wants to build awareness for its premium domain inventory, as well as for the new domain extensions themselves. Their promotion is a collaborative effort with partners including RightSide, Donuts, Minds + Machines, Uniregistry, dotClub, Top Level Spectrum, Radix, Boston Ivy and many more. Visitors to Sedo's booth (Hall 6- Booth D011) will be exposed to new extensions like .club, .click, .website, .marketing, .events, .link and .media to name just a few.

The busy Sedo booth at the 2014 dmexco conferecne

Sedo will be the exclusive domain marketplace at dmexco. In fact, event organizers created the Domain Trading category specifically for Sedo. This year's exhibition space concept is Times Square themed using the tagline "On top of the domain world with Sedo.com". Sedo will feature large scale multimedia representations of the iconic billboards, a play on the New York Stock Exchange ticker with domain names constantly running on a screen and other visitor-engaging options. The exhibition space will also be "topped off" with Sedo's signature frozen yogurt bar with "domain-infused" toppings (named after partner's extensions). Visitors are encouraged to join Sedo and its partners for a complimentary tasty treat at the company booth.
THE Domain Conference Update - Inaugural Show Has Blossomed Into a Full Week of Business & Fun in the Florida Sun
Just two weeks from today we will be hopping in the car for the four-hour drive from Tampa over to Fort Lauderdale for the inaugural edition of THE Domain Conference (TDC) at the Hyatt Regency Pier 66 Hotel. The show itself was originally scheduled to run Sunday evening, Sept. 27 through Tuesday, Sept. 29 , 2015 (with pre-show Cabana Networking opening the Saturday before). However, as I first told you in early July, conference week underwent a major expansion when DOMAINfest teamed up with TDC organizers (Howard, Barbara and Ray Neu) to arrange a full one-day DOMAINfest as part of the show on Sunday (September 27) AND Jodi Chamberlain added a two-day Womens

Meetup (for all businesswomen, not just domain ladies) that will run Friday and Saturday (September 25 & 26), also at the Pier 66 Hotel.

Now we've learned of another expansion, this time on the back end of the show. Instead of officially ending Tuesday, evening (September 29), THE Domain Conference has added a Farewell Breakfast for Wednesday morning (September 30) that will be held in the beautiful revolving rooftop room atop the Pier 66 that offers gorgeous views of the Ocean and city skyline.

The view looking east from the revolving rooftop room atop the Hyatt Regency Pier 66 Hotel in Fort Lauderdale, Florida where both the Opening Night Party and the Farewell Breakfast for THE Domain Conference will be held.

The Farewell Breakfast was a popular staple of the T.R.A.F.F.I.C. conferences that Howard Neu Co-Founded and co-produced for the past 10 years and it's a great addition to TDC's schedule - one that will give everyone who wants to take advantage of every moment in South Florida a perfect place to say their final goodbyes before heading home.

There are several other new developments to share with you. The reason we're heading down to Fort Lauderdale early (on the 24th) is to get settled in before the Womens Meetup begins the following morning. Jodi has invited me to take part in that special event by interviewing our mutual long time friend, domain industry star Lori Anne Wardi, in a fireside chat Friday.

As most of you know Lori Anne was instrumental in the masterful marketing program that made the .CO TLD so successful. She is now a Vice President at Neustar (who bought the .CO registry largely because of the job Lori Anne, CEO Juan Diego Calle and their team did it turning the extension into a $100 million+ asset). I will also be doing an onstage chat with Bobbie Weiner, a true star in the world of special effects makeup (she worked on the blockbuster film Titanic), whose inspiring personal story will be a highlight of the Womens Meetup. If you haven't already gotten tickets, you can get them in advance here.

I'm also looking forward to DOMAINFest at THE Domain Conference Sunday (September 27). DOMAINfest/NamesCon Co-Founder Jothan Frakes, fresh off his success at the first DOMAINfest Asia event this past week in Macau, has put together an excellent agenda for the South Florida event. It will start with an Introduction to Domaining for newcomers and continue with a two part seminar on Engaging the Spanish Speaking Market and Customer. After a lunch break sessions will continue through the afternoon.

THE Domain Conference itself (after two days of Cabana Networking Saturday & Sunday, Sept. 26-27 - a highlight in itself) will officially

open with the Sunday night Welcome Party in the Pier 66 rooftop room that is being co-sponsored by .CLUB and .Miami. Two full days of business will follow Monday & Tuesday (Sept. 28-29), including the Domain Industry Awards Luncheon on Tuesday that is being sponsored by Donuts.

One theme you will see emphasized more than usual at THE Domain Conference will be development. If you are interesting in putting a website of your own online, or are already operating an online business TDC will have a panel of experts and their own resident WordPress expert, Brett Napoli, on hand to help you learn how to maximize your profits. One-on-one WordPress training will also be available to all TDC attendees.

While this will be THE Domain Conference's first time around the track it will be nothing new for the Neu family after their decade of experience in staging T.R.A.F.F.I.C. shows all over the world.

Howard, Barbara and Ray Neu at the Hyatt Regency Pier 66 Hotel in Fort Lauderdale
where they will be hosting THE Domain Conference September 26-30, 2015.

The Neus will introduce a lot of new things at THE Domain Conference but one thing will remain constant - you will will go home from an extremely productive week of networking and education that will have you much better prepared to succeed in a business that is constantly changing. Staying up to speed by attending major industry meetings like TDC isn't just a good idea - it's a must if you want to take full advantage of the many opportunities this business still offers those who understand the importance of making the right contacts and getting the best advice.
The DOMAINfest Asia Auction That Ends Thursday Has Already Drawn Over $6 Million in Bids + Some Related Domain Sales Notes
While the first DOMAINfest Asia conference ended Monday (Sept. 7, 2015) in Macau, the RightOfTheDot.com domain auction being held on the 4.cn platform as part of the show is still going on and is shaping up to be the biggest domain auction in years.

As of this writing TheDomains.com (the popular blog run by RightOfTheDot Co-Founder Michael Berkens) is reporting that over $6 million worth of bids have already been placed in the 545-lot online auction. A very large offering of 3-letter and 3-number .com domains continues to drive that bid total up. Lots will begin closing (in groups staggered four hours apart) on Thursday morning, September 10, 2015 at 8AM U.S. Eastern time (which is 8PM Thursday in Hong Kong where 4.cn is hosting the sale).

You can see a full list of domains in the auction and the current bids here. If you want to bid you have to register at 4.cn first. TheDomains also noted that if you're a U.S. based buyer and want to bid without putting down a deposit you need to let ROTD know today by sending an email to [email protected].

The DOMAINfest Asia conference was very well received and will be back next year when the show will move to Hong Kong where it will run from September 19-22, 2016 at a venue to be announced.

It is no secret domain sales have been booming in China. If you want to learn more about what it is selling there (and what is not) you will want to check out the latest article in TLD Registry's Chinese Domaining Masterclass Blog Series that covers the "number 4." Numerics are especially popular in China where the digits have special meanings. For example, the article notes, "the number four in Chinese culture is widely known as being a number that carries a negative, superstitious, and relatively gloomy meaning." You will learn why that is the case in this interesting new article.

One other note today - while we are on the subject of blog posts about domain sales - Hobi Michalec, the Director of Business Development at Domain Holdings, has jus posted his first article at the new DomainSaleGuide.com site. In it, Hobi gives you the inside story on how a $50,000 sale of Charts.com that he brokered with Deepak Daftari came about.

You will find out that it is not always easy to find a buyer for even a great domain like this one. Hobi gives you some eye-opening insight into everything that was involved in getting the sale done when the seller and potential buyers started miles apart. The original asking price was $200,000 and a lot of the initial offers from likely buyers were only in three or four figures! The article covers how that vast gap was eventually bridged.

Hobi Michalec
Photos & Highlights from the First DOMAINfest Asia Conference that Ended Today in Macau
The inaugural edition of the DOMAINfest Asia Conference ended its four-day run today at the Grand Hyatt Hotel in Macau and by all accounts from organizers and attendees it was a very well received event that helped bridge the gap between the Eastern and Western domain communities. The conference got underway Friday evening (September 4, 2015) with a welcoming cocktail session, followed by three full business days that featured well-known industry experts from around the world.

DOMAINfest Asia was the brainchild of DOMAINfest/Namescon Co-Founder and Producer Jothan Frakes, DotAsia

Organisation CEO Edmon Chung and Allegravita CEO Simon Cousins. Mr. Cousins was kind enough to share some photos with us that were snapped during the course of the event by Allegravita and .ASIA photographers. There is nothing like being at a conference is person but these shots will give you a peak at what proved to be a very productive four-day weekend in Macau.

Above: DOMAINfest Asia got underway Friday evening (Sept. 4, 2015) with a welcoming Cocktail Reception at the Grand Hyatt Macau.

Below (left to right): Ray King (Top Level Design, LLC), Edmon Chung (DotAsia CEO and DOMAINfest Asia Co-Host) with fellow attendees Yannis Li and James Wolf at the opening night reception.

Above: At left, Crystal Peterson (.CO/Neustar Head of Global Sales and Channel Marketing, Registry Services) with Leona Chen-Birkner (DotAsia Vice President of Registrar Relations and DOMAINFest Asia Co-Host).

Below (left to right): Angie Graves (WEB Group, Inc. Founder and one of the the show's featured speakers), Anshul Goyal (Email.biz Founder) and Jothan Frakes (DOMAINfest/NamesCon Co-Founder and Producer).

Above: Also among those on hand for the opening night reception were conference speakers Michael Gilmour (ParkLogic.com Founder) and Tessa Holcomb (Igloo.com Co-Founder & CEO).

Below (left to right) Raymond Li (Allegravita CTO), Colin Campbell (.CLUB Founder, Chairman & CEO) and Manmeet Pal Singh (DomainX Conference Founder).

Above: At 9:45am Saturday morning (Sept. 5, 2015) it was time to get down to business with DOMAINfest Asia Co-Hosts (left to right) Edmon Chung, Jothan Frakes and Simon Cousins welcoming their guests to the big event.

Above & Below: Views from the audience at DOMAINfest Asia Saturday.

Above: The first business session of DOMAINfest Asia 2015 was a keynote talk with Dr. Gregg McNair (at far right) conducted by Jothan Frakes (center). Dr. McNair is Chairman of the Hong Kong based PPX International Group and is also Chairman and Co-Founder of Igloo.com. Gregg is also well known for his charitable work on behalf of The Water School.

Below: In a later session Saturday morning, Lie Yue (Internet Researcher and Vice Area Chair, Chinese Academy of Information and Communications Technology) talked about Bridging East and West.

Above & below: DOMAINfest Asia attendees getting to know each other better during the lunch break Saturday afternoon.

After lunch the China experts from Allegravita, Simon Cousins and Raymond Li, drew an appreciative crowd to their China Boot Camp for Registrars. The rich agenda brought many more top speakers to the stage through out the weekend to cover topics including The Value Promise of New gTLDs, Appraisal of Domain Names, Trading & Negotiation of Domain Names Around the World and The Future of Domains (IDN and Universal Acceptance), to name just a few.

Above: The main event on the final day of DOMAINfest Asia in Macau Monday (September 7, 2015) was an Executive Roundtable discussion moderated by Jothan Frakes (standing at far right). Seated (left to right) are Dr. Gregg McNair, Simon Cousins, Jeff Sass (.CLUB CMO), Monte Cahn (RightOfTheDot, LLC President), Edmon Chung and Ray King.

Below: .CLUB's Jeff Sass, who also delivered a keynote talk Sunday morning, answers a question during Monday's Executive Roundtable discussion while Simon Cousins (left) and Monte Cahn (right) listen in.

With another edition of the decade-long DOMAINfest series - and its first foray to Asia - now in the books, you might think Producer Jothan Frakes could now kick back and relax for a few months - but no chance. In addition to just having been named the new CEO at registrar Moniker.com (news that came out at DOMAINfest Asia) Jothan will be bringing a one-day DOMAINfest event to South Florida less than three weeks from now as a lead in to the first edition of THE Domain Conference at the Hyatt Regency Pier 66 Hotel in Fort Lauderdale. DOMAINfest will run there with a full day of business sessions on Sunday, September 27, 2015 (admission to DOMAINfest is included in THE Domain Conference registration fee).

If you want to look further out, DOMAINfest Asia has already announced a return engagement for 2016. That show is to be held September 19-22, 2016 in Hong Kong with the venue still to be named.
Diana Jackson Painting for The Water School to Be Auctioned Off at THE Domain Conference
Many of you who know my wife Diana know that she is a gifted oil painter. Like me, she is a fan of The Water School, a charity whose clean water solution has prevented disease and saved many lives in developing nations. So, for a long time now, Diana has wanted to do an original painting for The Water School that

would capture the spirit of the organization's mission and perhaps raise a few dollars for TWS's work in the process. After all, even a little goes a long way with The Water School - a $50 donation can supply a family of five with clean drinking water for life.
While she knew she wanted to do a special painting Diana wasn't sure what she wanted to paint until she saw a photograph that another Water School supporter, Braden Pollock, took during a trip to Africa earlier this year. With that image providing her inspiration she set up a 30 X 40 canvas and started applying brushstrokes.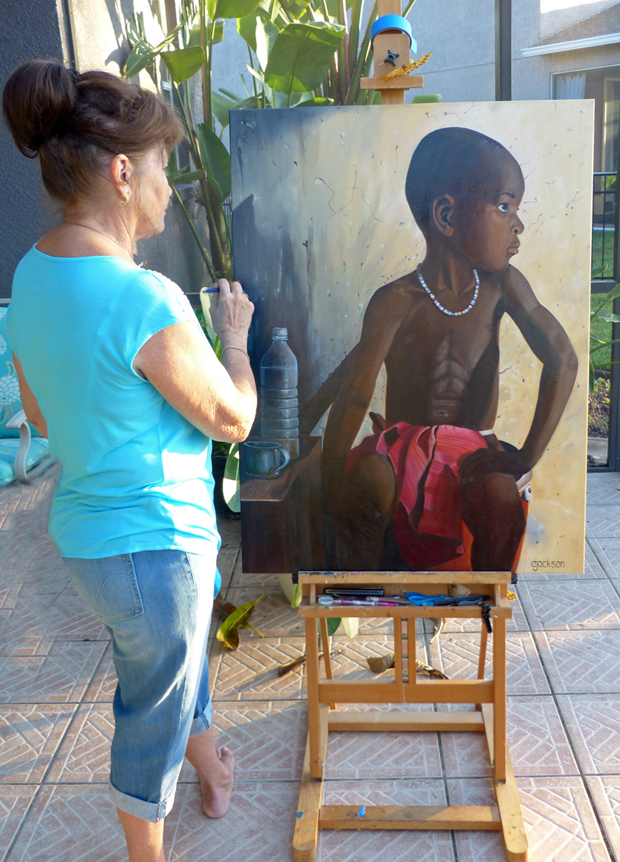 Above and below: After weeks of work, Diana Jackson applies finishing touches to her painting for The Water School - a work that will be auctioned off later this month at THE Domain Conference with all proceeds going to the charity.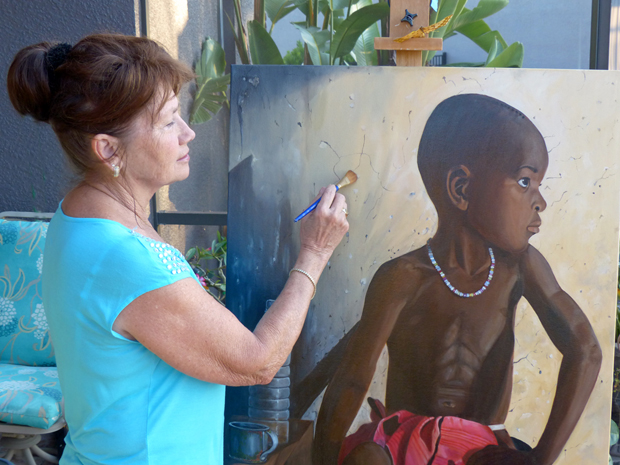 With the painting now done, it will be auctioned off at the inaugural edition of THE Domain Conference that is coming up September 26-29 at the Hyatt Regency Pier 66 Hotel in Fort Lauderdale, Florida. As long-time supporters of the Water School's work, our friends at Igloo.com are administering this fundraising effort. To bid on this painting by proxy, get more information, or to make a donation to Water School, you can email them directly at [email protected].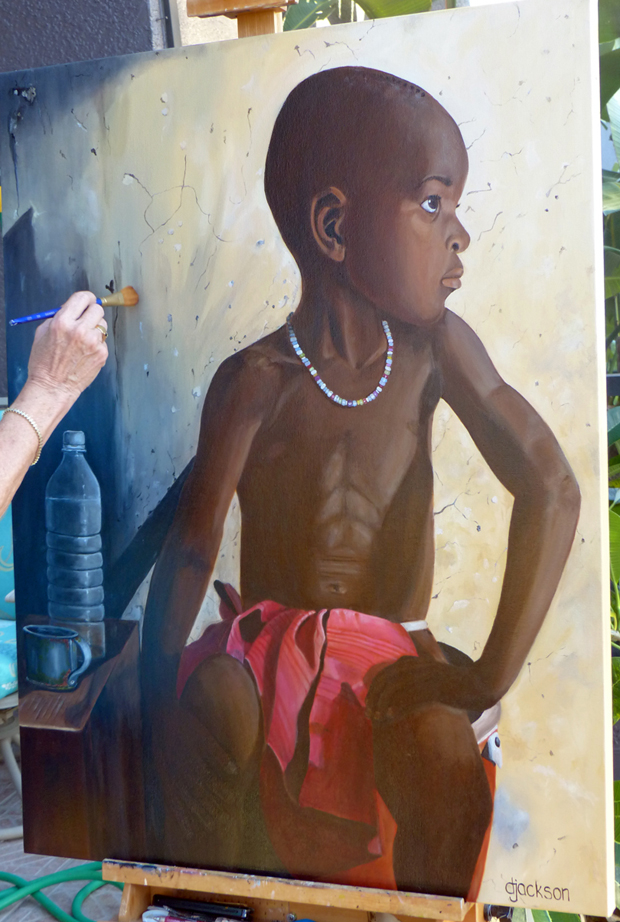 The domain industry has been supporting The Water School's work for many years now, so most of you know how effectively the Water School system combats waterborne disease and death related to sanitation problems. The program's three step process is introduced though local school systems where the children pass on what they have learned to their parents and ultimately their community. Proceeds from Diana's oil painting help kids in Uganda experience the life-changing impact of clean water.

Diana will be at THE Domain Conference and would be happy to see you there and answer any questions you may have about the painting and the inspiration behind it.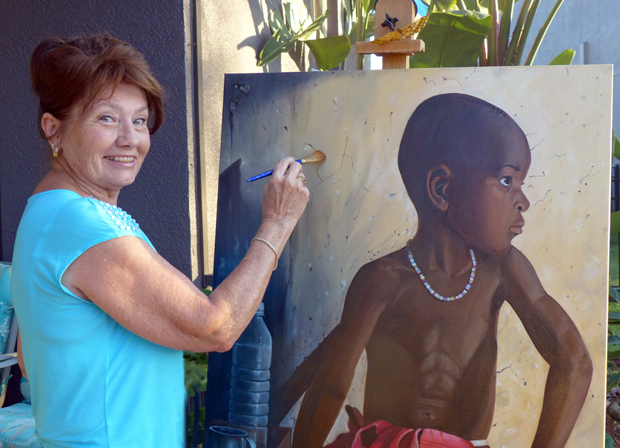 ---
If you've been out of the loop lately, catch up in the Lowdown Archive!
---
We need your help to keep giving domainers The Lowdown, so please email

[email protected]

with any interesting information you might have. If possible, include the source of your information so we can check it out (for example a URL if you read it in a forum or on a site elsewhere).
---
Home Domain Sales YTD Sales Charts Latest News The Lowdown Articles
Legal Matters Dear Domey Letters to Editor Resources Classified Ads Archive About Us