While many view new gTLDs as being competitors to the long established .com, Westerdal said that because of its unique characteristics, that is not the case with .feedback . "New registries use phrases such as "non-com revolution" and "unCOMplicate your life", Westerdal noted. "While battling for market share is a hard but rewarding struggle, we at the .feedback registry know we are not competing against ".com". You will not find hot new startups in the .feedback namespace. However you will find a domainer's dream, "direct navigation" lives and breaths. The registry has a policy that all registered domains need to resolve to a webpage that takes feedback. Considering that in ".com" 22% of domains have real websites and that in new TLDs only 11% have real websites, it would be a huge struggle to achieve 100% live sites. However the .feedback registry has provided a default website with each domain sold that does exactly this."
Feedback image from Bigstock


Westerdal added, "Companies are not forced to use the default platform but we are solving the problem that 80% or more of all domains have after being registered. By placing the requirement that 100% of all domains in .feedback resolve or redirect to a feedback websites we allow for direct navigation to happen. A few great cases that we have seen so far are nike.feedback and yahoo.feedback. Try finding those locations with a search engine."

"Have a problem with something? Want to give feedback? Just type SOMETHING dot FEEDBACK into your browser. If the site doesn't exist, then do the world a favor and register it and start giving feedback on the new website in less than 2 minutes," Westerdal said.
Westerdal pointed out another interesting aspect of the .feedback universe. "Sites not owned by the company will make up a vast majority of the registrations in the registry. As an example Microsoft.feedback, Google.feedback and Facebook.feedback got acquired by a passionate customer. This practice is considered cybersquatting, illegal and against ICANN's UDRP rules in almost all circumstances. However in .feedback the sites are being run to gather and share public opinions and are protected by free speech laws. In fact the Program Manager in charge of Microsoft's Domains, Cole Quinn, stated that Microsoft missed the window to register and had been beaten to the domain registration. They acknowledged free speech trumped their own use of the domain and that they would not fight the registration," Westerdal said.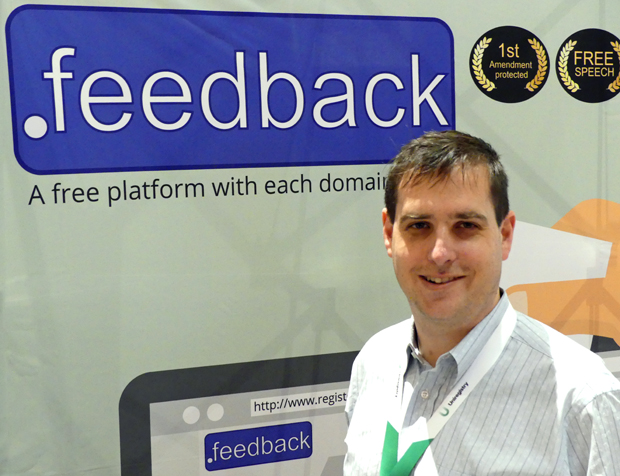 Jay Westerdal at the .feedback booth at last week's NamesCon conference in Las Vegas.
Still, Westerdal wants .feedback domains used in the right way. "We encourage everyone that registers in .feedback to use the domains for public good. With great powers comes great responsibility. Use the .feedback platform and try out the great tools that have been made available for free to domain owners."
Westerdal also cautioned, "It is possible to be be the target of a UDRP, even if the site is operated as a free speech site. If the site owner shows bad faith they can lose a UDRP. So far, bad faith only happens in two ways: One, negotiating to sell the domain. Two, using proxy/privacy service and hiding your real information on the whois. While I personally disagree about privacy rights, WIPO on the other hand has found that privacy constitutes bad faith. The .feedback space is a trademark bully-free zone. Free speech is everyone's right and sharing thoughts and ideas is what makes the Internet great."
"We encourage everyone to take back the Internet, voice your praise or concerns about a company using the public .feedback platform. Next time you feel like giving feedback ask yourself if you will be heard. Voicing your concern on a corporate website may fall on deaf ears but it is far more likely that a corporation will respond to your feedback if it is public and everyone has access to read it," Westerdal said.
In closing, Westerdal noted, "To register in the space we have signed up over 100 registrars. If your registrar is not included yet give them feedback that you want them to carry .feedback. Here is a full list of registrars that accept registrations now."