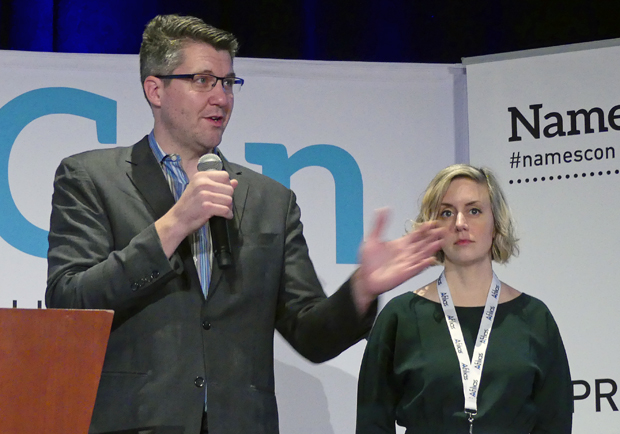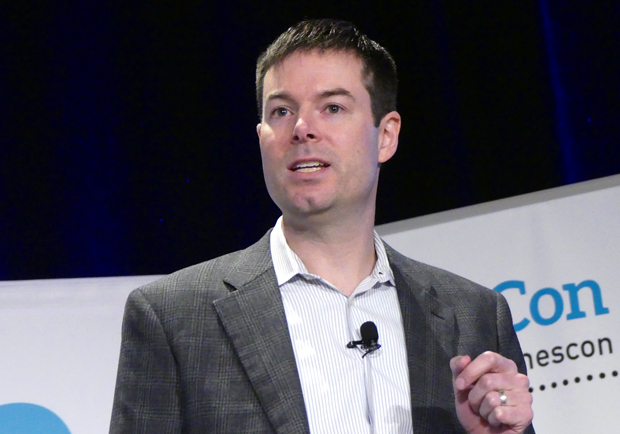 Above: At 10am, Mike McLaughlin (Godaddy Sr. Vice President, Domains), delivered a keynote talk that included news about a slick new GoDaddy investor mobile phone app that you will want to get. Mike also called Paul Nicks (General Manager of Godaddy's popular Afternic domain sales platform) to the stage to share the company's aftermarket news. You can get more details on what Mike and Paul had to say here.
Below: Next up at 10:25am was another keynote - A Branding Perspective from Paul McGrady (Chair of Trademark, Domain Name & Brand Enforcement, Winston & Strawn). You will find more on Paul's talk here.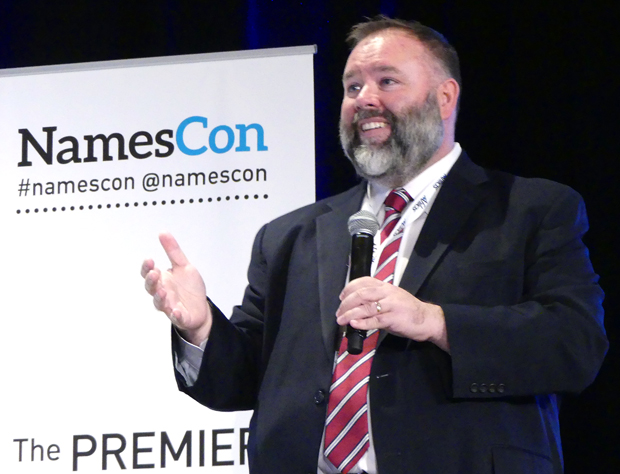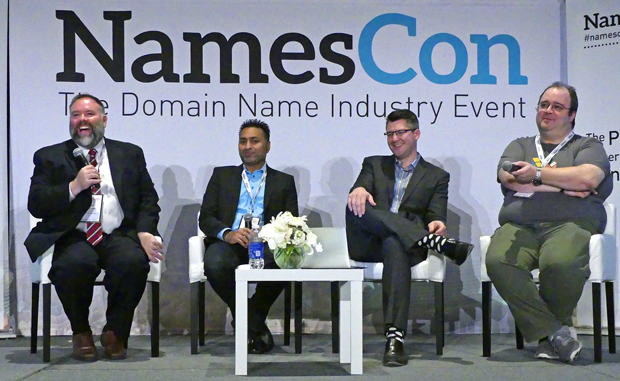 Above: After his keynote, McGrady (left) joined (left to right after Paul) Pervez Delawalla (CEO, Net Data Centers), Christian Dawson (12Coalition) and Michele Neylon (CEO, Blacknight Internet Solutions Ltd) for a panel discussion about Naming the Innovation Economy.
Below: In between sessions NamesCon attendees took advantage of the inviting meeting space in the expanded Exhibit Hall to catch up with friends and company representatives.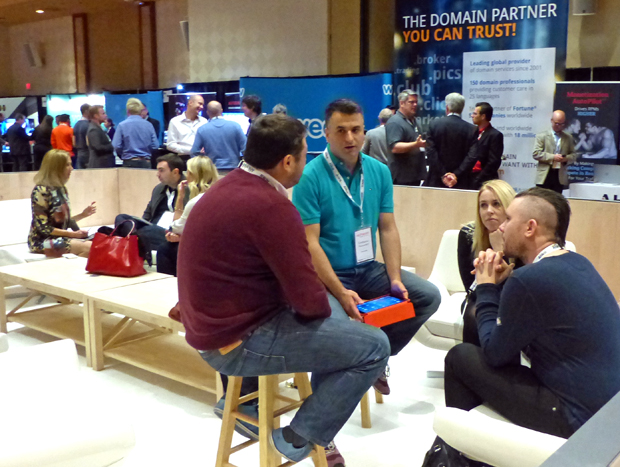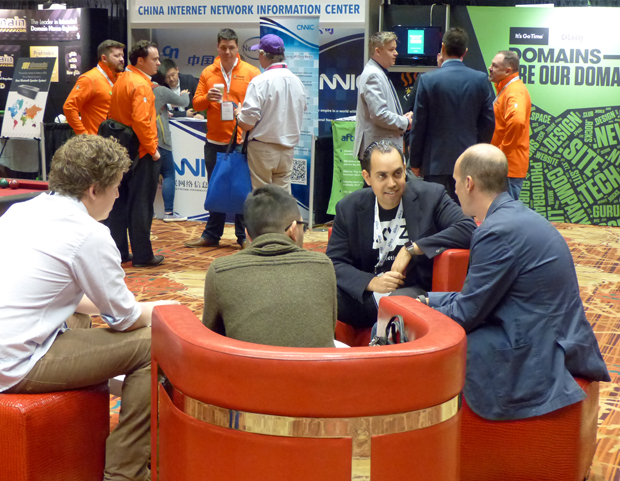 Above: In addition to taking advantage of the convenient and comfortable seating throughout the Exhibit Hall, attendees could visit any of the dozens of sponsor exhibits to ask questions about their offerings and pick up cool swag including T-shirts and other promotional items.
Below: On hand to greet guests at the Above.com table were (left to right) David Warmuz (President of Above parent company Trellian.com), EVP Nancy Bianchi and SVP Aaron Kvitek. Senior Account Manager Liz Corona was also there but we never managed to catch all four of the busy Above folks together at once! Above.com was celebrating the launch of a new and improved website during show week.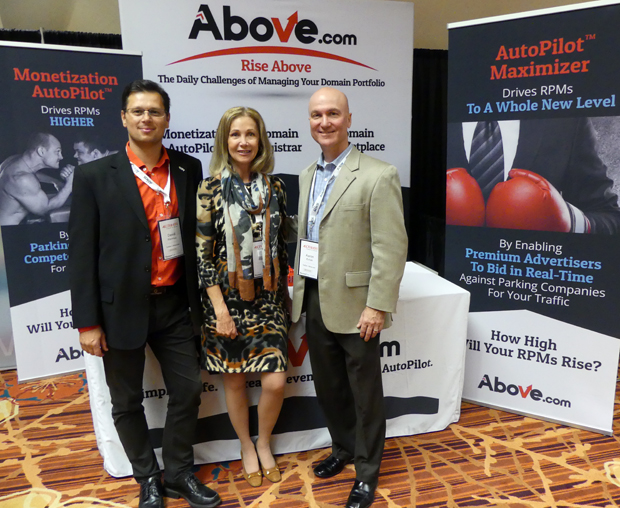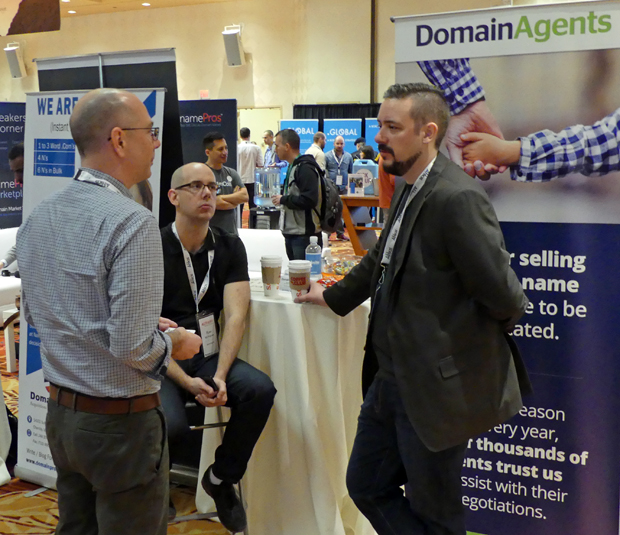 Above: Phil McKegney (DomainAgents.com), at right, chats with visitors to his company's booth in the Exhibit Hall.
Back in the various NamesCon meeting rooms four more simultaneous business sessions got underway at 11:45am. Uniregistry's Sevan Derderian discussed the popular registrar's bulk management tools in one room while Simon Cousins and Raymond Li (of Allegravita.com) conducted a China Boot Camp for Registrars in another.
Below: Another 11:45 session about aftermarket sales called The Secondary Market is the Primary Market featured (left to right): Andrew Rosener (MediaOptions.com), Larry Fischer (GetYourDomain.com), moderator Derek Newman, Jeff Gabriel (Uniregistry Market) and Monte Cahn (RightOfTheDot.com).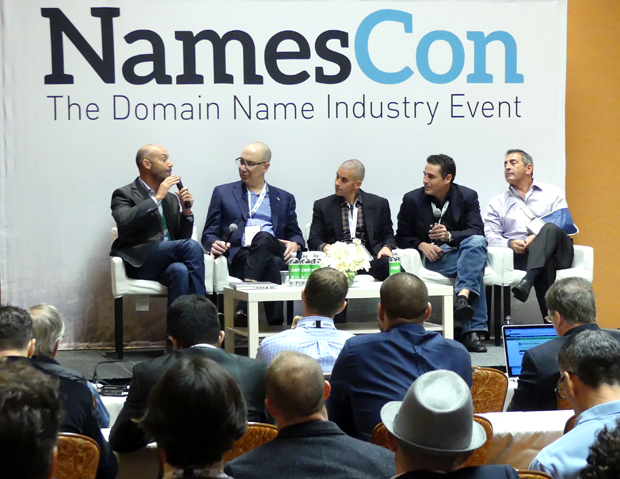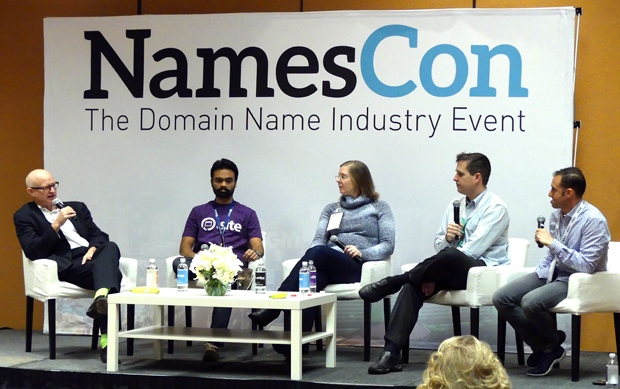 Above: Wrapping up the final round of morning business sessions was this panel allowing attendees to Meet the New TLDs. It featured (left to right) Jodee Rich (CEO, People Browser), Karn Jajoo (Associate Manager, Radix Registry), Reg Levy (VP Compliance + Policy, Minds + Machines), Jay Westerdal (Founder & CEO, Total Level Spectrum - TLS's .feedback extension just entered General Availability today) and moderator Braden Pollock (LegalBrandMarketing).
Below: Before the lunch break the audience also got an update from Vox Populi Registry CEO John Berard.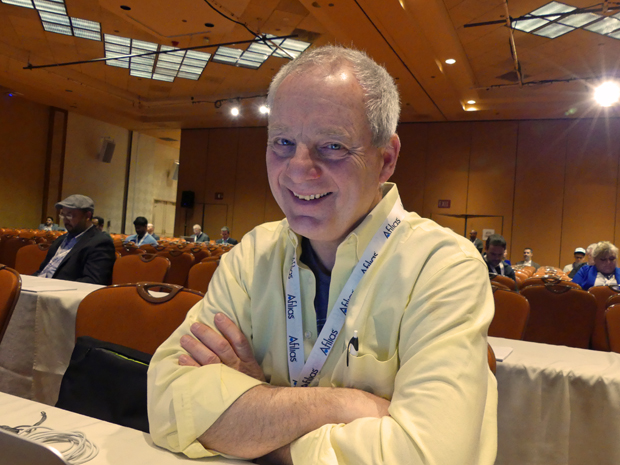 Above: After the lunch break Pat Kane (Verisign Senior Vice President, Naming and Directory Services) kicked off the afternoon session with a fascinating stats-filled keynote address that underscored the continuing strength of Verisign's .com extension. You can find details on Pat's talk here.
At 2:15pm it was time for another round of business sessions including another China Boot Camp with Simon Cousins and Raymond Li - this one a General Session with Q&A. The Uniregistry room also continued to welcome attendees with a session about the new Uniregistry Market (an upgraded iteration of the popular DomainNameSales platform).
Below: Also at 2:15, Canada and .CA was in the spotlight in this session featuring (left to right): Kelly Campbell (Channel Manager, CIRA), lawyer Zak Muscovitch (DNAttorney.com), Elliot Noss (President & CEO, Tucows Inc.), veteran investor Rob Montgomery, Peter Maxymych (President, Emall.ca Inc) and moderator Bill Sweetman (NameNinja.com).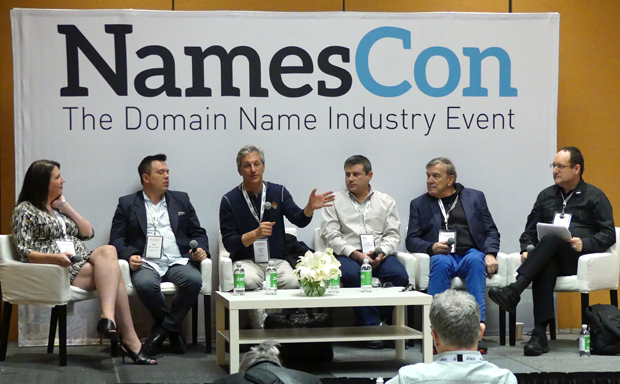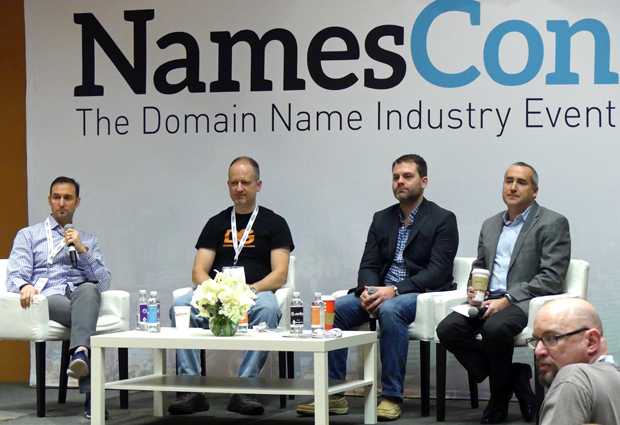 Above: In the final 2:15pm session, Domain Name Security was the topic of discussion among this group of experts. Left to right are moderator Braden Pollock, Theo Develegas (Owner, Acroplex.com) and Scott McCormick (President, Kvant).
Below: The next hour, starting at 3:20pm brought three more panel discussions. Here Michael Gilmour (ParkLogic.com), standing, conducted a MasterClass on Domain Traffic Monetization that drew a capacity crowd.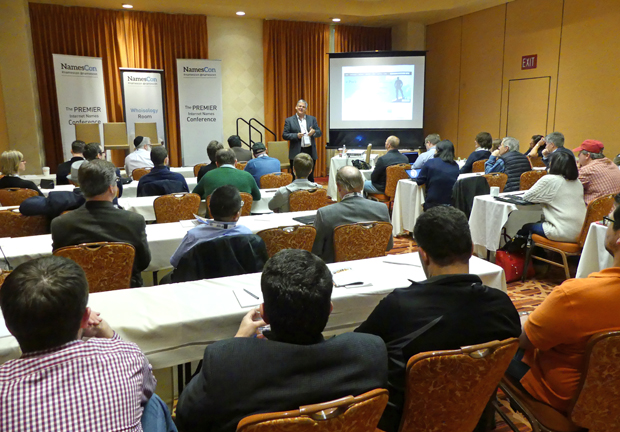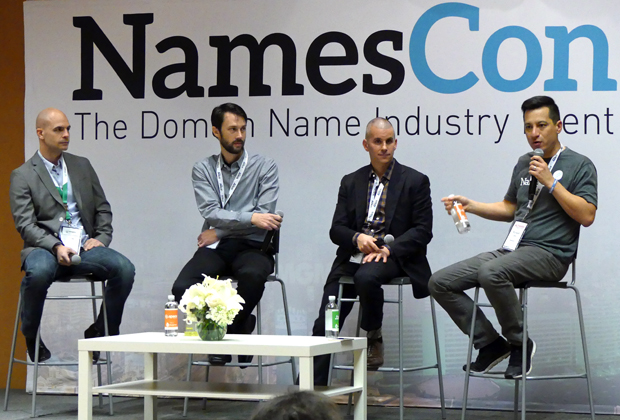 Above: In another 3:20pm session that was an audience favorite, the topic was Future Proofing Your Domain Business. It featured (left to right) John Smrekar (Uniregistry), veteran domain investor and entrepreneur Adam Strong, moderator Derek Newman and NamesCon Co-Founder Richard Lau.
Below: Wrapping up the 3:20 round was this panel on Using WordPress to Develop and Host Domains. It featured, left to right, Lisa Box (VP Business Development, WP Engine), Krutal Desai (Special Projects, Automattic/WordPress), Tony Gilharry (Sales Engineer, WP Engine), Cory Miller (CEO, iThemes.com) and Paul Carter (Chief Marketing Officer, Pressed.net).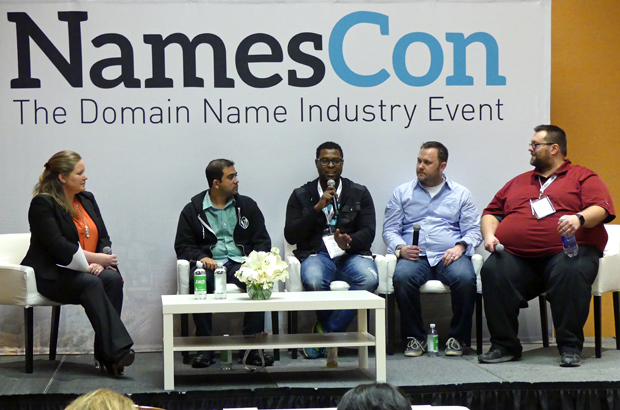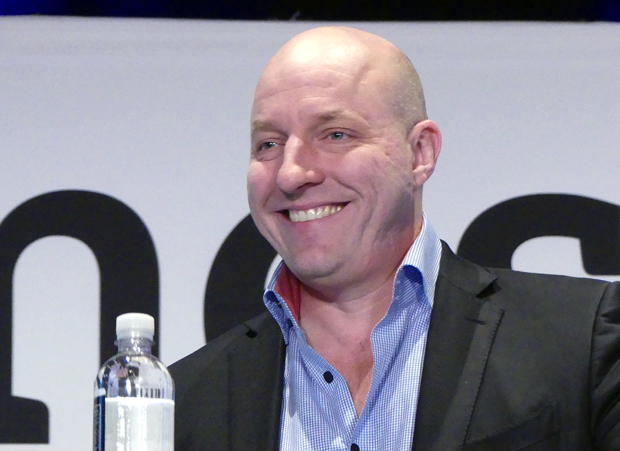 Above: At 4:25pm it was time for NamesCon 2016's final keynote address and they landed a speaker worthy of the anchor role - Matt Barrie (President & CEO, Escrow.com (part of Freelancer Limited). Matt covered a wide range of new and improved services at Escrow.com and had a lot of good news about upward trends in the domain market (something he has a great deal of insight into at Escrow.com, the global leader in secure online transactions). You will find more details about Matt's talk here - or better yet - watch the full video of it here.
Speaking of videos - a video of Uniregistry Founder Frank Schilling's SRO keynote talk from earlier in the week is also now available on YouTube. If you did not see it in person, this is another one you will want to watch.
Below: At 4:50 the final event of Namescon 2016 was staged - an Executive Roundtable that featured (left to right): Christian Dawson (i2Coalition), Michele Neylon (Blacknight Ltd.), Rolf Larsen (CEO, DotGlobal), Tessa Holcomb (Co-Founder & CEO, Igloo.com) and Arnold Blinn (Chief Architect at Go Daddy). With the panelists' expertise in various sectors of the industry this illuminating discussion proved to be the perfect ending for a truly extraordinary event.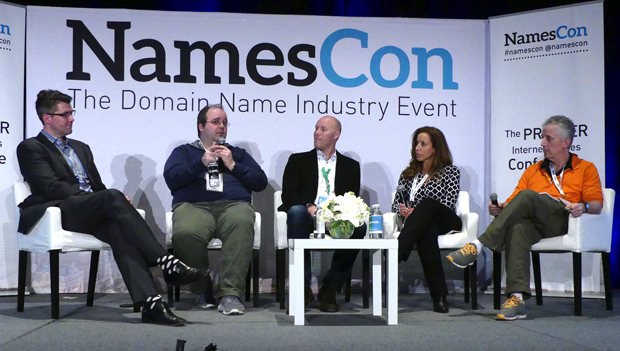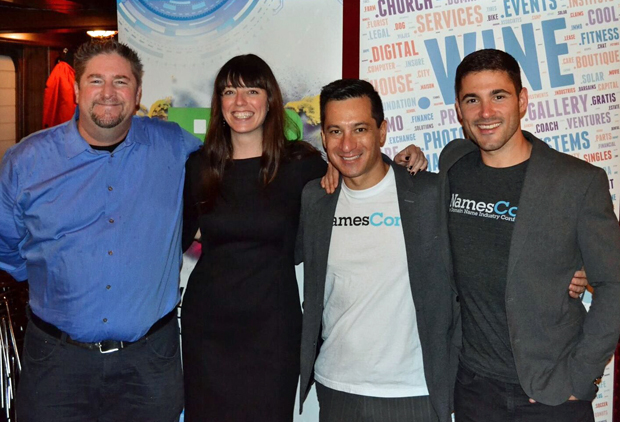 The people who made the magic happen: (left to right) NamesCon Co-Founder Jothan Frakes, Co-Producer Terri Potratz, NamesCon Co-Founder Richard Lau and Co-Producer James Morfopoulos. Though they had much to celebrate at NamesCon 2016 concluded you can bet they are already working on next year's show that will run January 22-25, 2017 at the Tropicana Hotel in Las Vegas. If history is an indicator that one will set yet another new standard.