The 2016 NamesCon conference continued Tuesday (January 12) in Las Vegas with a jam-packed business day and the annual Water Night fundraising extravaganza for the Water School. (You will find opening day highlights from Sunday, Jan. 10 here and day 2 highlights from Monday, Jan. 11 here).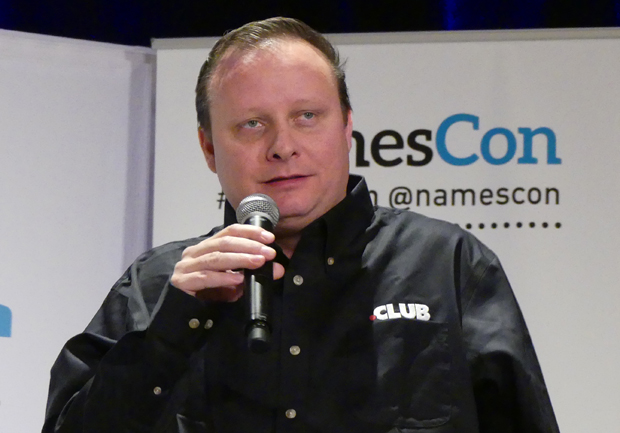 Above: Tuesday began with an update on what is happening with .CLUB (one of the most successful new TLDs) from registry Chairman and Founder Colin Campbell.
Below: Next up at 10am, the day's first keynote featured an interview with ICANN Global Domains Division President Akram Atallah conducted by moderator Derek Newman (by Tuesday night Derek would no longer have that nice head of hair. The well-known domain industry attorney sacrificed it in exchange for donations to the Water School - more on that to come). You will find details on Mr. Atallah's talk here.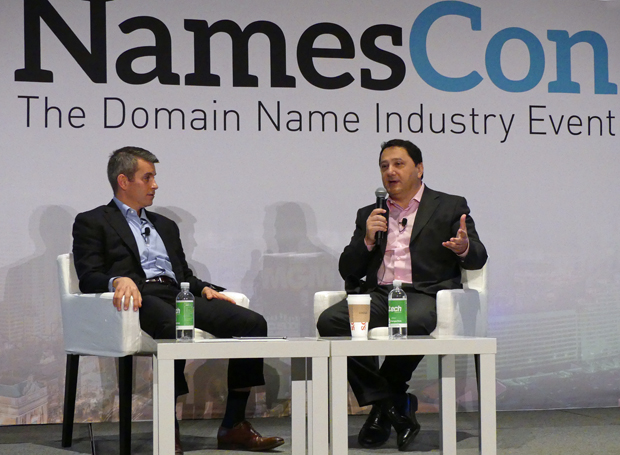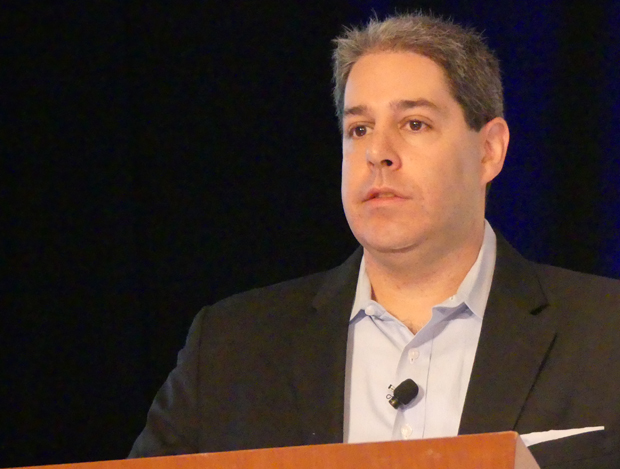 Above: Another interesting keynote Tuesday morning at 10:25 featured expert IP attorney Mark Trachtenberg (Shareholder, Greenberg Traurig, LLP). You can read a review of Mark's talk here.
Below: At 10:35am DNA University was in session. DNAU is the Domain Name Association's education arm and is responsible for providing informative insights that assist members with their businesses and help to promote the benefits of the domain name industry to the wider public. DNAU Dean Tony Kirsch (standing) was joined on stage by a panel that included Jeff Sass (.CLUB), Lori Anne Wardi (Neustar) and Elliot Silver (DomainInvesting.com).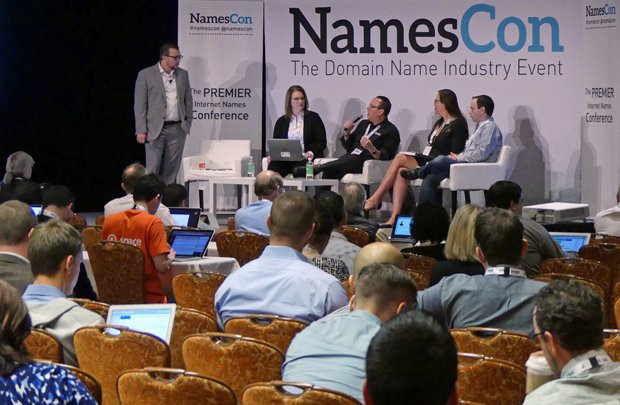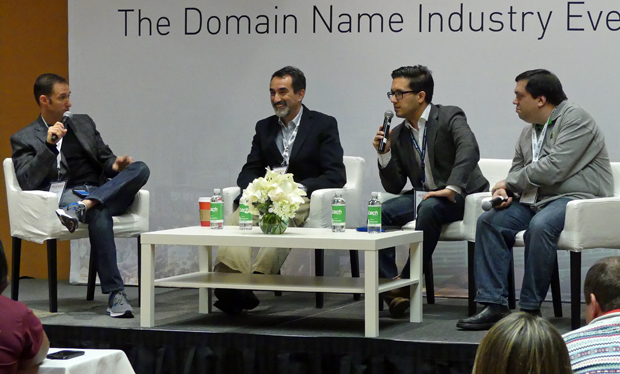 Above: At 11:45am Tuesday four separate sessions got underway simultaneously in multiple meeting rooms. Above (left to right) Moderator Braden Pollock (Legal Brand Marketing), Alfredo Pinochet (Latin TLD Inc), Jochen Kieler (Key-Systems) and Rubens Kuhl (Nic.br) presented a Primer for the Latin Market.
Below: Meanwhile Allegravita.com's Simon Cousins (far right) and Raymond Li (far left), with help from Crystal Peterson (Neustar) and Michelle Van Tilborg (.CLUB) (seated), delivered a China Boot Camp MasterClass for Registries.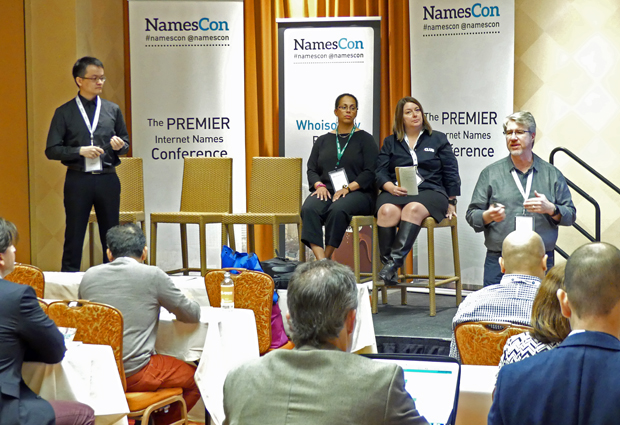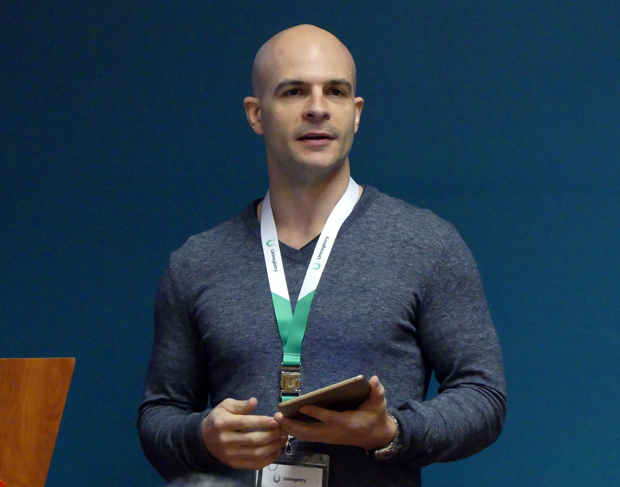 Above: NamesCon's lead sponsor, Uniregistry, continued their series of special sessions with John Smrekar (above), Jeff Gabriel and Darren Cornwell Uncovering the new Uniregistry Market - an improved version of the company's DomainNamesSales platform. You can check out the details on this discussion here.
Below: In the first of back to back ICA Live sessions, panelists answered the question Do Domainers Have Any Rights Left? Tackling that question were (left to right) Nat Cohen (Telepathy), ICA Legal Counsel Phil Corwin, Daniel Law (DomainSponsor) and moderator Bill Sweetman (NameNinja.com). In the second session, the panelists provided tips on Protecting Your Domains from New Hijacking Threats.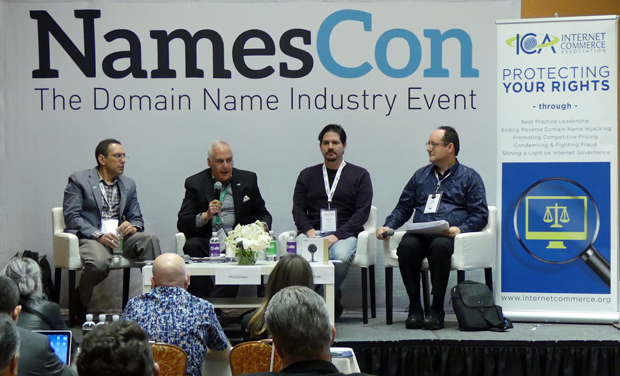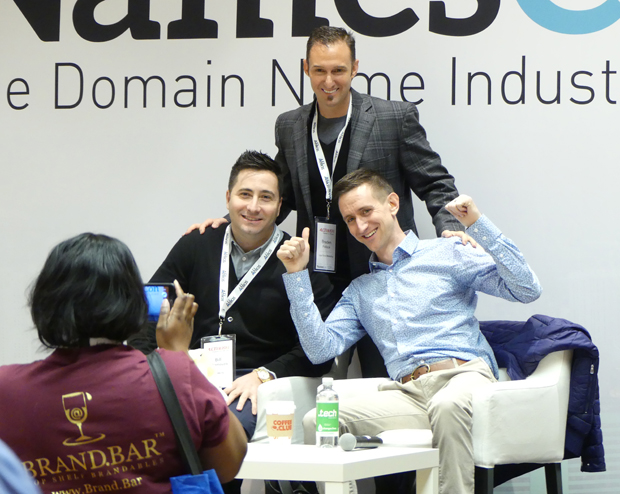 Above: Just before the final session ahead of the Tuesday lunch break got underway, Brand.bar founder Angela St. Julien snapped a shot of panelists Bill Karamouzis (TeachMe Inc.) and Morgan Linton (Fashion Metric Inc.), seated left to right, and moderator Braden Pollock.
Below: After lunch ICANN NomCom Chairman Stephane Van Gelder explained The Best Ways to Participate in ICANN via its Nominating Committee.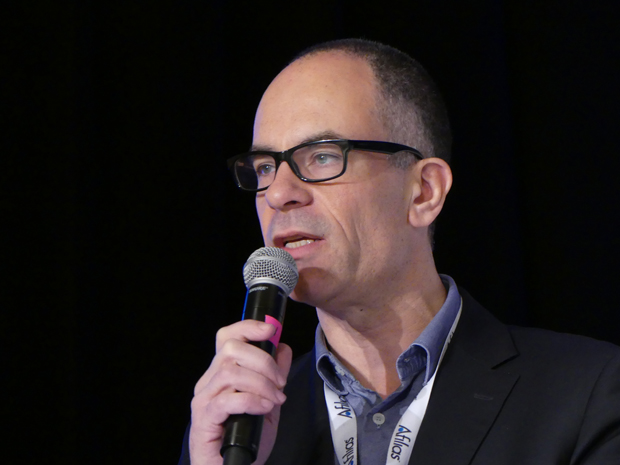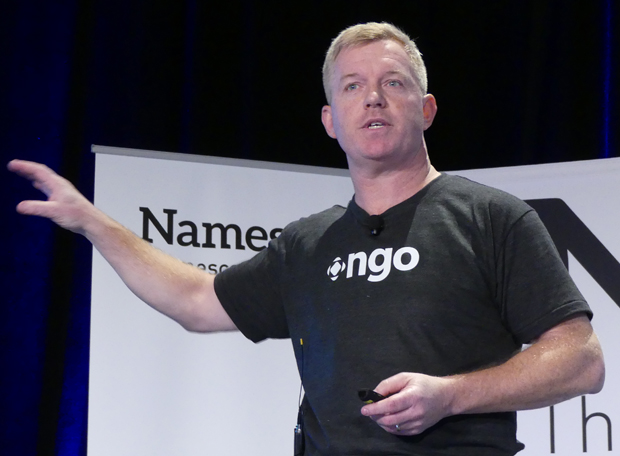 Above: At 1:45pm Public Interest Registry CEO & President Brian Cute presented a Keynote talk covering the latest developments at PIR's .org and .ngo extensions. You will find details on Brian's address here.
After Brian's talk another hour featuring four different sessions got underway at 2:15pm. In one room Morgan Linton returned to talk about Startup Accelerators and in another Tony Gilharry (WP Engine), below, presented a session called Beyond Blogging: How to Manage Hundreds of WordPress Sites with Dedicated Hosting.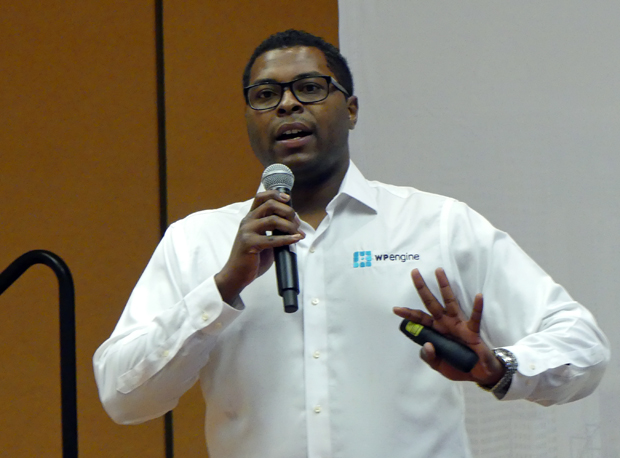 Above: In another room Go Daddy's Paul Nicks (far left) moderated a discussion of Developments in the Law of Domains. Joining him (left to right after Paul) were Nicholas Beizer (VP & Deputy General Counsel, GoDaddy), ICA Legal Counsel Phil Corwin, Aaron McKown (Partner, Ring Bender McKown & Castillo) and attorney John Berryhill.
Below: In another Uniregistry class, Ran Cui offered advice on Selling Domain for a Profit in the Chinese Market.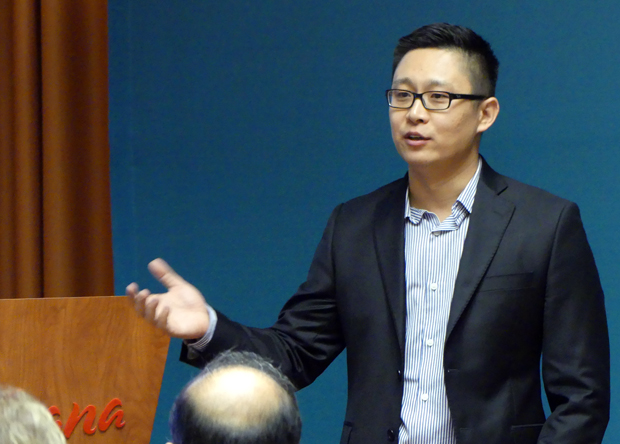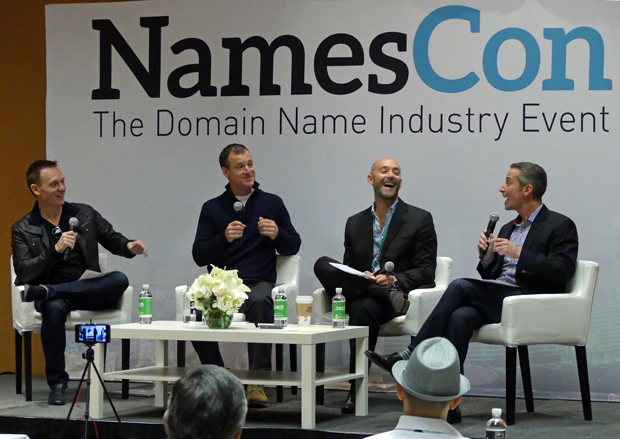 Another round of four sessions began at 3:20pm Tuesday. While another China Boot Came for Domainers was underway in one room DomainSherpa Live! (above) played to an SRO crowd in another. The lively domain appraisal discussion featured (left to right) Frank Schilling (Uniregistry), Shane Cultra (DSAD.com), Andrew Rosener (MediaOptions.com) and moderator Michael Cyger (DomainSherpa.com).
Below: Also at 3:20, Uniregistry's Michael Ward gave advice on Building a Registrar in the New Era.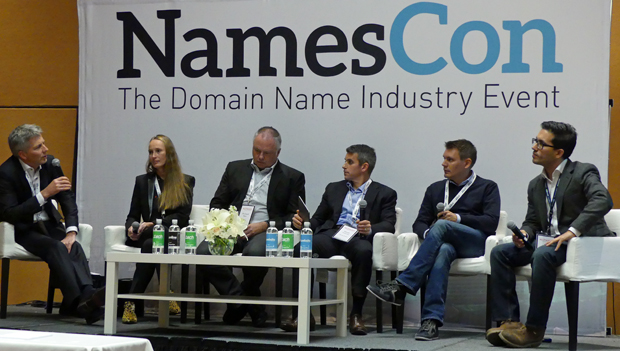 Above: The 3:20pm group of sessions also included an interesting discussion of European MArket Perspectives featuring (left to right) Roelof Meijer (CEO,SIDN.nl), Katrin Ohlmer (CMO, dotBERLIN), Richard Wein (CEO, nic.at), moderator Derek Newman, Tobias Sattler (CIO, United-Domains AG) and Jochen Kieler (CBDO, Key-Systems).
Below: At 4:25pm Tuesday I was delighted to join Donuts Inc. Co-Founder & CEO Paul Stahura (who also founded eNom) onstage for a keynote Fireside Chat. Paul has been a major industry figure and innovator since the mid 1990s and has a fascinating life story that we talked about in this interview (and that was covered in depth in the July 2015 DNJournal Cover Story about him).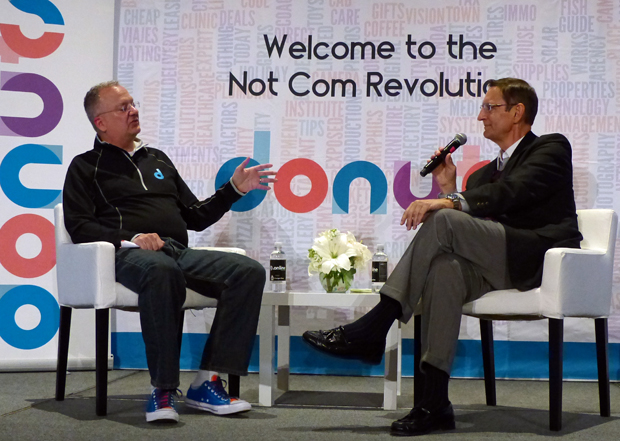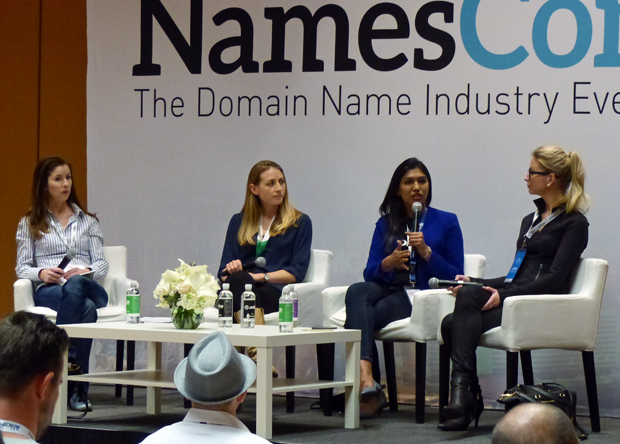 Above: The Tuesday business day concluded with one more round of business sessions including this discussion covering Successful Marketing of New gTLDs that featured (left to right) Christa Taylor (CEO, DotTBA), Amanda Fessenden (Director of Registry Business Operations, Uniregistry), Neha Naik (Director - Channel Partnerships, Radix) and Jeanette Söderlund Sause (Vice President, Industry Relations & Marketing, Dot GLOBAL).
Below: At the same time in another meeting room, the topic was DNA: Increasing Domain Value Through Self-Regulation. The DNA, of course, is the Domain Name Association. Panelists included Senior Operations Executive Tim Switzer, Statton Hammock (V.P. Business & Legal Affairs, Rightside), Stephanie Duchesneau, manages policy and compliance for Google's Domains Team, and Mason Cole (VP Communications & Industry Relations, Donuts Inc.).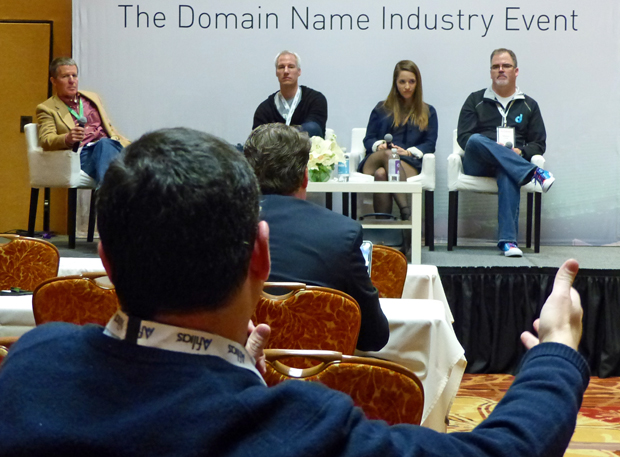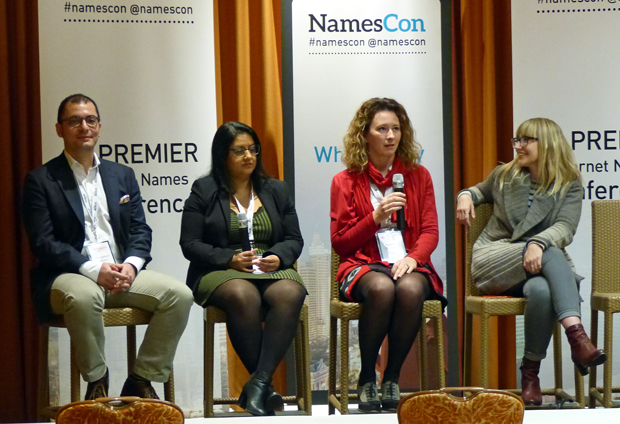 Above: The third and final business session of the day was a MasterClass: Teams Spanning Cultures that featured (left to right): Francesco Cetraro (Head of Registry Operations, .CLOUD Registry), Mou Mukherjee (Director of Marketing, .CLOUD Registry), Natasa Djukanovic (CMO, .ME Registry) and Kelly Hardy (Business Development, .ME). The panelists provided tips on tips on how to manage and thrive when your team is spread across the world.
Below: Before leaving the conference floor NamesCon Co-Founder Richard Lau introduced attendees to Tony Woodruff, a remarkable WaterSchool volunteer who serves at the organization's African Program Coordinator (this photo from the Water Night fundraising event that evening shows Richard, Tony and NamesCon Co-Founder Jothan Frakes). You will want to check out the details of Tony's talk here.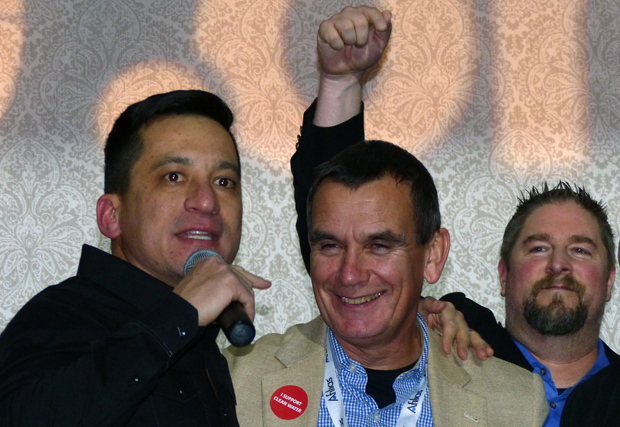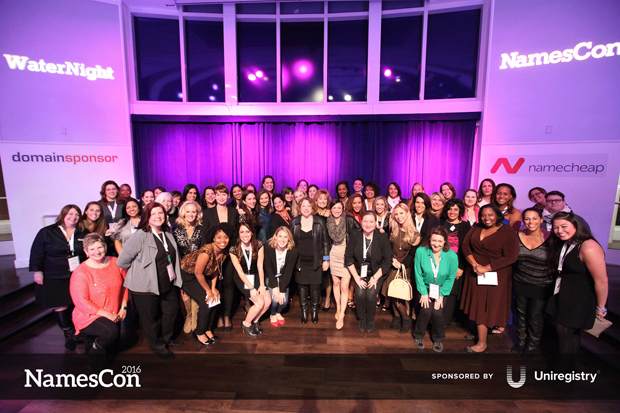 Above: Tuesday evening at NamesCon began at 7pm with the annual Woman in Domaining get together at the Tropicana Hotel. We are blessed to have dozens of brilliant businesswomen and entrepreneurs in our industry and it is never more apparent than when you see so many gathered in one place.
Below: At 9pm it was time for the big event at the Tropicana's Havana Room Night Club - Water Night - a fundraiser for the WaterSchool that is actually the primary reason NamesCon was started in the first place.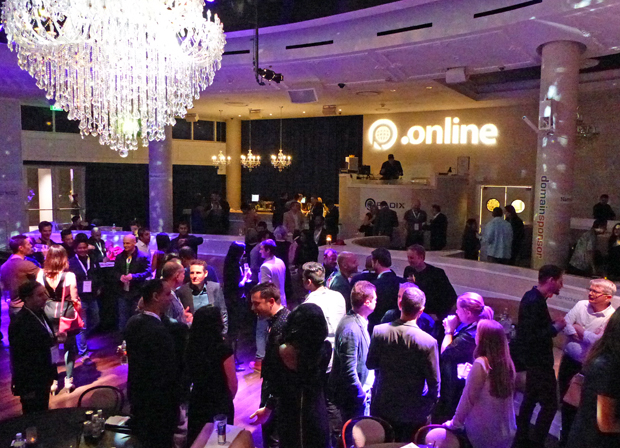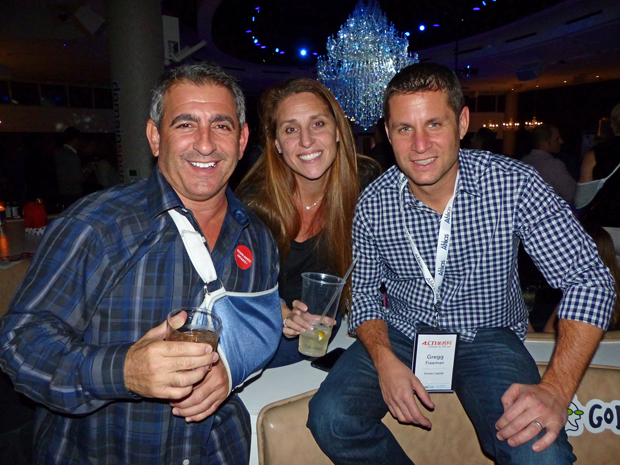 Above: Familiar faces in the crowd at Water Night included (left to right) Monte Cahn (RightOfTheDot.com), Bari Meyerson-Kissel (eNom) and Gregg Freeman (DomainCapital.com).
Below: While people come to NamesCon from all over the world, some are fortunate to have the big show staged in their own backyard. That's the case for Las Vegas based Clark Siegelin and James Davis from DomainProducts.com.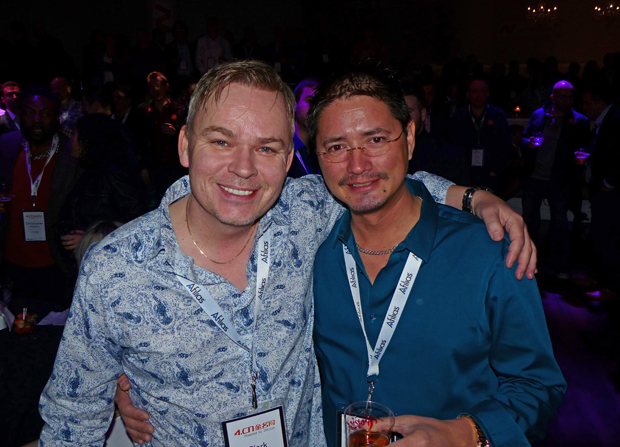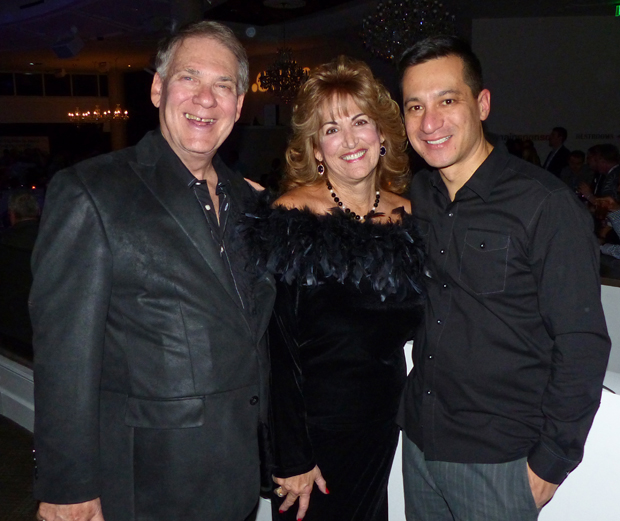 Above: Howard & Barbara Neu (from THE Domain Conference) had a surprise (actually two of them) for NamesCon Co-Founder Richard Lau (right). Industry voters elected Richard to TDC's Domain Industry Hall of Fame in September so Howard & Barbara personally delivered his HOF plaque, as well as a second award Lau won as the industry's Goodwill Ambassador of the Year.

At Right: While Richard was clearly very appreciative of the awards, he quickly diverted the spotlight from himself to the effort to raise money for the WaterSchool. Several members of the community got behind that effort by agreeing to have their heads shaved in exchange for donations to WaterSchool. They were appropriately dressed as the super heroes they are, including Larry (Superman) Fischer, seen here with Diana Jackson (DNJournal.com) just before he gave up what hair he had left!

Below: Even krypyonite could not have brought Larry down when he learned that Michael Berkens (RightOfTheDot.com), seen here with Richard Lau, donated $10,000 to WaterSchool on behalf of Larry.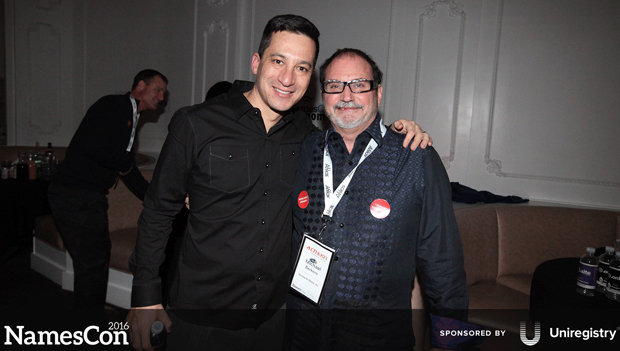 Above: PPX International Chairman (and part-time Barber) Gregg McNair clearly enjoying his chance to relieve NameCorp.com founder Alan Dunn of his hair at Water Night.
Below: The four super heroes who volunteered to have their heads shaved for WaterSchool - and some unexpected last minute volunteers, plus the extremely generous offer of matching funds from NameCheap, helped raise $115,000 for the life saving charity (with donations still coming in)! Seen left to right after the "deeds" were done are Gregg McNair, shavees Omar Ahmed (Uniregistry), Larry Fischer (DirectNavigation.com), attorney Derek Newman, Alan Dunn (NameCorp) and NamesCon Co-Founder Richard Lau (who had his head shaved a few years back at the first Water Night).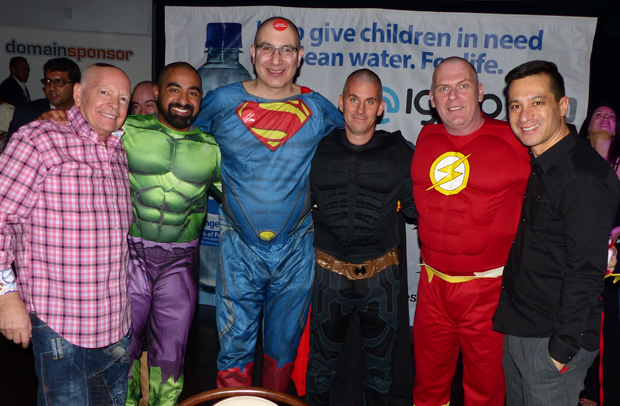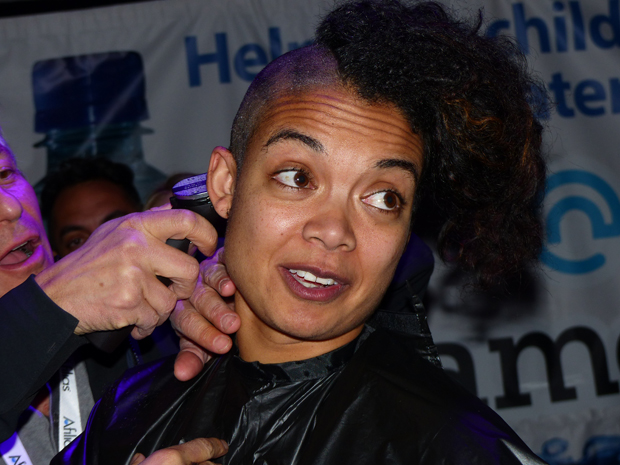 Above: But wait - there's more! In an unscheduled act of generosity, NamesCon staffer Shallom Johnson, joined a trio of last minute volunteers and agreed to have her lovely locks shorn - an effort that added some $6,000 more to the pot, much of that coming from a generous donation from Tucows CEO & President Elliot Noss (who is wielding the shears here). Some people were actually adding money to the pot to support a movement for Shallom not to give up her hair but in the end everyone, especially WaterSchool, won.
In my next post I'll have photos & highlights from the 4th and final day at NamesCon for you. There are several hundred photos still to go through from that day (Wednesday, January 13) and we will be flying home from Las Vegas today, so I will put that together for you when we are back home in Florida and get it published this weekend.