That was the inaugural BlogX conference (co-founded Manmeet and Manoj Dhanda from MicroHost.com) that was held on Friday (August 5), also in New Delhi but at a different venue - the JW Marriott Aerocity Hotel. BlogX was originally slated to be held at the same hotel as DomainX but a larger signup than expected forced a move to the larger venue. BlogX gave bloggers and content managers their own place to connect and learn while networking with leaders in the blogging community.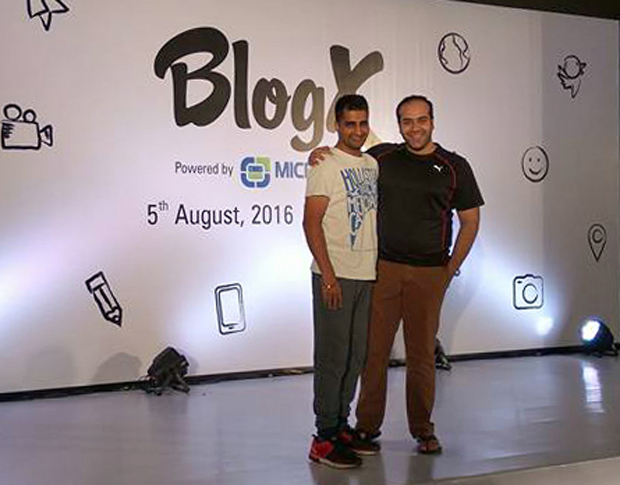 Above: DomainX organizers Manmeet Pal Singh and Gaurav Kohli on stage at their inaugural BlogX event that preceded DomainX on Friday (August 5, 2016) at the JW Marriott Aerocity Hotel in New Delhi, India.
Below: A section of the crowd at BlogX. The event was moved from Shangri-Las's Eros Hotel to the Marriott due to more people registering than had originally been expected. (Photos from Gaurav Jain).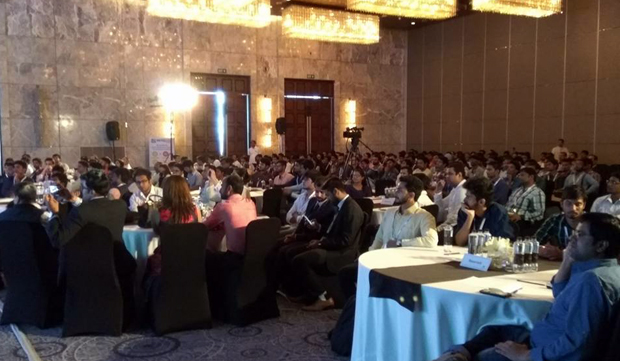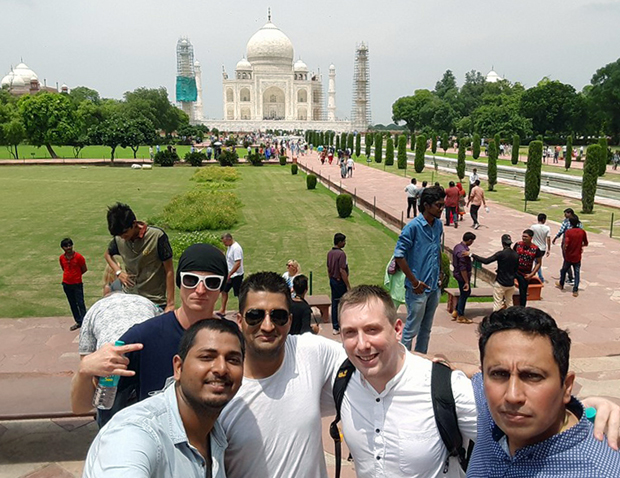 Above: The 2016 DomainX conference got underway bright and early Saturday morning (August 6) but in a major change of pace it started on the road. Organizers decided to give attendees a unique networking opportunity by kicking off the show with a day-long visit to the world famous Taj Mahal in Agra.
Below: The historic Red Fort adjacent to the Taj Mahal was also a popular stop on DomainX's opening day road trip. (Photos from the Domain Name Owners Association of India).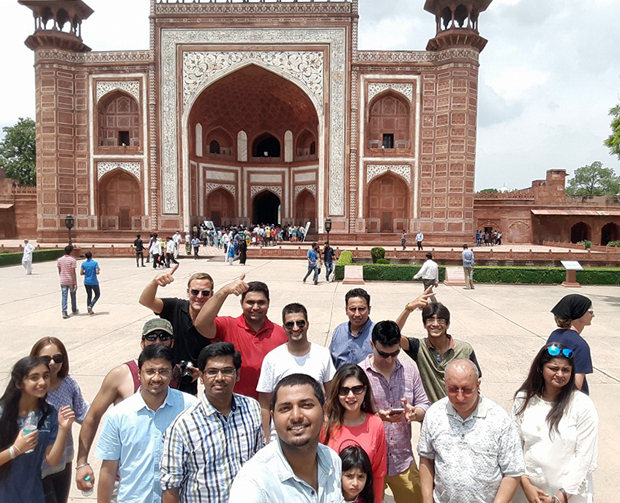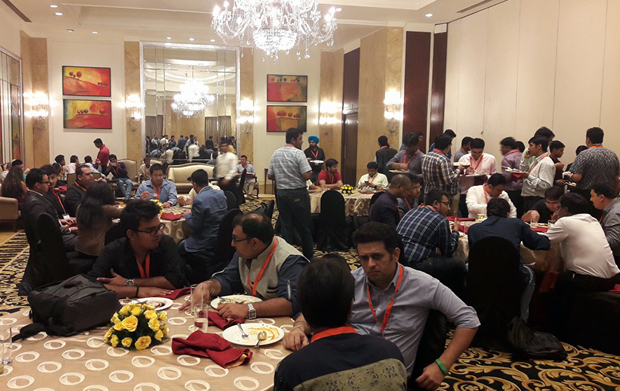 Above: After spending the day at the Taj Mahal Saturday, DomainX attendees regrouped for dinner and an evening of networking back at Shangri-La's Eros Hotel Saturday night. (Photo from the Domain Name Owners Association of India).
Below: Among those who got together to compare notes and share advice were (left to right) Anshul Goyal (iWeb.biz), Jitendra Vaswani (BloggersIdeas.com) and Gaurav Jain (ManthanMedia Group, Indore). (Photo from Gaurav Jain).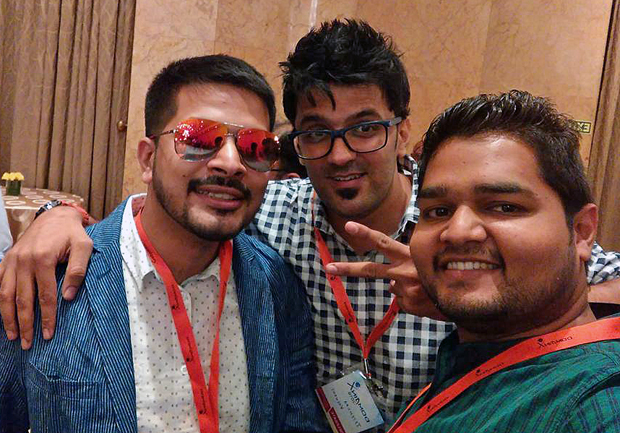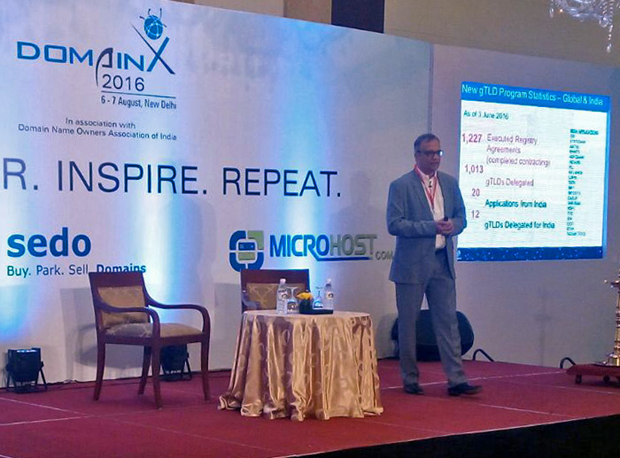 Above: On Sunday morning (August 7) DomainX's formal business program got underway with an opening address from Chief Guest Samiran Gupta, the Head of India for ICANN. Mr. Gupta spoke about how Domain Names are at the Forefront of Innovation in India. (Photo from Manmeet Pal Singh)
Below: Next up Jon Yau delivered a keynote address on the Evolution of StockPhoto.com, sharing his journey from buying StockPhoto.com for $250,000 and using it as the foundation for a very successful ecommerce business. (Photo from Gaurav Jain).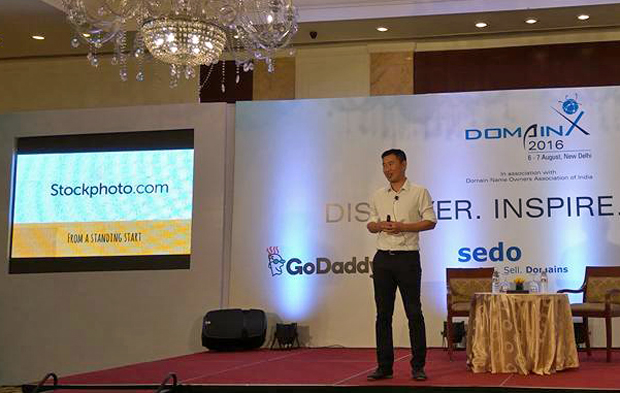 Above: The morning session continued with a presentation from Mr. Pavan Duggal (Advocate, Supreme Court of India) that helped give attendees a better understanding of the impact of Indian cyberlaws on the business of domain name investing.
Below: Sedo's Global Chief Sales Officer Dima Beitzke was next on stage, providing his insight into the Premium Domain Name market. Dima and his Sedo colleague, Sophie Pieck (at far right), the Country Manager for France, Italy and India, also spent a lot of time answering one on one questions from attendees at the Sedo booth in the Exhibit Hall. (Photos from the Domain Name Owners Association of India).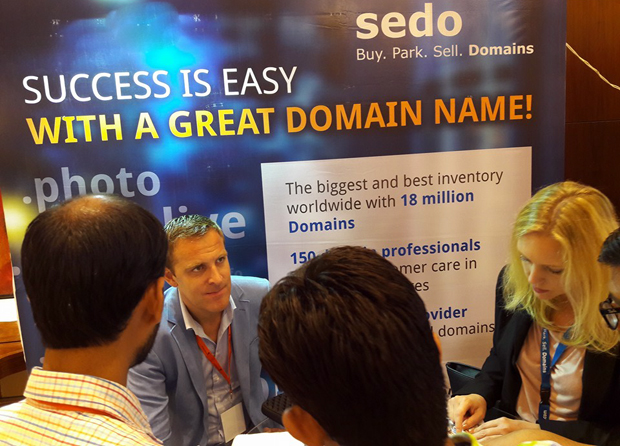 Above: After a busy morning consuming nutritious domain information, it was time for attendees to refuel their bodies too during a sumptuous buffet lunch. (Photo from the Domain Name Owners Association of India).
Below: The afternoon session began with Donuts Inc. Director of Business Development Anand Vora on stage tackling the question Is India a Domain Investors Market? Karn Jajoo (Radix Registry Manager of Business Development and Marketing) and Nivu Hussain (.CLUB Marketing Manger) added their expertise to this conversation. (Photo from Manmeet Pal Singh)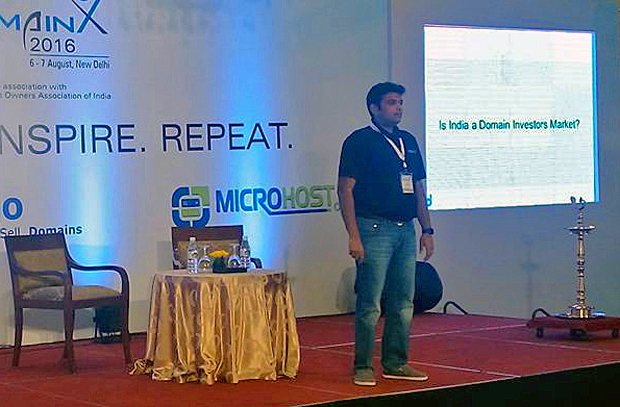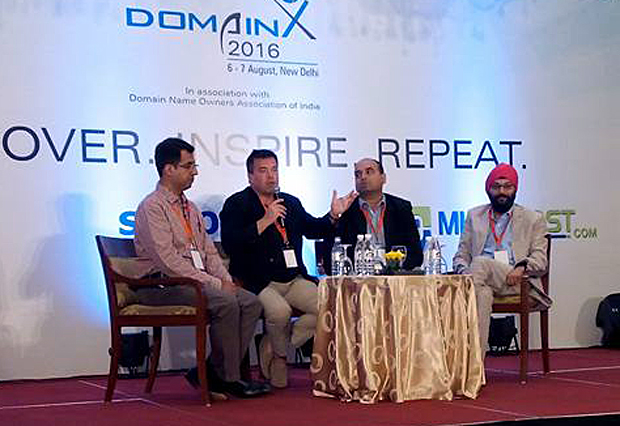 Above: Next up was a special panel that gave attendees with legal questions a chance to Ask the Domain Name Legal Experts. The Panelists (left to right) were Ankur Raheja (CyLaw.in), Zak Muscovitch (Muscovitch Law Firm at DNAttorney.com), Rodney D. Ryder (Partner with Scriboard) and Gurpreet Singh Monga (Managing Attorney & Internet Law Head at Amarjit & Associates).
Below: In the next session the topic turned to Investment Opportunities in the .IN Extension with Paul Singh (seated, from Price.in) and Shiva Kandula (Our.in) offering advice on this subject. (Photos from Manmeet Pal Singh)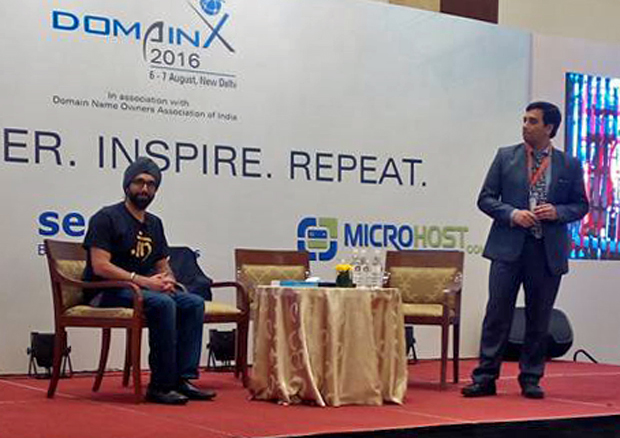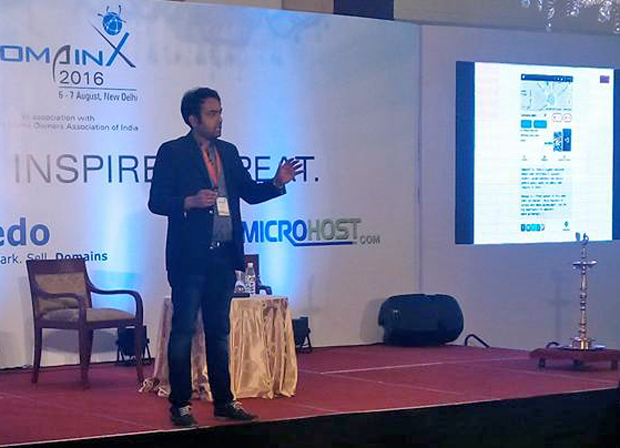 Above: Next on the stage was Krishna Yogi, the CEO of Mapta.gs, who conducted a Q&A session on Mapta.gs, a hot new startup in the smart address space
Below: The final business session of the day and DomainX 2016 was a panel discussion titled Will This Sell? in which four industry experts shared what has worked for them that might help attendees get better at making end-user sales. Panelists (left to right) were: Manmeet Pal Singh, Doron Vermaat (Co-Founder, Efty.com), Deepak Ramani and Pankaj Vijayvargiya (CEO, Bitlevel International).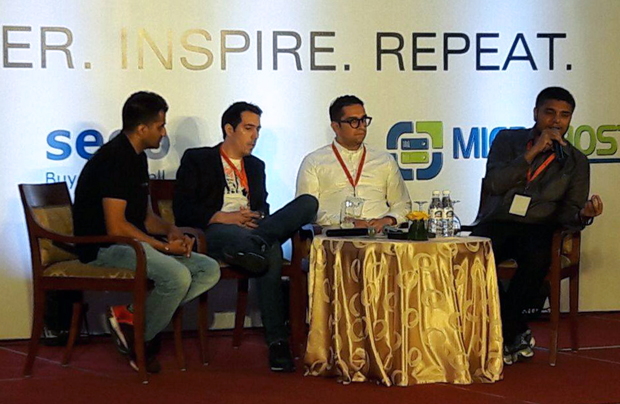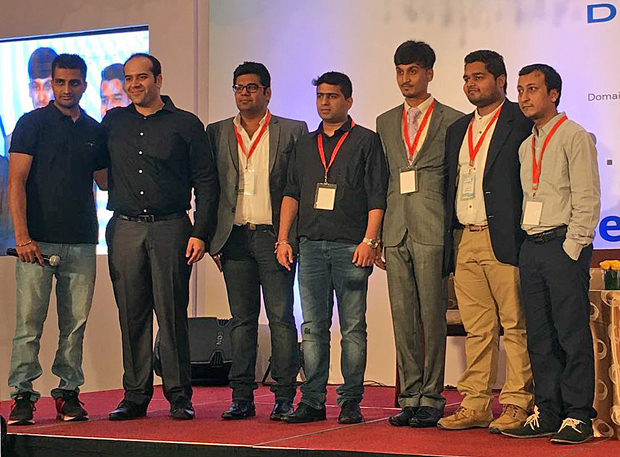 Above: With business out of the way, the last thing on the agenda was Domainx's annual Awards & Recognition ceremony, recognizing the talent in India's domain industry and introducing those who had been elected to the Domain Name Owners Association of India board, the trade association that helps stage DomainX. Manmeet Pal Singh (at far left) was happy to announce his show partner, Gaurav Kholi, was elected President of the board. Also named to the board (left to right after Gaurav), were Sunny Bajaj (Vice President), Aishwin Vikhona (General Secretary), Chetan Varma (Secretary), Gaurav Jain (Treasurer, with Sahhil Beri who is not pictured) and Vinay Murarka. (Photo from Gaurav Jain).
Below: Just before everyone went their separate ways this group got one more photo together before saying their final goodbyes. (Photo from Abhishek Jain of RustyBlogger.com).).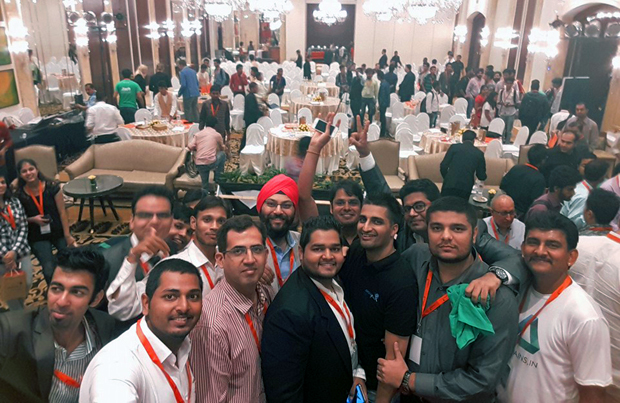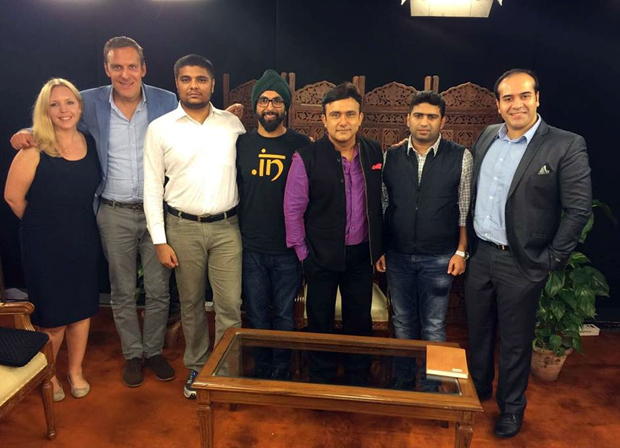 Above: One final important note on DomainX 2016. In addition to giving attendees a chance to make new connections, reinforce existing relationships and expand their knowledge, the show caught the attention of national TV station Loksabha Television, who invited six of the experts in town for DomainX to sit down for a televised interview that aired live at 10PM Sunday night. Those who took part in the telecast were (left to right), Sophie Pieck (Sedo), Dima Beitzke (Sedo), Pankaj Vijayvargiya (CEO, Bitlevel International), Paul Singh (Price.in), Anchor & Host Anurag Punetha, Asihwin Vikhona (Aishwin.com) and Gaurav Kohli (DomainX).
Below: Bitlevel International CEO Pankaj Vijayvargiya seen commenting about the domain name industry on Indian national TV station Loksabha TV in a live broadcast Sunday night (August 7 2016). In a country with the vast potential that India has, this kind of exposure for what is still a very new industry there is priceless. Congrats to everyone involved in a productive weekend that saw domain names celebrated in the national capital of one of the world's great nations. (Photos from Pankaj Vijayvargiya).