The 2017 NamesCon Conference is just 3 months away. The big event will return to the Tropicana Hotel in Las Vegas January 22-25. If you read our December 2015 Cover Story about NamesCon Co-Founder Richard Lau, you know that the primary reason for starting the conference in the first place was to raise money for a life saving charity - the WaterSchool - whose inexpensive, highly effective clean water solution has played a key role in reducing disease and premature deaths in developing nations.


The most effective fundraising tool for WaterSchool supporters like Lau, his fellow NamesCon Co-Founder Jothan Frakes, Dr. Gregg McNair and many others has been a series of head shaving events held at domain conferences around the world over the past five years. The

biggest of those has been the WaterNight Gala held at the annual NamesCon conference. Approximately $115,000 was raised at 2016 WaterNight last January - a number organizers hope to boost to

$150,000 in 2017. WaterNight has worked so well because of selfless industry leaders who volunteered to have their heads shaved in exchange for donations to the Water School and hundreds of generous donors who answered the call to arms.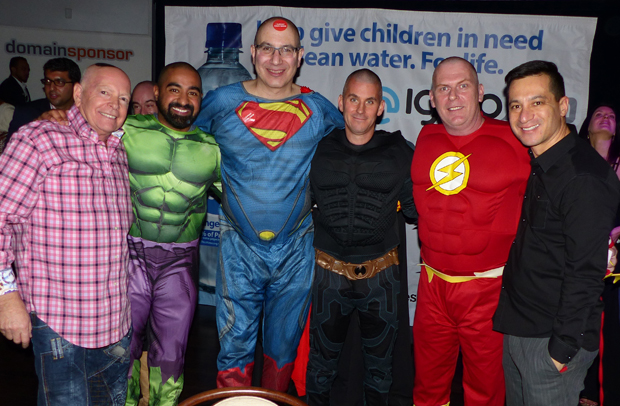 Above: Four super heroes who volunteered to have their heads shaved for The WaterSchool at the 2016 NamesCon conference last January. (L to R) are "barber" Gregg McNair, "shavees" Omar Ahmed (Uniregistry), Larry Fischer (DirectNavigation.com), attorney Derek Newman, Alan Dunn (NameCorp) and NamesCon Co-Founder Richard Lau (who had his head shaved a few years back at the first WaterNight).
Below: One of the last minute volunteers, NamesCon staffer Shallom Johnson, getting a her new look touched up by Tucows CEO & President Elliot Noss who made a generous donation to the 2016 fundraising effort. The final tally of approximately $115,000 got a huge boost from NameCheap who spurred giving by agreeing to match funds.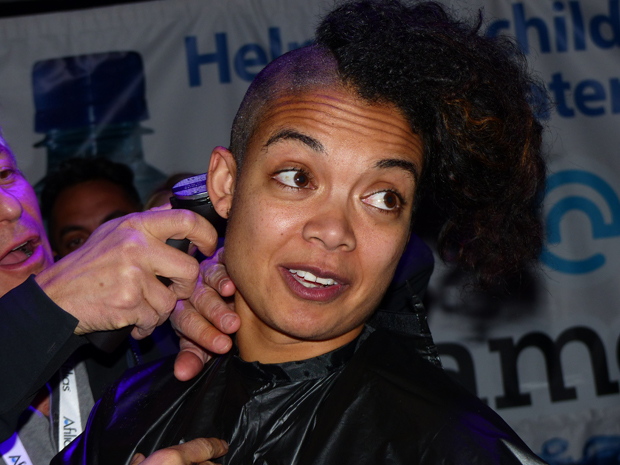 In an effort to meet their $150,000 goal for the 2017 conference, NamesCon WaterNight organizers have launched a new campaign (.PDF file) to recruit volunteers - henceforth to be known as H2Officers - who would be willing to sit in the barber's chair in January to help this outstanding cause.

To give you a few examples of what would be involved (taken from the campaign page): You should be able to solicit donations in the weeks leading up to NamesCon by sharing your official donation page with friends, family and on social media. Be willing to be interviewed for the NamesCon blog and other interested media parties and be keen to go above and beyond the call of duty, such as by recording a video message outlining why you decided to become an H2Officer and sharing your passion for the WaterSchool charity with anyone who will listen! For a full list of what it takes click here.

When you are ready to enlist just E-mail producers@namescon.com with your application or nomination. Tell them a bit about yourself and why you'd like to take part. Also, if you have a recent headshot that would be much appreciated as well. Applications and nominations will be accepted until October 31, 2016. Successful officers will be contacted the following week, at which point their training will promptly begin.
Of course, there are a lot of ways to get behind the fundraising effort other than having your head shaved. You can find a full list of WaterNight sponsorship opportunities here. For more information on WaterSchool, visit www.waterschool.com.
Another great resource is a new 12-minute video, produced by the NamePros domain forum, that we just received from their Managing Director, Edward Zeiden. The video has highlights from WaterNight 2016, information on what is in store for 2017 and interviews with key WaterSchool and WaterNight supporters including Richard Lau and Tony Woodruff. Click Play below to see that and we will look forward to seeing you at WaterNight 2017!