The 4th annual edition of NamesCon, the domain industry's biggest event for domain investors, developers and service providers, is almost here. The big show will be held January 22-25, 2017 at the Tropicana Hotel in Las Vegas with as many as 1,500 attendees expected to be on hand.
A lot has happened since the 2016 conference - most notably World Hosting Days (WHD) purchasing NamesCon, with WHD and NamesCon then both being swallowed up by GoDaddy as part of their acquisition of Host Europe Group (HEG owned WHD).
To find out how being part of the GoDaddy/HEG/WHD empire would affect the upcoming show - as well as NamesCon in the long run - I connected with conference Co-Founder Richard Lau to get the lowdown.
"It's been an amazingly easy transition,"
Lau began. "The NamesCon team has been expanding over the past few conferences. Terri Potratz is doing even more than ever and has been continuing to take on more of what both Jothan Frakes and I were doing in the initial years."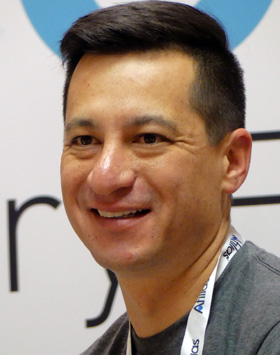 Richard Lau
NamesCon Co-Founder
"With the change of ownership, we were told that World Hosting Days would come in as a supporting role and true to their word, that has been exactly what has taken place. We have a strong team here with Shallom, Stephanie and Terri all working from our Vancouver office and as you can expect, our on the ground team swells to over 30 staff in Las Vegas during the conference. We will also have team members from WHD coming over from Germany so it's an opportunity for everyone to meet new faces!
Regarding GoDaddy's blockbuster acquisition of WHD's parent company Lau said. "As much as I am immensely proud of what we have built in the last three years, honestly, I highly doubt that NamesCon was really playing into the asset mix when GoDaddy was looking at World Hosting Day's parent company. I would guess that GoDaddy will leave WHD and thus NamesCon to run completely independently. As the saying goes, if it ain't broke....
!"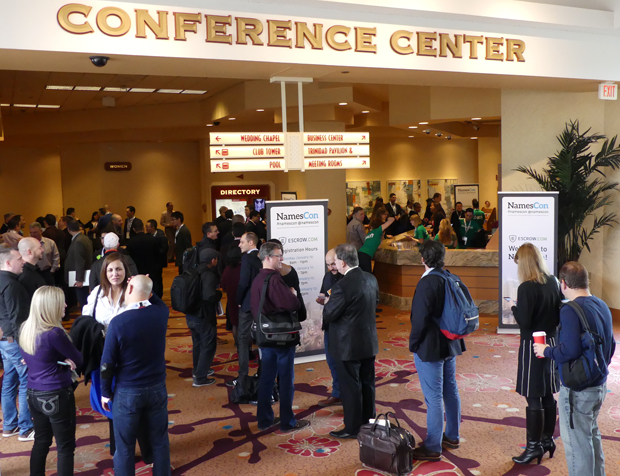 2016 NamesCon attendees begin filling the Conference Center
at the Tropicana Hotel in Las Vegas for the start of last January's show.
NamesCon certainly doesn't appear to need "fixing". The event has gotten bigger and better every year and Lau said that will be true of 2017 as well. "We have streamlined the agenda with clear start times, more seating, with an aim for a smoother flow of talent across the stages," Lau said. "I think our sessions this year were already completely full a month before the conference. With a bursting agenda, we know that you'll want easy access to the agenda and speakers. We'll have a printed conference guide as usual, and we have added a mobile app this year. It's available in both the iOS App Store, as well as in Google Play, and it will be an indispensable tool that everyone will need to download this year in order to get the most out of the conference."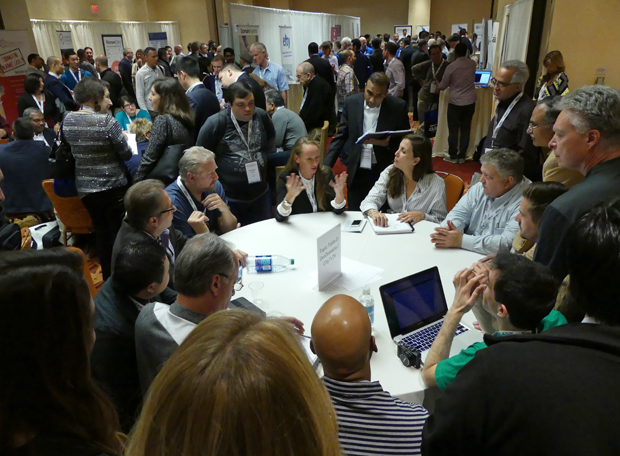 A scene from NamesCon's busy Network Lane on opening day at the 2016 show.
Asked about some of the specific sessions he is especially excited about, Lau noted, "The conference kicks off Sunday (January 22, 2017) at 11am and our Network Lane on Sunday from Noon-6pm will be a hit again. The networking parties set for Sunday night, Monday night and Tuesday night are all different from one-another and are all "can't miss" events. The Executive Round Table on Wednesday (January 25) at 2pm is always a highlight for hearing insights from the industry leaders in a format you don't see anywhere else.
"
After several years of lackluster results at various events, live domain auctions got "new life" at NamesCon last January when the show's sale, conducted by RightOfTheDot.com (ROTD) and NameJet, saw bids totaling nearly $1.5 million with a sale through rate close to 70%. They will be doing it again at the 2017 conference and the positive results from the 2016 auction have convinced owners of some top tier domains to put them on the block January 23rd. "I'm personally amazed at the quality of names coming through," Lau said. "The bar.com package for example is a stop-in-your-tracks opportunity for someone. Monte Cahn (ROTD) and NameJet have done a great job putting the list together and there are a large number of one word category killer domains that will find new homes during the auction at NamesCon.
"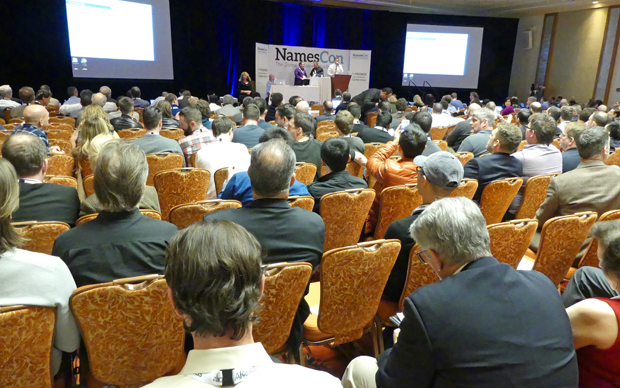 A full house at the 2016 NamesCon RightOfTheDot/NameJet live domain auction.
Lau originally started NamesCon primarily to raise funds for a life-saving charity he is devoted to - the WaterSchool (this year's big WaterNight Charity Gala will be held on Tuesday night, January 24 at the Tropicana). Once the January conference is in the books and he steps back from the role he has played since launching NamesCon in 2014, I asked him about his future plans. "I am hoping to cut back on travel to take a bit of a break from the neck-breaking speed of the past few years," Lau said. "I am still heavily committed to WaterSchool and we are looking at expanding local fund-raising events with an eye to seeing how those can be replicated by volunteers throughout North America and Europe."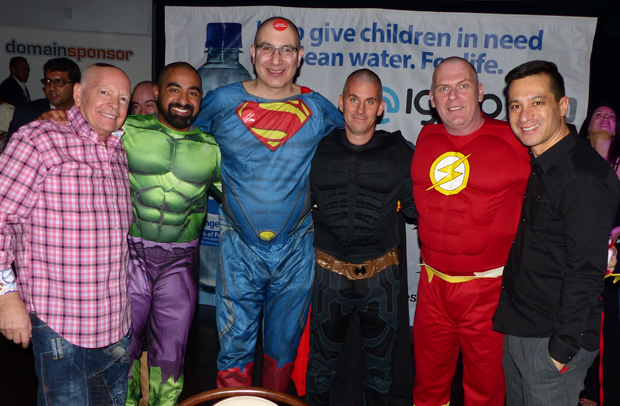 Thanks to a group of "super heroes" who volunteered to have their heads shaved to benefit the WaterSchool, some unexpected last minute volunteers, generous donors and matching funds from NameCheap, the 2016 WaterNight Charity Gala at NamesCon raised $115,000 for the life saving organization. Seen left to right after the "deeds" were done are barber Gregg McNair, shavees Omar Ahmed (Uniregistry), Larry Fischer (DirectNavigation.com), attorney Derek Newman, Alan Dunn (NameCorp) and NamesCon Co-Founder Richard Lau (who had his head shaved a few years back at the first WaterNight).
While he is looking forward to his return to "civilian life" Lau is ready to make one more big splash at NamesCon 2017. "It will be the largest commercial domain conference ever, and our goal is still to bring together Registrars, Registries, Domain Investors, Advertisers, IP management and Suppliers to create a networking, learning and co-operative environment," Lau said.

"The support we have had since the very first NamesCon has been humbling. Uniregistry has stepped up larger than ever this coming conference, and you will see their footprint at NamesCon has expanded alongside their tremendous growth in the industry. I'd like to think NamesCon has helped contribute to their success. Uniregistry is our Name Badge sponsor this year, and as many people know, that's a design topic close to my heart."

In closing Lau added, "It is always interesting to attend NamesCon, ICANN

meetings and other smaller meet-ups. We know that NamesCon has become a replacement for many who would otherwise attend an ICANN meeting. We do make our conference easy to get to and affordable for everyone. Every meet-up, meeting and conference has its own personality - at NamesCon we believe we deliver the critical mass of industry movers and shakers at a value proposition that is irresistible to everyone from new-comer to industry vet. We'll see you in Las Vegas!