"NamesCon will continue to run independently, but having the biggest domain event as part of our network of cloud and hosting events has additional significance if you think about how the traditional borders between hosting, domains and other services are breaking down - which speaks to a larger trend in the industry."
"Customers want to go to one place for their online services," von Varchmin said, "So, companies in this space - whether they're hosts, domainers, or other online service providers - have to incorporate more services than they used to. And the way to be everything for your customers is to find great partners and always be exploring new opportunities. We think we can bring together more people across the industries with this year's NamesCon and help form some of those great industry connections that keep companies on the cutting edge."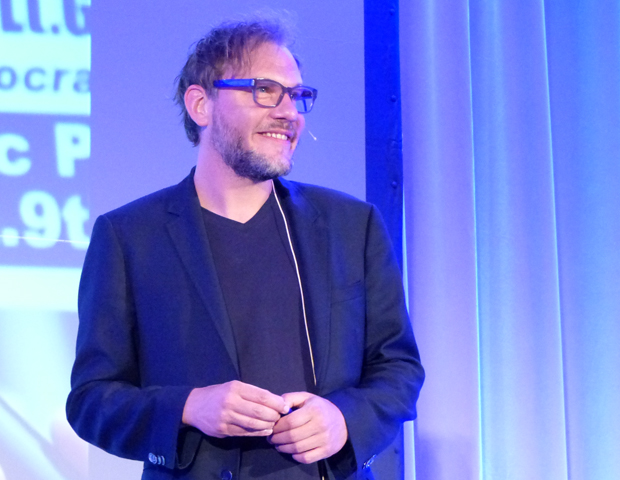 Soeren von Varchmin speaking at the first WHD.USA conference
at the Seven Springs Mountain Resort in western Pennsylvania (May 19, 2015)
Looking further into his crystal ball for the balance of 2017 von Varchmin said, "There are several interesting trends we've been seeing take shape. Consolidation of new TLDs: We're just at the beginning of the era of new TLDs. It's a really exciting time, but we shouldn't be surprised if it takes several years for a new TLD to really gain the maturity and recognition. There are a lot of enterprising small companies trying to promote their new TLD, but no matter how much effort they put into the rollout, it will take time to build a market. Larger companies have better efficiencies for promoting a range of TLDs, and many are waiting to buy new TLDs from smaller or less experienced companies with good TLDs that weren't profitable in their early stages."
"China and India will continue play an even greater role in domains: Chinese investors may have once been drawn to domains because of foreign investment regulations, but now many investors in Chinese are buying names that have real value - they're really thinking of their future potential. And India is a huge market that's really picking up speed as more people come online."
"New TLDs will make old TLDs more valuable: The new TLDs provide more domain possibilities, but .com domains are still the dominant domains and will carry more prestige. At the NamesCon domain auction you'll find a lot of interest in .coms. The new TLDs provide a lot of new options, but old TLDs already have widescale recognition. If anything, the new TLDs have grown the appeal of domains as a whole."