The 2017 NamesCon Conference is underway in Las Vegas! The 4th annual event at the Tropicana Hotel officially got underway at 11am U.S. Pacific Time today (2pm Eastern, Sunday, January 22). As I write this it is still early in the day here but I wanted to give you a peak at the opening activities as soon as possible. Events will continue until 11pm tonight (2am Monday in the east!) so I won't have a complete recap of the opening day activities for you until sometime Monday (as the week progresses - the show ends Wednesday afternoon, January 25) - I will have a daily post from Las Vegas recapping the previous day and night's photos and highlights).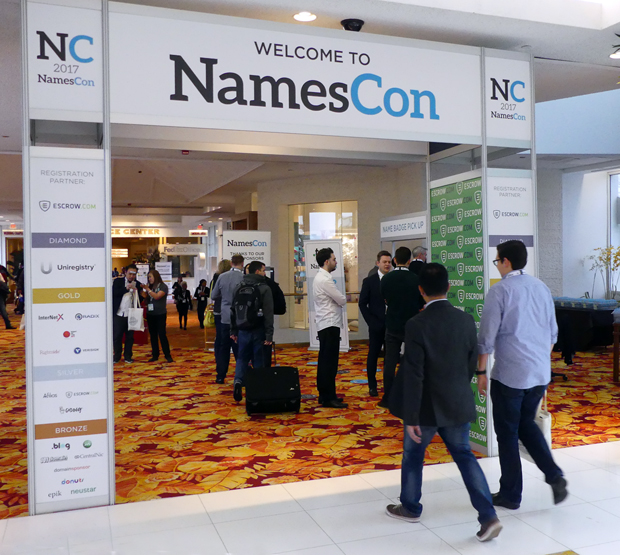 Above: As NamesCom 2017 attendees made their way to the Convention Center at the Tropicana Hotel they passed under this gateway to the big show in Las Vegas.
Below: To speed attendees on their way two separate stations were set up for the first time this year - one for badge pick up for who registered online (seen in this shot) and another for onsite registration and swag bag pick up.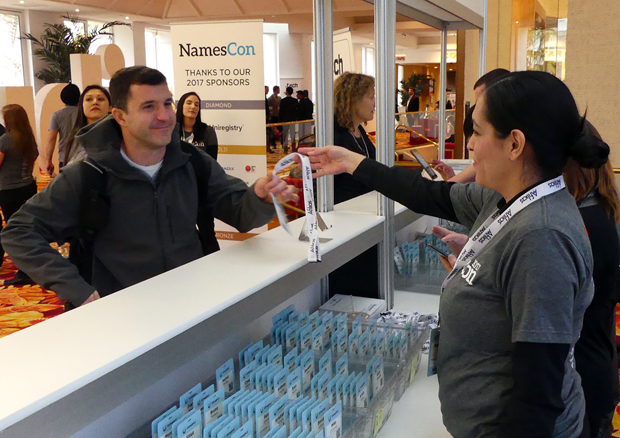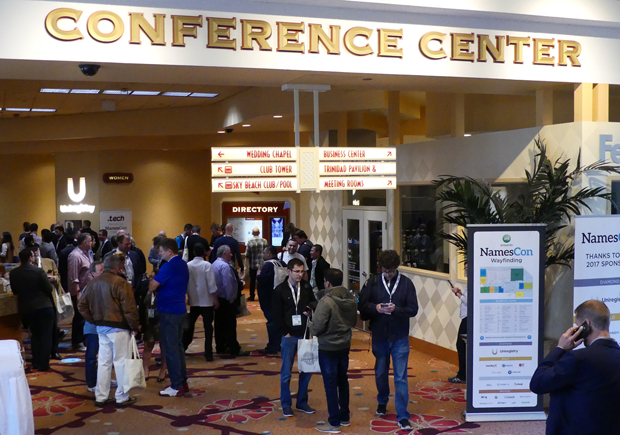 Above: The Convention Center entrance just a few steps further down the hall.
Below: The onsite registration desk in the convention center where attendees could also pick up their swag bag filled with goodies from sponsors and the show program.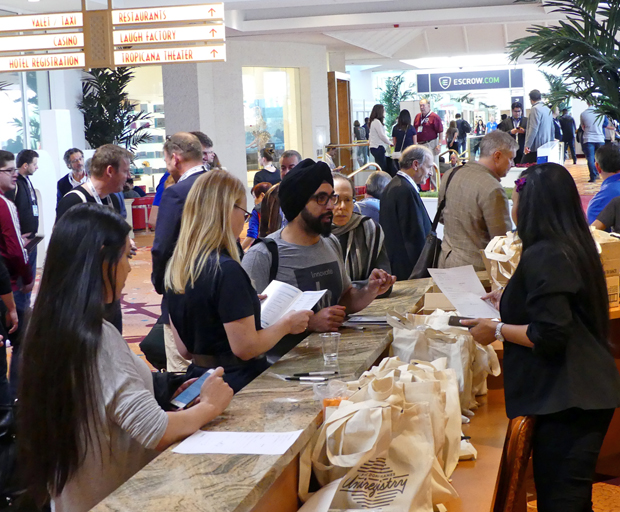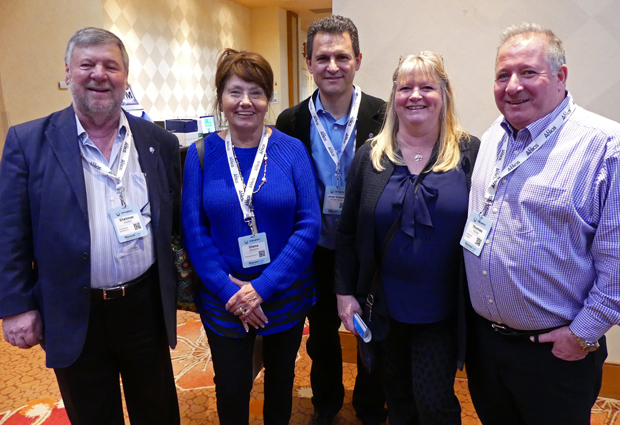 Above: Attendees flew to Las Vegas from all over the world for this week's event. In this photo, DN Journal's Diana Jackson (2nd from left) visits with four friends who came from the UK and Europe. Left to right are Domaining Europe Founder Dietmar Stefitz, Diana, Jose Vicente Gomar and, from Scotland, Trisha and Tommy Butler.
Below: NamesCon 2017 officially began at 11am Las Vegas time with welcoming remarks from conference Co-Founder Jothan Frakes.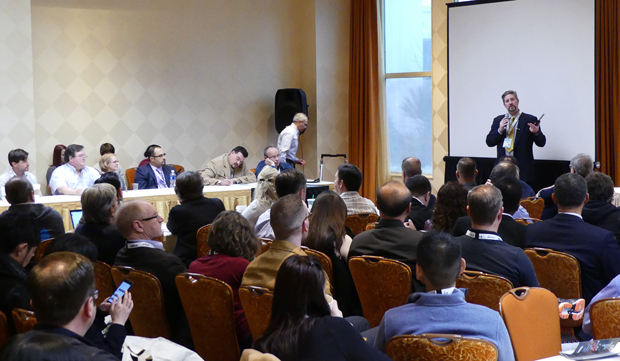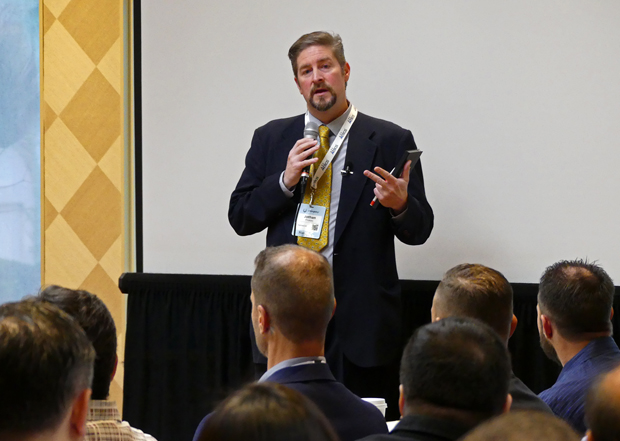 Above: A closer view of NamesCon Co-Founder Jothan Frakes as he kicked off the 2017 show Sunday morning at 11.
Below: The first business sessions started at 12 Noon Sunday with much of the activity centered on Network Lane. This is one of two lanes that were lined with sponsor tables where attendees could learn more about industry companies from representatives who were on hand to answer their questions. Network Lane was set to remain open throughout the day, not closing until 6pm (9pm Eastern time).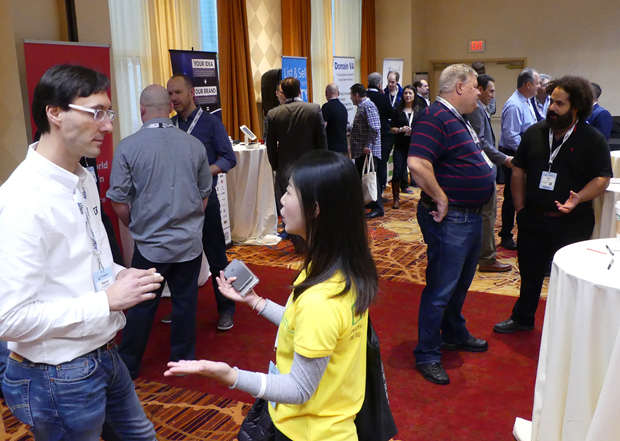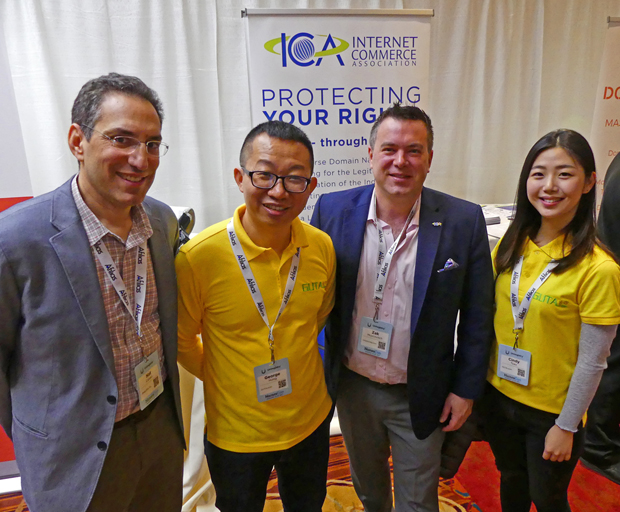 Above: The Internet Commerce Association (ICA) had a table on Network Lane where we caught up with (left to right): ICA Board Member Nat Cohen, Guta.com Founder George Hong (a corporate sponsor of the ICA), ICA Board Member Zak Muscovitch and Cindy (Guta.com). The ICA, the non-profit trade association that protects domain investor rights, will be holding a Monday night dinner in the Foundation Room at the House of Blues. Regular tickets have sold out but anyone joining the ICA at the bronze or higher level can get a free ticket to the dinner by contacting Operations Manager Kamila Sekiewicz ([email protected]).
Below: At the same time Network Lane was one new business sessions began each hour throughout the day in two adjacent meeting rooms. I dropped into both of the noon sessions for this early bird report. In the one below Morgan Linton (BoldMetrics.com) delivered a presentation on Entrepreneurial Strategy: Tips for Launching Your Startup.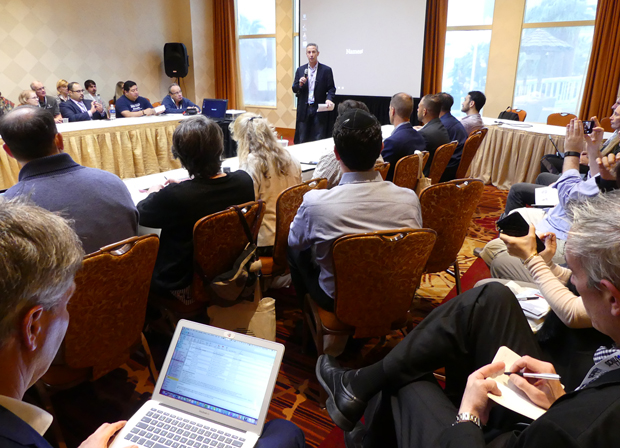 Above: Also at Noon Sunday, Michael Cyger from DomainSherpa.com presented Domain Investing 101: A How-To Guide for Newcomers.
Now it is time for me to get back down to the conference floor. Many more business sessions are scheduled today followed by the official Opening Night Party that starts at 7pm tonight (10pm Eastern). I'll have the complete Opening Day wrap up for you sometime tomorrow. Things will be very busy here with multiple sessions to cover every hour so I can't pinpoint a publication time any closer than that. Though the weather in Las Vegas was rainy and gray for opening day it was all sunshine inside at the Trop!