| | |
| --- | --- |
| The 2017 NamesCon conference continued at the Tropicana Hotel in Las Vegas Tuesday (January 24) with another around the clock schedule that stretched into early Wednesday morning. If you missed our previous reports from the show you will find them here: | |
The day began with a Christian Domainers Breakfast at 7am and a pair of early bird sessions at 9am - all well attended, especially considering many were out until 2am or later Tuesday morning for Uniregistry's late night party at the Hakkasan Night Club. Those business sessions offered advice on Creating a Brandables Portfolio (presented by Quinstreet's Luis Balenko and Namerific's Michael Navarini) and How to Increase Revenue and ARPU by Offering Additional Online Products (presented by Moshe Livne from WebsPlanet).
At 10am it was time for a highly anticipated Fireside Chat with WordPress Co-Founder Matt Mullenweg (Automattic Inc.) who was interviewed by Braden Pollock (LegalBrandMareting.com).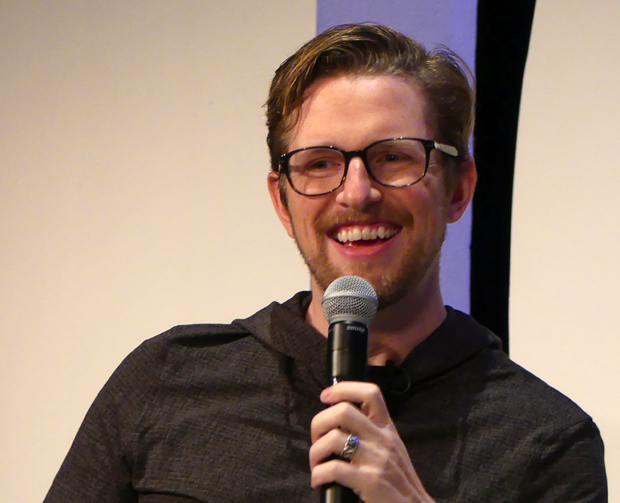 Above: WordPress Co-Founder Matt Mullenweg gave attendees an invaluable lesson on Building a Business to Last Decades in his Fireside Chat with Braden Pollock Tuesday morning at NamesCon 2017.
Below: At 11am NamesCon's multi-track train began rolling with five different business sessions in various meeting rooms that surround the Exhibit Hall. This one was the always popular DomainSherpa Live Review in which an expert panel gives their opinion on the value of specific domain names. It featured (left to right) Andrew Rosener (MediaOptions), Frank Schilling (Uniregistry), Shane Cultra (DSAD.com) and host Michael Cyger (DomainSherpa.com).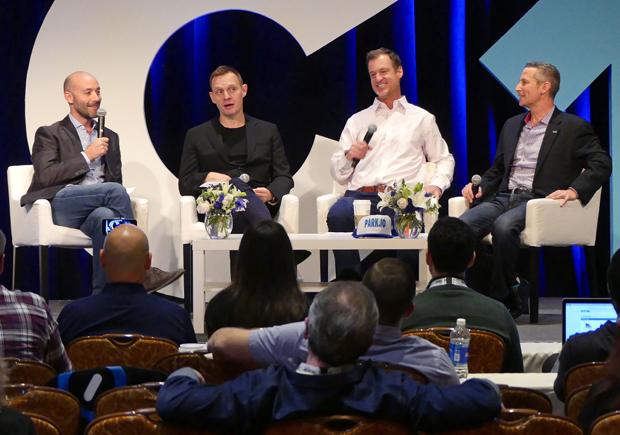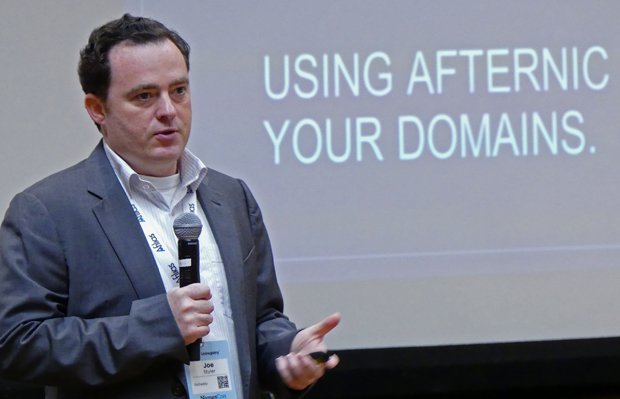 Above: In another 11am session GoDaddy's Joe Styler (seen here) and Jin Wang presented Hacks to Building Your Dream Portfolio.
Below: Also at 11, Marco Hoffman (left) and Crews Gore (both from InternetX.com) drew a crowd with their forecast of Five Facts That Will Change the Domain Game in 2017.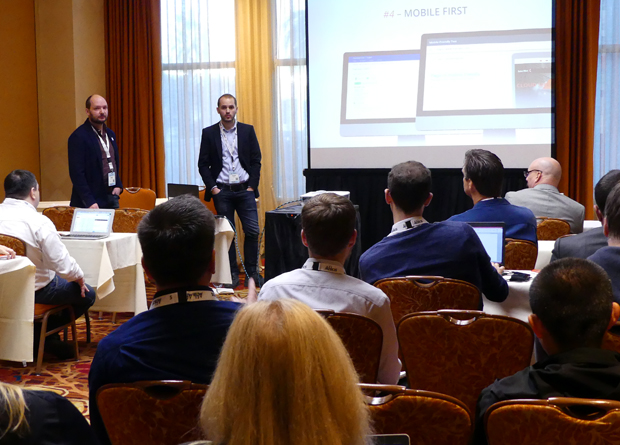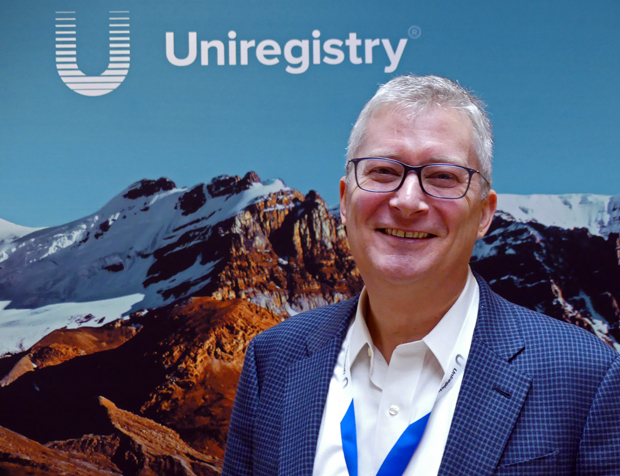 Above: The 11 o'clock hour continued at the Uniregistry Breakout Stage where attorney Bret Fausett held court on how to Acelerate Growth with Multiple Domains.
The quintuple 11am track also include a WordPress session - The Apex Predator - presented by Tony Gilharry from WP Engine Inc.

Below: At noon Tuesday the next round of business sessions got underway with a trio of seminars that included the always outstanding China Masterclass. This year's edition featured (left to right) moderator Bill Sweetman (NameNinja), JQ Tang (190.com), Simon Cousins (Allegravita), George Hong (Guta.com), Negar Hajikhani (Sedo) and Ken Hansen (Zhongguo Ventures).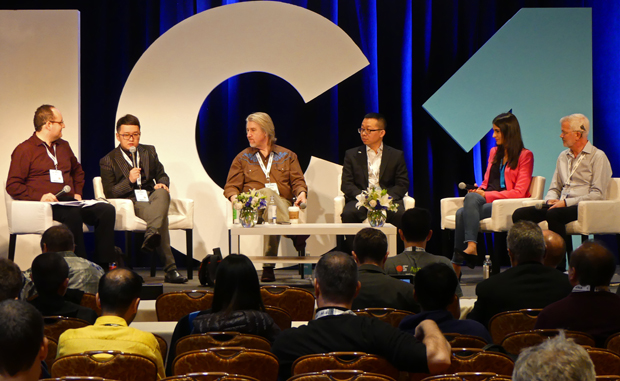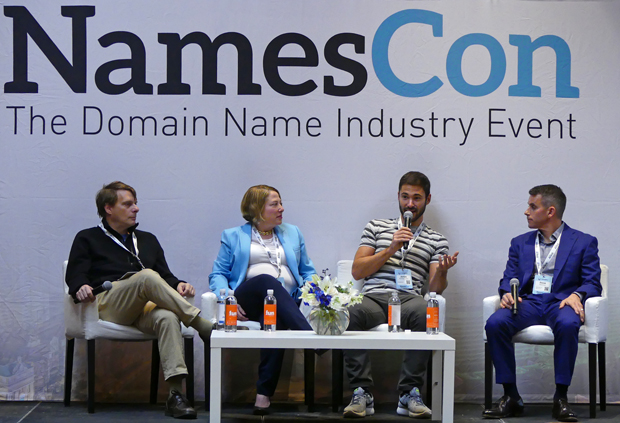 Above: In another noon session the topic was Online Security: Protecting & Recovering You Domains and Social Accounts that featured (left to right) Stevan Lieberman (AP Legal), Karen Bernstein (Bernstein Law), James Morfopoulos (NamesCon) and veteran moderator Derek Newman (Newman Du Wors LLP) who always elicits the best possible advice from his panelists.
In the third noon session Dan Tocchini (Founder of The Grid) took the Uniregistry Breakout Stage to deliver Candid War Stories from the Horizon Between Engineering & Design.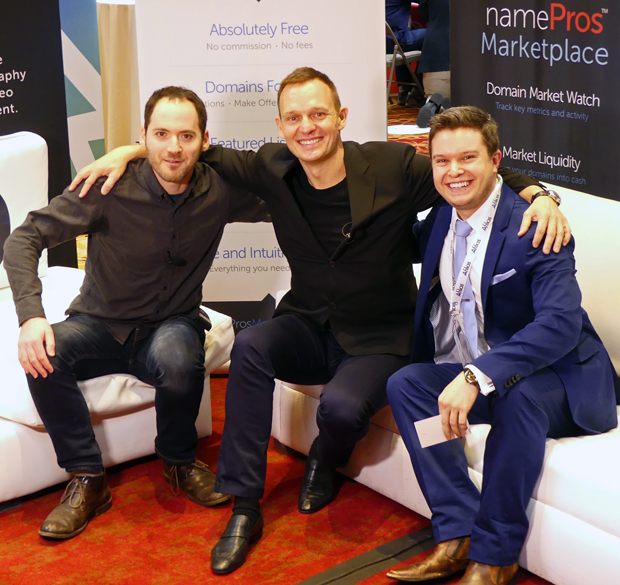 Above: In the Exhibit Hall Uniregistry Founder Frank Schilling (center) stopped by the NamePros booth where video interviews were recorded throughout the conference. At left is Kevin Fink (IHaveThis Idea.com) and at right is Edward Zeiden from the popular NamePros domain forum.
Below: At 1pm another round of five business sessions began. This one in the Keynote Hall was called Head to Head: Comparing Domain Registrars featuring (left to right) moderator Bill Sweetman (NameNinja), Dan Schindler (Donuts), Paul Nicks (GoDaddy), Marco Hoffman (InternetX), Salar Salahshoor (Uniregistry) and Nicholas Steinbach (Name.com).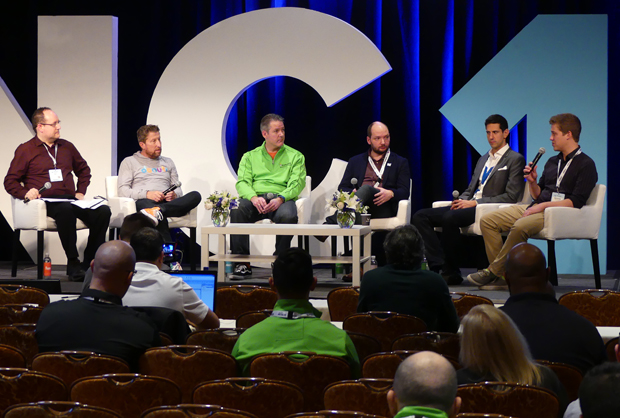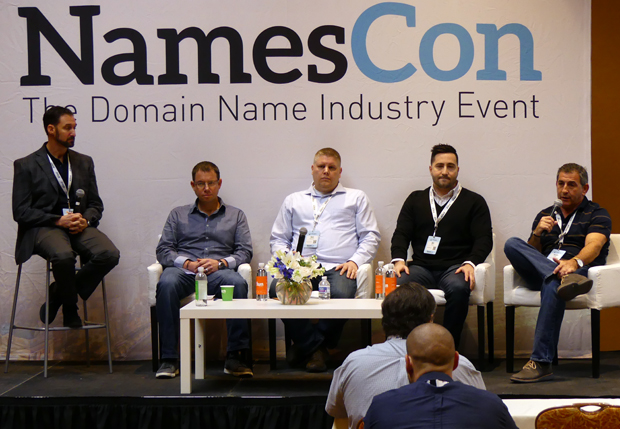 Above: Another interesting 1pm session titled The Cart Before the Horse: Building Your Domain Name Into Big Business featured (left to right) moderator Braden Pollock, Andrew Hazen (Amazing Domains), Ken Nybeck (Resume.com), Bill Karamouzis (TeachMe.com) and Monte Cahn (RightOfTheDot.com).
The bountiful NamesCon business banquet also allowed attendees to choose between three other sessions at 1pm Tuesday including Sales Using the 90/10 Rule on the Uniregistry Breakout Stage, Supporting Clean Water Intiatitives with WaterSchool and The Google Chrome Effect: SSLs Will Radcally Change Domains.
Below: Back in the Exhibit Hall we caught up with three attendees who made the long trip from India to Las Vegas for NamesCon 2017. Left to right are Ritesh Singh, Alpesh R Shinde and Deepak Daftari.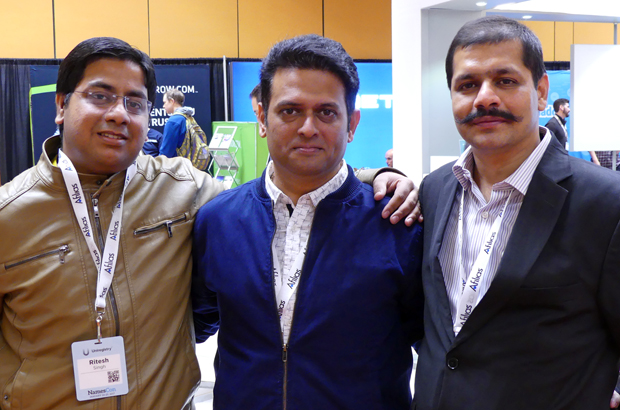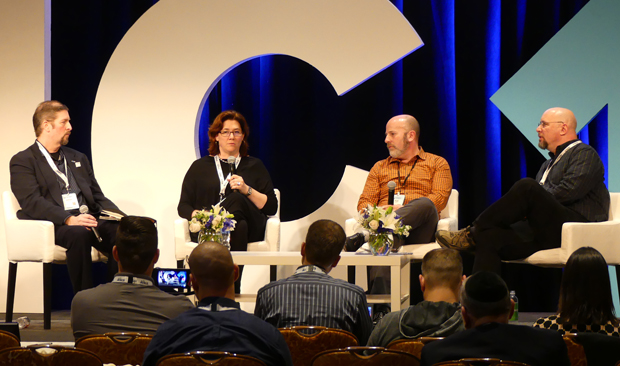 Above: One of three sessions that got underway at 2pm Tuesday explored the question Will Branded TLDs Impact the Marketplace in 2017 and Beyond. It featured (left to right) moderator (and NamesCon Co-Founder) Jothan Frakes, Stacey King (Amazon Registry Services), Matt Serlin (MarkMonitor) and Cole Quinn (Microsoft).
Below: Also at 2 was a discussion about Women in Domaining on Recruiting and Retaining Top Talent. The all-star panel included (left to right) Amanda Waltz (Igloo.com), Cybele Negris (WebNames.ca), Elaine Pruis (Donuts) and Lisa Box (WP Engine).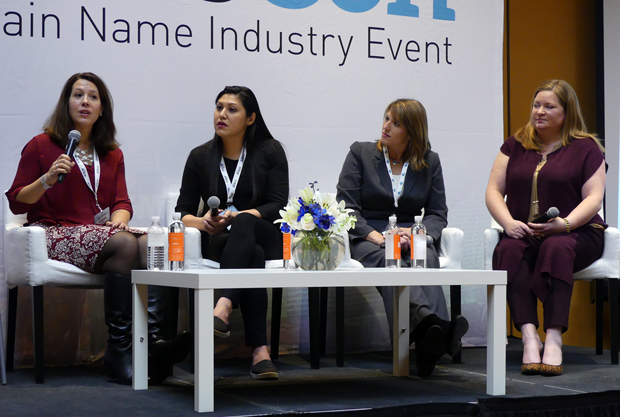 The 2pm trio was rounded out with Seeing is Believing: A Live Demo with Molly, the First AI Web Designer on the Uniregistry Breakout Stage. That was followed by a lone 3pm business session - Dollars and Sense of .Net - presented by Verisign's Scott Schnell. After that the rest of the day and night Tuesday was devoted to social activity and fun.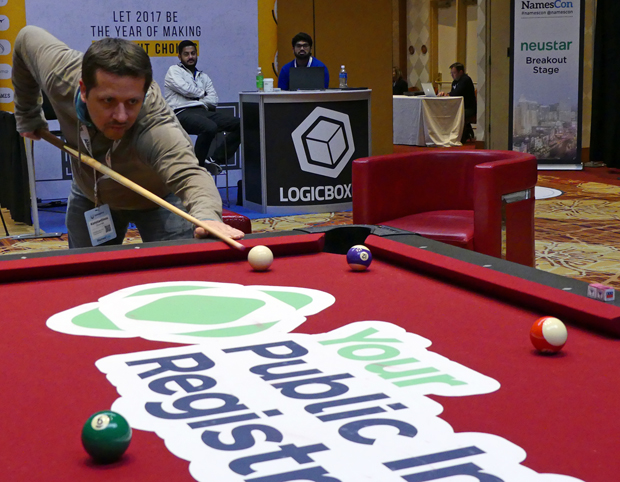 Above: Konstantinos Zournas (OnlineDomain.com) lines up a shot on the Exhibit Hall pool table.
Below: For those who like to get physical there was, believe it or not, a .FUN sumo wrestling mat to do it on! The well padded outfits contributed to this unexpected and hilarious scene. The late afternoon also included an MMX Partnership Happy Hour (actually two hours!) in the Keynote Hall and a WaterWalk Challenge at the WaterSchool booth.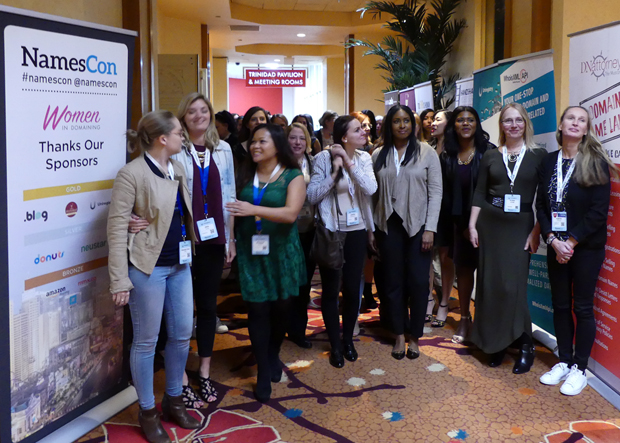 Above: The annual NamesCon Women in Domaining Dinner is always a highlight of conference week for the dozens of brilliant women in our industry. Diana Jackson snapped this shot as the ladies were leaving the dining room and getting ready for a group photo.
Below: At 9pm the always fabulous WaterNight Fundraising Gala for the Water School got underway in the Havana Room at the Tropicana Hotel. I went down a few minutes early to scout out the best photo locations and found none other than NamesCon Co-Founder Jothan Frakes was going to be the Guest DJ at the start of the event. If you read our 2014 Cover Story profile of Jothan you know he is very much at home in the music world.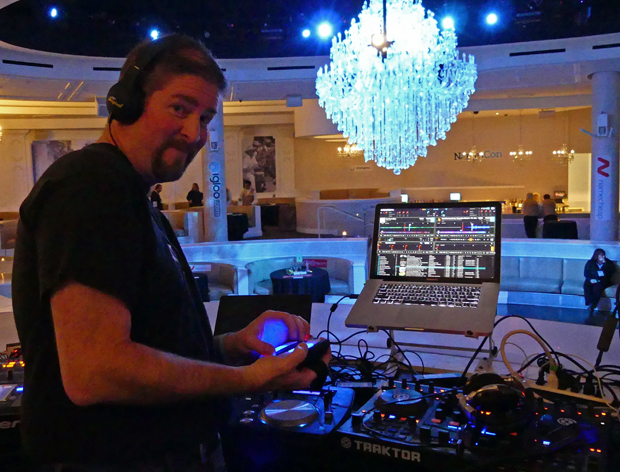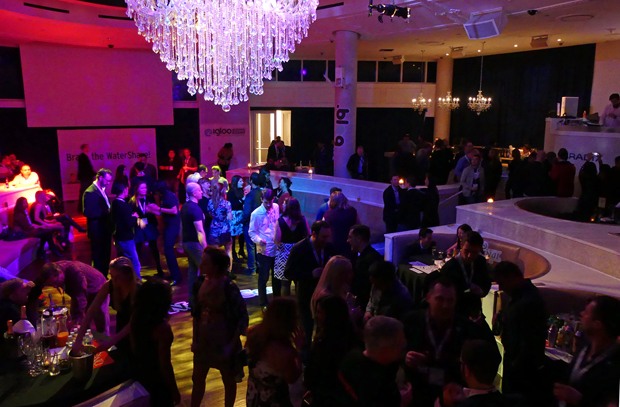 Above: Guests begin filling up the Havana Room at the Tropicana Hotel for the WaterNight Fundraising Gala.
Below: Ready for WaterNight! (left to right) Monte Cahn (RightOfTheDot.com), Diana Jackson (DNJournal.com), Judi Berkens (the lovely wife of domain great Michael Berkens), Tessa Holcomb (Igloo.com) and Ron Jackson (DNJournal.com).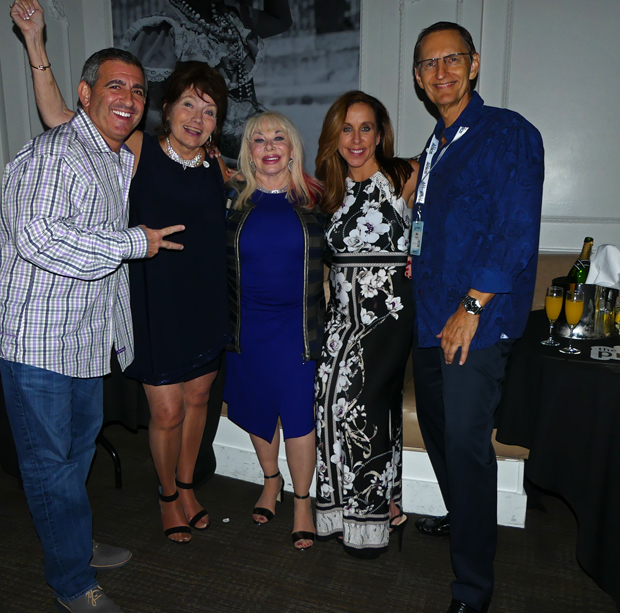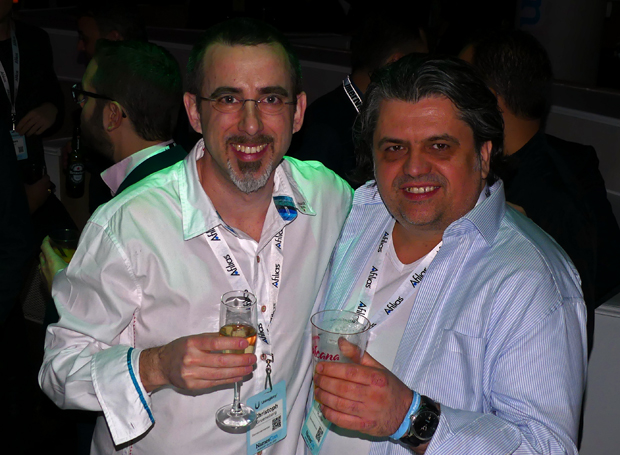 Above: Industry veterans Christoph Grueneberg and Thomas Mueller came over from Germany for NamesCon 2017 and WaterNight.
Below: Joining the WaterNight celebration (left to right) Joe Twer, Jonathan Tenenbaum (NameJet) and one of the most well-known domain investors from Europe, Frederick Schiwek.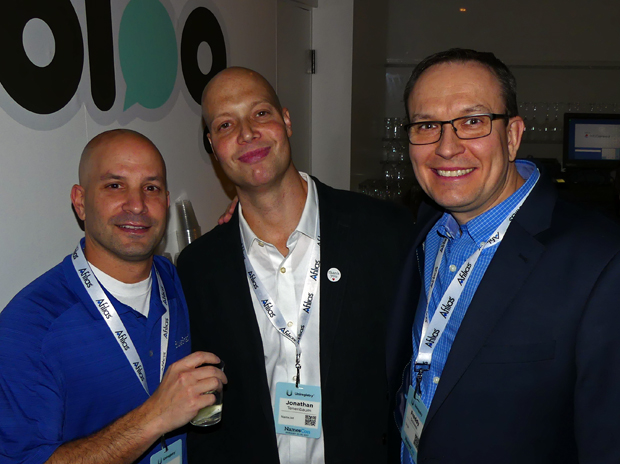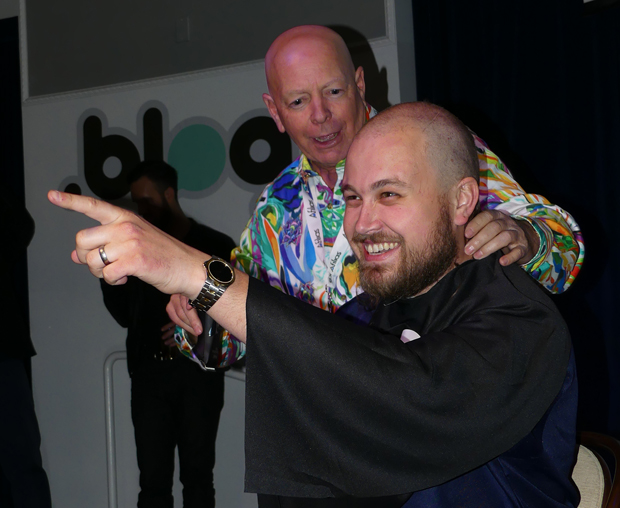 Above: Of course, when it is WaterNight the hair clippers come out, usually wielded Premium Traffic Limited Chairman Dr. Gregg McNair, a huge proponent of the life saving work of the Water School. Gregg's first "client" Tuesday night was Public Interest Registry Channel Manager for Asia Kevin Kopas. Kevin was one of several generous souls who gave up their hair in exchange for donations to the Water School.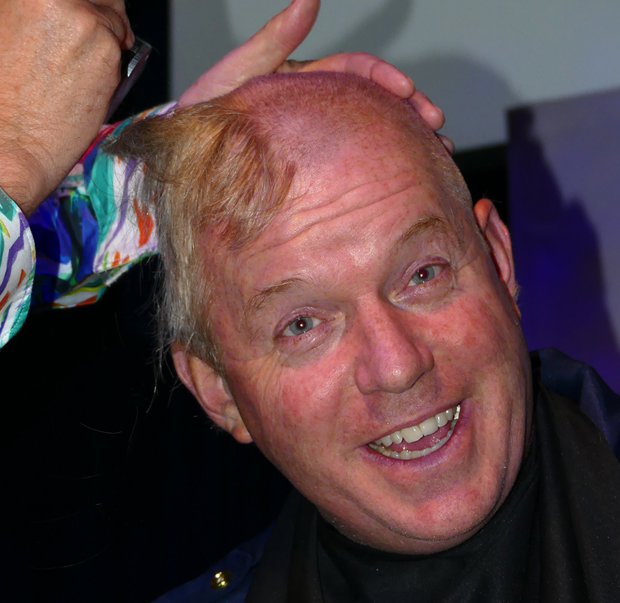 Above: Being the good CEO that he is, Public Interest Registry leader Brian Cute joined his troops in the trenches and gave up his locks as well.
Below: I don't know if it was just me or the billy club Brian had, but Dr. McNair seemed to be especially gentle with him!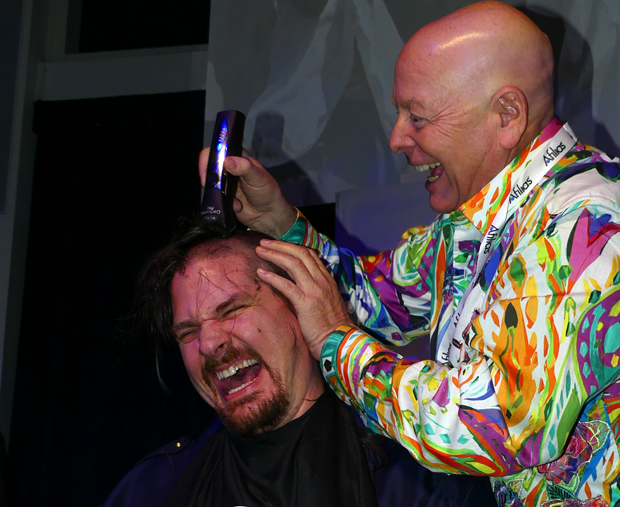 bove: It didn't look like Internet Commerce Association Executive Director Daniel Law was treated quite as gingerly. Again, I may have gotten the wrong impression but it seemed to me that Dr. McNair was enjoying this a-little-bit-off-the-top " touchup" a tad more than Daniel!
Below: Just to show that no Executive Directors were harmed in the making of this article, Daniel appeared none the worse for wear when being thanked post-shave for his sacrifice by Internet Commerce Association Operations Manager Kamila Sekiewicz.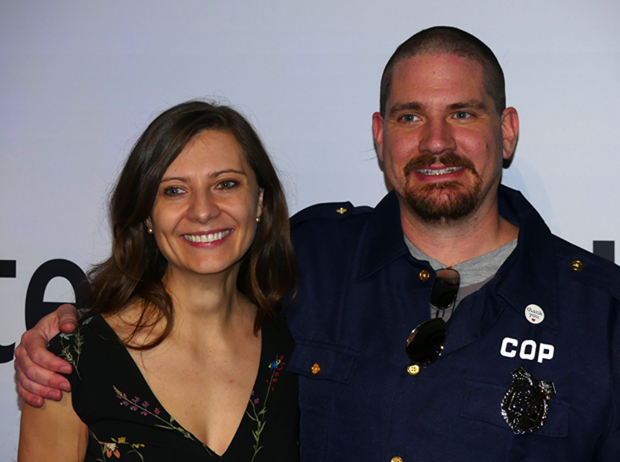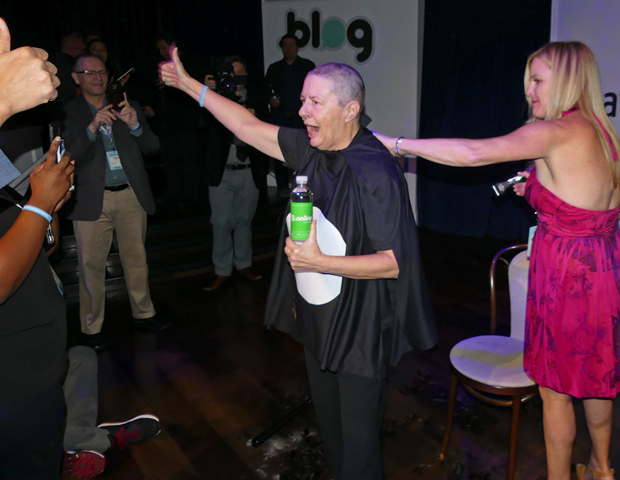 Above: Cate Colgan (NameYourStartup.com) wasn't about to let the guys have all the fun. Proving "anything you can do we can do better" Cate went under the sheers with her own master barber, Andee Hill from Donuts Inc.
Below: The WaterNight fundraising effort got a boost from Global Domains International (operator of the .WS registry) who presented WaterSchool representative Tony Woodruff (at left) with a $2,000 donation.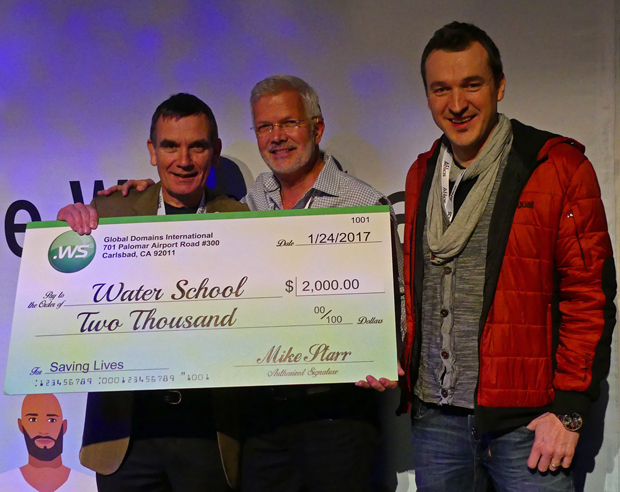 Tuesday was a remarkable day on every level at NamesCon and it left just one day to go in the 2017 event. I had hoped to get the closing day photos and highlights from Wednesday up for you before leaving Las Vegas today (Thursday) but have to head to the airport shortly for the trip back to Florida, so those will have to wait until I'm home tomorrow. Like every day at the world's biggest domain conference it was another highly rewarding one. I'll tell you all about it in my next post!