In 2011 we reported T.J.'s $525,000 sale of 11.com which at the time was an all-time record for a numeric domain sale. T.J. had paid $188,888 for the name when he went on the 2008 buying spree noted above.
T.J. was a very personable young man who struck me as having a genius level intellect. He graduated from the University of North Carolina at Chapel Hill with degrees in Economics and International Studies, then went on to earn an MBA at the University of Pennsylvania's prestigious Wharton School in 1995. Demas then built a successful equity investment career at American Century Investors in Kansas City and then as a consultant to Friess Associates before founding his own firm, Aspen Edge Research.
Once Demas discovered domains he decided - as he did with everything that interested him - to dive in head first and learn everything he possibly could about the business.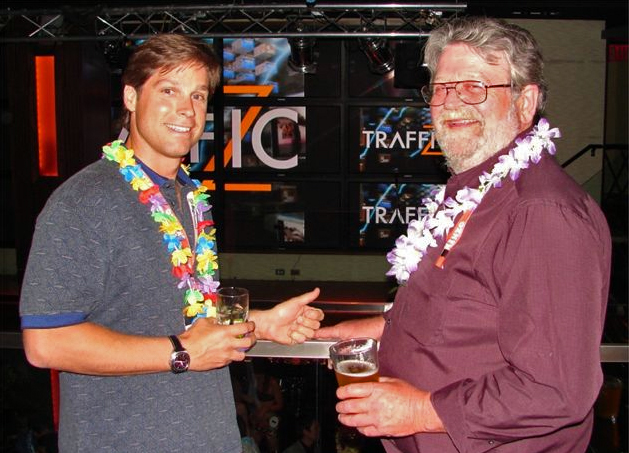 T.J. Demas (left) with domain industry friend William Gormally
at the 2007 T.R.A.F.F.I.C. New York conference.
T.R.A.F.F.I.C. Co-Founder Rick Schwartz (who has had some landmark numeric domain sales of his own) also just learned of T.J.'s passing tonight. "I was shocked and saddened to hear of his passing," Schwartz said. "I am pretty sure our relationship goes back to Rick's Board in

the early 2000's. It's a reminder to all that when we invest in domains we have to factor in life expectancy and the part of life when we are totally healthy and mobile."

"I exchanged emails with T.J. for many years and he was into numeric domains long before the frenzy for numerics in China. He has always been cutting edge, ahead of his time with very big ideas doing dynamic and great things. I remember him working on a fantastic watch that was just incredible and he was working on it for years."

Schwartz added, "One email back in 2009 explained why he couldn't come to T.R.A.F.F.I.C. that year because he was going to meet Richard Branson in San Francisco to make a sales pitch for E8.com. Life challenged T.J. Demas and he challenged it right back in a very dramatic and courageous way that many of us, including me, can learn from. My condolences to his close friends and family."

Rick Schwartz
T.R.A.F.F.I.C. Co-Founder
T.J. and his family (wife Dawn and their twin children) split their time between homes in North Carolina (where T.J. was born) and Aspen, Colorado. The bout with cancer that took his life was his second encounter with the deadly disease. In 1991 he was diagnosed with Hodgkin's disease but, with the help of a bone marrow transplant, beat it and remained cancer free for 25 years. Knowing how fragile life was he lived those 25 years to the fullest radiating gratitude and joy that made simply being around him an immense pleasure. The ability T.J. had to make people feel that way - and continue to feel that way just thinking about him - is a great comfort at a time when no words are sufficient to convey the stunning loss of such a bright star so much sooner than any of us could have ever expected.