I just got an update on the new MERGE! Conference coming to Orlando October 14-18, 2017 from Jothan Frakes, who co-founded the event with Ray Dillman Neu. They've made a lot of progress since my last show update six weeks ago. MERGE! will incorporate much more than Domains with Legal, Branding, Development, User Experience, Investment, Appraisal, Startups, Technology, Design, Security and other disciplines all added to the mix.
The first bit of news to pass along is that ticket prices for the event at the Marriott World Center will be increasing on August 1, so if you want to attend the innovative event it would be a good idea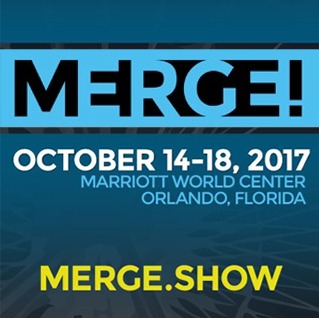 to take advantage of the current $499 base rate before it expires. You can register here.
This week the unveiling of a WHIR networking event at MERGE! has created a lot of excitement in the cloud, CMS, and hosting worlds. TheWHIR has an event tomorrow (Thursday, July 27) in Toronto and upcoming events in Denver and Vancouver as well, culminating in the Orlando MERGE!. Frakes noted, "TheWHIR has a fantastic track record in building the value of in-person interactions and their events facilitate community by providing a fun and comfortable environment to meet, mingle and do business face-to-face."
MERGE! Co-Founders Jothan Frakes (left)
and Ray Dillman Neu.

Frakes said the conference's multi-track format has also undergone a lot more evolution that is detailed on their new website at MERGESHOW.COM. The many tracks available in what is actually a multi-show event for the price of one ticket, are designed to encourage cross-networking among the various groups of attendees so you can accelerate your connections into those areas to develop leads and make the right connections.

The CMS Summit event at MERGE! is adding an impressive roster of

speakers from Joomla, Drupal, Concrete 5, Automattic, Magento and more. Meanwhile with Bitcoin, Ethereum, and other cryptocurrencies currently all the rage, the BlockChain Roadshow at MERGE! will be part of a focus on Blockchain technology and innovation in next big things.
Frakes and Neu are also placing a lot of weight on Inclusion and Diversity - topics Frakes said, "are super important yet unfortunately draw smaller crowds because of the inconvenient topics." Frakes continued, "We embrace all cultures, orientations, preferences, and genders, and that's important, but we don't want to waive a flag about that, but rather quietly operate in the spirit of being inclusive about our participants, because that should be the new normal."
| | |
| --- | --- |
| "I feel it is good to focus on the show, and not manipulate people with the many do-gooder things we're accomplishing along the way, like the IAEF.org support or the efforts for balance of panels. We have a code of conduct for the show that follows leading practice, and we want all to know they are of course welcome at our event. Reinforcing that welcoming attitude and focusing on what the topics are and having leading experts share their wisdom and experience is important. Let's make it commercially attractive to be inclusive and make that the new normal." | Image from Bigstock |
"By it's design, MERGE! is intended to be diverse in content, and highlight the benefits of embracing concepts and disciplines beyond a narrow, industry-specific focus. We highlight that the essential growth that companies look to in the balance of the year and into 2018 is likely to be found in the areas that your business might organically expand into," Frakes said.

There will be tracks about community relations, attracting and keeping the right talent, and other classical Diversity/Inclusion topics within the schedule, as well as a number of internationalization and universal acceptance topics. The focus there will be on highlighting the commercial markets, which will attract larger crowds by inspiring growth and opportunity.
Image from Bigstock

The addition of a Latin-Hispanic-Spanish focused sub-event called 'Confluir' is also a new development, on that will provide exceptional speakers and connections with successful Hispanic business owners, engagement with the Spanish speaking market, and interaction with regional opportunities in the Latin Americas. Alfredo Pinochet, Jochen Kieler and George Verdugo will be part of this, as well as regional ccTLDs and successful cloud hosting and other businesses from the region.

In another highlight, Allegravita's China Bootcamp will feature Simon Cousins, a familiar face to many conference goers and a frequent contributor of photos and updates from various conferences throughout Asia, who will share crucial wisdom on embracing the markets and opportunity in the global economy.
MERGE! is less that three months away but Frakes and Neu plan to add still more sessions and tracks to the agenda before show time. The roster of moderators and speakers has expanded considerably since our last update with the addition of David Sams, Larry Fischer, Andee Hill, Bill Sweetman and Derek Newman. With more to come will update you periodically as the big event in Orlando continues to draw closer.