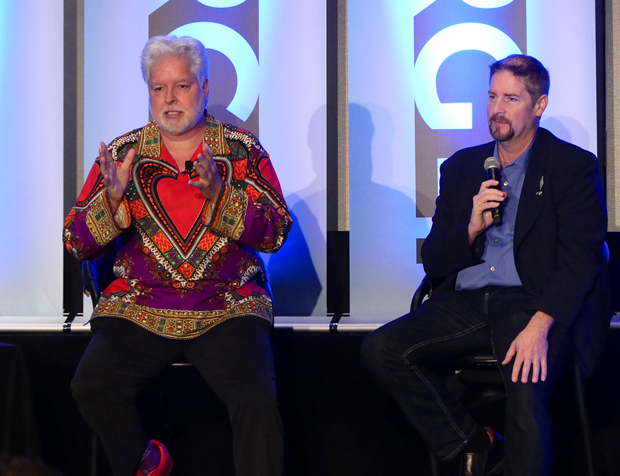 Above: Monday began with an enthralling keynote Fireside Chat in which Jothan Frakes interviewed world renowned TV, radio and Internet producer/entrepreneur David Sams (left), whose resume includes helping launch the original Oprah Winfrey Show. We covered David's career in depth in a September 2011 Cover Story). In a related note, this afternoon (Tuesday, Oct. 17) the Domain Name Association named Jothan as their Interim Executive Director. Our congratulations to him on that appointment.
Below: A round of multiple business sessions followed at 10am Monday including this Domain Market 101 presentation from NameJet executives (left to right) Scott Pruitt, Greg Davis and Jonathan Tenenbaum.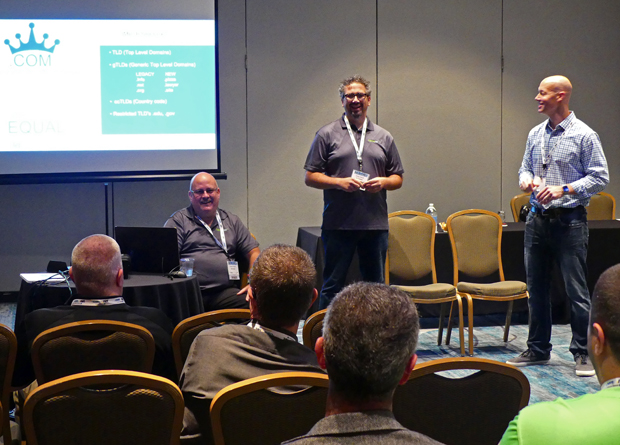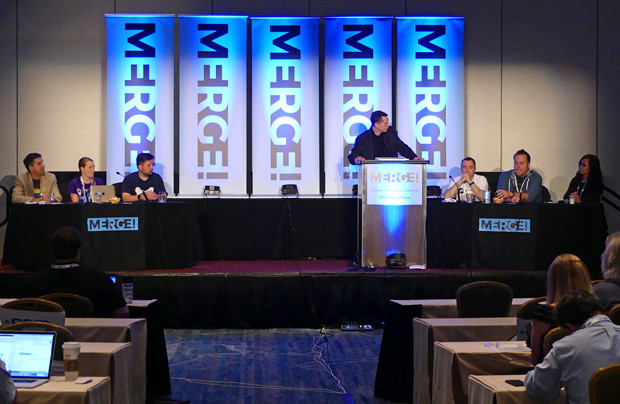 Above: Another 10am session was The CMS Showdown, a part of the CMS Summit (one of several conferences held simultaneously under the Merge! umbrella). That session was led by Jason Nickerson (standing at the podium). Other sessions held at that hour covered The Contractual Nature of the Domain Name System and New TLDs: Purported and Specific Examples.
Below: The next round of sessions that started at 11am included Digital Branding Strategies That Work featuring BrandIT Chief Strategy Officer Jochen Kieler (left) with Bill Sweetman (NameNinja) moderating. In nearby meeting rooms other attendees could sit in on WordPress with Kat Christofer or the first of two of the day's two sessions about Domain Name Disputes.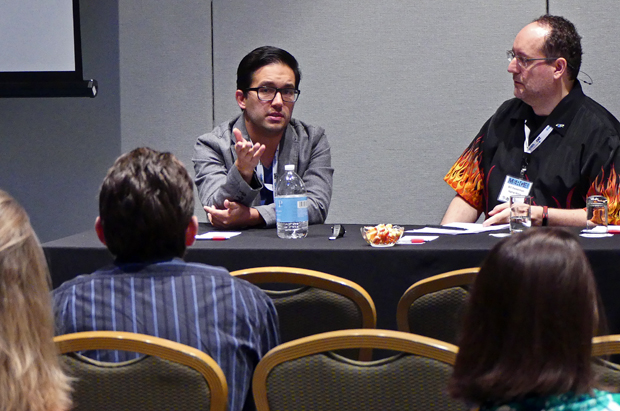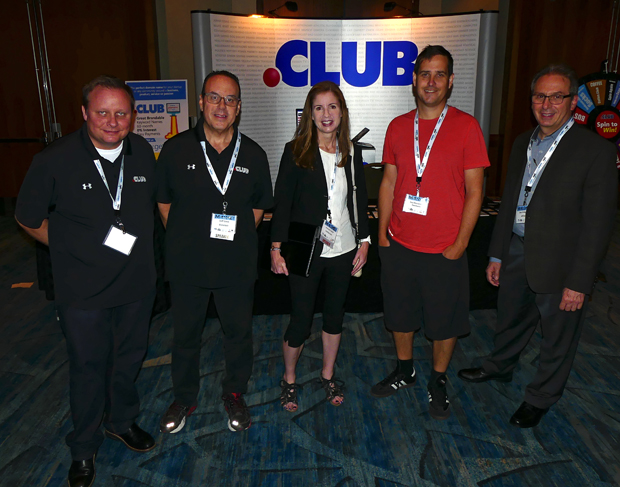 Above: The Merge! schedule includes a daily two-hour lunch break giving attendees ample time to get something to eat and still have time to visit exhibits and do some informal networking. At most major domain conferences .CLUB has a big presence in the Exhibit Hall and Merge! has been no exception. Above (left to right) are .CLUB Co-Founder and CEO Colin Campbell, CMO Jeffrey Sass and three visitors to their booth - Christa Taylor (dotTBA Inc.), Jay Westerdal (.Feedback) and Joe Alagna (Afilias).
Below: Brother and sister domain investing team Ilze Kaulins-Plaskacz (ExcellentDomains.ca) and Marty Kaulins at the BoldGrid booth.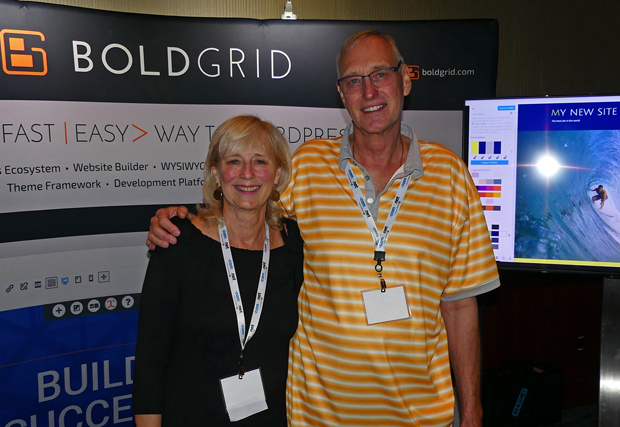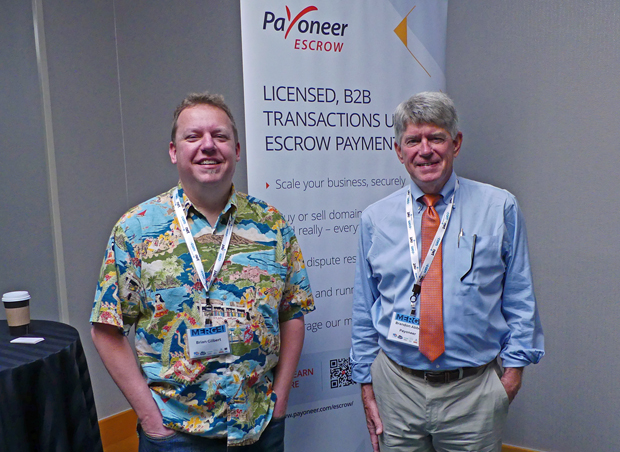 Above: Sponsors - the people who make all conferences possible - could also be found at tables lining the hallway outside the Merge! meeting rooms. Escrow service provider Payoneer.com could be found there. Here industry veteran Brian Gilbert (NameTime.com) visits with Payoneer Director of Strategic Accounts Brandon Abbey (right). Gilbert recently incorporated Payoneer's secure payment platform into his company's offerings.
Below: After the lunch break business sessions resumed at 2pm including this one on Appraisal and Valuation of Intangible Assets (Domains, IP, Brands). The expert panelists included (left to right) Tessa Holcomb (BrandIT), Ryan Colby (Token Fest LLC), Dmitriy Chemlin and Larry Fischer (GetYoutDomain.com).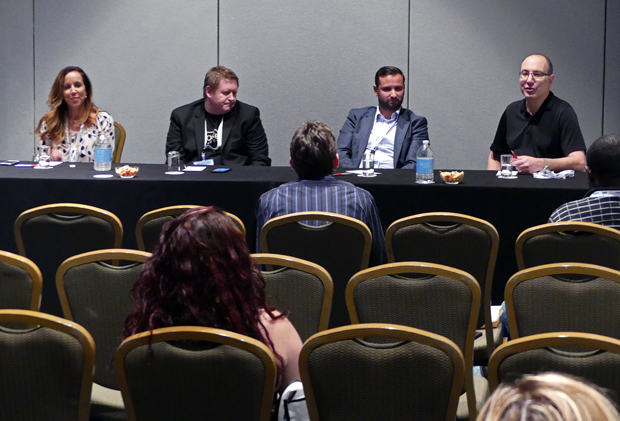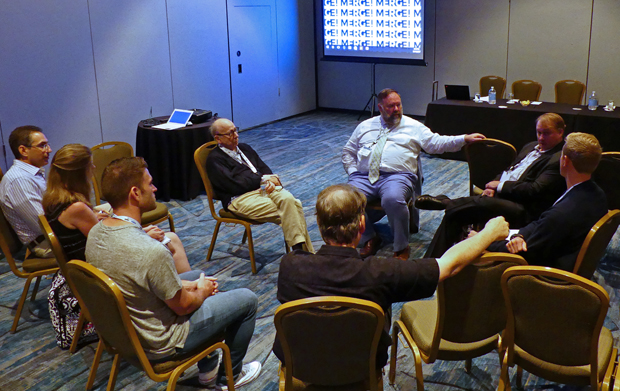 Above: Also at 2pm, attorneys Paul McGrady (Partner, Winston & Strawn LLP) and Mike Rodenbaugh (Rodenbaugh Law) held their second session of the day on Domain Disputes. Paul is seated directly below the Merge! video screen and Mike is in the next seat to the right. These sessions were part of the McGrady Domain Academy track at Merge!. Additional 2pm business sessions included Global Diversity and Inclusion and Everything You Ever Wanted to Know About Joomla!
Below: I was in an annual meeting for Internet Commerce Association members at 3pm so only had a chance to slip out for a few minutes to catch one session during that hour - one that was led by fellow ICA member George Hong (Guta.com) who provided advice on Engaging With the Chinese Buyer and Market. Other 3pm sessions covered Social Media, Conversion Rate Optimization 101 and BYOD (Bring Your Own Domain) - with the latter session devoted to domain development tools.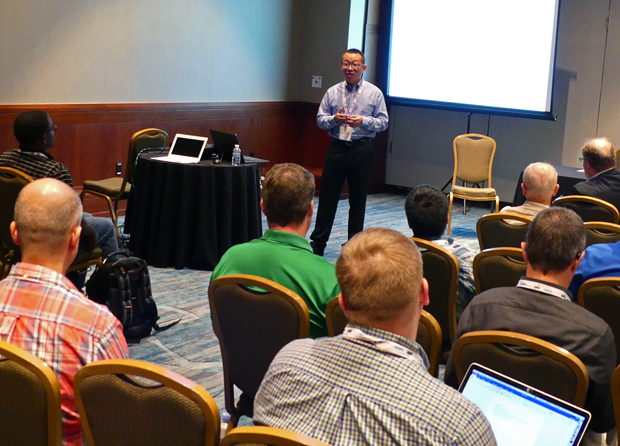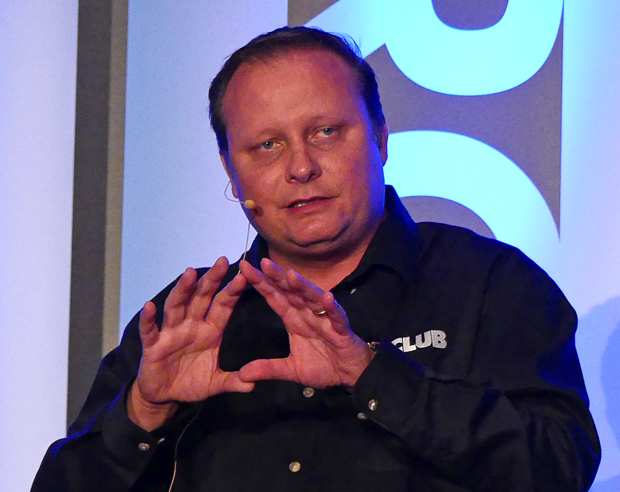 Above: A highlight of the Monday afternoon agenda was .CLUB CO-Founder and CEO Colin Campbell's 4pm keynote speech. Colin is a serial entrepreneur who has had some phenomenal successes as well as a painful flameout. He candidly discusses both in a way that every entrepreneur can learn a lot from and be encouraged by (in fact he is writing a book about it). Colin has a fascinating life story that you can ready in our September 2016 Cover Story).
Below: The day's final round of business sessions started at 5pm and included Homepage Thowdown in which Justin Davis (standing, from Madera Labs) offered valuable critiques of attendee's websites.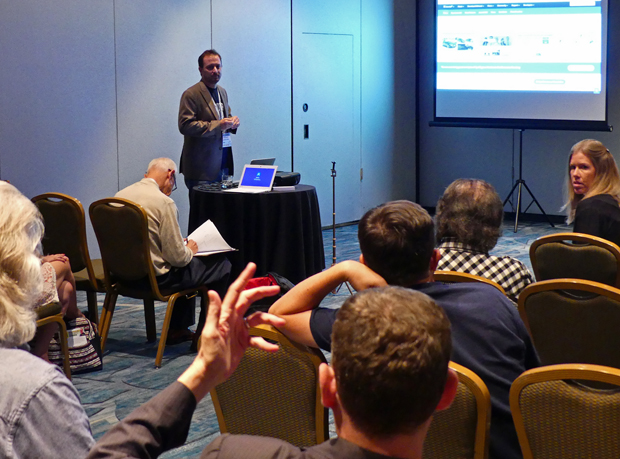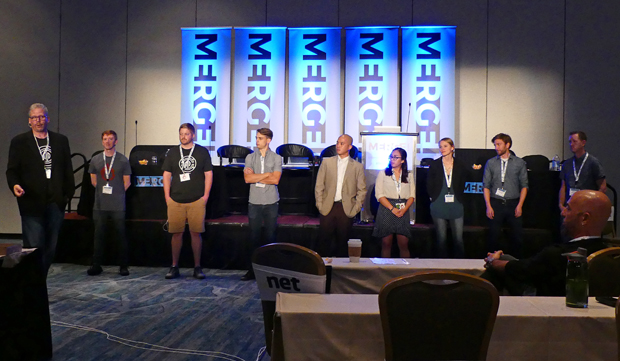 Above: Also at 5, Crypto innovation: Meet Embermine was held in the main hall. Embermine Co-Founder and CEO James Drake (at far left) and his team (all standing) talked about Blockchain and how to engage in the vast opportunities there. Meanwhile, in other meeting rooms topics included Keeping Your Startup in Tune, Every Project is a Story and UX Innovation: Frogan's Addresses with Philippe Collin.
Below: When the business day was done attendees headed out for dinner. Diana Jackson and Barbara Neu (right), along with their husbands, tried out the High Velocity Sports Bar located within the conference hotel - the Orlando World Center Marriott - and were met with an astonishingly large platter of nachos (along with plates of sliders and giant pretzels). We dubbed Monday National Blow Your Diet Day to commemorate the occasion!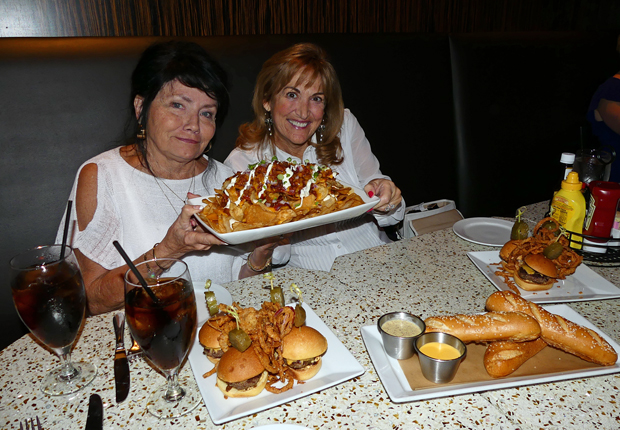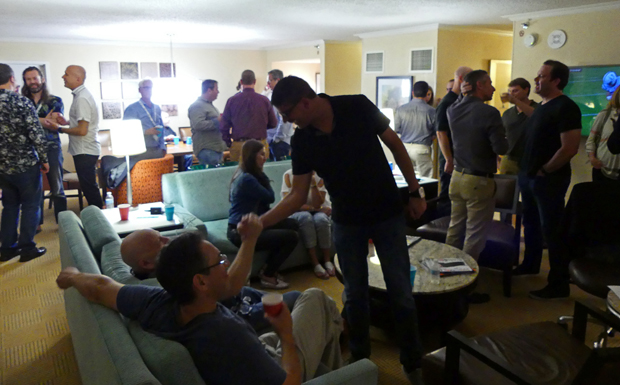 Above: After dinner many Merge! attendees got back together in the show's spacious Hospitality Suite at the Marriott. Eddie Sixto, standing at front center, greets Gregg McNair and Nat Cohen (who are better seen in the shot below).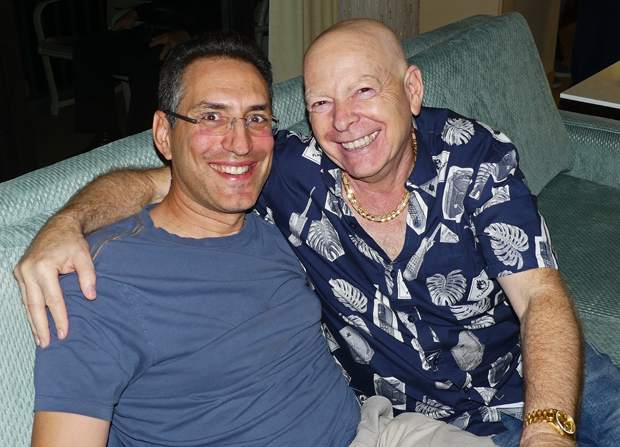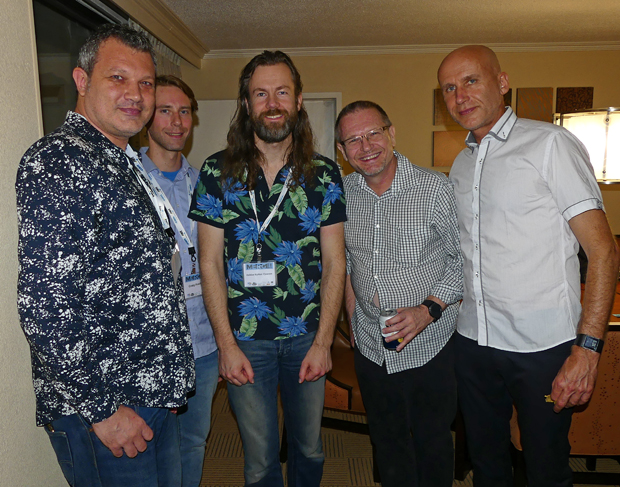 Above: These guests in the Merge! hospitality suite came from around the world. Left to right are Marco Rinaudo, Craig Pratka, Reidar Rytter-Fjoeren, Victor Pitts and Alexander Schubert.
Below: I always enjoying seeing my long time friend Rob Grant (left) who holds one of the world's best portfolios of .com real estate domains. Rob also has a great life story that we told in our April 2008 Cover Story).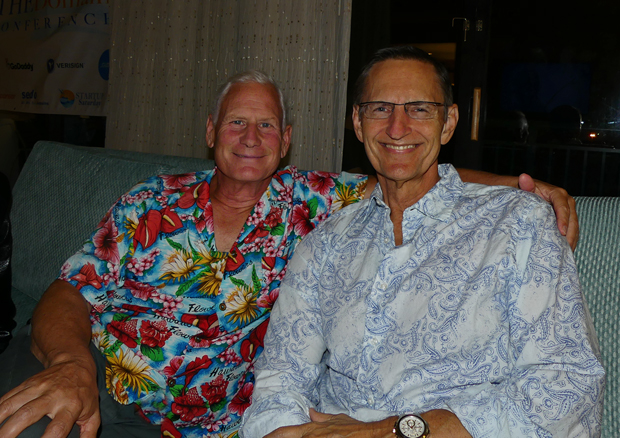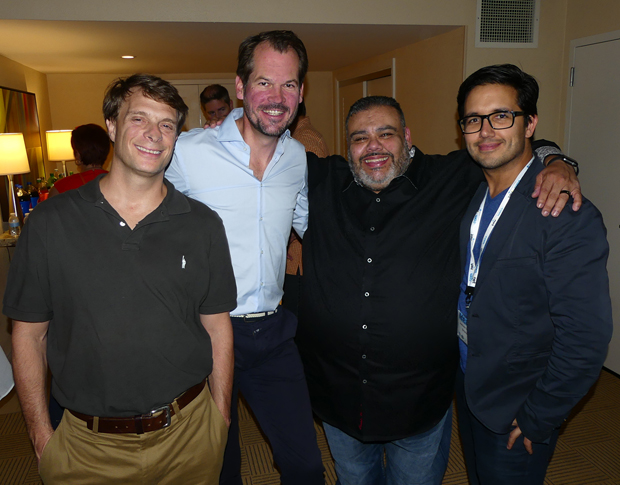 Above: Seeing these gentlemen is always a pleasure as well. Left to right are attorney Stevan Lieberman, Sedo CEO Tobias Flaitz, Hotels.club Founder George Verdugo and BrandIT Chief Strategy Officer Jochen Kieler.
As I write this we are midway through Tuesday's day 4 at Merge! The conference concludes with a half day tomorrow (Wednesday, October 18). We will be making the short trip back home to Tampa right after the show closes so I will put the Tuesday and Wednesday photos and highlights together in a final column when I get back and post those for you on Thursday (October 19).