him into both a budding author and riveting speaker and I'll be sharing some examples of that in this article (including a couple of full-length videos of Colin's talks). But first, since advice is only as good as the person giving it, I want to take you on the roller coaster ride that has been Campbell's life so you will know exactly why when Colin talks it is wise to listen.
Future farmer and serial tech
entrepreneur Colin Campbell

Campbell coming of age in Canada

"I was born a Canuck in a suburb of Toronto," Campbell began. "My father was the owner of a successful advertising agency and was also an ordained minister. He had a profound influence on me becoming the business leader I am today. Although he died shortly after my 14th birthday, his convictions and beliefs provided me with a solid foundation for how I run my businesses."

"I was blessed by the presence of technology at an early age. My father always made certain we had the latest technology, including one of the earliest computers: the 4k Sinclair. My brother, who is a real computer "geek," launched a BBS on the TRS 80 in 1984. From an early age, I had an appreciation for what technology could do and how it could improve people's lives," Campbell said.

Still, Campbell did not spend all of his youth hunched over a keyboard - in fact he had another life in a field about as far away from technology as you could get. "My mother was a farmer, and I spent my summers and even post university hawking vegetables at the local market and working on the family farm," Campbell recalled. "It was hard work, but I learned a true appreciation for what it takes to make a buck. Those experiences carried over when I got into the domain business. The first time I bought a domain for about $100 from Network Solutions (now Verisign) and turned around and sold it for $299, I couldn't believe it! It had taken me hours of labor to pick 10 flats of berries to earn $20, and now I just hand someone a virtual name and make 15 times that amount, it was incomprehensible to me!," Campbell exclaimed.

Though domains might have been an easier way to make money Campbell wasn't about to slack off when it came to work. "I was your typical over-achiever in high school," he said. "A real-life Alex P. Keaton. President of the debate club, business club and unfortunately more often than not, a member of the daily breakfast detention club," Campbell smiled.

When Campbell moved on to college at the University of Toronto he took advantage of the bigger stage the school gave him to display his talents. "College was definitely one the highlights of my life," Campbell noted. "I ran for student politics, served as Speaker of Council and V.P. of Finance for a year." Campbell did that despite personal circumstances that

would have led others to drop out. "Practically penniless I continued to work part time while attending school," Campbell said. "I was actually homeless for about four months at one time, living in my school office. Although politics, even at the school level, can be vicious, I had the time of my life and learned valuable skills and lessons."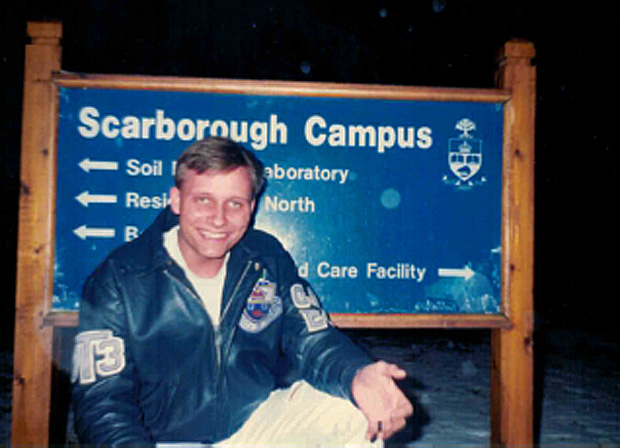 Campbell's college graduation fortuitously coincided with the emergence of the Internet.
After graduation Campbell's love of technology bloomed again with the emergence of a new communications platform that would turn the world upside down - the Internet. It didn't take Campbell long to carve out a profitable place for himself on the World Wide Web. "Shortly after leaving university in 1993 my brother, another partner and I launched a Bulletin Board Service (BBS) called Computerlink and it very quickly grew to become the second largest BBS in Canada. We quickly realized that this thing called the Internet had huge potential," Campbell recalled.

"Eventually, we killed the BBS and launched a new service called Internet Direct Canada, a dialup internet access and hosting provider (Easyhosting.com). Within a few years, we had become the largest independent Internet provider in Canada and took it public as a penny stock in 1997 through a merger. A couple of years after that, we did another merger with an up-and-coming cable company (Look Communications), and we applied for and were awarded 50% of the license for wireless Internet across Canada. It was an initiative by the government to help foster a more competitive market in Canada."

Campbell at the start of his business career as a Co-Founder of Computerlink.
"I continued on with the company as a vice president reporting to the new CEO. When we merged, the deal locked our stock up for 18 months. But this was 1999, a time when traditional business rules went out the window and markets kept climbing to unbelievable highs. What could go wrong? We were trading at about a $30 million valuation before the merger and climbed to an unbelievable $180 million valuation by the time the merger completed. It was beyond what we and our shareholders could ever have imagined and it didn't stop there!," Campbell marveled. "The company's valuation took off to well over $1 billion and hit an all-time intraday high of $19 per share. At the age of just 28, my personal wealth was valued at well over $100 million. Life was good"
However, as many entrepreneurs have learned the hard way, life doesn't always stay good. It was a very painful lesson that Campbell learned not long after his stock reached those phenomenal heights. "Unfortunately, the company spent money like it was a billion-dollar company," Campbell said. "It frightened me and I argued with the CEO on numerous occasions about the waste and mismanagement. However, the stock kept rising, and all I had to do was wait until March 2001 to sell my shares."
Image from Bigstock

In an agonizing turn of events, Campbell never got the chance. "We launched a secondary offering in March 2000 after the Nasdaq had hit an all-time high of 5000 points," Campbell said. "Then, just one week later a judge decided that Microsoft needed to be broken up under antitrust law, and the Nasdaq fell to 4000. The powers that be at our company thought it wasn't a good time to raise money and decided to pull the offering, and it all went downhill from there. I learned that no matter how good you were at the time, if you were not liquid and had too much debt on your books, you were in trouble. The .COM crash had arrived, sparing no one and driving the Nasdaq all the way down to 1114. The company had become insolvent and shortly filed for bankruptcy, wiping out the entire value of my holdings."

"I ended up selling that $19 stock for no more than six cents per share. But even that wasn't the end of it all. I had many employees who had been paper millionaires who lost it all as well…and I was the guy who made the deal happen. I was the one who negotiated it, and I was the one who ultimately lost everything for everyone," Campbell remembered ruefully.

I told you he was honest about the successes and the failures - and the valuable lessons that come from both. While that first major venture ended in disaster, Campbell had better luck with another one - an outcome that showed the wisdom of having one's irons in more than one fire.
"In the mid 1990's, my partners and I bought a website from Scott Swedorski, a librarian from Flint, Michigan," Campbell said. "He needed to find a company to host the site, but it had no revenue and unfortunately used a lot of bandwidth. The site was called The Ultimate

Collection of Winsock Software (or Tucows) – a shareware/free software download site. In order to save money on bandwidth, we launched it with mirror sites or local servers that were located within the networks of internet service providers. Quickly it became one of the top 100 sites on the internet for several years

in a row. We started it with 1 mirror site wand and scaled it to hundreds of mirror sites gaining access to tens of millions of users. We sold ads to try to monetize the traffic, but more often than not we could not sell all the ads. So we decided to launch Domain Direct (now Hover) with the intent of selling domain names. I remembered my first experience with Network Solutions and knew it was repeatable. Domain Direct was courted heavily by several large internet players of the time and ultimately sold to a group led by billionaire Benny Steinmetz. We sold it in 1999 and this time we did not gamble with stock, as it was an all cash deal."
"After the collapse of Internet Direct and losing everything for everyone, we had to move on," Campbell continued. "To have lost 10 years of my life for myself and everyone around me was very depressing, but we began to focus on what we loved the most - which was building internet infrastructure to support small businesses and end users. We launched Hostopia,

a relative latecomer to the hosting and email space. Early on we determined that we did not want to go head to head with the likes of Godaddy, or 1&1, but instead partner with companies like AT&T, Bell and Vodafone to deliver these services. We engineered a low cost, telco-grade level of hosting and email. Today almost every telecom in the western world and South America that offers outsourced email, hosting, fax to email, and other website services uses Hostopia. We took that company public on the Toronto Stock

Exchange with the symbol "H" in 2006 to raise additional funding and later sold at a much higher price to Deluxe, who is historically known as a check printing company. Finally, I had my first big success, but I wanted more," Campbell declared.

Colin Campbell at the center of the celebration when Hostopia went public in 2006.
"While at Hostopia, we launched a company called GeekForLess. Hostopia needed a lot of programmers and administrators to migrate our customers' hosting bases to our platform, and it had to be done flawlessly because even the smallest of errors could result in massive outages with millions of customers being affected. We simply couldn't find the talent we needed in the North American labor market. We created GeeksForLess by sourcing some of the best talent in the world from Ukraine, and reduced our IT costs by 60-70%. My partner and the CEO of GeeksForLess, Igor Nikolaichuk, has since grown the company to almost 800 employees in four different locations," Campbell said.
"After Hostopia was sold, my partners and I continued to launch smaller companies, including an outdoor media company, a mobile development company, a Montessori school, and a real estate business. The real estate business was an anomaly, as I do not consider myself a real estate magnate by any means, but I had the opportunity to buy a decent number of buildings in South Florida during the market lows of 2008-2010. Timing is everything and since then I've begun divesting a number of those properties."
"I attribute the success of each one of these companies to a leader whom I can rely upon to perform, including my wife who currently leads the highest rated private school in Fort Lauderdale, Little Flower Montessori. She is very passionate about the school and is the right person to lead it. Passion is what drives people towards success, and I knew I needed to continuing pursuing my passion. So after working for Hostopia/Deluxe, a Fortune 1000 company, for almost three years, I left to focus on what I really enjoy the most: domains, internet companies and helping small businesses and entrepreneurs grow and succeed,

" Campbell said.

Image from Bigstock
That change in focus would result in Campbell joining the new Internet land rush ignited by ICANN's new gTLD program. He detailed how the pursuit of .CLUB unfolded. "While at Hostopia, I hired Roger Collins (the original founder of Afternic) to do a study of the opportunities with the new gTLDs," Campbell said. "We determined that there would be a need in the marketplace for new domain extensions that have meaning. In the way that .org has meaning, we believed extensions like .shop, .law, .bank, .hotel, .app, .blog, .club all had meaning to the right of the dot."
"I especially like generics with meaning like .shop and .club. We believed at the time that the names needed to be short, have no restrictions and be priced competitively with .com. I reached out to Hostopia to see if they were applying for any of these names, as I felt it would be important that they have the first opportunity. So when they told me that they

were not going to be pursuing any new domain extensions, I was excited about moving forward. .CLUB was the one name that really stood out from our initial list, not only because it was generic but also because it added real meaning – and not just in English, but in just about every language in the world," Campbell noted.
".CLUB means something different than .com. RollingStones.com is a site about The Rolling Stones. RollingStones.club is site for fans to get involved. .CLUB means come together. It means exclusive. It means community. Almost any passion or concept can be put in front of .CLUB. We went all-in with .CLUB and applied for only this one domain extension, which was in stark contrast to many of the portfolio applicants who applied for multiple extensions. With lawyers, application costs and more, we spent about $400,000 just to get the privilege to apply - without knowing whether or not we would ever recover that money," Campbell recalled.
"We soon found out we were facing a competitive auction, but we were determined. We raised $11 million in funding to support the auction and launch the marketing of the domain extension. I was fortunate to partner early on with my former CTO at Hostopia, Dirk Bhagat, and later bring on top talent, including Jeff Sass as our CMO and Michele Van Tilborg as our COO. Today with over 800,000 domain registrations, 100,000 live sites, and recognized by the industry as the #1 new domain extension, we think we are well on our way to creating a global brand similar to that of a .co, .org or .tv, " Campbell said.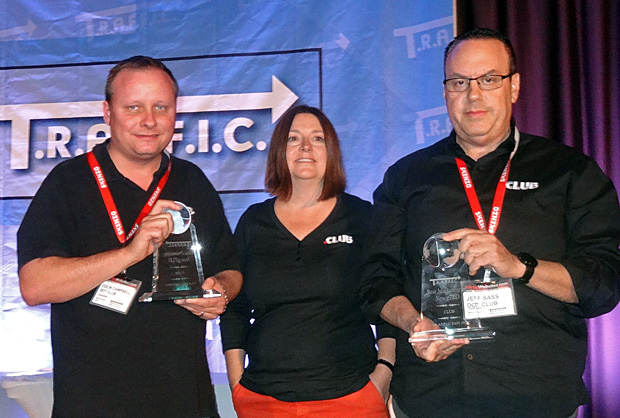 .CLUB went live in 2014 and won that year's T.R.A.F.F.I.C. Awards for both Most Promising New gTLD and Best Marketing by a New gTLD (winners were selected in industry-wide voting). Accepting the awards were (left to right): .CLUB Founder & CEO Colin Campbell, COO Michele Van Tilborg and CMO Jeff Sass. (Photo by Barbara Neu)
"I think soon the world will begin to recognize that there are great brandable domain extensions for entrepreneurs and users who have passions, and consumers will be paying more attention to what's on the right of the dot for a web address. It's impossible or simply costs too much to get a great .com address these days, but for pennies on the dollar I have seen great businesses launch with awesome brandable names that have real meaning and terrific marketing potential. When consumers go to a .club or a .shop address, for example, they have a pretty good idea of what they're going to get as opposed to a .com," Campbell opined.
Campbell added, "Domain investors will also begin to figure out which gTLDs are good investments and which are not, but this will only become more evident over time. Because it's all so new, it can be challenging for domain investors, but I believe they need to focus on usage, brandability, and short generics with meaning that are priced competitively with .com. In addition, they should not just look at the horse but also the jockey. What is the registry doing to promote the extension? How much have they invested in awareness? What is their global strategy, including China, which has proven to be the dominant player in this industry?"
Campbell speaking at the 2016 NamesCon
conference in Las Vegas last January.

At the top of this story I noted that Campbell has taken his story to the stage and kept audiences spellbound with it - recent examples coming from the 2016 NamesCon conference in Las Vegas in January and the 2016 edition of THE Domain Conference in Fort Lauderdale in September. While some were hearing Campbell speak for the first time at those industry events this is actually something he has been doing for several years now.

"I was asked to speak to a group of successful entrepreneurs at MIT on the topic of serial entrepreneurship in 2012," Campbell noted, "With all of my successes and failures, I began to identify certain patterns at different stages of my companies. What I learned was that every company needs

to have the right people, money, story and systems in place to ensure success - and that mix doesn't change whether the company is in startup mode, scaling, or exiting. Failure to have any of these things in place will decrease your likelihood for success."
Below: Campbell distributed this chart just before his keynote speech at THE Domain Conference in September. It does a great job of boiling down what you need in terms of People, Money, Story and Systems in order to Start, Scale, Exit and Repeat a good business idea. Click the image or this link for a full size copy of the chart.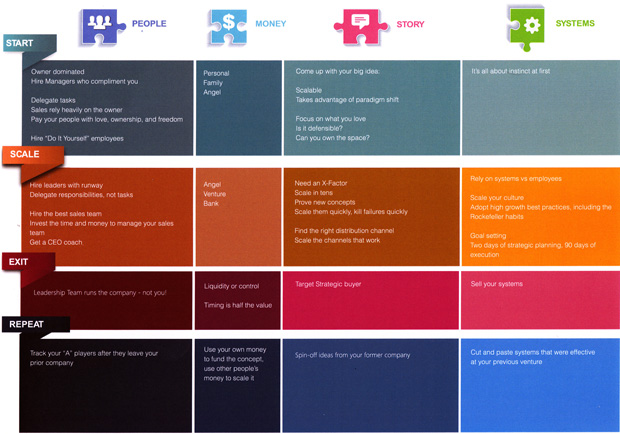 Campbell told us, "When I look at an idea to start a company or even a domain name to invest in, I think about how scalable and how defensive the idea is – what can I do differently from the competition that blocks them from attacking my customers. Outdoor media or real estate, as an example, are very difficult and capital intensive to scale. New domain extensions like .CLUB can be expensive to startup and launch, but it is highly scalable and is very defensible."
"When exiting a company, I look at potential companies that can gain a strategic benefit from us and improve the overall valuation vs. competitors or private equity. Domain investors already know this: a company is likely to spend considerably more money on a domain name that they can strategically leverage for their business. But if a domain investor sells that same name to a competing domain investor, he or she will get wholesale rates at one-fifth to one-tenth of what retail would pay. Here is a video that explains it in more detail." (Editor's note: this is Colin's complete 34-minute keynote speech at THE Domain Conference in Fort Lauderdale in September 2016):
Campbell is also working on a book titled Start, Scale, Exit, Repeat! that will carry his message to an even wider audience. All of this activity obviously makes him a guy who doesn't have a lot of free time on his hands. I asked Campbell how he juggles it all.
"Building and running several companies can, at times, be overwhelming for me and my family and colleagues, especially given the intense level of required travel," Campbell admitted. " I have traveled to dozens of countries and just since launching .CLUB, have made 10 trips to China alone. Thankfully I have an understanding wife, but I can't say the same about my three King Charles Spaniels who are not kind to me when I pull out that suitcase," Campbell smiled.
"Those who really know me, know that I am obsessed with .CLUB. I admit it. Like many of your readers you could classify me as a domain-o-holic. But I am also passionate about giving back. Years ago my partners and I created and funded the Toronto Internet Exchange (Torix),
and I was also a founding director of CIRA (.CA). More recently we launched Entrepreneur.Wiki, a foundation to inspire new entrepreneurs while at the same time supporting already successful entrepreneurs with credibility, exposure, and legacy."

As much as Campbell has accomplished it is hard to believe he is barely halfway through his entrepreneurial career. We will no doubt hear much more from him in the future. In the meantime, I will leave you with more of his own words. This video is from an excellent 48-minute panel session called "Lessons from the the Edge" at Startup Saturday, a special one-day event staged by THE Domain Conference (TDC) Co-Founder Ray Neu the day before TDC 2016 got underway in Fort Lauderdale.
In this session. moderated by .CLUB CMO Jeff Sass, Campbell joined fellow entrepreneurs Barry Kates and George Verdugo (VisitSpace.com) to tackle a topic most entrepreneurs prefer to not talk about - failure. The honesty of the speakers, who all bounced back form huge setbacks, was refreshing and very inspirational. Entrepreneurs need to know there is a good chance you are going to get knocked down but you can get back up again armed with valuable, albeit painful, experience that will make you better equipped to succeed than you were before. It was hearing Campbell detail his journey in this session that made me want to share his story with you and I appreciate the time he gave me so we could do that.