The Lowdown


November 2017 Archive

Subscribe to our RSS Feed

Here's the The Lowdown from DN Journal,
updated daily to fill you in on the latest buzz going around the domain name industry.

The Lowdown is compiled by DN Journal Editor & Publisher Ron Jackson.
With 2018 Show Two Months Away NamesCon Offers Cyber Monday Discount and Agenda Update for Las Vegas Event
The 2018 NamesCon Global conference opens exactly two months from tomorrow (January 28, 2018 at the Tropicana Hotel in Las Vegas). This being Cyber Monday NamesCon stepped up with a half price ticket offer, good until the end of the day tomorrow (Tuesday, November 28) that slashes the standard ticket price from $799 to $399.50.

A couple of weeks ago I published some of the initial information on the conference agenda. Over the just completed Thanksgiving holiday weekend I got an update from NamesCon Global Production team member Shallom Johnson with more details about what they have in store for the event that will run January 28-31.

Shallom wrote, "Attendee surveys have provided us with invaluable feedback, so we've taken the opportunity to try out some new ideas and refine what we knew was already working well." To give us some specific examples, she noted plans for six different aspects of the conference:

1. Streamlined Agenda: Attendees rank networking as a prime objective at NamesCon, so this year we trimmed down the agenda in order to give our guests lots of time to connect with one another. We set a new focus on booking TED-style presentations in the keynote hall, panels on the breakout stage, and interactive sessions in the workshop room - keeping all of our content top-notch to make sure that you're getting the most out of each session you attend.

Even before the 2017 edition of NamesCon Global got underway last January,
attendees were busy networking in the registration area.

2. VIP Passes: This is the first year that NamesCon will offer a VIP program. VIP pass holders may use the VIP Lounge for a more exclusive space to meet, work, and connect. VIP tickets include a champagne lounge on our opening evening, a daily coffee & lunch spread, Q&A sessions over the lunch hour with some of our keynote speakers, plus preferred seating and access in session rooms and at events.

3. WaterNight: WaterNight will always be dedicated to raising money for WaterSchool's efforts to provide clean drinking water and sanitation education in Uganda. This year, we're raising the bar and transforming this event into a red carpet gala held on Monday evening. WaterNight will feature a seated dinner, silent and live auctions for some amazing prizes, and live performances from a Vegas lounge band and celebrity magician Justin Willman! Table or seat reservations must be made in advance.  

4. Tool Talks: With our newly streamlined agenda, we wanted to make sure that we provided a space for our partners to share the products, services and tools that are most relevant to the industry. These speed sessions will be 20-minutes in length and run for the full afternoon of Sunday January 29th on the breakout stage, a perfect introduction for newcomers to NamesCon.

One of the popular business sessions that packed
meeting rooms at NamesCon Global 2017 last January.

5. Startup Alley: These plug-and-play kiosks are perfect for SMBs or startups to have a presence at NamesCon without breaking the budget, or tying themselves down to a booth for the entire show. We'll be hosting two dedicated networking happy hours for Startup Alley to drive a boost in foot traffic. Interested in booking? A few spots are still available, email "terri at namescon.com" to enquire.  

6. Closing Party and Brunch: With WaterNight on Monday evening, we've now scheduled our big blow-out party for Tuesday night. The executive roundtable keynote the following day, scheduled a little later than usual at 11am and served with a breakfast buffet. Have a last cycle through the exhibit hall before it closes at 2pm!

A scene from the official NamesCon party at the 2017 conference last January.

This will be the 5th annual NamesCon Global conference in Las Vegas and for the 5th consecutive year we will be there to cover it all for you or, better yet, see you there in person!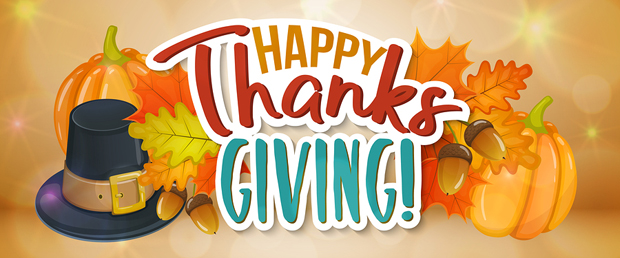 Image from Bigstock
America celebrates one off its biggest holidays Thursday (November 23) - Thanksgiving Day. Wikipedia tells us, "Thanksgiving has been celebrated nationally on and off since 1789, after Congress requested a proclamation by George Washington. It has been celebrated as a federal holiday every year since 1863, when, during the American Civil War, President Abraham Lincoln proclaimed a national day of "Thanksgiving and Praise to our beneficent Father who dwelleth in the Heavens," to be celebrated on the last Thursday in November."
For millions of Americans Thanksgiving has become a time to gather with family, often for several days, for a celebration capped by a huge Thanksgiving Day feast and thoughts of the many things we have to be thankful for. That's what we will be doing Wednesday through Friday this week. We hope you and your family have a wonderful holiday as well and want you to know that one of the things we are most thankful for is the support and encouragement we have received from you and our readers around the world for the past 15 years. Happy Thanksgiving!
(Posted November 22, 2017)
Internet Commerce Association Expands Role of Interim General Counsel Zak Muscovitch
Earlier this month I told you about the Internet Commerce Association's original General Counsel, Phil Corwin, leaving that role after 11 years on the job. Three days later we learned the opportunity Phil left for was a position as Policy Counsel for industry giant Verisign (the operator of the .com and .net registries). At that time the ICA also announced that veteran domain industry attorney and ICA Board Member Zak Muscovitch had agreed to take on Phil's duties on a temporary, volunteer basis. Today, the ICA announced the non-profit organization that fights to protect domain registrant's rights had persuaded Muscovitch to take on a larger role, serving as Interim General Counsel for six months in a paid part-time arrangement that will also allow him to continue his successful private practice. Zak will resign from his board position to take on his newly expanded duties.

Zak Muscovitch
ICA Interim General Counsel

Kamila Sekiewicz
ICA Executive Director

The reasoning behind this move was explained to ICA members in a letter sent out by Executive Director Kamila Sekiewicz today. She wrote, "With the departure of Phil Corwin, the General Counsel position is vacant for the first time in the 11-year history of the ICA. The Board intends to use the transition to a new General Counsel to determine how the position can be restructured to best support progress on ICA priorities, in particular the review of the UDRP commencing next year. The Board will use the next six-months to assess the skill set and experience required for the position going forward. The Board expects that the review of the General Counsel position will require discussion and experimentation to come up with the right balance and use of the ICA's resources. At the conclusion of the interim term, the Board will determine how to fill this position on an indefinite and ongoing basis."

Kamila added, "Since the ICA has a full slate of pressing and time consuming matters to attend to immediately that requires the attention of a General Counsel and cannot be discharged in

a very limited, voluntary capacity. Zak has helped lead the ICA as a Board member and is highly experienced in the key policy matters before the ICA. The Board is grateful that he is able to step in immediately to provide a steady hand during this interim period. Please join us in welcoming Zak to his new interim role!"
Radix Excited About Attention New Companies Built on Their TLDs Received at Web Summit 2017
The massive 2017 Web Summit conference concluded earlier this month with some 60,000 attendees from 170 countries converging in Lisbon, Portugal for the event. Radix Registry was one of the several domain industry companies that participated in Web Summit and they were kind enough to share some photos and details from their experience at the big show.

Radix, who operates one the largest portfolios of new gTLD domain registries, told us their Startup League program supported over 50 startups on its domain extensions at Web Summit. As I have written about before, in an initiative designed to encourage new companies to adopt Radix TLDs, Startup League offers select ones a comprehensive go-to-market package that includes up to 100% sponsorship discount on exhibit booth fees, branded merchandise, media coverage and exposure to investors and industry influencers.

Over 500 startups from around the world had

applied to exhibit at Web Summit with the support of the Startup League. Of those, over 50 startups were chosen and one of them, WATR.TECH from the United Kingdom, was ranked among the top 3 finalists at the event's coveted PITCH competition that had over 1,000 applicants.

Tanisha Gupta (center) welcoming visitors to the Startup League booth at Web Summit.

Radix reported this was the first time an event as big as Web Summit had over 50 startups on

Suman Das
Startup League Brand Manager

new gTLDs coming together for an exhibit to such a massive audience - one that included over 2,000 startups, more than 1,000 investors and over 1,200 speakers including former U.S. Vice President Al Gore, the former President of France, Francois Hollande, who is now Chairman of Generation Investment Management, and Margrethe Vestager, the European Commissioner for Competition who recently slapped a bill of $2.7B on Google on antitrust issues.

As you would expect, Radix was especially excited about being able to give their new gTLDs such large scale visibility. Startup League Brand Manager Suman Das said, "Startups at Web Summit showed great interest in Radix's 9 domain extensions, with some of them having switched over from a legacy TLD or a ccTLD to a .TECH or .ONLINE. This helped them amplify their virtual brand with a more impactful and meaningful domain name."

Some of the startups founded on new gTLDs that Radix cited for gaining significant traction at Web Summit are noted in the table below:

| | | |
| --- | --- | --- |
| Startup | Website | Industry |
| Pavnext | | Clean tech |
| Hirefreehands | | HR |
| Nu-RISE | | Med-tech |
| SENSEI | | Big Data |
| Naktergal | | Fintech |
| Mug Studio | | Clean tech |
| Marketing Madheads | | Advertising/Marketing |
| Faxime | | Gaming studio |
| Townsquare | | eCommerce |
| Bunk | | Renting |

Silvia and Francisco from Pavext.tech at The Startup League's Web Summit booth.

Brad Pfeffer, CEO, of another exhibiting startup, animall.online, said "Events like Web Summit are crucial for startup-success. However, the logistics involved in making it happen are overwhelming. With Startup League's backing, the entire process was managed smoothly. They provided us with sponsorship funds, marketing collateral and ensured that our presence at the event was an enormous success. Startup League's guidance at every stage was priceless."

Suman Das added, "We are excited to amplify the program further in 2018; not just by onboarding more startups on new TLDs but also by enhancing the experience of our existing startups through additional benefits. Moreover, we will be creating a robust platform for them to interact with each other as well as with our partners and mentors."

The team from MarketingMadheads.online used their unique fashion sense to draw attention at Web Summit 2017!
GGRG's Latest Report on Liquid Domain Sales Finds $ Volume Up at Escrow.com But Down in Publicly Reported Sales
Domain brokerage and consultancy GGRG.com has released their latest free quarterly report (.PDF file) breaking down aftermarket sales and development of "liquid domain names." GGRG defines those as being very short .com domains consisting of all letters (L) or all numbers (N), as well as 3-character (C) .coms that have a

combination of letters and numbers. GGRG terms these categories "liquid" domains because they are relatively easy to sell at prevailing market rates.

GGRG Founder Giuseppe Graziano

GGRG's latest report, produced by Founder Giuseppe Graziano in conjunction with Escrow.com, Intelium.com and ShortNames.com, covers results from the 3rd quarter of 2017. Regarding that period GGRG wrote, "Q3 presented the lowest turnover rate (the percentage of the entire liquid domain name category that is bought or sold in markets during this quarter) in disclosed sales ever seen at 0.56%. This might be due to a few factors, including the seasonality (summer months are typically slower) and reduced investor activity. The aggregate value of disclosed transactions (publicly reported sales) went down 58% from $12.9 million to $5.4 million."

GGRG found that the disclosed sales volume differed from the results reported by Escrow.com (who does not make individual domain sale prices public but does share total dollar volume). At Escrow.com $ volume, increased significantly for 3Ls, 4Ls and 5Ns, as a consequence of large end user sales or

unreported portfolio transactions in these categories. According to Escrow.com, the most traded category this quarter were the 3Cs category, with $8.6 million of the $24.4 million in sales registered for the entire liquid domains category.

GGRG added. "The 5th percentile values (a representation of a reasonable category price
floor in any given time period) continued to go down across the board, with 3Ls losing 12.94%; 5Ns losing 12.28%; and 4Ls stable at -1.67%. The notable exception were again the 3Cs, which presented a +25.91% increase."

The report also includes data on the percentage of liquid domain names held in individual countries/regions, the percentage of them that are developed and other statistics, as well at the firm's forecast for the category in the months ahead.
Deloitte Loves Donuts - Names New gTLD Giant North America's Fastest Growing Tech Company
Business consulting giant Deloitte issues an annual Technology Fast 500 list ranking North America's fastest growing technology, media, telecommunications, life sciences and energy tech companies. Their official 2017 Technology Fast 500, released November 9th, has a familiar name in the top spot - Donuts Inc., the world's biggest new gTLD domain registry operator.

The rankings are based on each company's rate of growth over three year between 2013 and 2016. Donuts, who is based in the Seattle suburb of Kirkland, Washington, posted an eye popping number of more than 59,000% to outdistance two software companies, New York based runner-up Class Pass and Boston based #3 finisher Toast.

(L to R) Donuts CFO David Rostov, Co-Founder Paul
Stahura and President and CEO Bruce Jaffe celebrating
the company's #1 ranking on the Deloitte 2017
Technology Fast 500 list.

Upon getting the good news Donuts President and CEO Bruce Jaffe cited "growing global demand for more descriptive, meaningful domain names and the company's strong business execution for powering its rapid revenue growth."

Jaffe added, "Donuts has the world's largest portfolio of new domain names, which range from .CAREERS, .SOCIAL, .LIVE, .NEWS, and over 200 more. Individuals and organizations have recognized the power of new domains in promoting their brands online - for their primary and ancillary websites, for their social and ecommerce platforms, and for their online advertising and marketing. From TMobile.careers, to Home.credit, to FullMeasure.news, to Lifetime.life - businesses of all sizes and types are embracing new domains to connect more effectively with their target audiences. We expect that

Donuts' Fast 500 achievement will help to further accelerate worldwide adoption of new domains."

Deloitte Vice Chairman Sandra Shirai added, "The Deloitte 2017 North America Technology Fast 500 winners illustrate the impact of technological innovation and world-class customer service in driving growth, in a fiercely competitive environment. These companies are on the cutting edge and are transforming the way we do business. We extend our sincere congratulations to all the winners for achieving remarkable growth while delivering new services and experiences for their customers."
NamesCon Releases Las Vegas Agenda - Veterans Offered 2 for 1 Tickets - Early Birds Also Get a Deal on Annual ICA Dinner
The 2018 NamesCon Global conference is just 11 weeks away with the 5th annual event set to return to the Tropicana Hotel in Las Vegas January 28-31. The show agenda has now been posted and there are several interesting changes from past years that you will want to check out. Those include a special Tool Talks track on opening day (Sunday, Jan. 28), running from noon to 5pm, that will feature an afternoon of fast-paced tool demos, taking place in 20-minute increments. Those will give attendees an opportunity to learn about products, services and techniques that can improve their business. At the same time a variety of other business sessions will be going on in other meeting rooms. NamesCon's multi-track format will give you similar options throughout the week.

The annual Women in Domaining Dinner also moves to opening day with that event scheduled to run from 5 to 7pm in the new Robert Irvine Public House off the Tropicana casino. You can count on great conversation, wine, and dinner and thanks to its generous event sponsors, there will be no charge for the dinner, however an RSVP is requested as space is limited. NamesCon's famous Opening Night Reception for all attendees will follow from 7-11pm in the Keynote Hall.

There will be social events every evening. The annual Water Night Charity Gala becomes a black tie affair and gets an earlier start - 6:30pm Monday evening (Jan. 29). That will also allow an earlier finish (10:30pm). In the past the event could run past 1 in the morning which made it hard to get up for early business sessions the next day! Tickets for the Gala will be available January 2. On Tuesday night (Jan. 30), the closing night party will run from 9pm-1am at the exclusive Ling Ling Lounge in the Hakkasan Night Club, just across the walkway in the MGM Grand Hotel.

NamesCon always offers a lot of value for the money and, this being Veteran's Day weekend, that is especially true for those who have served in the armed forces. NamesCon is offering veterans two tickets for the price of one ($799) and 50% of the proceeds from those sales will go directly to the Veterans Village in Las Vegas. This offer runs through Monday (November 13).

Veterans Village is a transitional and permanent housing residence for U.S. Veterans that offers 24/7/365 crisis intervention center intensive support services. Public and private collaborative partnerships have been created to provide supplies and services to residents including

housing, medical and mental health services, employment training, referrals and placements, food pantry/nutrition programs and transportation to the VA Hospital and primary care clinics.

In addition to all of the sessions and activities you will find on the official NamesCon agenda, there will be some special events staged by other companies and organizations during

show week. One of those will be the Internet Commerce Association's 4th Annual Dinner from 6-9pm on Tuesday evening, January 30, at the House of Blues in Mandalay Place (a short distance from the Tropicana Hotel).

Tickets to the dinner are $100 each but if you join the ICA between now and the dinner, the dinner is on them! (just select the "pay at the door option" when ordering tickets). The ICA - a non-profit organization that fights for domain registrant's rights - also has a special Early Bird offer for existing members. If you order your tickets no later than Wednesday (November 15) you can get them for $75. If you don't have a discount code yet, email [email protected] to get yours.
New Gambit Conference Coming to India This Month Will Bring Domains, Bitcoin & Gaming Together in One Place
Domain conferences that are devoted solely to domain names seems to be an increasingly rare species. Coming on the heel's of last month's expansive Merge! Conference in Orlando is word of an ambitious new event to be held in Hyderabad, India at the Taj Banjara Hotel on November 27, 2017. The first Gambit Conference will bring together global experts from the world of domains, bitcoin and gaming with each having its own dedicated track.

You never know exactly what to expect from a first time show but judging from the impressive speaker's lineup on the Gambit website, the conference will have no shortage of world class talent on stage. The three dozen experts

currently listed include ICO.com Founder Jia Wei, MMX.co CEO Toby Hall, Dr. Kevin Ham (via video link), Escrow.com General Manager Jackson Elsegood, NameKart CEO Prakhar Bindal, Directi Senior Marketing Manager Karn Jajoo, MediaWiz CEO Samit Madan and well-known domain investor/author Aishwin Vikhona to name just a few. With registration prices starting at 2,999 Indian rupees (about $46 at the current exchange rate) the cost to attend is also meant to please.

The Gambit 2017 website noted that the host city, Hyderabad, is an Asian Information and Technology hub with the headquarters of many leading companies located there. The site added, "This 3-track conference will be inundated with eminent personalities, remarkable speakers, entrepreneurs, significant luminaries and general enthusiasts. The constellation of these top-notch people will not only teach you about the strategies, technologies, and innovations they've developed and mastered but will also make sure that you go home with your brain on fire!"

You can keep up with Gambit conference updates by checking out the show's Facebook page.
Former ICA Legal Counsel Phil Corwin Accepts a New Position as Policy Counsel for Verisign
On Friday we told you about Internet Commerce Association Legal Counsel Phil Corwin resigning after 11 years with the ICA, effective today. This afternoon we learned what the "new opportunity" was that persuaded Phil to make a move.

In a letter to ICA members Corwin wrote, "I have today, November 6, 2017, terminated all operations of the Virtualaw LLC consultancy and commenced employment in the legal department of Verisign, Inc. in the position of Policy Counsel.

On October 23rd I advised the ICA Board of my intent to terminate my representation of ICA so that it could commence a search for a new legal and policy counsel. It has been my great honor to represent the ICA and its members since its founding in September 2006. At that time the goal of ICA's founders was to provide the domain investment industry with eyes, ears, and a strong voice in ICANN, Washington, and other important policy centers. I believe that

Phil Corwin
Verisign Policy Counsel

we have together achieved that goal and established a strong base on which ICA can build into the future.

Given that I am now employed by an ICANN contracted party, I have today resigned from ICANN's Business Constituency and my seat representing it on GNSO Council. I shall continue in my role as a Co-Chair of the RPM Review Working Group.

Over the past decade I have made become good friends with many members of the domain investment industry, and I look forward to those warm relationships continuing into the years ahead."
Internet Commerce Association Legal Counsel Phil Corwin Leaving Job After 11 Years in Leadership Role
Phil Corwin, who has served at the Internet Commerce Association's Legal Counsel ever since the organization was founded in 2006, is leaving the job effective Monday (November 6, 2017). The official announcement was sent out to members by ICA Executive Director Kamila Sekiewicz on behalf of the Board of Directors today. With Corwin's decision to spend more time on other opportunities, ICA Board member Zak Muscovitch, a veteran domain industry attorney based in Canada, will take on the role of Legal Counsel on an interim, volunteer basis. As a board member Muscovitch will also assist in the search for a long-term replacement.

The ICA announcement noted, "While no one can replace Phil, we will look for new counsel with particular strengths in the priorities we see ahead of us in our second decade. We see the next 18-24 months as critical for the domain industry. In the policy arena there are ongoing initiatives that have the potential to dramatically impact our ability to protect our assets and conduct business. There are large, well-funded and determined players working to change domain intellectual property law in ways that could dramatically impact our community. The ICA has been working for months to develop a comprehensive long-term strategy to counter these movements and we think we have a solid plan that, with your help and support, will protect the future of domain investing."

The message added, "ICA's 2018 mission will focus on three core areas; first, Represent and defend the domain community in policy matters affecting us. Second, Promote a positive perception of the domain community through education and engagement with policy makers, journalists, and others whose work influences our industry. Third, Build a supportive community among our members. We believe by focusing on these three core areas, we can make the biggest impact for our membership."

"Phil has left the ICA in a strong position. In our first decade, Phil put us on the map, establishing us an important stakeholder in the ICANN policy development process, and successfully advocated on dozens of issues

Above: ICA Legal Counsel Phil Corwin
will be leaving the job Monday (Nov, 6, 2017).

Below: ICA Board Member Zak Muscovitch
will fill in as interim Legal Counsel while the search for a permanent replacement is made.

large and small that profoundly benefited the domain industry. He leaves an enduring legacy as one of the architects of the policy framework that governs the domain name system. We wish Phil well in his new endeavors. Phil will remain on the ICA-mail and ICA-social list for a few days should anyone wish to reach him there. His responses may be delayed as he is embarking on a 25-hour trip back home from ICANN 60 in Abu Dhabi this evening."

The statement concluded, "The ICA Board is excited about the opportunity to continue our growth building on the foundation that Phil created. We'll be reaching out to our membership to solicit your support and guidance during this transition."

Phil Corwin representing the ICA at the 2015 NamesCon conference in Las Vegas.

As a personal note (and as an ICA member) I would just add my thanks and appreciation for the outstanding job Phil has done for the ICA in their efforts to protect the rights of domain registrants for the past 11 years. Phil essentially became the "face" of the organization and deserves enormous credit for helping the organization gain worldwide respect in the Internet community. He will certainly be missed but we wish him the best in all of his future endeavors.
Domain Industry Golfers Can Tee it Up to Help Injured Veterans in Southern California November 13
For several years now I've been telling you about California's annual Orange County Supports Our Troops (OCSOT) Charity Golf Tournament that raises money to support injured and critically ill service members throughout the Southern California area via the Semper Fi Fund. Well, it's that time again! The 6th annual tournament will be held Monday, November 13, 2017 at the Coto De Caza Golf & Racquet Club. If you will be in the area you can register to play here. If you can't be there but would like to support this worthy cause, you can make a donation here. You will also find sponsorship and advertising opportunities on the OCSOT website. OCSOT is a registered 501(c)3 charity.

I first learned about this event from Brandon Abbey (the former President at Escrow.com who is now

Director, Strategic Accounts at Payoneer Escrow), who has played a key role in staging the annual tournament that has raised well over $1 million.

Brandon Abbey (center) with fellow organizers of the annual Orange County
Support Our Troops Charity Golf Tournament at the 2016 event in southern California.

Abbey told us, "This lively and inspiring day includes golf, hearty refreshments and inspiring guest speakers with silent and live auctions in a gorgeous country club setting. The Semper Fi Fund provides immediate assistance and continuous support for the injured heroes who have served our country in all branches of the U.S. Armed Forces. The primary goal is to give back to those who selflessly support, protect and serve our country." Prior to last year's event Abbey noted, "Since 2004, the Semper Fi Fund has issued over 44,000 grants totaling more than $63 million to 8,000 heroes and their families."
DigitalTown Continues Acquisition Binge With Deal for App Maker CityInformation B.V.
DigitalTown, Inc. (OTC PINK: DGTW), a company that provides turn-key hosted solutions to power "Digital Towns" for cities around the world, just announced their 7th acquisition since the beginning of last year. DigitalTown has reached an agreement to acquire the assets of CityInformation B.V. The deal will stengthen DigitalTown's "Smart City" solutions by adding affordable technology like Mobile Apps, Single-Login and Blockchain.

CityInformation develops and operates mobile apps for cities and towns worldwide. Their mobile apps are now live in more than 800 cities with more than 3 million downloads

completed to date. The acquisition of City Information by DigitalTown will allow these mobile applications to be connected through the DigitalTown SmartWallet as well as enable app users to make direct purchases from local merchants across retail, services, dining and lodging using their saved preferences from their SmartWallets. Users can also own manage ownership stakes, or coins, in their city platform through a city-specific Blockchain. These stakes can be held in SmartWallets or traded through Blockchain exchanges.

Rob Monster
CEO, DigitalTown

DigitalTown CEO Rob Monster said, "This is an enormously significant milestone in DigitalTown's quest to restore economic power to cities by not only making it easy for residents and visitors to buy and engage locally 24/7, but also for local stakeholders to own the city platform itself through Blockchain Distributed Ledger for managing decentralized ownership. For our institutional partners, such as municipalities, chambers of commerce, destination marketing organizations and visitor bureaus, we are now able to offer them a truly integrated digital platform for their city brand."

CityInformartion CEO Bjorn Poels added, "We are proud that CityInformation technology will enable DigitalTown to deliver the ultimate cross-platform online Smart City solution by integrating City Information's fast-growing network of city-branded mobile Apps. For our existing mobile platform customers this means, we can now deliver them a complete solution."

DigitalTown will feature the new mobile app suite at the Smart City Expo in Barcelona November 14-16, 2017, the main event of the year for Smart City Innovation with an expected attendance of more than 16,000 delegates from around the world. The Smart City Expo is the venue where the two companies began strategic discussions approximately a year ago. DigitalTown will be exhibiting in the Leading Cities Pavilion.
---
If you've been out of the loop lately, catch up in the Lowdown Archive!
---
We need your help to keep giving domainers The Lowdown, so please email

[email protected]

with any interesting information you might have. If possible, include the source of your information so we can check it out (for example a URL if you read it in a forum or on a site elsewhere).
---
Home Domain Sales YTD Sales Charts The Lowdown News Headlines
Articles Resources Classified Ads Archive About Us