If you missed our coverage from the first three three days of the conference you can see Sunday's opening day photos and highlights here, day 2 Monday here and day 3 Tuesday here.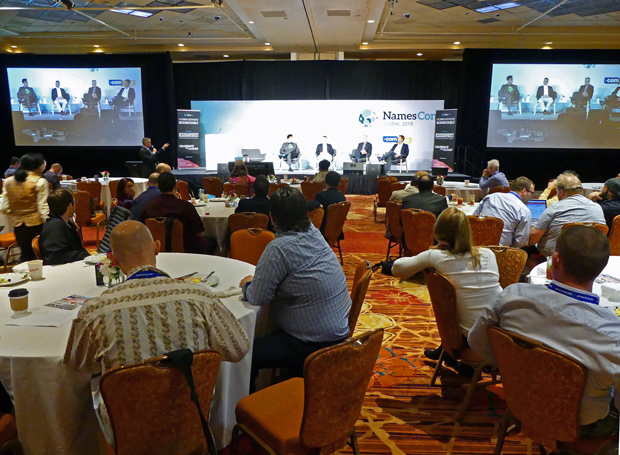 Above and below: The final day Wednesday began at 11am with a Closing Keynote Roundtable that featured (left to right on the dais below): moderator Derek Newman, Sandeep Ramchandani (Radix Registry), Steve Heflin (Afilias), Rob Monster (DigitalTown) and Christian Voss (Sedo).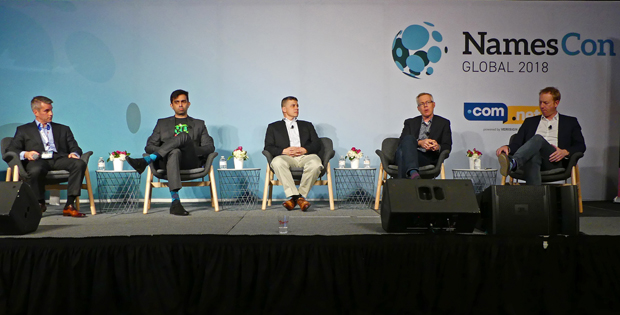 The wide-ranging roundtable session ran close to two hours during which attendees could also enjoy a full breakfast (below) before beginning their journey home.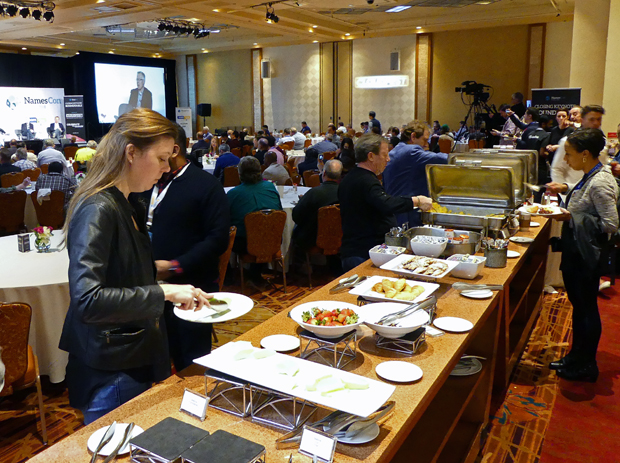 Above: The Exhibition Hall was also open for three hours Wednesday from 11am-2pm giving attendees a chance to visit service providers they may have missed earlier in the week while busy absorbing a seemingly endless variety of business sessions. I stopped by to see Stuart Dinnes (Director Channel Strategy) at the Verisign booth. Verisign served as NamesCon Global's title sponsor this year.
Below: The GoDaddy booth was also a beehive of activity throughout show week as a steady flow of attendees came by to chat with representatives from the world's biggest registrar.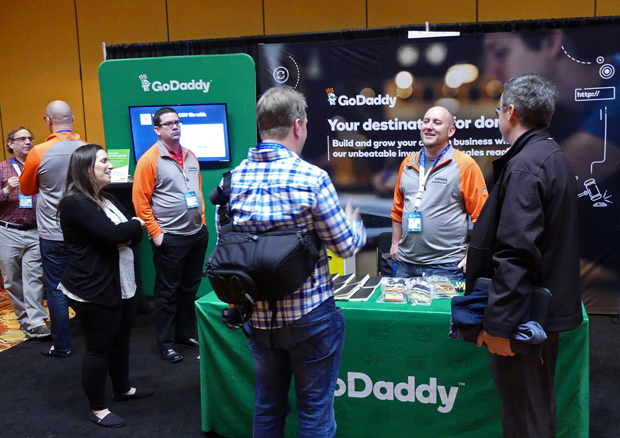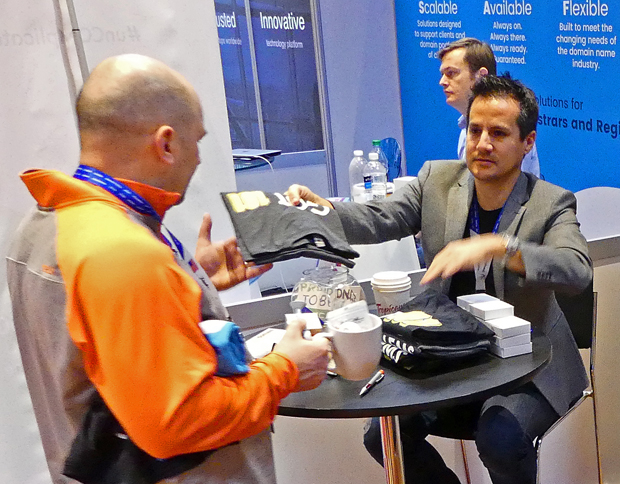 Above: Of course there is nothing show goers love more than a free souvenir T-shirt from a favorite service provide. This visitor picks up a nice 101Domain.com shirt from COO Anthony Beltran while visiting the popular registrar's booth Wednesday.
Below: Dynadot is another registrar that has become a favorite among domain investors who appreciate their appealing interface, consistently low prices and excellent customer service, as well as the growing aftermarket the site provides. I stopped by to chat with Barry Coughlan (left) about the company's history and current services.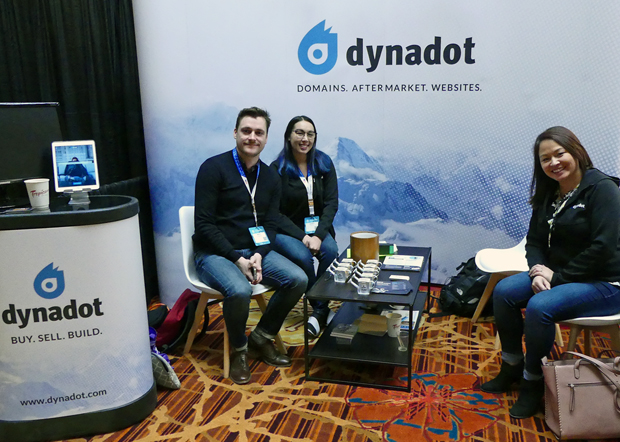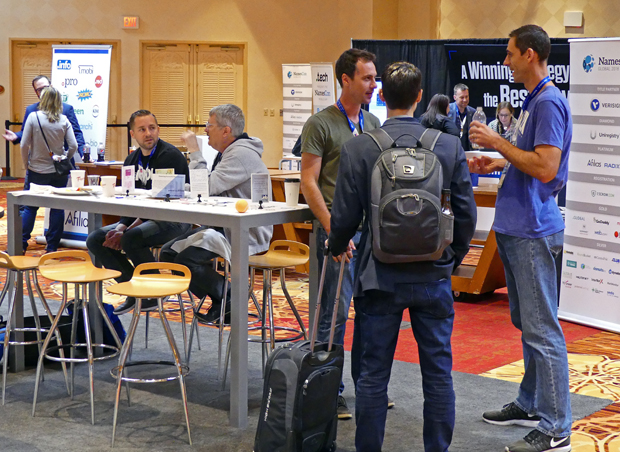 Above: After checking out of their rooms many attendees used that 11am-2pm window to meet in the Exhibit Hall for some final networking before heading to the airport.
Below: Others stayed on for the day's second special event - NamesCon's first Unconference, held in the Keynote Hall from 2-5pm with Bill Sweetman (left) from NameNinja and Braden Pollock from LegalBrandMarketing moderating the event.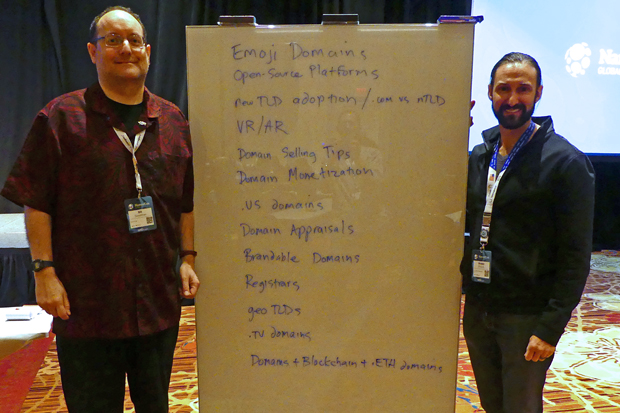 So, what is an Unconference? In short, NamesCon provides the forum and the moderators, but attendees decide the content. They follow the World Café method, where each table in the keynote hall is dedicated to a certain topic, as decided upon by Unconference attendees. The topics they want to discuss are listed on a white board with a table then devoted to each one (as you see below). Attendees are free to move from table to table to delve into whatever topic interests them as the unconference unfolds.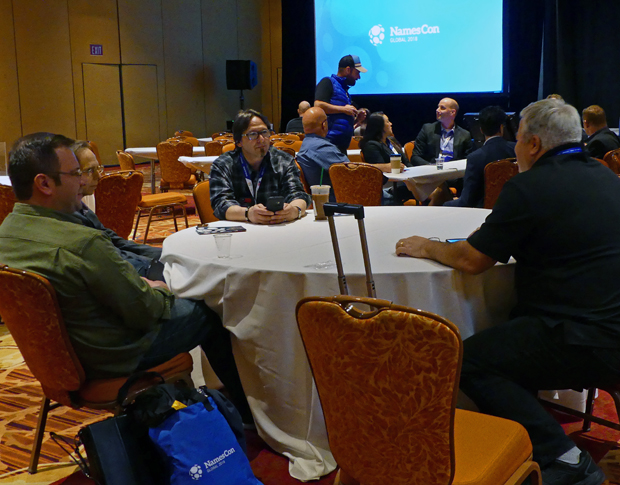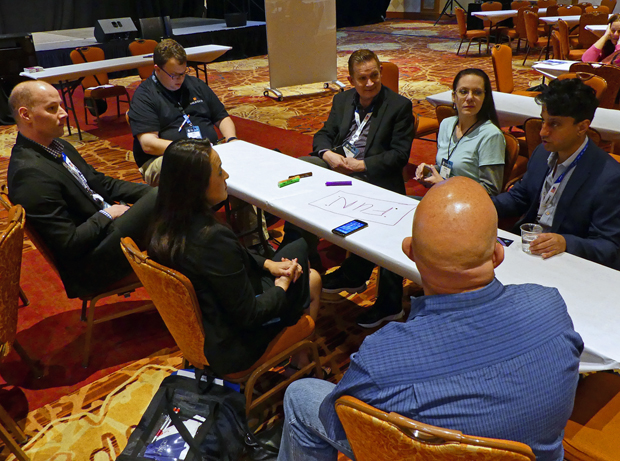 Above and below: Another important part of unconferences are the white paper table coverings and magic markers. Attendees can use the markers to jot down thoughts or things they learned that might be useful to others who follow them to that table. The self-directed system is a very casual, relaxing way to network and learn more about the things you are most interested in.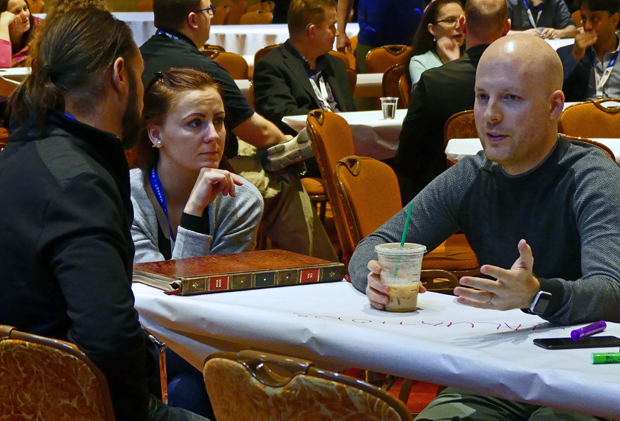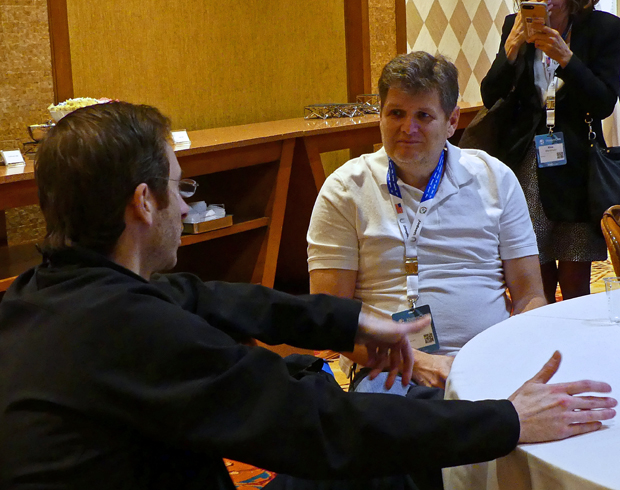 Above: Greg Ricks (at right) was among the familiar faces at the Wednesday unconference that officially closed the show. Greg, who came in from Texas, was the owner of DNForum.com when I entered the business in 2002. It was the place many of us learned about the domain world when it was still in its infancy. Today we are fortunate to have a rich variety of forums, blogs, books and other resources that make industry information and insight readily available, but it is conferences that provide the final piece of the puzzle you need to have the best possible chance to succeed - a place to build personal relationships through face to face contacts. NamesCon Global 2018 underscored that truth yet again and sent us home much better equipped to take advantage of the opportunities that await in the year ahead and beyond. Thanks to everyone on the NamesCon team for another job very well done.
(Posted February 1, 2018)