Donuts Inc., the world's largest operator of new generic top level domain registries (new gTLDs), announced a record-breaking sale for that category this morning after closing a $500,300 all cash transaction for Vacation.rentals. The sale was brokered by Brooke Hernandez, senior domain broker at Uniregistry. The buyer was VacaRent LLC, a newly formed company led by veterans in the vacation rental space. The founders include longtime resort owners and entrepreneurs Michael and Handan Kugler, Marshall Hart, William Whelpley, ITM Investments, Kalus Enterprises and Jim and Wendy Sherrill.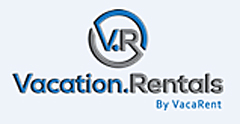 The Kuglers, who operate Hunter's Friend Resort in Branson. Missouri, have 14 years of experience in the short term rental market. Michael Kugler, who is VacaRent's CEO, said "While online rentals are well established, there is a growing unfulfilled need with property owners. We aim to give owners the best online destination for them to easily market their properties. The term "vacation rentals" is THE most frequently searched term online for vacation properties; it's a name I've had my eye on for a while and finally it's our brand. We're excited to leverage our name and our website to benefit both property owners and vacationers."
VacaRent wasted no time in putting their new acquisition to work. They quietly launched their vacation rentals website on the domain on March 30, 2018. According to the release announcing their acquisition of the domain they expect to differentiate themselves in two ways: "First, they wanted to offer property owners a more responsive online experience from a trusted provider with direct understanding of their needs, and a business model that was based on annual subscriptions – not on bookings transaction fees. Second, they wanted to empower vacationers with the ability to easily find what they need and interact directly with property owners."
Donuts Senior Vice President of Sales Matt Overman noted, "Vacation.rentals is a terrific domain name and already has "page one" ranking on popular search engines. We look forward to following the growth of Vacation.Rentals and supporting its success." At $500,300 the Vacation.rentals sale eclipses the previous new gTLD record of $500,000 that was paid for Home.loans in another Donuts sale that was reported in January 2018.