With the 2nd annual MERGE! conference just over three weeks away, event organizers have issued a final reminder that discounted hotel rooms for the September 14-19, 2018 event at the Hilton Lake Buena Vista Hotel at Disney Springs in Orlando, Florida will disappear this coming Friday (August 24). If you want to go to the big show you will save $75 a night by booking now.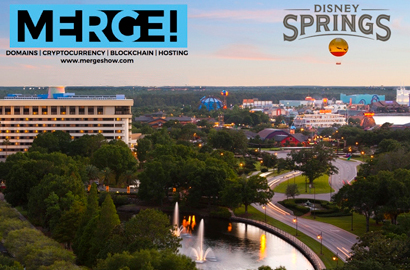 Under the special MERGE! rate that will be expiring, rooms are just $149 a night plus taxes (rather than $189 + taxes) with no resort fee (as opposed to the $35 daily fee that will be added when the rates go up Friday). There will also be a significant self parking savings for MERGE! attendees whose rate will be lowered to $10 a day. This hotel and the surrounding Disney Springs area is in the middle of one of America's most popular vacation/resort destinations. We stayed there in June to get an advance look at the property and Disney Springs and came away very impressed (photos and highlights from that visit are here).
| | |
| --- | --- |
| MERGE! Co-Founders Ray Dillman Neu & Jothan Frakes | Since our visit, conference Co-Founders Jothan Frakes and Ray Dillman Neu have put together an exceptional agenda and I just received some updates on that today. The line up of speakers includes experts from a wide variety of technology disciplines and the the world of domain names. Some of the most recent additions include (from the Domain Industry): Jennifer Gore (ICANN), Joe Styler (GoDaddy) and Dave Evanson (Sedo). From the Development, Blockchain and Security fields: Paul Vixie (Farsight), Chad Bennett (Heroic),and Bianca Diosdada (Quire). |
In addition, the CMS Summit track at MERGE! will have leaders from Automattic, people from Wordcamp Orlando and leaders from Joomla, along hosting solutions providers, developers and designers who will be speaking and engaging with attendees. Jothan Frakes noted, "There will be many discussions about blockchain solutions and where they are good fits, where the benefits are and how to 'dodge the mirage' where blockchain hype exists. Most importantly, how the existing systems overlap with centralized systems like domains and DNS."
With respect to domains, Frakes added, "One key debate will be around dispelling the myth of domains becoming obsolete any time soon. MERGE! will be fun, but also will cover important current events and issues like GDPR, the next new gTLD round and UDRP. Major brands and brand managers will be discussing the perspective of managing corporate brand portfolios. Leadership from the Internet Commerce Association, the Domain Name Association, and the Brand Registry Group will all be at the conference.
All told, MERGE! will feature more than 50 speakers and over 40 business sessions. The show was designed to brings together a carefully curated group of conferences and open source initiatives in one location. It worked for them at the inaugural show in 2017 and this year the stage has been set for something even bigger and better. You can register for the 2018 edition of MERGE! here. If you are coming we will look forward to seeing you in Orlando!