The 2018 MERGE! conference continued Sunday (September 16) with a second full day of business at the Hilton Lake Buena Vista Hotel at Disney Springs just outside of Orlando (you can check out the day 1 photos and highlights here). One thing that is great about the show's location (right next door to Disney Springs and the world famous Disney theme parks) is that there is always something for people of all ages to do.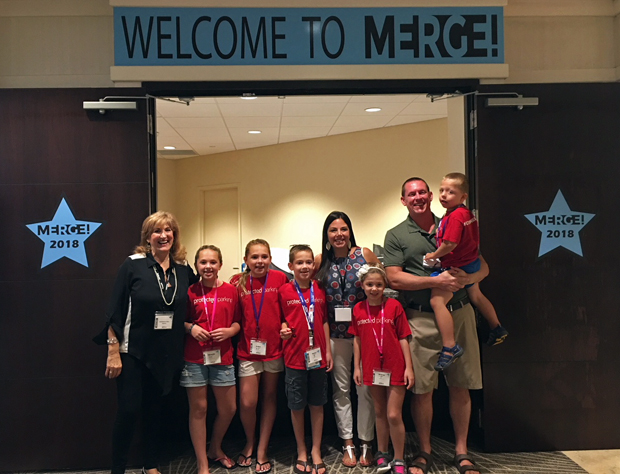 Above: I would bet no one is having more fun at MERGE! this week than Marlon Phillip's family. Marlon (who is the the VP Sales at ProtectedParking.com) and his wife brought all five of their kids along for conference week and MERGE's Barbara Neu (far left) has helped advise them on their many entertainment options (Disney World is, of course, getting a big chunk of the action)!
Below: You don't have to be a kid to appreciate Disney, as Diana Jackson proved when Minnie Mouse stopped by our table during Sunday brunch at the Hilton Lake Buena Vista Hotel where the conference is being held.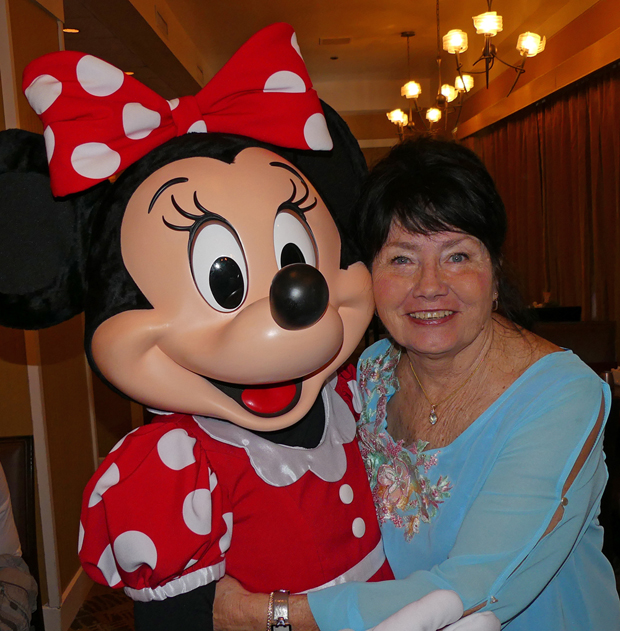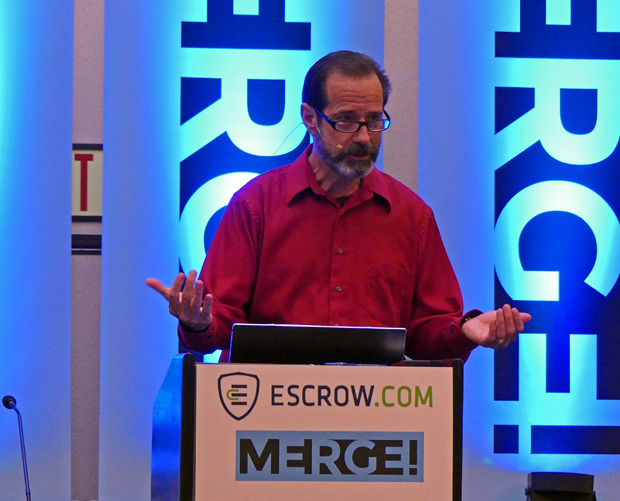 Above: The first sessions Sunday morning were on MERGE!'s CMS Summit track. While I have focused mostly on The Domain Conference and TLDFest tracks that are most relevant to our readers, I also tried to catch some sessions on the other tracks devoted to website development. After a 9:30 keynote from Robert Jacobi (Perfect Dashboard), Duke Speer from The Elevating Project (whom I had met in the Hospitality Room the night before), took the stage at 10:15am where I shot this photo during his presentation on Bringing Your Site to Life - Functional SVG Animation.
Below: The MERGE! Networking Lounge, just outside, the Exhibit Hall, has proved to be a popular spot this week. Mark Ghoriafi (.GLOBAL), at center in the foreground, got a lot of business done by setting up shop there Sunday morning.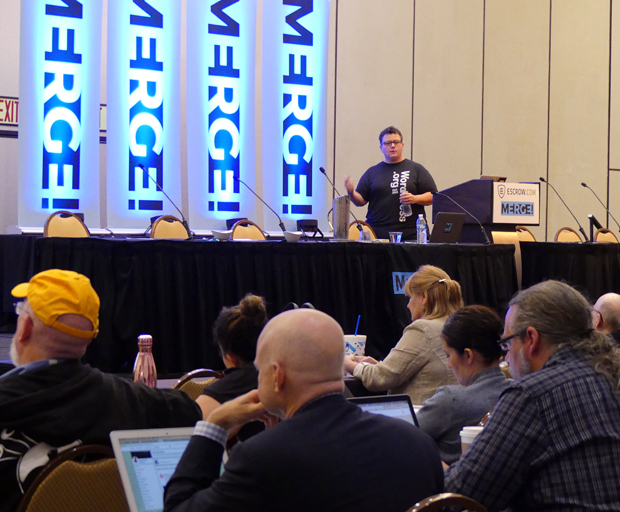 Above: At 11:15am Sunday domain industry veteran Kellie Peterson, now with Automattic, staged this popular presentation on Using Wordpress Effectively With Multiple Domains. A little later, in the final morning presentation on The Domain Conference track, moderator Christa Taylor (dotTBA Inc.) interviewed Ad Marketplace President and COO Adam Epstein in the 3rd part of the three-part series on Direct Advertisers that started Saturday.
Below: Right after lunch in one of Sunday's highlights, Dr. Paul Vixie (Chairman, Farsight Security) delivered a Security track keynote - Takedown Vs. Staydown for Internet Identifiers: the DNS RPZ Firewall Approach. After his talk moderator and MERGE! Co-Founder Jothan Frakes sat down with Dr. Vixie for an illuminating fireside chat.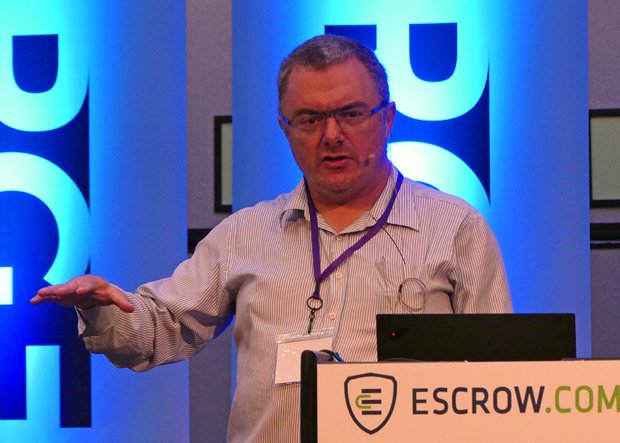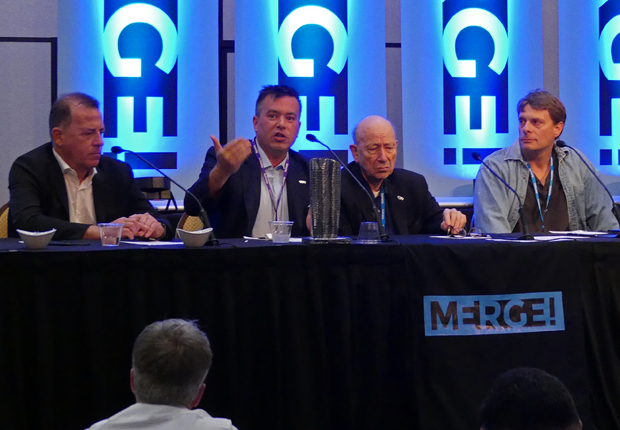 Above: I spent the rest of Sunday afternoon following The Domain Conference & TLDFest tracks, starting with the panel discussion above that featured leading attorneys talking about TOSI VS. GDPR Vs. WhoIs Privacy - How is the Domain Investor Affected? The panelists were (left to right) Ari Goldberger (ESQwire.com), Zak Muscovitch (DNAttorney.com ), Gerald Levine (Partner, Levine Samuel, LLP ) and Stevan Lieberman (Greenberg & Lieberman).
Below: At 4:30pm .CLUB Chief Marketing Officer Jeff Sass conducted an entertaining and informative hour devoted to Branding Lessons - From Monster Movies to Domains. Jeff capped his presentation with a domain version of The Match Game in which winning audience members got free gifts. They had to guess, judging from the domain name only with multiple choice options, what the site was about.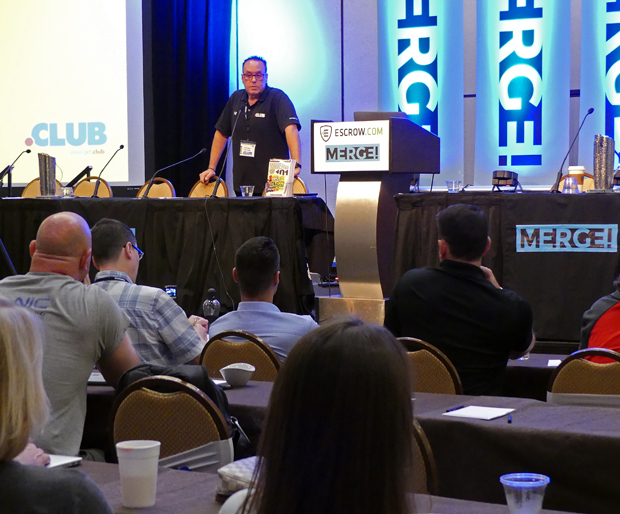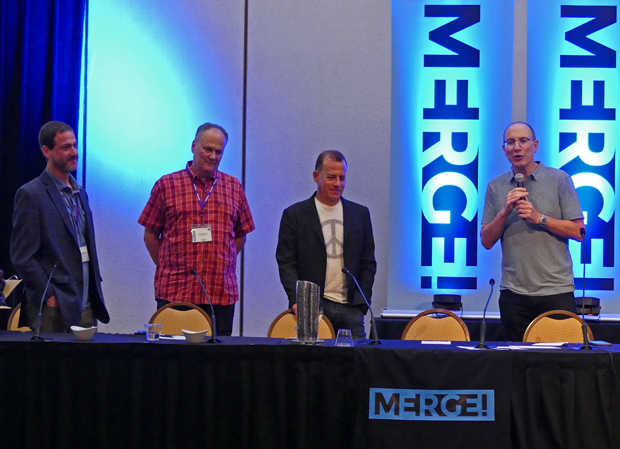 Above & Below: The games continued at 5:30pm with a new edition of Larry Fischer's ever-popular Registered or Not Registered? game. (Larry, at far right, from GetYourDomain.com) would put a domain name on the video screen and the three experts competing had to decide whether that name was registered or nor registered. It is a lot harder than you might think. The panelists were (left to right) Mark Daniel (Domain Holdings), Dave Evanson (Sedo) and Ari Goldberger (ESQwire.com). When the dust had cleared, Ari (below) scored a convincing win with 11 correct answers (9 and 7 were the next best scores). The audience also got to play several rounds with free T-shirts distributed to the winners.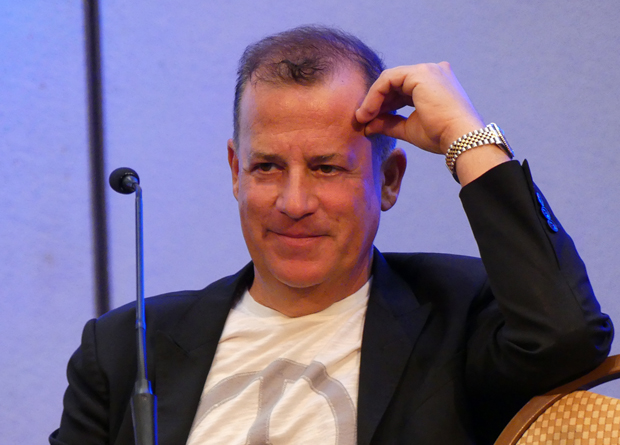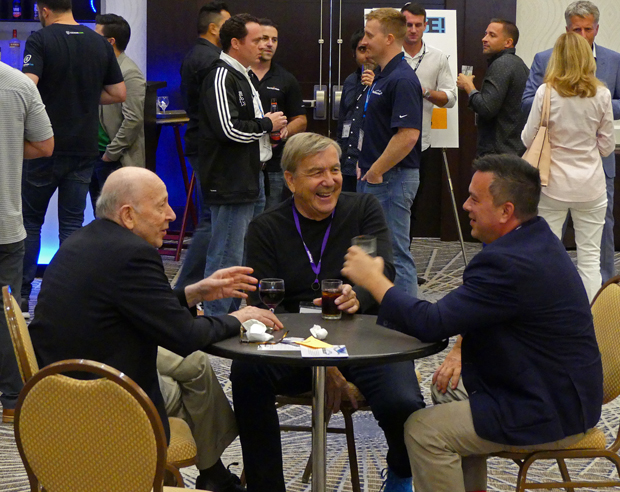 Above: With the day's business now done, attendees reconvened at 6:15pm for The Domain Conference Welcome Cocktail Party sponsored by Siteplug in the Exhibit Hall. In the foreground, Gerald Levine, Peter Maxymych and Zak Muscovitch share conversation and a drink as the party gets under way.
Below: There was plenty of food too, including the grouper fish tacos that Bill McClure (Coffee.club) is being served in this shot.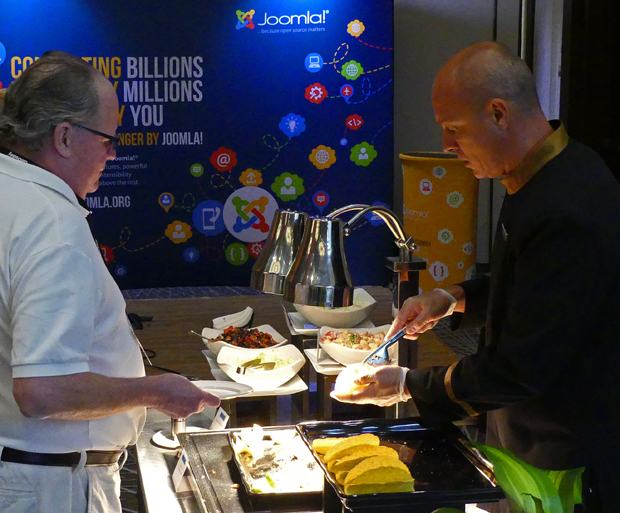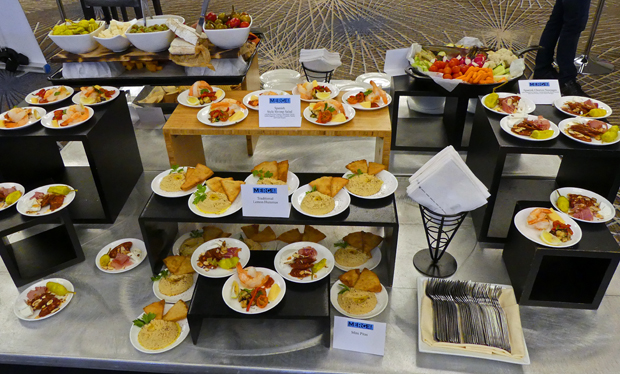 Above: Another popular stop on the cocktail party food circuit - the antipasto table. Others included a variety of pizzas and Italian sausages.
Below: Those who didn't get enough to eat at the Welcome Cocktail Party, found more food in the Fabulous.com Hospitality Suite where the party continued until 1am. Diana Jackson (left) and Nancy Bianchi (Above.com) surveyed the food table before digging in.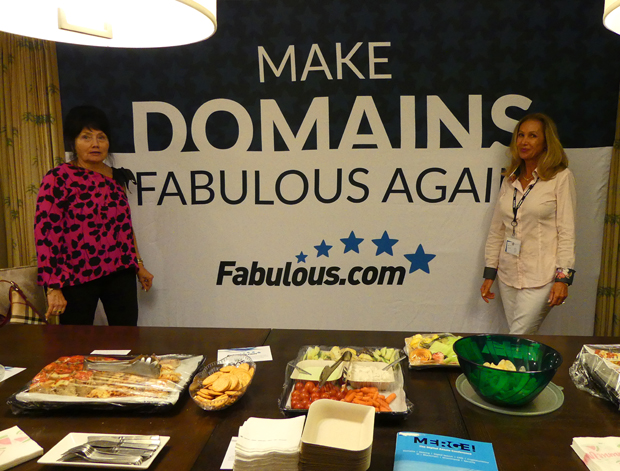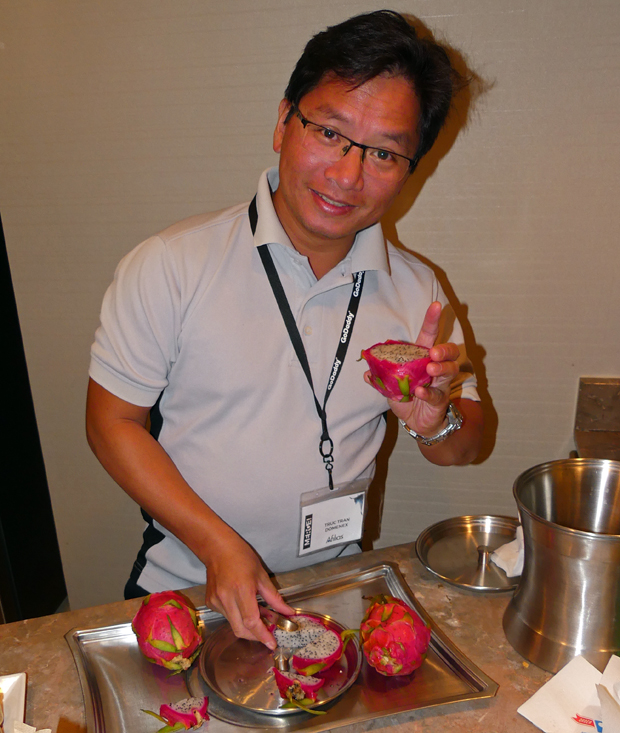 Above: Norway's Truc Tran provided the most exotic treat on the Hospitality Suite menu - fresh dragon fruit that he raises in a large garden he cultivates at a second home he has in Naples, Florida.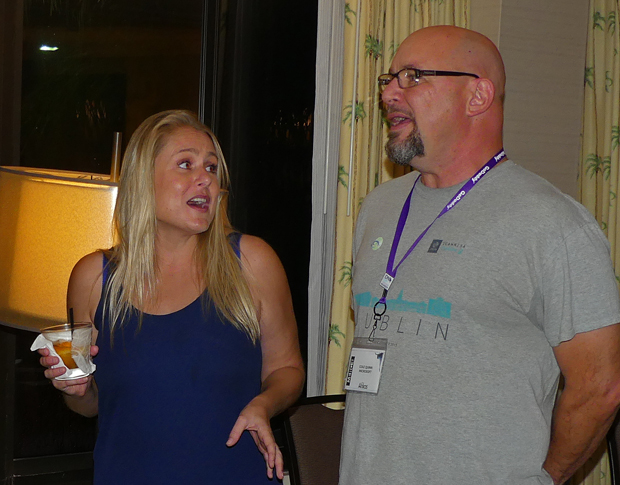 Above & below: In an unexpected treat, Hospitality Suite visitors got an impressive karaoke performance from a duo that included Microsoft's Cole Quinn (right). The crowd (below) reacted very positively to the performance. If there had been chairs (a la The Voice - it might have been a four chair turn)!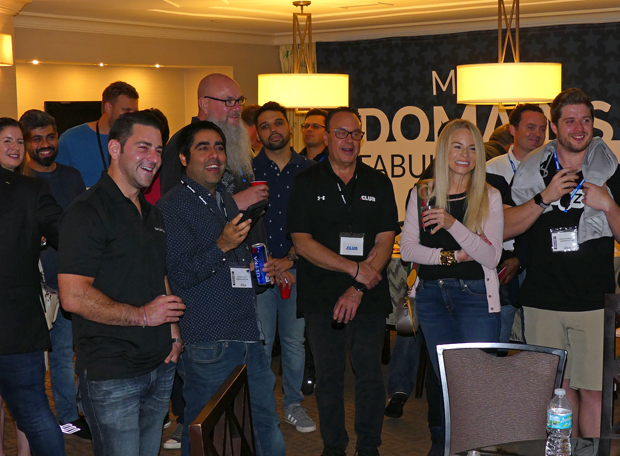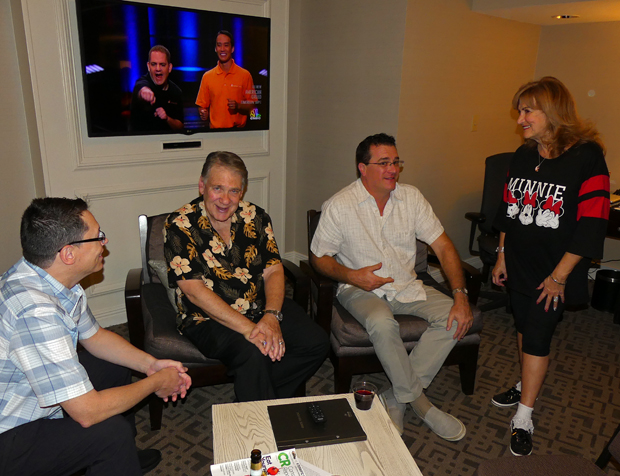 Above: The MERGE! Hospitality Suite is large enough to find a quiet corner (usually!) to chat with friends. Left to right here are Chris Wright, attorney Howard Neu, Sedo VP Brad Lemire and the world's biggest Minnie Mouse fan - Barbara Neu.
Below: The thing I enjoy most about conferences is catching up with old friends and making new ones. When I found longtime friend Kevin Kopas (left) in the Hospitality Suite I noticed he was wearing a T-shirt under his sports coat but couldn't make out what it said. I should have known - when I yanked it open there was the .icu logo representing the new TLD registry that Kevin recently co-founded and helps run with Lars Jensen and Michael Riedl.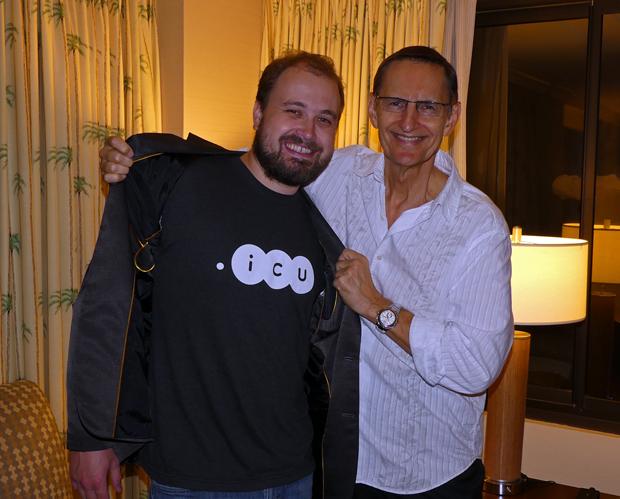 As I write this the third day at MERGE! is still underway (we are also celebrating my wife Diana's birthday here today). I'll have all of the Monday photos for you in my next post from Orlando. The 2nd annual show will close after one more full day of activity Tuesday (September 18).