The Lowdown
December 2018 Archive
Subscribe to our RSS Feed

Here's the The Lowdown from DN Journal,
updated daily to fill you in on the latest buzz going around the domain name industry.

The Lowdown is compiled by DN Journal Editor & Publisher Ron Jackson.
Happy New Year! Wishing You New Highs in Health, Wealth & Happiness in 2019!
I am always excited to see a new year roll around and 2019 is no exception. Even though the number on the calendar is the only thing that is sure to change, there is something psychologically invigorating about the fresh start a new year represents. It's an opportunity to reset the table and try something new or find ways to do things better than you've been able to do them in the past. The possibilities are limited only by your imagination. If 2018 was a bad year, 2019 may bring the kind of major turnaround you have been waiting for. If it was a good year, you already have momentum on your side and a good shot at making 2019 even better. Whatever you want from 2019, going into it with a positive attitude will tilt the odds in your favor. As Henry Ford once said, "Whether you think you can, or you think you can't—you're right!" Now that your 2019 ride is here I am hoping you take the wheel and turn it into your best year yet!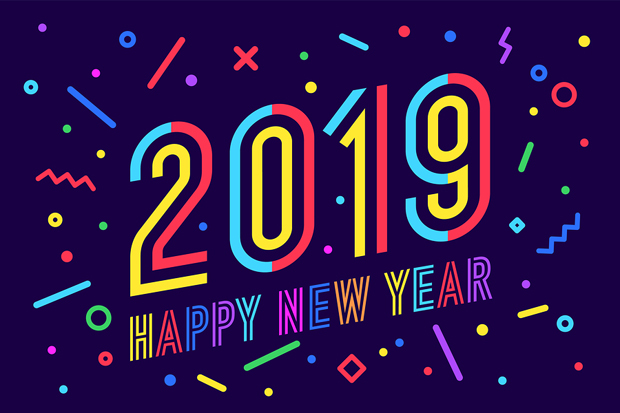 Image from Bigstock
(Posted December 31, 2018)
Industry Pioneer Pinky Brand Takes New Position as Marketing & Sales VP at Registry Office
I often use the term "industry veteran" when mentioning people who have been around this business for awhile but every now and then that doesn't quite cut it. Such is the case with an industry pioneer like Pinky Brand who has been filling key managerial roles in the domain world for over 20 years now, going all the way back to the ' 90s when he was a Director of the idNames Division of Network Solutions (then part of SAIC). His next stop would be as Director of Business Development at Verisign (the administrator of the .com and .net registries). I could fill the rest of this post with his bio alone but the reason for the article is to let you know Pinky about Pinky's newest role as Senior VP Marketing and Sales at RegistryOffice.

RegistryOffice is a major SaaS Business Intelligence platform for Domain Name Registries. The RegistryOffice API enables the Registry to offer enhanced features on their websites, portals and dynamic ads. When Pinky announced he had joined the company on his blog just before Christmas he said, "RegistryOffice business intelligence joins data from multiple sources and uses machine

Pinky Brand
Senior VP Marketing & Sales
RegistryOffice

learning together with AI to improve insight in order to find patterns and trends that would otherwise be hard for domain name registries to discover manually.

In addition to spreading the good word about our Business Intelligence and Abuse Monitoring services, I'll be working with my colleagues to expand the range of our consulting services. Also I am bringing over my registry operator clients who will benefit from additional expertise and resources."

Pinky added, " This wasn't a snap decision. However it was an easy one in view of my long-time relationship with the founders, the entire team and the services. In the early days of RegistryOffice I evaluated a beta version of the Business Intelligence service for a registry operator client and instantly recognized its benefits. With great clients, their valuable feedback + a killer team of respected industry veterans on the RegistryOffice side, the service just keeps on getting better and better."

For those haven't met Pinky or haven't caught up with recently, he will be representing RegistryOffice at next month's NamesCon conference that runs January 27-30, 2019 at the Tropicana Hotel in Las Vegas.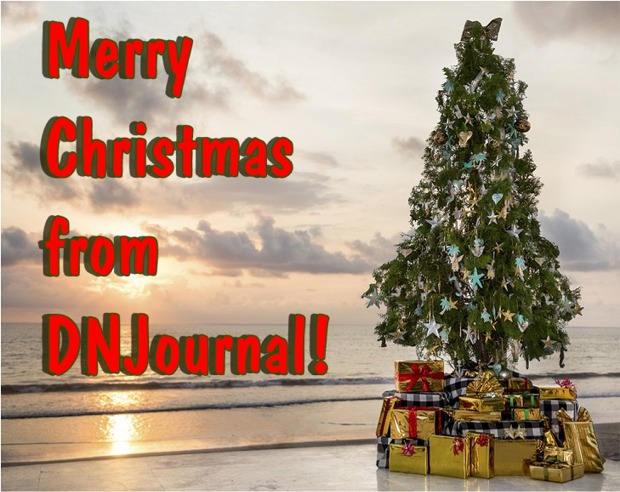 Image from Bigstock
For all of our readers around the world who are celebrating Christmas we want to wish the happiest of holidays filled with joy and pleasant surprises for you, your family and friends. Christmas is a little different in Florida where we are based. When they talk about having a white Christmas here they are referring to sand rather than snow! Still the meaning of the season is the same worldwide and we hope it brings comfort and countless blessings your way as we wind down another year and anticipate an even bigger and better one in 2019!
(Posted December 25, 2018)
NameJet & ROTD Release Dazzling List of Top Tier Domains to Be Offered in Their 2019 NamesCon Global Auction
NameJet® and RightOfTheDot have released the initial list of premium domain names available for pre-bidding leading up to their live (in-person and online) domain name auction at the NamesCon Global 2019 conference. As our regular readers know, NamesCon Global, the largest annual domain industry conference, will be returning to the Tropicana Hotel in Las Vegas January 27-30, 2019. The NameJet/ROTD live auction has consistently been a highlight of the show and that will be the case again on Monday, January 28 when the 2019 sale will be held. It will run from 4pm-7pm (U.S. Pacific Standard Time) in front of a standing room online crowd at the Trop along with a global audience online.

Pre-bidding and the extended auction will take place on the NameJet.com auction platform.
The top tier domain names scheduled to go on the block include Leads.com, Give.com, Drone.com, TexasHoldem.com, CellularPhones.com, QO.com, Prize.com, Bride.com, Broker.com, Tablets.com and a natural for this audience, DomainNames.com, to name just a few. NameJet/ROTD has also assembled an impressive list of non .com domains for the auction, including Mortgage.pro, Chinese.restaurant, NewYork.pizza and Boater.club. There will be an estimated 400 names in the overall auction with an estimated 120 domains offered at the live auction.

Last year's auction resulted in the highest sale in NameJet's history with Super.com selling for a $1.2 million. That domain has since been used to create a $50 million venture-capital fund for the video-game industry. Another huge sale at last year's auction was Great.com at $900,000.

Above & below: Scenes from the NameJet/RightOfTheDot Live Domain Auction at the 2018 NamesCon Conference in Las Vegas last January.

RightOfTheDot President and Director Monte Cahn noted, "RightOfTheDot and NameJet have generated millions in revenue for our clients and sold domain names never before available to a wide array of established companies, start-ups and individuals. Continuing to raise the overall value for the domain industry is our joint mission, and we look to further that effort with this year's list of fantastic domain names." NameJet General Manager Jonathan Tenenbaum added, "We are thrilled to once again partner with RightOfTheDot to support the live domain auction at NamesCon."

Auction organizers said that many of the premium domains up for bid will be priced at no and low reserves to promote competitive bidding and true market prices. They are also considering additional domain names for inclusion in the auction. If you have any that are of quality comparable to those already mentioned above you can submit them at http://rotd.com/auction-submission. Again, only ultra-premium names will be considered.

Bidders need to know that a NameJet account is required to participate in the online and live auctions. Bids for domains may be placed now on the NameJet website. Accepted names will be continually added to pre-bidding before the start of NamesCon so participants should check the auction page often for new additions and bidding activity. Following the live auction, the online auction will continue on the NameJet website for an additional 16 days, closing on February 13. 2019.
Latest Verisign Report Shows More Growth in Global Domain Registrations Led By .COM - ccTLDs & New gTLDs Also Up But .NET Down
Verisign, the administrator of the .com and .net top level domains (TLDs), has released their latest quarterly Domain Name Industry Brief (.pdf file) covering the 3rd quarter of 2018. The company reported that the quarter closed with approximately 342.4 million domains registered across all top-level domains worldwide. That is an increase of approximately 11.7 million domains year over year, a 3.5% jump.

Versign's flagship .com TLD (the world's most popular extension by far) finished 3Q-2018 with approximately 137.6 million registrations in effect. That is approximately 6.8 million more than the 130.8 million active registrations at the same point a year ago - representing a healthy increase of 5.2%.

The .net TLD did not fare as well, slipping from approximately 15.0 million registrations at the end of 3Q-2017 to 14.1 million at the end of 3Q-2018, a 6% drop.

Verisign also reported that total ccTLD registrations around the world increased 3.2% year over year, rising from approximately 144.7 million to 149.3 million at the end of 3Q-2018. That is exactly the same percentage growth rate the ccTLDs had posted the previous year (from 3Q-2016 to 3Q-2017).

After seeing a significant fall off in 2017, new gTLDs got back on the growth track, closing 3Q-2018 with approximately 23.4 million registrations, 10.9% more than the 21.1 million they had at the same point a year ago.

Verisign publishes the Domain Name Industry Brief to provide internet users throughout the world with statistical and analytical research and data on the domain name industry. The 3Q- 2018 Domain Name Industry Brief, as well as previous reports, can be obtained at Verisign.com/DNIB.
Elon Musk Reveals He Made One of the Most Expensive Domain Purchases of All Time in Tesla.com at $11 Million
Tesla Founder Elon Musk

Tesla Founder and billionaire entrepreneur Elon Musk lit up the domain aftermarket grapevine like a Christmas tree with a simple tweet over the weekend. In those two sentences Musk revealed he had made one of the biggest domain purchases in history when he bought Tesla.com for $11 million. Prior to that acquisition Musk's famed electric car company was based on TeslaMotors.com.

That is the second highest domain only purchase confirmed by one of the parties to a sale that I have seen since I started tracking the aftermarket in 2003, behind only Sex.com at $13 million. Tesla.com will be added to our all time Top 20 domain sales list, as well as at the top of our 2016 Top 100 Sales Chart when we do our next weekly sales report Wednesday evening (December 12).

Over the years I have seen higher prices than those on our list cited for some domains but those have never been publicly confirmed by a participant in the transaction. I also see a lot of sales of online businesses, with assets well in excess of the value of the domain name alone, that some have mistakenly been cited as being a domain sale. In an effort to "compare apples to apples" and not oranges, I have limited our sales reporting over the past 15 years to completed cash sales of domain names only where the sales price has specifically been stated.

It is not always easy to determine when a sale meets that standard so on rare occasions like this (where we are not going to get access to the documents surrounding a sale) I have to make a "judgment call." Musk stated a specific price, he had the means to pay for the name (and many more like it if wanted to) and he had an obvious pressing need for it. He did not note any other assets gained with the domain (nor are any apparent) and he would have nothing to gain by making it up. That all adds up to high credibility. Should more detailed information surface contradicting the price stated I will, of course, correct the record.

The above is in keeping with the verification procedure I have followed from day one - a procedure that is summarized on the page linked to above that has been accessible at the bottom of our weekly Top 20 Chart for over a decade. The Tesla.com sale presents a good opportunity to review that information if you are interested. The domain community has also played a invaluable role in helping make our sales reports as accurate as possible by contributing information and letting me know when they spot any errors that need to be corrected. This also presents a good opportunity to thank all of you for that!
Donuts Co-Founder Jonathon Nevett Named President and CEO of .ORG Operator Public Interest Registry
Public Interest Registry (PIR), the nonprofit operator of the .org domain, today announced that its Board of Directors has unanimously selected Jonathon Nevett as President and Chief Executive Officer, effective December 17, 2018. The PIR announcement said Nevett, who has a wealth of experience and expertise in the domain name industry, "will guide the growth of the .org domain while advancing the organization's advocacy efforts in support of collaboration, safety and security on the internet."

Nevett co-founded the world's largest operator of new gTLD registries, Donuts Inc., in 2010 and helped to raise in excess of $150 million to form an administrator of more than 240 top-level domains. He served as Donuts' Executive Vice President for corporate affairs and on its Board of Directors. Nevett is also a founding board member of the Domain Name Association, a widely supported industry trade association. Previously, Nevett served as senior vice president at Network Solutions, where he was responsible for policy, government affairs, registry relations, and the corporate ethics office. He also served as chair of the board of NameJet and Central Registry Solutions.

Jonathan Nevett
New President & CEO
Public Interest Registry (PIR)

Lise Fuhr, chair of the Public Interest Registry Board of Directors, said "Jon's combination of industry expertise, commercial experience, ethical values and commitment to our nonprofit mission means we will continue our leadership as an exemplary registry. I would also like to thank fellow board member Jay Daley for acting as our interim CEO and laying the foundation for an enhanced and refocused strategy that ensures the resilience of .org and its continuing place as the go-to domain for mission-driven organizations and individuals."

| | |
| --- | --- |
| | "Nevett will bring his proven track-record of leadership to Public Interest Registry and reaffirm its continued ambition to be an exemplary registry. He will spearhead the organization's strategy to expand the reach of the .org domain, strengthen security and resiliency, and advance outreach and education to the millions of forward-looking organizations and individuals that rely on Public Interest Registry's domains. |

Nevett said, "Over the course of my career in the domain industry, I have admired Public Interest Registry and its dynamic team. I'm incredibly humbled to be part of it. PIR has a long history of ensuring all who are committed to the public interest have a voice online. I look forward to working with the growing PIR team and wider domain industry to continue advancing that mission."
Web.com Acquires Tucows Interest in NameJet - Now Has Sole Ownership of NameJet & SnapNames

Web.com Group, Inc. has acquired all remaining interest in the domain name drop catching and aftermarket sales platform, NameJet, LLC, from its former partner in the business, Tucows, Inc. The transaction, announced today, gives Web.com sole ownership of two of the top platforms in the domain aftermarket. The company already owned SnapNames Web.com, LLC, a pioneer in the drop catching and domain sales space.

Today's press release noted, "NameJet launched in 2007 as a joint venture between eNom, Inc., now a subsidiary of Tucows, and Web.com subsidiary, Network Solutions, LLC.

Like SnapNames, NameJet has exclusive partnerships with top domain name registrars across the globe and helps domain professionals, businesses and individuals acquire valuable domain names, including those that have recently expired."

Web.com CEO & President David L. Brown said, "This move to complete ownership aligns with our goal of nurturing our core domain business, supporting and anticipating the diverse needs of our customers, and driving new opportunities for innovation and growth." Web.com Aftermarket VP Michael White added, "We welcome the NameJet team to the Web.com family and are excited to leverage their thought leadership and expertise as we continue to invest in the aftermarket industry.

David Woorch, Domains Executive Vice President for Tucows, said, "Web.com has been a great partner and we look forward to working with and leveraging their aftermarket expertise in the future.
---
If you've been out of the loop lately, catch up in the Lowdown Archive!
---
We need your help to keep giving domainers The Lowdown, so please email

[email protected]

with any interesting information you might have. If possible, include the source of your information so we can check it out (for example a URL if you read it in a forum or on a site elsewhere).
---
Home Domain Sales YTD Sales Charts The Lowdown News Headlines
Articles Resources Classified Ads Archive About Us