"Also, don't miss Richard Lau, founder of NamesCon and a driving force behind the WaterSchool charity. Richard has been developing out domain names such as Resume.com (sold to Indeed) and Logo.com, and has a lot to share about how the domaining game goes much further than simply flipping."
In our extensive preview of NamesCon Global 2019 that was published earlier today, conference President and CEO Soeren von Varchmin noted another impressive keynoter, Wordnik.com Founder and Google Developer Relations Program Manager Erin McKean. Erin is a lexicographer who will talk about how new words get created.
Rounding out the five keynoters that have now been named is Buckley Media Group Founder and CEO Kate Buckley who was profiled in our June 2018 Cover Story. Kate's talk is titled "Storytelling in Sales: How to Spin a Yarn and Land a Whale" and it is another one you won't want to miss.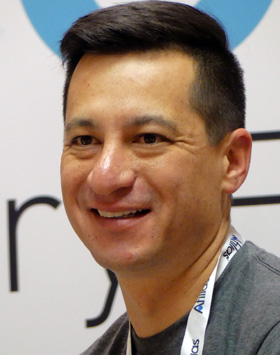 NamesCon Founder Richard Lau will be one of at least five keynote speakers scheduled to appear at NamesCon Global 2019.