The 2018 edition of China's Global Digital Summit at the Swiss Hotel in Xiamen was so well received show organizers decided to stage the upcoming 2019 conference at the same venue. This year's event, that will again attract Internet business leaders from around the world, will run Friday May 31 and Saturday June 1. It will be co-hosted by Badidu AI Cloud, Alibaba Cloud, Bizcn, GoDaddy and several other well-known companies.
While the domain industry has been a centerpiece of GDS from the start, many other topics are covered as well, including blockchain technology applications,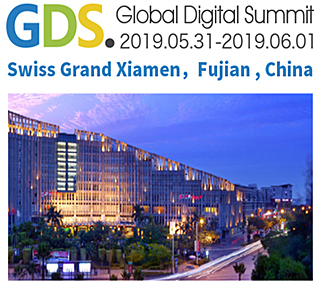 new media marketing, cross-border integration and innovation of digital assets, digital media and digital ecology. Here are some more specific examples of sessions on the agenda:
Domain-related topics:
Current Situation and Trend of Global Domain Names

Opportunities and Challenges for the Development of Domain Name Industry under the Intervention and Support of National Policy

Diversified Development of Domain Name Transactions

How Domain Names Help Chinese Enterprises Develop Cross-Border E-Commerce Business
Topics related to AI, Big Data & Cloud Computing:
How will AI, Big Data, Cloud Computing Move Towards Industrial Application and Commercialization

Sharing of Innovative Technologies in AI, Big Data, Cloud Computing

Future Development and Opportunities AI, Big Data, Cloud Computing Industries

Solutions and Products of AI, Big Data, Cloud Computing Driving Enterprisesí Intelligent Transformation
Cross-Border E-commerce:
Industry experts and excellent cross-border E-Commerce enterprises to discuss new trends in the industry, sharing marketing experience of overseas E-Commerce and intellectualized reform of overseas E-Commerce, and help cross-border E-Commerce to quickly open up the market.
Xiamen is a beautiful waterfront city on China's southeast coast with nearly 2 million residents in the metropolitan area. Many view Xiamen as the "domain capital" of China because so many industry companies have offices there, including Guta.com, the well-known brokerage firm run by George Hong that also has a Philadelphia office in the U.S.
You can get more details on GDS2019 at the conference website (available in both English and Chinese versions) at www.gdsdays.com.