Last year was a transitional one for NamesCon Europe. It was the 10th anniversary edition of a show originally founded by Dietmar Stefitz under the Domaining Europe banner. Three months before the 2018 event in Valencia, Spain Dietmar decided to turn the reins to his baby over to NamesCon with last year's event jointly hosted and run by both the show founder and the NamesCon management team.
With the upcoming 2019 conference (June 20-22 in Cascais, Portugal, just outside Lisbon) being fully produced by the NamesCon team, we wondered how it will both differ and remain true to the show's traditions established over the past decade. To get the answers we connected with NamesCon CEO Soeren von Varchmin, Senior Marketing Manager Helga Neumer and show founder Dietmar Stefitz for the interview below.
Soeren: The soul of this European domaining event remains true to its origins - a close gathering of friends and colleagues in a beautiful place to make connections and share knowledge. Weíre adding some new elements this time to mix it up a bit, so you will be able to learn new things and then use them right away!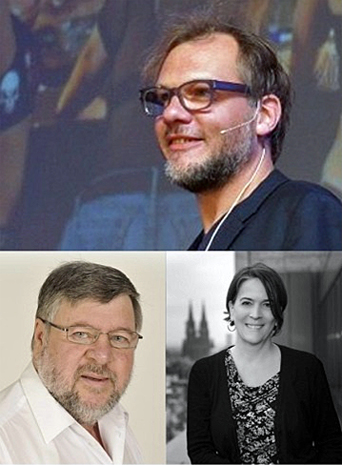 Clockwise from top: NamesCon CEO Soeren von Varchmin, Senior Marketing Manager Helga Neumer and show Founder Dietmar Stefitz.
Founder Dietmar Stefitz will return to this year's event but it will be in a much less taxing role this time around.
Dietmar: I will be in Cascais as an Ambassador for the event. For me the event is usually the end of all the work that has to be done to produce a conference. It all starts a minimum of six to nine months earlier, with looking for the venue, lining up speakers and sponsors and getting ready to welcome guests. This year I had an easy task as all the work has been done by the team at NamesCon, especially from Helga Neumer, who took over the event organization, backed by a crew of over 20 people .
Helga has never been one to complain about her workload, in fact the first thing she wanted to talked about was a new experience guests can look forward to in Cascais that will be fun as well as informative.
Helga: This is the first time that NamesCon Europe will feature surfing. Nobody says ďsurfing the netĒ anymore, but we can do it with real boards in Cascais.
DNJournal: When it comes to changes, one of the obvious and most exciting ones will be having the conference staged in the Lisbon area for the first time. In addition to being one of the fastest rising tech centers in the world, Lisbon and the region around it is consistently citied by the leading travel magazines as one of the 10 most beautiful places in the world to visit. Tell us about your decision to select that area, and your specific resort location in Cascais, and how you think that will impact the conference experience for NamesCon Europe 2019 attendees?
| | |
| --- | --- |
| Helga Neumer | Helga: We wanted a location that people would really want to visit, but also a place thatís easy to get to. Lisbon is one of the most popular destinations in the world right now. Besides being the home of Web Summit and the new home of so many tech professionals, and I guess Madonna, itís just such a hot place to be right now. The energy is amazing! Cascais is only half an hour from Lisbon on the train, but it feels like another world! The beautiful landscape and ocean are peaceful and relaxing, and we found that the setting really helped us focus. Attendees will have the same experience. The Cidadela Pestana Cascais is different from any other venue weíve seen. Itís a beautiful little world inside the walls of an ancient fort, and itís only a few meters from the seaside. You wonít want to leave! |
DNJournal: You have once again put together a diverse agenda filled with expert speakers and panel discussions. Tell us about some of the topics chosen and why you are putting them front and center at NamesCon Europe this year?
Soeren: This time, NamesCon Europe is totally investor-focused. We wanted to send a really clear message that this event isnít just about the C-Suites of service providers, but rather it welcomes the domain investors who make this whole ecosystem work. So we chose topics for our expert panels that would be of keen interest to domain investors, and that will deliver insights they can apply right away. So anyone who is serious about making a future for themselves in this industry should join us. Go to NamesCon.com/europe and register!

DNJournal: NamesCon is the only major domain conference that is still staging a live premium domain auction and you had a very successful one at this year's NamesCon Global event in Las Vegas. Because they are major undertakings, very few of the regionally focused shows have offered them but you are going to be doing it at Lisbon. What are your

Soeren von Varchmin

expectations going into the sale and how can buyers and sellers participate (will it be for onsite bidders only, or have an online component as well)?
Soeren: There will be an extended online auction, but of course the main action happens live. This time the list of names is really tightly curated, so itís super-premium stuff only. Names like audio.com, thriller.com, zlz.com, and seniordating.com are available, and quite a few, like alright.com and human.info, have already blown past their reservesóthe game is in full swing!
Helga: Live auctions like this are difficult to organize, but our friends at RightOfTheDot and NameJet are total pros at this. The catalog and auction details can be found here.
Surfing image from Bigstock

DNJournal: It looks like you are planning to take full advantage of your beautiful surroundings as the entire closing day on Saturday, June 22, will revolve around a beach party. Every survey of conference attendees has shown they consider networking opportunities to be the most important reason to attend events. That often happens in the host hotel's hallways but by taking everyone outdoors where they can socialize in a spectacular environment you may be setting a new standard. What led to this unique way to wind up the Lisbon event?

Helga: When you have a beautiful beach right there, you have to use it! The

beach party will also include surfing, where weíll be joined by professional surfers to give us tips. We tested the waves already and theyíre very good for beginners!
Soeren: Yeah, two of our keynote speakers are Andrew Cotton and Jo"o de Macedo, pro surfers who have ridden some of the biggest waves in the world! These guys are amazing!
Helga: What makes NamesCon Europe so cool is that the networking, socializing, and scheduled sessions join into one another. You get a lot done, but it doesnít feel like work! Why canít every day be like that?
DNJournal: Good question! Is there anything you would like to add about what's ahead at NamesCon Europe 2019?
Helga: Registration is still open at namescon.com/europe. Hotels and flights are still easy to get, too - you can get a business-class flight for as cheap as $2,000. There are many hotel options within a few minutes of walking to the venue. Pack business cards, sunscreen, and a swimsuit. Increasing your domaining skill set is about to get a lot more fun, and weíre so happy to be building on Dietmarís fantastic legacy!
Soeren: Also, if youíre going to ICANN65 in Marrakech, there are several flights a day between Lisbon and there. If you join us for NamesCon Europe Thursday through Saturday, there are two short, direct flights on Sunday! We canít wait to see you in Cascais, and we look forward to showing you around and opening this new chapter in the eventís history. Itís history that youíre all helping us write!
Dietmar Stefitz

DNJournal: Speaking of history, let's give Dietmar the last words as he has lived the entire history of this event, starting with its birth in Valencia, Spain and on through subsequent stops in The Hague, Netherlands and Berlin, Germany that helped turn it into a conference truly designed to serve the entire continent.

Dietmar: When I handed over Domaining Europe to Soeren to be NamesCon Europe, we agreed that the event should be held every year in a different European country. Lisbon is the first step of this show tour. Helga did a great job in finding the venue, which is a 17th-Century fortress thatís been converted into a 5-star luxury hotel and arts district. 2020 will be in another European country, which could be France, Italy or one of the many European countries. Europe is very different from the USA, as every country has its own domains (ccTLDs) which are a good combination with other domains for investors. It is also

interesting for investors to meet people from other countries every year, which makes networking even more interesting!
DNJournal: Thank you all for your time and wishing you and your NamesCon Europe all the best as the show enters its second decade this month in beautiful Cascais, Portugal.