In our weekly domain sales report a couple of weeks ago we told you about a huge Australian ccTLD sale that was being reported for the first (even though the sale was completed in 2018). The domain, Money.com.au, changed hands in a private transaction for AUD $400,000 (US $279,435 at the conversion rate in effect when our report came out). That made Money.com.au the biggest country code sale reported last year and, having received proof of the price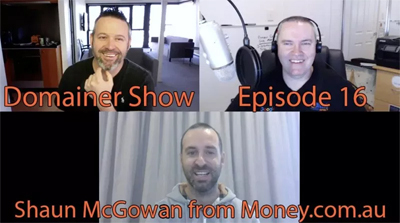 Clockwise from top left: Domainer Show Co-Hosts Rob Kaay and Ed Keay-Smith with new Money.com.au owner Shaun McGowan.
paid, we installed it in the top spot on the 2018 Top 100 Sales Chart in our Domain Sales Archive (Top 100 Charts from previous years are also in that section).
The buyer of Money.com.au, Shaun McGowan, was already operating Lend.com.au, so he is an experienced end user in the financial space. At the time the sale came to light, Shaun reserved further public comment on the transaction, but, fortunately, Rob Kaay (DBR.com.au) and Ed Keay-Smith (OnlineImpact.com.au), who co-host the Domainer Show podcast at Domainer.com.au, persuaded McGowan to join them on the air and share the full story of his landmark acquisition. The 47-minute show was just posted today. Most sales at this level are subject to NDA's that prevent investors from learning more about how deals like this come together (one notable exception is the Michael Castello's $1.5 million sale of Room.com that is the subject of our current Cover Story). So, when an opportunity to get the inside story of a big deal like this (one of the biggest in com.au history) it is something you will want to check out!