With just one week left in the 2020 domain name sales season we will soon be closing the books on another year or solid results in the aftermarket. In 2019 we've already seen the biggest all cash domain sale ever reported (by far) in Voice.com at $30 million, along with four 7-figure sales and 49 that reached six figures, followed by countless four and five-figure sales (you can see our Year to Date Top 100 Sales Chart here).
Still, market conditions are always changing and with a new year upon us, we are seeing a lot of predictions about what is ahead of us in 2020. I recently sat down with two of the industry's top brokers, Jeff Gabriel and Amanda Waltz, for a video interview about the new brokerage and consulting service they just launched at Saw.com (before the Voice.com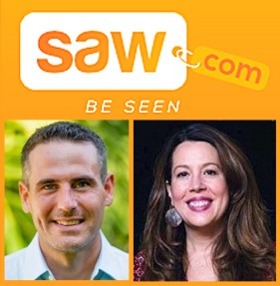 Jeff Gabriel & Amanda Waltz
Saw.com Founders
sale, Jeff held the top domain sale record for eight years with Sex.com com at $13 million). Most of that discussion (published in its entirety as the December DNJournal Cover Story) was about the formation of their company, but I also took the opportunity to get their read on both the short and long term future of the domain market. You see what they had to say in the three-minute clip below.