I started with CEO Tobias Flaitz, who has now been on the job for 18 months after taking the reins from company co-founder Tim Schumacher. I fist met Tobias on the day he took the new job when we were both in Los Angeles for the 2012 DOMAINfest Global conference. Looking back now, I asked him what he has enjoyed most about the job and what his biggest challenges have been.
Sedo CEO Tobias Flaitz

"In the last year and a half, I've really enjoyed connecting with people within the domain industry and diving deeper into specific aspects of the business. Many people take domains for granted because they've become second nature, but when you dig deeper it's a fascinating industry with fascinating people behind it," Flaitz said.

"As people close to the industry know, it's going through some significant changes right now, and naturally, Sedo is evolving with those changes to provide the market and our clients with the right services for the two product areas that we focus on, domain parking and trading. The biggest challenge in the last 18 months was figuring out how to address these changes to ensure future success. We attacked the challenges head-on as a team, tapping the collective knowledge of Sedo's employees in Boston, London and Cologne. I was impressed by the willingness of our people to adapt quickly and pave the way for our – and our clients' – ongoing success. The team showed tremendous creativity and critical thinking, which is definitely a strength that I'll tap into regularly," Flaitz said.
"As everyone in the industry knows, new gTLDs are one of the key drivers fueling change, especially now that they're closer to hitting the market. With our extensive partner network, including the United Internet Group and our global registrar partners, Sedo is ready to provide registries with the right services to be successful on a truly global level. We're committed to helping clients through this exciting, in many ways unprecedented period, and giving them the tools they need to succeed."
"Overall, this was a fantastic time to join Sedo, as I was able to help develop and launch these new, industry-defining services. I'm very pleased with the groundwork we've laid and the direction we're headed," Flaitz added.
With the exit of Sedo's original founders and the company having grown from a small startup into an integral part of a large and powerful Internet conglomerate, I also asked Tobias how the changes have affected Sedo's corporate culture.

"Sedo's evolution is a completely natural process for any successful company. Sedo is growing up, and like any company in this position, we are constantly looking for new ways to improve how we work with our clients. Without doubt, the founders and former management team have created a successful company over the last decade, along the way earning great respect from all of our employees, our shareholders and management – including myself. However, constant change is required to keep a successful company on a sustainable path – especially when the target customers, clients, market requirements and competition are changing as fast as they are in the domain business," Flaitz observed.

"One thing that has been the foundation of Sedo's success is its open and friendly culture. I am very happy that we managed to keep the core of this culture in place amidst these necessary changes, as it will always be part of our success. I've thought this since day one, and even gave a welcome speech at our 2011 Christmas party where I told everyone that I consider the sensible, positive and

Sedo Co-Founder and former CEO Tim Schumacher on the day after he turned CEO duties over to Tobias Flaitz. The idea for Sedo was originally laid out in a paper he wrote for his master's thesis at the University of Cologne.

friendly culture of Sedo's people a very valuable asset. I still see it in combination with targeted and result orientated approaches as the foundation for the future success of the company."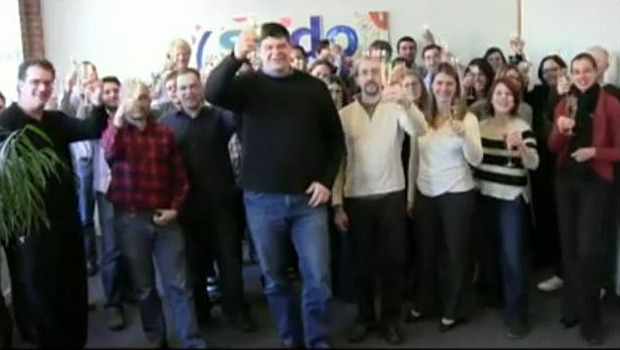 A large part of the Sedo team at their Cologne headquarters in April 2012. Former
President Ulrich Essman (Who was with Sedo at the start) is in the black sweater at front.
Another key leader at Sedo is Head of Product Management (Trading) Simonetta Batteiger who gave me her thoughts on what the most important industry changes have been in the more than seven years she has been with the company.
"The most important change within the domain industry is that domain names from the secondary market can now be purchased by end users not only through marketplaces, but also at partner websites. Products such as SedoMLS mean even greater exposure for domain owners' listings, and with this shift in how domains are distributed there has also been an increase in priced listings," Ms. Batteiger noted. "It used to be the case that only very few domain names were listed with a fixed price, but in 2013, the majority of new listings at Sedo are listed as Buy Now. This allows end users to make informed purchasing decisions on domain names listed for sale, and allows faster sales cycles for everyone."

"Finally, the entire industry is preparing for the launch of the new gTLDs. Registries, registrars, and Sedo are focusing heavily on preparation for the launch of these new extensions, which will both increase the choice of good domain names for end users and offer new investment opportunities for domainers."

Sedo's customers have noticed that the company has rolled out a number of new initiatives and improvements over the past year. I asked Simonetta to summarize those and how they are befitting the company's clients.

Simonetta Batteiger
Head of Product Management (Trading)
Sedo.com
"We've been making updates and changes to improve our services for all of our customers, from domain owners and parkers to end user buyers, partners, and new gTLD registries. End users are seeing a much more user-friendly purchasing platform when they come to Sedo.com, and we have further updates in the pipeline on this front. These updates lead to higher sales conversion and, ultimately, more sales for Sedo's sellers," Ms. Batteiger said.
"For the domain investor, we have updated the look and feel of our parking statistics, have added ways to request price suggestions for entire portfolios, created tools to enable account managers to advise their clients on pricing strategies, and expanded the exposure domain listings get by expanding the SedoMLS network (the network now accounts for one out of every four sales at Sedo)."
"Our parking clients have also benefited from new advertising partnerships, allowing more of their traffic to be monetized than ever before. Finally, Sedo has begun to partner with leading new gTLD registries and applicants to help run sunrise, land rush and premium auctions for the new gTLDs and distribute premium names from the new extensions through the SedoMLS network. This offers even more domain inventory to end users at Sedo.com as well as on all our SedoMLS partners' websites," Simonetta noted.
Kathy Nielsen, Sedo Head of
Business Development, New gTLDs

Another Sedo veteran, Kathy Nielsen, now serves as Head of Business Development for those New gTLDs. She explained why the company decided to focus on providing services to new gTLD registry operators rather than apply to run some of their own TLDs.

"As one of the most established companies in the industry, you'd think it would be a natural fit for Sedo to apply to become a new gTLD registry, but it's important to point out that we made the conscious decision to not apply so we could remain a neutral third party advisor and provide a full suite of services for new gTLDs," Ms. Nielsen said. "As you know, Sedo has more than a decade of experience – first working with individual buyers and sellers, and over the last few years helping launch and develop ongoing sales strategies for registries like .CO and .ME. We've taken everything we've learned over the years to develop our gTLD offerings and be able to add value for new gTLD registries that have some industry experience as well as those with less experience. Given the unprecedented scope of

this expansion, there are many groups that fall into the latter category, but we have a lot to offer both in terms of data, knowledge and the most expansive sales infrastructure in the industry."
"The suite of new gTLD services we've developed can be tailored to any new registry's needs," Kathy added. "We're able to help with strategy and/or execution for the full lifecycle of marketing and sales initiatives, from presales preparation through sunrise, land rush and general availability. This includes:
● Presales Preparation – Once a registry is approved, there's a lot of groundwork that has to be done to ensure an effective launch and long term success. In addition to developing an overall marketing plan, one of the most important steps is to identify a new registry's most valuable assets. With more domain sales data than anyone else in the industry – and an MIT economist on staff to study it – Sedo understands domain pricing better than anyone. This gives us the ability to help build premium and reserve lists of the most valuable domains within a registry and develop strategies for how and when they should be released. We also have an unmatched ability to build custom lead lists of potential buyers. We know who might be interested in which domains, and our experience and existing relationships with buyers takes a lot of the guesswork out of the process.
● Sunrise & Landrush – A sunrise period for new domains in mandated by ICANN as a means to allow trademark holders early access to new domains, but many people don't know that the landrush period is optional. Sedo can help determine the right strategy and timeframe for these introductory phases and help market the fact that they're taking place to ensure that potential buyers are aware. We can also run auctions for duplicate sunrise or landrush applications and close sales via Sedo's secure, trusted platform. We're a global company, so we can reach buyers all around the world.
● General Availability – When it is time to open a registry to the general public, it is important to understand that there is no "one-size-fits-all" way to sell domains under your extension. Developing relationships with the right registrars is a key foundation for your registry, but premium sales can make a huge difference in profitability. Getting a few premium names into the hands of the right end users early – companies or individuals that will invest marketing dollars in their new domains – will also help drive awareness in your registry and interest from others. Once a registry has entered general availability, Sedo will continue to advise and execute the brokerage and auction of premium names to help find the right buyers who are willing to pay the best price. We accomplish this through the hard work of our knowledgeable brokers and through the reach of SedoMLS, the largest domain distribution network globally. Getting relevant names in front of the right buyers is really the name of the game, and we have more ways than anyone else to do that.
While new gTLDs have grabbed everyone's attention, domain monetization (parking) continues to be a hot topic of discussion in the industry. There was a significant decline in PPC revenues in recent years but of late many are reporting the start of a turnaround. While the number of PPC providers shrunk in the downturn, many new competitors have now popped up and some vitality seems to be returning to the space. We asked Joel Ghebaly, Head of Product Management (Monetization) at Sedo, how he would you characterize the current health of the domain monetization business and what is Sedo doing to stand out in what has become a very competitive space.
"It's no secret that parking has been a challenging part of the domain name industry for the past year," Ghebaly concurred. "New competitors joined the market, parking technology went through a lot of changes, and like many of the more established parking providers, Sedo was affected. But our experienced, smart parking team has stepped it up a notch, creating an even stronger network of advertisers, and thereby giving our clients the best and highest earnings in the industry. Today we are happy to say that we are the parking leader again, something which can see in our daily traffic results and hear at industry shows from our valued parking clients."

"Among the changes we've made have been to add new templates, optimize existing ones, and add new advertising providers to help monetize as much of our clients' traffic as possible. There is still opportunity to improve, too: we now constantly A/B test our templates to improve them, and our new 1-click/2-click decision engine selects the best templates for each domain,

Joel Ghebaly, Sedo Head of
Product Management (Monetization)

resulting in an average of 15% higher earnings. In addition, we've added more mobile templates, since mobile traffic accounts for a third of our total traffic globally, and new ad formats such as zero-click, in order to monetize even more of our customers' traffic," Ghebaly said.
"The key in the future will be a holistic approach. By integrating parking with the marketplace, we make the most out of every user, whether they intend to buy or not. Parking companies, especially the newer ones, will need a strong and diversified business model. Sedo has this diversified business model around domains in place and is constantly improving and extending. So while there is still more competition and a tough market, we've continued to adapt and improve our parking product, and we're starting to see the effects of that among our customers," Ghebaly concluded.
When many people hear the name Sedo, the first thing they think of is the compamy's global domain sales platform as it was Sedo's first business line and remains the company's hallmark. While only a fraction of aftermarket domain sales are reported, the trend, based on data reported to us in the first half of this year, seemed to be fewer high end sales but still plenty of activity in the low to mid ranges of the market. We asked Sedo sales data analyst Dr. Thies Lindenthal from the Massachusetts Institute of Technology is he was seeing similar patterns.
Dr. Thies Lindenthal

"Our sales numbers show that the domain trades in the higher end, premium price segment of $100,000 and over are not disappearing. Domains still trade at these levels, and the advent of new gTLDs is not the tombstone of high-value sales. Nevertheless, the number of 100K+ transactions is below the figures for the bullish 2007 or 2009-11 years," Dr. Lindenthal said.

"There were always more domains for sale than buyers in the market, and with the arrival of the new extensions, even more names will compete for the same buyers' dollars. We believe that the competition from new TLDs will improve the quality of domains that are up for sale. The competitive pressure will be felt by "not so great" names in the existing domain space, but strong names will remain in a good position. In the end, only the market will tell whether the new domains will be accepted as valid alternatives to the current ".com is king" mantra," Dr. Lindenthal noted.

He added, "We are thrilled about the upcoming internationalization of the domain space with more non-Latin extensions. The new TLDs in non-Latin characters offer a great opportunity

to translate the surge in more and more internet usage in countries like China into domain sales. Sedo has strong global ties around the world, and we are expecting to benefit from the internationalization of the domain space."
Before saying goodbye for now, we asked CEO Tobias Flaitz for a few closing comments on the outlook for Sedo as his second anniversary at the company approaches. "I and the whole Sedo team are ready and excited for the next chapter in Sedo's story, as well as seeing how the industry changes and grows around us," Tobias said. "We see new gTLDs becoming a major part of our business and we're focusing a lot of time and energy into getting that right, which includes bringing a number of new team members on board to further strengthen our capabilities. Dima Beitzke recently joined as our new Chief Sales Officer, and Christian Voss came on board as Director of Marketing & PR globally."
Dima Beitzke
Sedo Chief Sales Officer

Christian Voss
Sedo Director of Marketing & PR
"We're putting a lot of firepower behind our marketing and sales organization to be fully prepared for new gTLDs and we're excited for the possibilities for us and for our clients!," Flaitz said in closing.