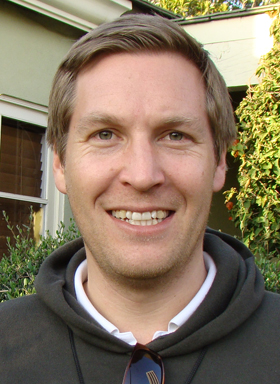 Sedo Co-Founder Tim Schumacher
in Santa Monica Thursday (Feb. 2)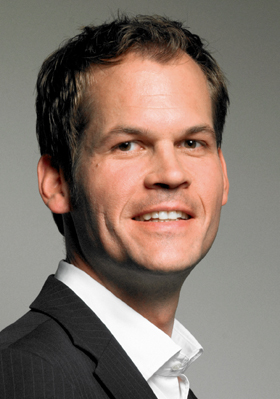 Tobias Flaitz
New CEO at Sedo.com
One of the most significant events at DOMAINfest his year was a changing of the guard at one of the industry's premier companies, Sedo. When they hosted a networking dinner party at the Monsoon restaurant in Santa Monica Tuesday night (Jan. 31), it was company Co-Founder Tim Schumacher's final official appearance as Sedo's CEO. Tim will remain on the Sedo Supervisory Board but after ten years of non-stop work he is ready to take a break (including an upcoming family vacation in New Zealand) and then look into broadening his business interests beyond the domain space.
I sat down with Tim for a long private interview Thursday, just a couple of hours before he boarded a plane for his return trip to Sedo's home base in Cologne, Germany. We talked about his entire history with the pioneering domain monetization and sales company, dating back to when he and college pals, Ulrich Priesner, Ulrich Essmann and Marius Wuerzner, launched the business while Tim was still in school. That discussion will be the basis for an upcoming home page feature article looking back at the career of one of the industry's key figures over the past decade.
New Sedo CEO Tobias Flaitz was also in Santa Monica and I had the pleasure of spending some time with him Tuesday night, before he officially became CEO, and again Wednesday night after he had assumed his new role. I was immediately impressed by both his openness and intelligence and though he has some big shoes to fill with Tim stepping down, I think Tobias is going to fit in very well with Sedo, their clients and the industry at large.
Tobias holds a degree in engineering and an MBA from the Universities of St. Gallen (Switzerland) and UC-Berkeley (USA). He spent several successful years as a consultant for Accenture as well as Booz & Co. and since 2007 has held a management position in strategy and business development with Hubert Burda Media in Munich.
While the domain industry is new territory for Tobias, he is a quick study and he was already getting up to speed just hours into his new position. As he guides one of the most influential companies in the business, we will all be hearing a lot more from him in the future.
Speaking of Sedo, while DOMAINfest was underway, the company released their 2011 Annual Domain Market Study including a 4Q-2011 Review (.pdf file). This report is always loaded with insight into the domain aftermarket, including which extensions are selling best and what kinds of prices they are bringing. If you haven't seen it yet, be sure to check it out.