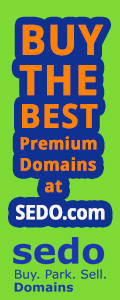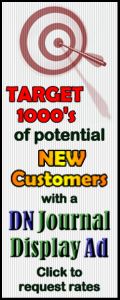 Huge Boost for GeoDomains: Business Star Tom Henderson Teams Up with Fred Mercaldo to Form City Brand Media
Last summer we told you about a funding campaign that the unique geodomain development platform CitiesPlanet was undertaking in an effort to establish the company as the global standard for .com city geodomain owners seeking to maximize the value of their assets. We can now tell you that company founder Fred Mercaldo (who operates a successful city domain of his own at Scottsdale.com) has not only succeeded in getting the investment he was seeking - a new opportunity opened that produced far more financial support than he was looking for. Better yet he attracted a team of world class partners to help the company's more than 100 "City.com" clients reach their full potential.

Mercaldo, who was profiled in the March 2013 DN Journal Cover Story, told us, "CitiesPlanet has finalized negotiations with Tom Henderson and his San Francisco Regional Center group, resulting in a new corporation being formed: City Brand Media, LLC. I am ecstatic to finally have the partnership in place that will really be a game changer in the City.com space.

CitiesPlanet Founder Fred Mercaldo becomes Founder and CEO of newly launched City Brand Media LLC.

Tom and his group have both the vision and the resources to properly support our efforts to develop, manage and increase the value of each City.com property in our portfolio."

Tom Henderson - the San Francisco bay area entrepreneur
who intends to help Fred Mercaldo turn City Brand Media
into a global power.

CitiesPlanet will own a minority stake in the new City Brand Media, and Mercaldo will remain as Founder and CEO. "I had investors lined up locally, and all the way to Singapore, but I felt the best chance for us to realize our goals for our company was to go with Tom's plan," Mercaldo said. "Tom is a very successful and dynamic individual, and his various entities that are in place will greatly aid our efforts."

With print newspapers struggling and some even going out of business we have long felt that .com city geodomains could one day replace them as

the leading media outlets in many communities. Ironically, City Brand Media's will now be headquartered in Oakland, California's historic Oakland Tribune Tower building that once housed the Oakland Tribune. Mercaldo's new partner, Tom Henderson, bought the 22-story structure a couple of years ago and it is now filled with his own enterprises, including CallSocket and Hydrant Media.

CallSocket has hundreds of employees in their call center, and counts numerous Fortune 500 companies in their client base. Mercaldo told us, "CallSocket will prove to be a very valuable asset for City Brand Media, and will support our massive marketing campaign to involve local business in each marketplace."

"I am also very enthused about Hydrant Media as we will be able to utilize the creative forces that exist literally "in house" as we strive to bring in more and more advertising and digital agencies, both nationally and locally, as revenue producing clients of our City.com sites."

Mercaldo added, "Tom also owns Runway.is, which is an 80 company tech incubator housed in 30,000 square feet at the Twitter building in downtown San Francisco. We expect to be able to utilize the services of some of the most innovative and advanced tech startup talent as we progress with City Brand Media."

Mr. Henderson said, "Our entire team is excited to bring in CitiesPlanet to our family of companies. With the in house capabilities that we already possess, namely CallSocket and Hydrant Media, we have the tools, personnel and expertise to take what Fred has accomplished to this point to a much higher level. Our programming team has the best resumes in the business, and we are looking forward to making the new company, City Brand Media, LLC, the largest and most creative, successful and productive City.com media company in the world."

Costin Miclea
ChiefRevenue Officer, Call Socket

CallSocket's Chief Revenue Officer Costin Miclea added, "We envision that our CallSocket personnel will be successful in representing each and every City.com brand in each market. We will utilize marketing strategies that have benefited the many Fortune 500 companies that we presently represent. The talent we have assembled at Hydrant Media is a very exciting and impressive team; they will integrate our City Brand Media website brands into marketable and profitable advertising platforms that will bring countless opportunities throughout the digital world."

With his powerful new teammates on on board, Mercaldo gave us more detail on why the launch of City Brand Media is such a game changer. "While there are many excellent success stories in our space (LasVegas.com, Boston.com, Miami.com, MyrtleBeach.com, PalmSprings.com, Scottsdale.com, Richmond.com, Branson.com, Toledo.com and many more, particularly

in smaller markets) the overhead necessary to properly launch and maintain a City.com site is very high," Mercaldo noted. "Programmers, SEO, social media, content, Calendar of Events, hyper local reporting, accounting, and many more resources are needed - not to mention salespeople to drive revenue. We offer all of these services to the many City.com owners whose sites are either undeveloped, or underdeveloped and under performing."

"The platform itself, particularly our newest version under development, allows all content and advertisements to be added without the services of expensive programming talent," Mercaldo continued. "All of the additional services needed we can deliver on a scalable basis, from a central location, enabling the professional and competent launch and management of a City.com brand site. Revenue is generated from many different strategies, and eventually will be handled by local representatives in each market, all funded by existing revenue we will be producing."

"Next, as we have seen over the past decade, the way in which our world gets information is changing. Everything is moving to online and digital, and City.com brands possess an advantage that no other names or brands possess - the name recognition of the specific city - combined with the relevant resources we build into each site - local content, local business directory,

calendar of events, everything about the specific City, all combined with the .Com - an unbeatable combination that gets organic traffic, and serves a real purpose in each community," Mercaldo said.

"To everyone who has followed our progress these past 4 years, I can now say we finally have the last pieces of the puzzle in place. I personally underestimated the resources we would need to properly aggregate the City.com brand and our new partnership with Tom Henderson and his vast resources and capabilities is a definite game changer for all of us in this very important space. We enter 2015 with a renewed optimism and commitment, backed by a very successful organization loaded with resources, talent, and qualified personnel in every category," Mercaldo concluded.
---
Home Domain Sales YTD Sales Charts Latest News The Lowdown Articles
Legal Matters Dear Domey Letters to Editor Resources Classified Ads Archive About Us