How Mercaldo's $175,000 acquisition and development of Scottsdale.com is working out financially.

His views on the current state of the geodomain business.

How the arrival of new TLDs - with geo strings like .nyc, .london and .paris may affect .com geodomain owners.

How his City in the Box software turbocharged geodomain development.

The current status of GeoPublishers.com ( the geodomain trade association that succeeded Associated Cities and which Mercaldo now serves as President).

Plus, Mercaldo's surprising connection to legendary artist Andy Warhol.
Fred Mercaldo was born in Philadelphia is 1955 where he was raised by his grandparents, Matthew and Marvel McGeever. "They owned a golf driving range called Tom Gola's Driving Range," Mercaldo recalled. "Tom was a local basketball legend, leading LaSalle to a national championship, and later having a great career in the NBA - and he was a partner in their business. The driving range was beautiful with different levels under the lights, and also an 18-hole miniature golf course. Every summer we would open the range in the morning, take a break (and a nap!) in the afternoon, and then head back and operate the range until the last players left."
"My childhood was great," Mercaldo said. "My grandparents spoiled me, and from meeting Mr. Gola at an early age, all I ever wanted to do was become a basketball player. I played all the sports, but had the most success at basketball." Mercaldo also had dreams of one day taking over the driving range and keeping the beloved business in the family, but fate intervened. "Unfortunately my Grandmother passed away when I was 12, and my Grandfather followed when I was 15," Mercaldo said. "It was a very sad and difficult time for me. I decided to concentrate on getting into college and playing basketball at Penn State."

Between the ages of 10 and 18 Mercaldo proved to be an excellent player in a city known for its hyper competitive basketball scene. He repeatedly made all-star teams and led both his team and his league in scoring on more than one occasion. However, when he arrived at Penn State he found basketball at the major college level was a different ballgame all together. "In my first year at Penn State I realized that I did not have the size or talent to go any further. It was a very big discovery and it greatly affected my future plans," Mercaldo said.

In the classroom, Mercaldo started out as a Psychology major and compiled a 3.2 GPA before switching to Business and Accounting, but something was missing. "Still not stimulated, and depressed that my basketball career was over, I left school and became a steelworker!," Mercaldo laughed in

On a visit to the French Riviera last
year Fred felt right at home when he
walked past this shop in Cannes.

remembering that sudden U-Turn. "Phoenix Steel in Claymont, Delaware became my home for the next 18 months. I worked 3 different shifts and soon realized that punching a time clock was not going to be my future."
After a year and a half, Mercaldo moved on to a less taxing occupation - working for a company that sold an insurance product to automobile dealers. "After 3 months, the parent company in Chicago made me an offer to relocate and take over the Wisconsin market and their existing dealer base in Chicago," Mercaldo said. "I fell in love with Chicago the moment I landed and stayed for the next 15 years. Within 3 years, I became national sales manager of the company, and then earned an ownership position. One thing lead to another, and I had 100 auto dealers handling our auto service contract program, a program that was affiliated with Merrill Lynch. It was 1980, I was 25 years old, and making 6 figures per year."
That's when Mercaldo saw his first business world curve ball and had his entrepreneurial skills put to the test. "The prime rate hit 20% and this affected our service contract sales severely, as they were not being accepted as part of the finance contract when people purchased their new cars," Mercaldo said. "My production went from 1,000 monthly sales to 100 almost overnight. Knowing I had to do something, I began a Call Center with 7 people - calling people that just purchased their new car, and offering the service contract/extended warranty. I also put together a finance plan that allowed them to finance the contract at $49 per month. This was an immediate success, and the company grew to 150 employees and lasted until 1989."

The winds then changed yet again. "Auto leases became more popular and the price of our service contracts that were $399 in 1980 were now over $1,000 as cars were more complicated and repair costs soaring. Over a year's period of time, we went from 3,000 contract sales per month to 750. It also didn't help that I

was no longer physically there. I had a new interest and when the business finally had to be shut down, I was well into my second "career", "Mercaldo said.

Mercaldo's next enterprise was one that even he would never have imagined. "Almost by mistake, I embarked on a hobby that ultimately led to a very profitable and exciting couple of years. I became an Andy Warhol art dealer!," Mercaldo exclaimed. Interestingly enough, he said that endeavor had a remarkable number of things in common with the domain business he would enter a decade and a half later.
It might never have happened if Mercaldo had not decided to find a new residence in the Windy City. "In 1986, I left one of the best buildings in Chicago, Lake Point Tower, a 72-story high rise on the lakefront located at Navy Pier, and decided to renovate a 1926 co-op on Lake Shore Drive. After six months of totally gutting and rebuilding and redecorating, I moved in but the walls supporting the 3,000 square feet residence were bare. I went to a local art gallery and while their Warhol print of Marilyn Monroe was desirable at $5,000 (and now worth over $250,000!) I needed more than one print to fill my walls."

"So I opted for volume - a new series by Warhol called "Cowboys and Indians", a collection of 10 signed and numbered prints with images of John Wayne, Annie Oakley, General Custer, Teddy Roosevelt and more for $13,000.

A Rupert Jasen Smith of Andy Warhol

The problem was I liked them so much as a collection that instead of hanging them all over the co-op, I hung them all in one room! So I went back for more, and by the end of a three month spree, I owned about 45 Warhols with approximately $60,000 invested."
"In February of 1987, Warhol died unexpectedly from complications after gall bladder surgery and the market for his signed and numbered prints, along with his originals, skyrocketed overnight. I found myself in New York the following week, sitting with Rupert Jasen Smith, one of Warhol's closest friends and screenprinter. I purchased 99 more Warhols that day and embarked on a 3 year roller coaster of buying and selling that took me twice to Switzerland, once for the iconic Basel Art Fair, and once to meet with Bruno Bischofberger in Zurich, one of the world's leading art dealers for the past four decades. I became close friends with Francesco Scavullo, wound up opening my own gallery in Chicago, and had a great time along the way," Mercaldo said.
Fred Mercaldo
at home in Scottsdale

"One of the more satisfying results of this successful venture was that I realized that my thought processes, combined with patience and logic and a little instinct, served me well. I was afraid that I was only competent in one industry (auto warranty insurance) but this endeavor proved that the same principals could be applied to any business, and it gave me confidence. Little did I know it was a precursor to 15 years later and domain investing, with many similarities and parallels."

"In 1989, I closed the auto warranty business and was busy running the gallery. The Warhol market cooled after a very strong 2-year run and I was spending my time commuting between my home in Chicago and a beach house I rented in Marina Del Rey, California. I finally closed the gallery, put the Warhols in storage, selling a couple each month to pay my expenses, and was ready to take it easy for awhile," Mercaldo recalled. "While I had substantial assets, I also had substantial expenses - something that happens to young guys that make money early!" As a result, after a nice respite in California, Mercaldo sold his Chicago house, left the beach, and relocated to Scottsdale, Arizona to figure out the next chapter in his life.

"In 1996, I started a property management company in Scottsdale," Mercaldo said. "Six months per year we rented the properties out to corporate relocation clients, but in the high season for Scottsdale (November thru April) we filled them with short term golf packages. My company name was Desert Golf & Vacation Rentals, and the best domain name I could get was Desert-Golf.com! Even early on in the domain business, I had a hyphen to deal with!." Mercaldo laughed.
"We grew the business and merged with another company giving us 310 total properties, and we had become one of the larger golf vacation and wholesalers to the Scottsdale golf community. We then made a deal with both Troon Golf and Marriott Golf that really put us on the map. We produced 500,000 tee times per year, and over $8 million per year in golf vacation packages."
Mercaldo contacted the owner of Scottsdale.com and offered them $1,000 per month to be the site's exclusive golf advertiser and partner, and they accepted. About a year later, in 2004, the owner of Scottsdale.com approached Mercaldo and asked him if he would be interested in buying the domain. "I asked for, and received a 30 day due diligence period, and I'm embarrassed to say that it took me about 3 weeks to determine that I would go ahead with the purchase," Mercaldo said.

"It took about 12 months for me to become profitable, and up until the economy changed we thrived. Real estate, hotel partners, and golf packages were the major sources of our revenue and we generated between $500,000 to $800,000 per year in advertising fees and commissions. This all changed when the economy changed, as my 3 most profitable categories of advertisers: real estate, hotels, and golf vacations, were the hardest hit industries in Arizona. This led to my next chapter in business- becoming a development company," Mercaldo said.
"Realizing that advertising was going to be a tough sell in the immediate future, I knew we had to find another source of revenue to keep the doors open. Over the years, in addition to Scottsdale.com, I purchased Tempe.com and FountainHills.com, and had signed marketing and development agreements with Mesa.com (Nat Cohen), Chandler.com (DigiMedia) and ApacheJunction.com (Castello Brothers and CCIN), and I realized that our in house programmers had done an excellent job in building these sites," Mercaldo said.
| | |
| --- | --- |
| | " Being involved as a Board member at Associated Cities allowed me to meet many of the other geo domain owners in the industry, and many of their sites were not developed. So I packaged our system, called it "City In The Box", registered the name CityInTheBox.com, and offered our development platform for $12,500 per city. Presently, over 125 City.com's are running on our system, and 65 of them are managed by our company, GeoDomain Development Ventures, LLC (dba "CitiesPlanet.com")." |
Though his system has been embraced by a long list of well-known clients, the global economic recession that the U.S. is just now emerging from has not made things easy for Mercaldo. "These past four years have taken its toll on many businesses in many industries, and while we have successfully launched all of these sites, the challenge to monetize them all has been a struggle. We have been extremely blessed and fortunate to have patient partners and domain owner clients, for without them CitiesPlanet would not exist. Nat Cohen, David and Michael Castello, Elliot Silver, Peter Niederman, Hugh Hedley, the team at California Media, DigiMedia, Toby Hardy, Jessica Bookstaff, Steven Kasiyev, Alan Hsu, Sam Melamed, Shai Neubauer, Tom Rask, Richard Lau, Ben Payne and Todd Little and many other individuals have supported us through thick and thin, along with our key personnel, led by Becky Kelly."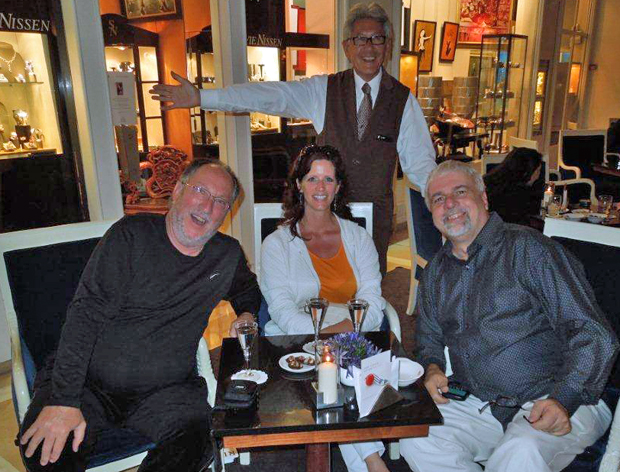 FrenchRiviera.com owner and CitiesPlanet client Toby Hardy (left) with CitiesPlanet consultant Holly Meschner and founder Fred Mercaldo at the Carlton Bar in Cannes, France.
With the economic headwinds finally starting to calm, Mercaldo believes his client's faith in him and the City in the Box platform will soon be rewarded. "While I have long believed we were building something special, finally others in the venture capital world now believe it too. Understanding that this project is now scalable and a great business and revenue model, we are close to making an announcement that will take CitiesPlanet and the geo domain space to the next level," Mercaldo said.
" Presently, we are excited to be bringing in some major partners that should be able to provide the resources we need to get CitiesPlanet to the levels of where it needs to be. About a year ago I had realized that this project was much bigger than our current infrastructure could handle so I interviewed with three different venture capital companies. In each case, after 2-3 initial meetings, they passed on our deal. My reaction in each case was "They don't get it". But a scary thought hit me after company #3 passed on us - maybe they did get it, and I don't!," Mercaldo recalled.
Mercaldo with new grandson Cannon in 2009

" I did not know what was missing with our offering - 65 markets, hyper-local, pure City.com brands, a likely takeover someday soon for a major media company, a scalable model for the software platform - what's not to like? I felt I've accomplished some of my best work of my entire career during the past 3 years, only to not be rewarded for our efforts, and in the process letting my friends and clients down. That all has changed over the past 3 months, as we have been courted by three separate companies and the one that we have chosen to work with has some of the most impressive talent and experience and individuals in the digital space that I have ever met - and they believe CitiesPlanet can be much bigger than even I ever imagined."

"So after much hard work and some highs and lows over the past 36 months there is hope. I look forward to getting this deal finalized so that we can proceed and also to be able to announce and share all of the details with you. It will be a very important development for the City.com space, and the next 36 months should be special.

"
"We have long believed that daily print is going away, as it is yesterday's news, not green friendly, and no longer a sustainable business model. We are seeing it every day, and once the major media companies emerge from bankruptcy, and get their balance sheets in order, they will aggressively go after the top names in each market to publish their online newspapers and publications.and there are no better local names than each specific city's own name, followed by the .com. We will have a major announcement in the coming quarter, and I am ecstatic that not only my client's patience will be rewarded, but also the City.com space will have a chance to thrive and mature into the brands we always believed they were destined to become," Mercaldo said.
As a former President of Associated Cities and the current President of GeoPublishers.com, Mercaldo also believes that geodomain owners as a group, will again be looked to as leaders in the domain development space. With the unraveling of Associated Cities and the low profile of GeoPublishers since the new group was established two years ago, geodomains, have been out of the spotlight they occupied before the recession (the sector's last trade show was the 2011 GeoPublishers.com Expo in Chicago).

"While it is clear the future of City.com's is extremely bright, the present state of the economy continues to hamper the performance and financial results of many City.com brands," Mercaldo noted. " When you think of the overhead needed to operate a City.com properly, involving a programmer, content, bloggers, salespeople, accounting, management, hosting and other related expenses - combined with local businesses just now getting back to having a serious online advertising budget, it has taken a major toll on operators that were making excellent profits prior to the recession. I

President Fred Mercaldo welcomes
attendees to the October 2011
GeoPublishers.com Expo in Chicago.

believe we are all united in our thinking and overall game plans, and most have had the wherewithal to hang in there and survive until business gets back to normal."
The pioneers in the geodomain space are all still active and Mercaldo believes the best is yet to come from that pool of talent. "Associated Cities Co-Founder Dan Pulcrano had a great influence on my career," Mercaldo said. " Dan, along with the Castello Brothers, Josh Metnick, Sean Miller of NYC.com, Skip Hoagland and others provided early insight on the key qualities needed to successfully operate a City.com brand, and also the benefits of having a working Association."
| | |
| --- | --- |
| | "Regarding GeoPublishers, we are right in the middle of major improvements and discussions on moving forward and planning our next Expo. Don Jones and Bill Hammock of NewOrleans.com have supported this project from Day One as they believe, as we all do, that our geo brands need a strong association. We thought 2012 was not a good time to have another Expo as there were too many other Expos along with the economy still being strained. I predict GeoPublishers will thrive and become the type of association our industry needs, and I am committed to helping in every way I can," Mercaldo said. |
While things appear to be looking up for geodomain owners, there is one ominous cloud on the horizon - the impending arrival old hundreds of new gTLDs, including new geo extensions lilke .nyc, .london, .paris and the like. How will extensions like that will affect the .com brands representing the same locations?
"Much has been discussed about this topic, but I remain convinced that they will only strengthen the pure City.com's brands," Mercaldo said. "There will be a few exceptions in a few specific markets, but overall I don't see them having a major impact in the geo space. From a geo point of view, .CO, .US, .Travel, .NET and many other extensions have not thrived, and the public continues to trust and believe in pure .com brands, especially City.com's. The new gTLD's will have an impact on generics and other products, but again, in my opinion, nothing can touch the City.com brand as a resource for everything and anything happening in a city.
"
With the development experience Mercaldo has acquired across good times and bad, you might wonder if he is applying any of that to non geo domains as well. "A "wealth of internet knowledge" guarantees that you are an expert only until the next Google algorithm change!," Mercaldo laughed. " Then you are back to square one! We have dabbled with other non geo sites, achieving a certain level of success and then have to go back to the drawing board. Honestly, the City.com space takes up 100% of my time, yet I do own a portfolio of
about 600 generic names that I plan on having some fun with in a few years."

They say all work and no play makes Jack a dull boy. What about Fred? " Golf is pretty much my only activity outside business and family, "Mercaldo said. " My play these days is sporadic, with playing in a tournament 3 days in a row, and then nothing for a month. The past couple of years has limited my time on the course, raising my handicap from a solid 5 to a horrible 10! I look forward to the coming years and getting to play more and getting more competitive."
"We are fortunate enough to have a second home in Show Low, Arizona - 165 miles from our home in Grayhawk in North Scottsdale. It is located in a golf community called Torreon, and the elevation at 6300 feet means that when it is 112 degrees in the summer in Scottsdale, it is 88 in Torreon - so we try to spend as much of the summer up there as possible. We even like to be there in the winter - usually a minimum of a long weekend each month, and the fact that it receives a significant amount of snow reminds me of growing up on the east coast and good feelings," Mercaldo said.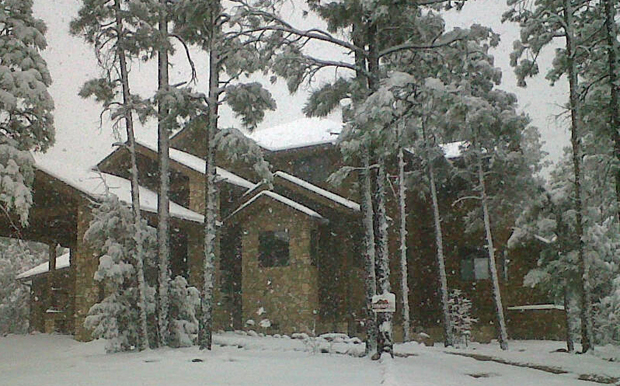 An early spring snowfall at Mercaldo's vacation home in Show Low, Arizona.
Fred Mercaldo and wife Jean
with grandson Cannon in 2011.

Mercaldo would also like to spend more time with his growing family. " Our two children, Scott (married to Minna and living in the Bay area) and Kelly (married to Todd and living here in Arizona) are doing just great, and have given Jean and I four grandchildren - 4, 3, 2, and 4 months old!," Mercaldo marveled. "Three boys and a beautiful little girl - Cannon and Kyndal are here locally, Dhillon and Grayson are in the Bay area (I remember growing up everybody was John or Joe or Tom or Mary - those days are obviously gone!"), Mercaldo smiled.

"Our work schedule minimizes

our time we can spend with them, and we are hoping this will change soon. Poor Jean - after 30 years at IBM she thought she was done! Nope - I recruited her to be our accountant, so she is busier than ever these past three years!"
Something tells me the always active Mercaldos wouldn't have it any other way. It's a good thing too because if a geodomain resurgence follows the track Mercaldo predicts, they will have more than ever on their plate.