Richard Lau: Some would say that we are lucky. Myself included. There's the saying "Luck is what happens when preparation meets opportunity" and I think I've been preparing for NamesCon for 20 years. I think a lot of entrepreneurs go into any business or situation and make mental notes along the lines of "if I were running this place, this is what I would do differently." I do it constantly which keeps the mind fresh. Having been to dozens of conferences, and having been to Las Vegas itself well over 30 times, NamesCon is a combination of years of mental notes from an attendee's point of view of what a conference in Las Vegas should be like.
NamesCon Founder Richard Lau
at the first conference in January 2014

The domain name industry thrives on networking, goodwill and business – often done on a handshake. NamesCon's focus is on bringing people together in numbers such that a critical mass is achieved for highly effective and efficient networking. This produces a few days of whirlwind meetings, chance encounters and informative panels and talks that delivers massive value to attendees. And if attendees are happy, then sponsors are happy. I think NamesCon also has a unique, non-political approach that is separate from any corporate agenda. We have one focus: delivering the best attendee experience to help them grow their business in the domain name space.

DN Journal: Aside from being bigger than last year's show in what other ways will the 2015 conference differ from your inaugural outing - and on the flip side of that, how you have managed to keep the low cost of registration fees and hotel rooms the same?

Richard Lau: I think people's expectations were somewhat fuzzy last year. It filled a void and people came and were genuinely surprised at the quality of event that we were able to

put together in 90 days. This year we have been at work on the conference since the end of January. We know attendees are expecting an industry leading conference and we have to deliver. The clarity of goals for this year is different from last year. This has brought sponsors on in larger numbers and the pre-registration list is well over 500 now. GoDaddy will have 20+ people, as will Donuts. If you are in the domain name space, NamesCon is the place to be. It wasn't the case last year, but it is definitely so this year.
What hasn't changed is our focus on value. We love the Tropicana as it is a unique, boutique hotel where the staff are like a family. And we have been able to keep the hotel room rates the lowest I've ever seen at a conference hotel. $79/night (same as last year) is an unbelievable rate. And the elevator lobby is mere steps from the Exhibit Hall and Conference Rooms. It all plays into efficient networking opportunities from the attendee's perspective.
DN Journal: It is always gratifying to have an idea and bring it to fruition. What has been the most gratifying aspect of NamesCon's success for you?
Richard Lau: What many people don't know is that the primary "business" goal of the inaugural NamesCon was not to generate a profit. On that note, I would have been happy to break-even . Rather we wanted to provide a catalyst for "WaterNight" – a fund-raising event for the WaterSchool charity. We've run this "WaterNight" at other conferences for the past few years, but at last year's WaterNight we broke all the records. With over 450 people in attendance, we shaved three heads and over the course of the conference we raised over $110,000 to provide clean water solutions to those in need in Africa. Truly amazing!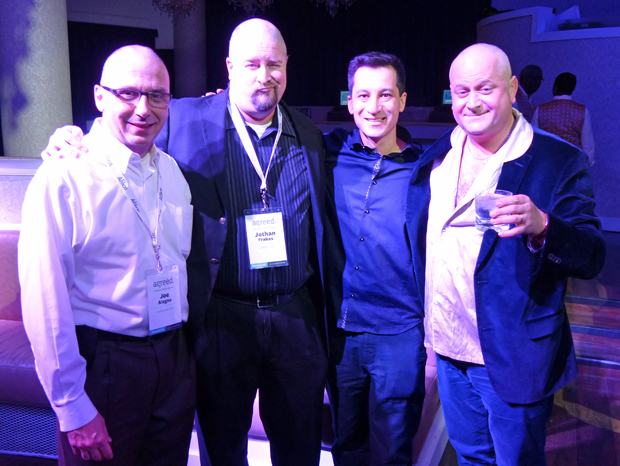 The three good men who allowed their heads to be shaved to raise money for the Water School at NamesCon 2014 and the persuasive man who talked them into it! (Left to right) Joe Alagna, Jothan Frakes, Richard Lau and Yancy Naughton.
Richard Lau: We really see NamesCon as an industry event that we are lucky enough to organize. The support of sponsors, speakers, attendees, our team and on-site staff is amazing. The late nights, no sleep and thousands of emails all come together into a few days of intense activity that raises the tide and all boats in the domain name space. Come to Vegas and enjoy the ride!
Jothan Frakes
DN Journal: Jothan, the first edition of NamesCon broke new ground by building a far broader program than has been the industry conference norm, pulling together experts from all aspects of the field. That "cross pollination" has been your hallmark over the years. Why has it been so important to you to bring together people who on the surface may not have a lot in common and in some cases are even at odds with each other due to interests that don't mesh?
Jothan Frakes at the
2014 NamesCon conference

Jothan Frakes: It is all about friction and how it creates great things. Friction is something that gets talked about. It releases heat and energy. In this case, the friction might be what seem to be what appear as unaligned or perhaps even opposing interests. The appearance and the reality are really two different things here.

The thing that really makes me leap out of bed every day with enthusiasm is how remarkably diverse and expansive the domain name industry really, truly is. Think about it for a minute. The person who registered their first domain name yesterday for their new business idea – they have a lot to learn and build upon as they embark on that journey. Veterans like your readers have a whole different perspective. A marketing manager at a large globally recognized brand has a whole different engagement with the domain name universe. Attorneys that are representing clients with Intellectual Property interests also are engaging with that same universe, but in a different way.

Over the course of my 2 decades in working with domain names, I have found that though the perspectives are different, there is far

more in common than many initially are able to recognize, but they all interact with domain names. So why shouldn't a conference mash-up and explore the different perspectives? At least to keep the content fresh, relevant, and entertaining. Sure, there will be some friction, but if done respectfully that friction can be a great source of growth and energy.
Practically speaking, there were so many opportunities that flowed forth from 'back of the napkin' meetings when bringing cross-pollination at the 2005 and 2006 Domain Roundtable events, it would probably have been irresponsible of me to not have put it together again in a similar fashion. And not gathering the variety of perspectives also dooms us to potentially be in the loop of stagnation, which would put the same faces at the same events talking about the same things. This is a vibrant industry, so let's embrace it.
DN Journal: As ambitious as last year's program was it looks like you are intent on surpassing it this year. Tell us how your multi-track approach and depth of expert talent will give attendees the ability to map out a personal agenda that will allow them to get the most out of their time at NamesCon.
Jothan Frakes: I am absolutely amazed at the caliber of panelists and speakers already on the roster, and there are still some fantastic sessions that are not revealed on the agenda. Our amazing industry has a variety of different participants, perspectives, and commercial or personal objectives.
The conference was designed to deliver good useful content, but 'useful' is really a personal experience. To an attendee that goes to numerous domain conferences 'useful' might interpret to 'something I have not heard before' or 'a session where I can meet potential clients or vendors'. To one of the many vendors, it means sessions that are aligned with content that would enable meeting new customers and expanding the business. To one of the many Fortune 500 companies attending, they might be looking for ways to learn more about the power of domain names or legal sessions.

Having great content with incredible speakers is part of the equation … getting the resourcing to attendees so they have a much better ability to map out schedules, personalize and customize their event activities is the last mile of it. We looked at a number of different means of making the personalization of the conference as easy as possible and ended up using the Sched.org system. We've integrated it with the Eventbrite registration so that you are connected up with your customizable agenda, and I have a team of people working on keywords and other labeling that should help folks make the conference what they want it to be.

Jothan getting a "new look" at NamesCon 2014. By sacrificing his hair he helped raise over $110,000 for the Water School.
DN Journal: While the formal agenda is impressive attendees at all conferences talk about how valuable the networking in the hallways and social events is to them. With such a busy schedule, bigger crowd and larger footprint in the hotel will those one to one opportunities be impacted?
Jothan Frakes: The beauty of working with other industry veterans like Jodi and Richard is that we all 'get it' about why someone would attend and what their wants/needs/desires are of the conference. The overall floor plan design of the conference is such that it makes networking and individual meetings nearly unavoidable. The flow of foot traffic between the different conference breakout sessions when we are in multiple concurrent workshops and tracks – all crosses the expo hall. You're much more likely to cross paths with the folks you want to meet 1-1. We also are ensuring that there was a little more time between sessions so that folks could pause a moment after the breakouts to meet.
Crucially, the conference agenda system we are using this year is filled with when/who/where features and capability that help folks manage their schedule and see where the time to meet is. Not only can it export simply to Outlook or other calendars like Google Calendar or iCal, it is connected with social networks and twitter, so you can see friends and tweet about where you'll be, so it is easier to meet.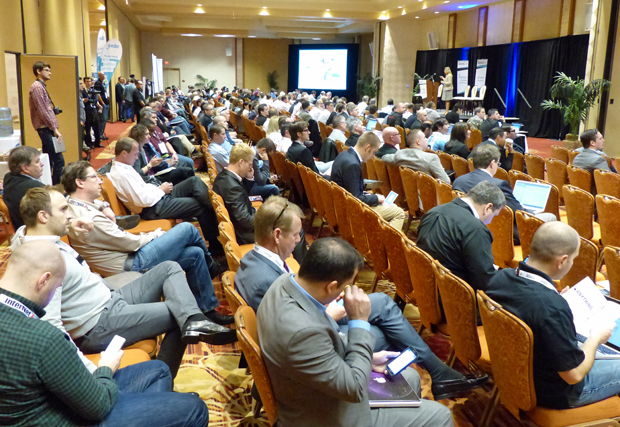 A cross section of the crowd at the first NamesCon conference in January 2014.
Jothan Frakes: One other thing I would like to add. The NamesCon experience as a core team, has been an absolutely amazing and inspirational group to work with. I don't just mean Jodi, Richard, James Morfopoulos and I - I mean the moderators, sponsors and speakers as well. There is a great, respectful, emotionally intelligent culture happening within the core and extended teams. We have very enthusiastic and positive dialog with our sponsors and partners, and the speaker and moderator session ideas are phenomenal.
We are very grateful for all of the support the industry has put behind the event, and we're extremely proud of the event so far. The attendees are in for a real treat. We look forward to seeing you all in Las Vegas in January.
Jodi Chamberlain
DN Journal: Clearly NamesCon's success can be attributed to a remarkable team effort. I remember at the start of last year's show intending to get a shot of you, Richard and Jothan together but never having that happen because your paths seldom intersected at the same time. Each team member zeroed in on their responsibilities and got their jobs done - a collaboration that earned very high marks from attendees. You have helped orchestrate many conferences over the years but everyone presents a different set of challenges. What are some of the logistical challenges you had to solve to make last year's show work so well ?

Jodi Chamberlain: Ron, you were lucky to capture that photo of Richard and I near the stage of NamesCon 2014. I remember saying to you as you were setting up the shot, it was a rare moment to have Richard and I standing next to one another. I'm glad you were able to capture the photo and let's make it a point to capture the entire team this year!

Jodi Chamberlain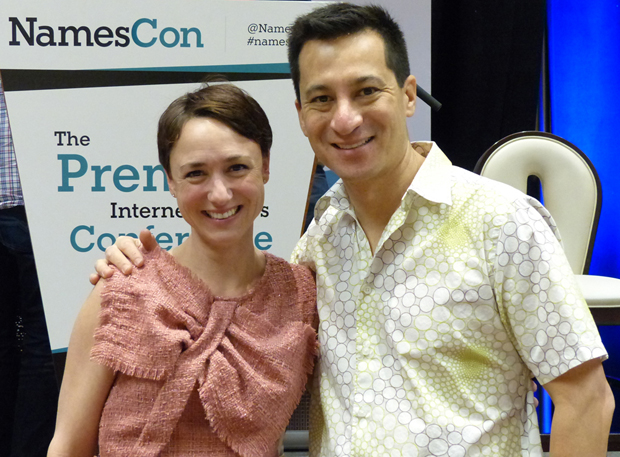 A rare shot of two NamesCon Co-Producers in the same place at the same time!
Jodi Chamberlain and Richard Lau at NamesCon 2014 in Las Vegas.
Jodi Chamberlain: The logistical challenges we experienced at the first event were due to the size of the conference. We planned for 300 and ended up with nearly 600 guests. Noise in the main hall was an issue and it was something we hope to have rectified this year. We were thrilled to learn the Tropicana could expand the conference space but we didn't anticipate the extra noise from the large crowd.
At this next event Richard has worked out these issues – as a matter of fact it was the very first thing he addressed to the hotel when preparing for this upcoming show.
DN Journal: Your reward for doing your job so well last year looks like it will be a job that is twice as tough this year. It looks like NamesCon 2015 will be much larger than the 2014 event. What is involved in preparing for a bigger crowd that will be spread across much more floor space in terms of how much preparation time it has taken and what kind of interaction you have to have with the hotel to make it work?
Jodi Chamberlain: Just weeks after the first show we secured the event at the Tropicana for NamesCon 2015. Richard began laying out the floor plan and creating the opportunities immediately! Our previous sponsors had first right of refusal, so we spent the spring securing those sponsorships and promoting the event at various meetings and conferences. It wasn't until Fall that the logistics kicked in and you're right, we have many more moving pieces this year!
The Tropicana is an extension of our team and they're onsite to help us with everything! At this phase of production, I email the team at the Trop 2-3 times an hour, and they get back to me within minutes. It's amazing how much we accomplish together in a day's time, and let's not forget the event too!
DN Journal: To many show goers it is not readily apparent how much the person tasked with coordinating a conference has to deal with. So many things can go wrong when tackling a project that has so many moving parts like this, yet you always appear to be - at least on the outside - totally composed and in control despite sometimes getting pulled in multiples directions at once. What skill set or physical and mental makeup does it take you to do what you have to do?

Jodi Chamberlain: Throughout production I stare at the logistic reports so often the details slowly begin to sink into my mind and I become enslaved by them. I use checklists onsite to help stay on point and also have the support of over 25 on-site staff members.

How I prepare myself mentally for the day? I tell myself before I walk into the show, just be happy! When I smile and just be happy, it has a positive-powerful impact on others. I wish it were more complicated, but it's really quite that simple!

Jodi Chamberlain (bottom row center) with friends (clockwise form left) Ilze Kaulins-Plaskacz, Marty Kaulins and Brandon Abbey at the 2014 NamesCon conference.
I can barely contain myself I'm so excited for NamesCon 2015. I can't wait to welcome and take good care of the most important people in (my) the world!