With close to 600 registrants on hand, the inaugural NamesCon Conference completed its run with 6 keynote speakers, 30 business sessions (featuring 100 speakers) and a variety of social and networking events Tuesday and Wednesday (January 14 & 15, 2014) at the Tropicana Hotel in Las Vegas. Our post on the first night festivities Monday can be found here, along with an addition below to get things started.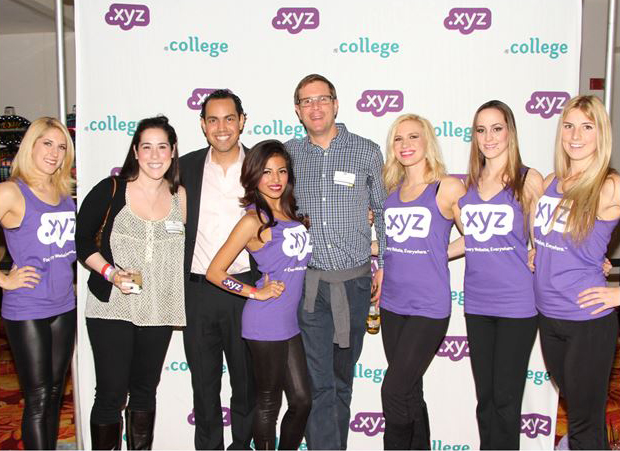 (L to R) with the .XYZ girls, Domain.com's Jessica Korn, .XYZ Founder Daniel Negari and
Domain.com's David Andrews at NamesCon's .XYZ Opening Night Party Monday night.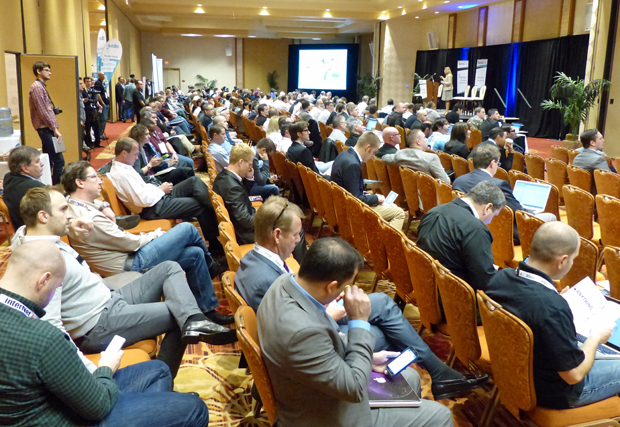 A cross section of the crowd attending Tuesday's first business session
featuring a keynote speech from author and executive Jennifer Wolfe.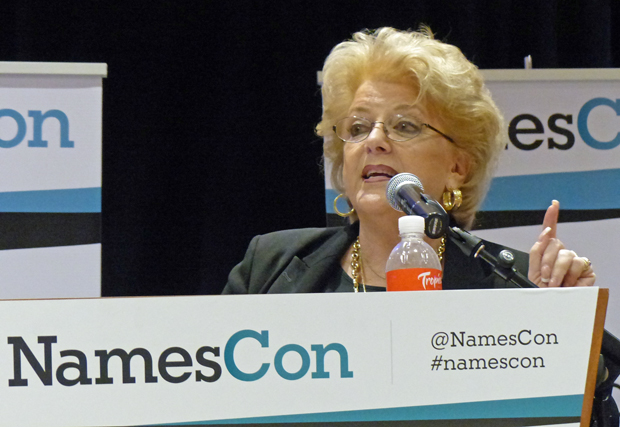 NamesCon drew a lot of attention in Las Vegas, an increasingly tech savvy city.
Mayor Carolyn Goodman swung by to talk about that Tuesday morning.
With a diverse crowd drawn from domain investment and development, registry/registrar and governance circles on hand, NamesCon employed a multi-track format that frequently had three business sessions underway at the same time. That allowed attendees to choose sessions most closely aligned with their interests. For our coverage, I most often picked sessions that I thought would give me insight into topics that are of special interest to our primary audience of domain investors and developers.
With many veteran domain investors skeptical about the prospects for the hundreds of new gTLDs that are starting to come online (the primary focus of NamesCon), they wonder why the new registry operators think they will succeed when many other TLDS released over the past decade are still struggling to make inroads against .com. An 11:15am session called Meet the New gTLDs (Panel 1), the first of several sessions that featured new gTLD registry operators, gave me a chance to hear some of them make their case.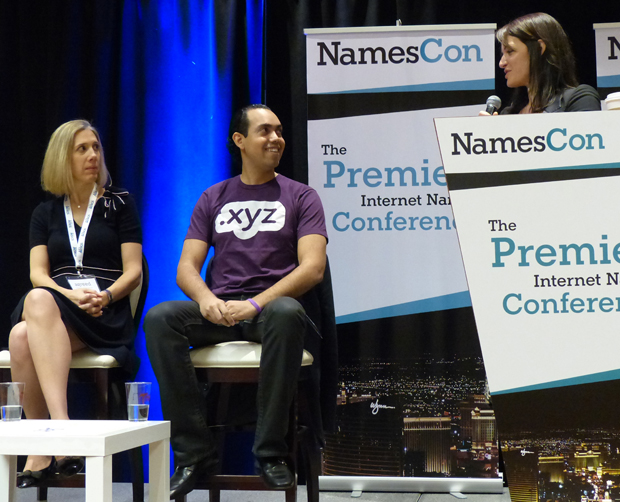 (L to R) Monica Kirchner (CEO, DotLuxury) and Daniel Negari (CEO, .XYZ) field questions from moderator Jennie-Marie Larsen. The panel also included Aaron Grego (CEO, Punto 2012), Shaul Jolles (CEO, DotLation - .uno) and Rob Rozicki (VO & Co-Founder, Starting Dot & Dot Ski).
At the same time this discussion was going on, other attendees were in adjacent rooms. Some chose to attend a panel on Navigating the Market, in whch recently launched TLD operators gave advice to new gTLD operators based on their experiences in launching new extensions. Others went to a legal session on Understanding Rights Protection Mechanisms in New TLDs & the Trademark Clearing House.
We closely follow sales in the domain aftermarket so next I went to a session titled The Secondary Market is the Primary Market that covered how sales platforms have evolved to offer customers both new regisgrations and currently registered names that are for sale, all in one location.
The Secondary Market is the Primary Market session featured (L to R): Brad Lemire (VP, Sedo), Jeff Gabriel (Uniregistry), Matt Overman (NameJet), Paul Nicks (Go Daddy) and Michael Berkens (RightOfheDot, LLC), with the panel moderated by Bill Sweetman (NameNinja.com).
In one adjacent room the subject was Doing Business in China: For New gTLDs and in another the discussion centered on Private Equity, VC, Wall Street and New gTLDs.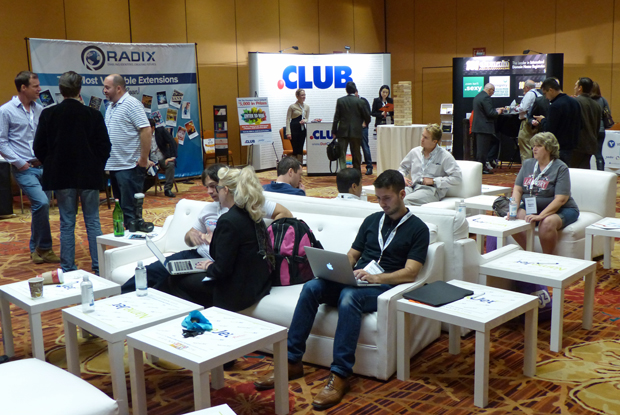 Above: One of the most popular areas at NamesCon was the Exhibit Hall where attendees could chat with representatives from the many companies that took booths, or grab a comfortable seat in the "NameJet Lounge" to relax or hold a meeting.
Below (L to R): Jeremiah Johnston and Dima Beitzke at the Sedo booth where they chatted with attendees interested in the company's services. Sedo CEO Tobias Flaitz was often there as well.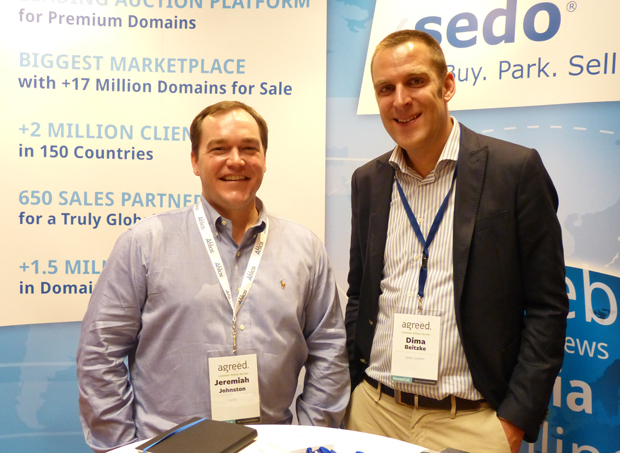 After a lunch break Tuesday (there was no food service at NamesCon so most attendees dined at one of the Tropicana Hotel's restaurants or in those at nearby hotels like the MGM Grand) it was time for the next round of business sessions.
I opted for New TLDs & Domainers: The Opportunities, a discussion of whether new gTLDs would be worthwhile investments.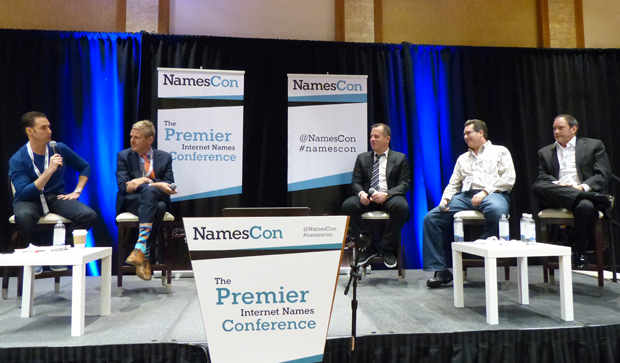 The New TLDs & Domainers panel included (L to R): moderator Braden Pollock, Fred Krueger (TLDH), Ari Goldberger (ESQwire.com), Adam Dicker (DNForum.com) and Michael Berkens (RightOTheDot, LLC).
All of the panelists but one believe .com will remain dominant for the forseeable future with new gTLDs taking several years to gain mindshare in the marketplace. The one exception was Mr. Krueger who boldly predicted .com would be dead in 10 years. Krueger also opined that is people wanted to profit from new gTLDs they needed to get into the market this year. Others advised a go slow approach and Dicker pointedly noted that Mr. Krueger was far from being an unbiased observer since he has made a $5 million investment in new gTLDs registries that he needed to recoup.
While some sparks flew at this sessions, others were attending either the Meet the New gTLDs (Panel 2) session, or one on Registrar Reseller Platforms, telling people how they could sell new gTLD registrations.
The new gTLDs vs. .Com debate continued in the next round of panel discussions with one called .COM is Dead, Long Live .Com! that I attended.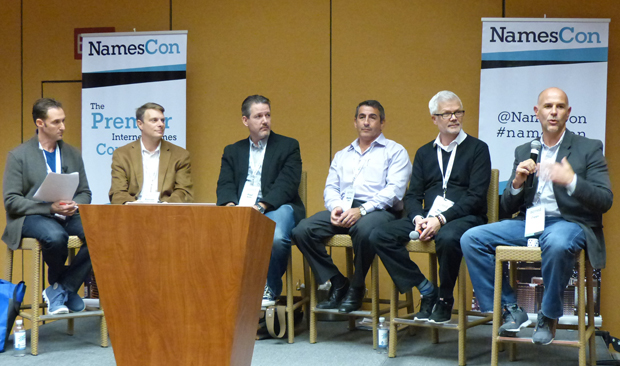 Differening opinions were again heard in the .COM is Dead, Long Live .Com! discussion that featured (L to R): moderator Braden Pollock, attorney Stevan Lieberman, Paul Nicks (Go Daddy), Monte Cahn (RightOfTheDot, LLC), Ken Hansen (CEO, .CO.COM, LLC) and Mike Zappy Zapolin.
At the same time other attendees were sitting in on a discussion of The Things a Marketing/Brand Manager Needs to Know and yet another group opted for one of How to Become a Registrar.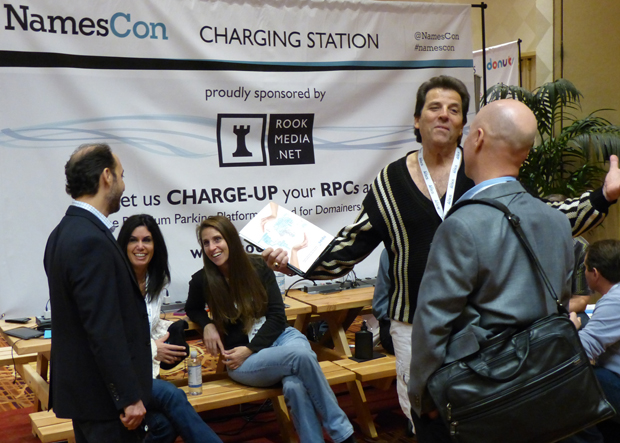 NamesCon left few stones unturned. For the convenience of mobile device dependent attendees they even had a Charging Station set up in the Exhibit Hall with dozens of electrical outlets available. (L to R) Jason Schaeffer (ESQWire.com), Tracy Fogarty (Domain Holdings) and Bari Myerson (Enom.com) waited while the electricity flowed and Scott Ross chats with a fellow attendee).
After a much appreciated afternoon Coffee and Dessert Break sponsored by Verisign, it was back to the meeting rooms at 4pm Tuesday. I headed to Parking vs. Megasites vs. Mini Sites while others sampled a panel on Buying and Selling Premium Names or Dude, Seriously? What Were You Thinking! (a session on common (and costly) mistakes in the domain investment arena).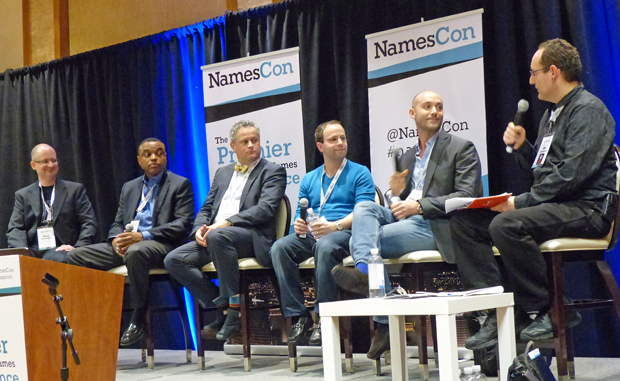 The Parking Vs. Megasites vs. Mini Sites panel featured (L to R): Theo Develegas (Acroplex.com), Dwayne Walker (Oversee.net), Yancy Naughton (HasTraffic.com), Elliot Silver (DomainInvesting.com), Andrew Rosener (MediaOptions.com) and moderator Bill Sweetman.
The first full day of business at NamesCon closed Tuesday with one of its most highly anticipated events, a keynote speech from Frank Schilling, the legendary domain investor and now service provider (at InternetTraffic.com, DomainNameSales.com and Uniregistry.com - the latter an operator of several new gTLD registries).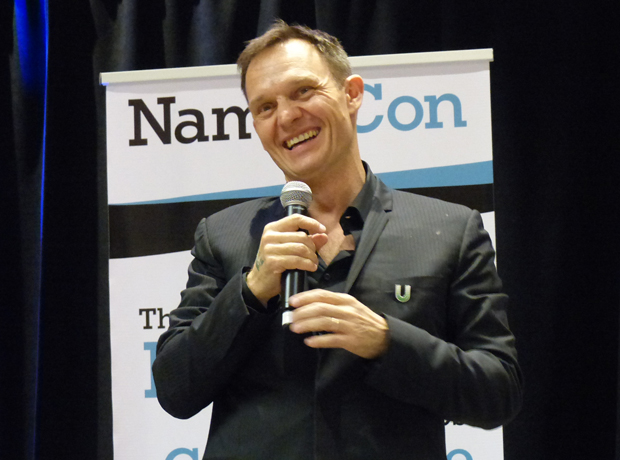 A full house returned to the Tropicana's main balroom to hear
Frank Schilling's keynote address Tuesday at NamesCon.
Schilling, who made his fortune with .coms (and believes they will remain dominant for several years to come) thinks many new gTLDs will also find success given that only 1% of the world's population is currently on the Internet. Schilling, whose Uniregistry plans to sell domain registrations in its TLDs at low prices (and without keeping all of the best terms for themselves) advised those thinking of investing in new gTLDs to take the strength of the registry into account. Will they market and support the TLD to help it gain recognition? Toward that end he said Uniregistry plans to spend $40 million on marketing in the next year.
With Tuesday's business day over it was time for some fun. It started with Andrew Rosener of MediaOptions.com taking on veteran domain investor Yoni Belousov in a $10,000 beer pong challenge.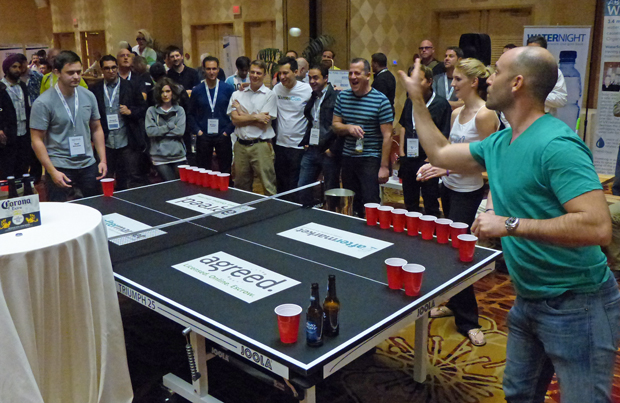 Andrew Rosener (right) battling Yoni Belousov in a $10,000 beer pong challenge.
The match came about after Andrew and Yoni were involved in a business transaction that they both wanted to complete, but they were $10,000 apart on the price. So they decided to settle the issue with the game winner getting the $10,000 concession they wanted. When the dust cleared, Rosener had won the match and a much tidier profit on their deal.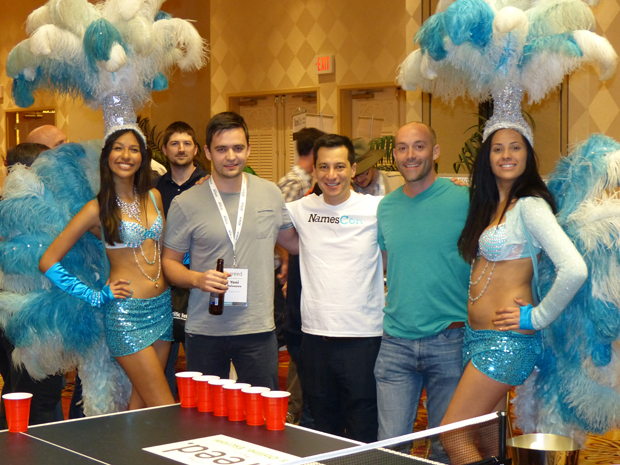 Flanked by two showgirls (after all ths is Las Vegas!) are Yoni Belousov,
NamesCon Founder Richard Lau and challenge winner Andrew Rosener.
Tuesday night was devoted to Water Night, the signature fundraising event benefitting the Water School. I wrote a separate recap about this event earlier this week, but have some additional photos to share with you here.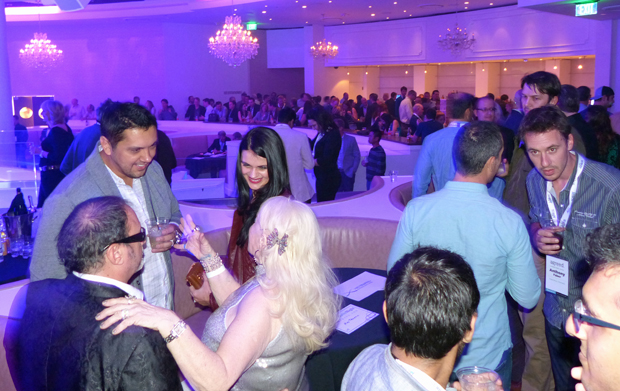 Above: Part of the crowd of 450 people who turned out for the
Water Night Party Tuesday night at the Tropicana Hotel's Havana Room.
Below: Vishal Manjalani (Skenzo.com) and Judi Berkens
were among the familiar and always friendly faces in the crowd.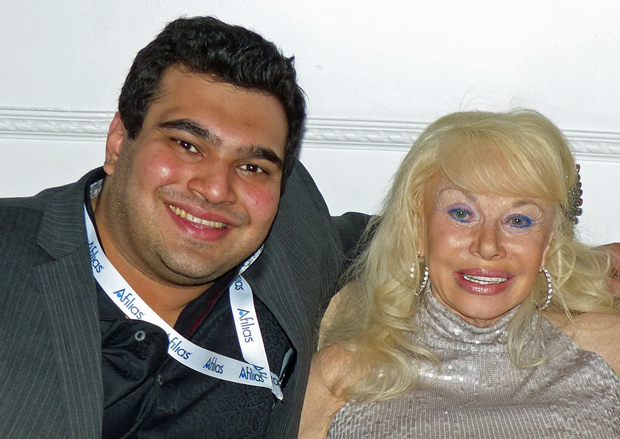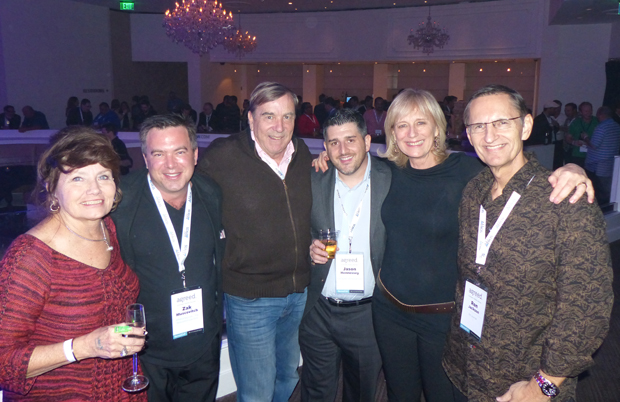 Above: Also on hand to help celebrate Water Night were (L to R): Diana Jackson, attorney Zak Muscovitch, Peter Maxymych (eMall.ca), Jason Hennessey (Everspark Interactive), Ilze Kaulins (ExcellentDomains.ca) and Ron Jackson (DNJournal.com).
Below: NamesCon co-director Jothan Frakes (left) and Yancy Naughton (HasTraffic.com) with nice full heads of hair that would disappear before the night was over!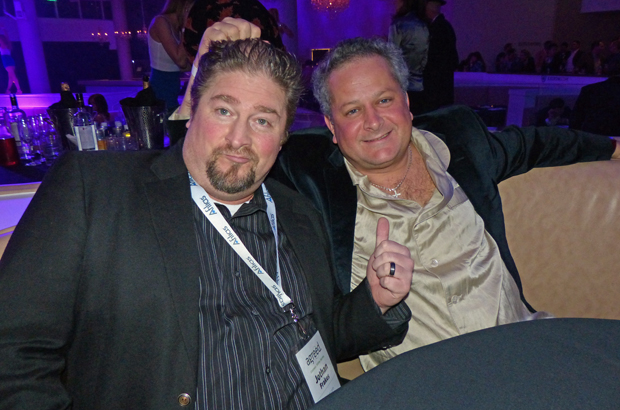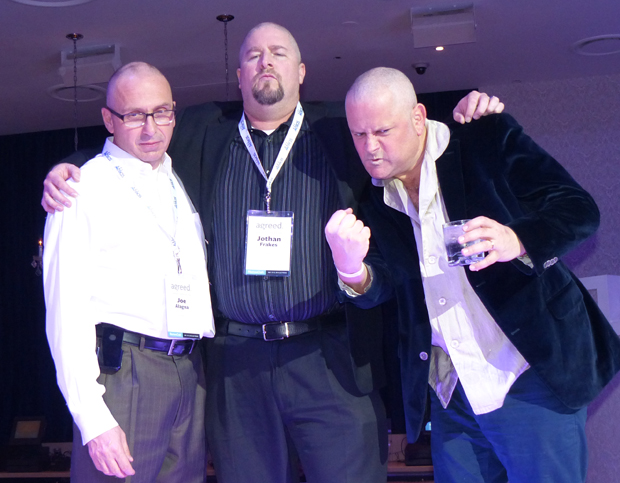 Looking more menacing after their turns in the barber chair (a brave front if there ever was one) are three good guys who allowed their heads to be shaved in exchange for donation to the Water School. (L to R) Joe Alagna (101Domain.com), Jothan Frakes and Yancy Naughton helped the charity raise over $111,000!
After what was a short night of sleep for many, NamesCon got back to business Wednesday morning (Jan. 15) with two keynote addresses.
Jodee Rich, at left, (DotCEO, Kred.com & PeopleBrowser) delivered the opening keynote address Wednesday morning followed by one of the world's most successful bloggers (at right) Jeremy "ShoeMoney" Schoemaker of ShoeMoney.com.

Then it was back to the multi-track for three sessions in separate rooms.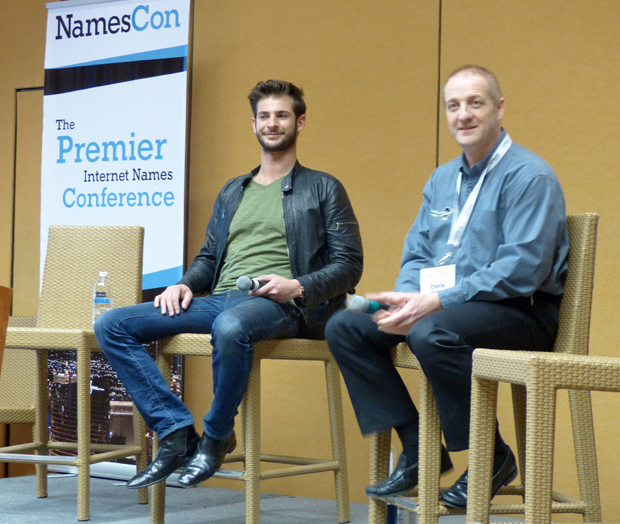 Merlin Kauffman (Soothe.com) and Chris Jensen (Christmas.com) deliver a case study in Premium Domain Development Wednesday morning. At the same time a third Meet the New TLDs panel discussion was going on in another room, as was a session detailing the work done by two important industry trade associations - the Internet Commerce Association and the Domain Name Association.
Three more sessions followed: Meet the New TLDs Panel 4, Using the DomainNameSales.com Platform to Its Full Potential and Meet the Industry Press. Since I sat on the latter panel, the decision about where to go was much easier this time!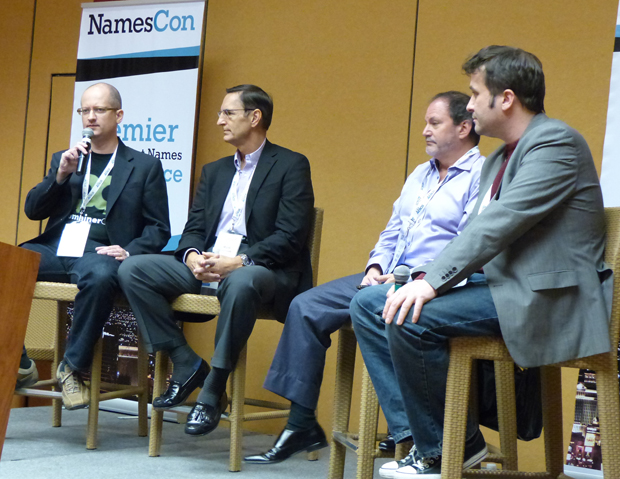 Featured on the Meet the Industry Press panel were (L to R) Theo Develegas (DomainGang.com), Ron Jackson (DNJournal.com), Mike Berkens (TheDomains.com) and Kevin Murphy (DomainIncite.com). Our respected colleague Andrew Allemann moderated the session, wisely remaining off stage most of the time, probably to (wisely) avoid being associated with the rest of us! :-)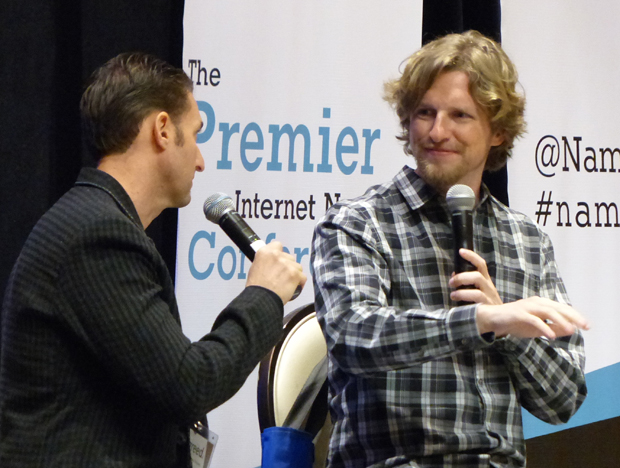 A lunch break was schduled next but NamesCon organizers came up with a huge last minute get, persuading Matt Mullenweg, the 30-year-old genius behind WordPress to sit for an interview with Braden Pollock. Most of the crowd gladly skipped lunch to sit in on this session.
The afternoon continued with three more sessions: Best Practices for Internet Domains and Your Company, Keeping it Sexy - How Regsitries Can Make Themselves Attractive to Registrars in the New TLD Landscape and Park It, Sell It, Drop It, Work It.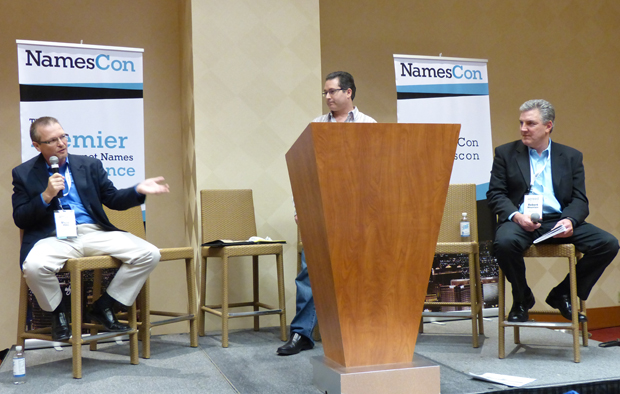 Above: Moderator Adam Dicker joined Victor Pitts (Above.com, at left) and Bob Mountain (Afternic.com, at right) for the Park It, Sell It, etc. session that covered ways to wring the most revenue from a domain portfolio.
Below: Morgan Linton (Linton Investments) kicked off the next round of sessions with a solo presentation on Startups, VCs and Customer Acquisition.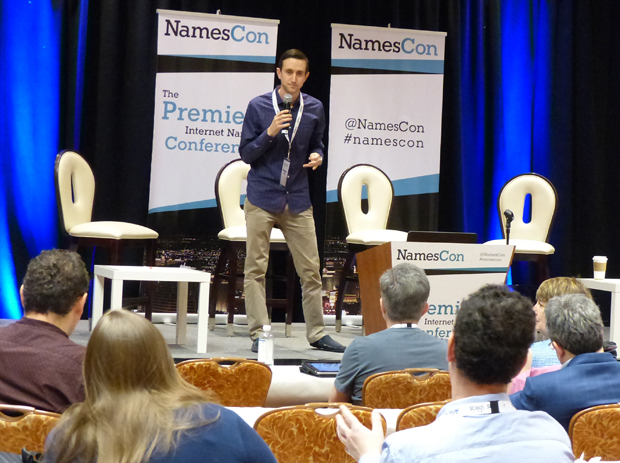 While Morgan spoke on the main stage, other sessions covered Important Tools of the Industry and Legal Issues and Guidance for Domain Name Investors and Entrepreneurs.
Following the afternoon coffee break, the final multi-track sessions began with discussions centered on Regional Market Opportunities, as well as SEO, Search New TLDs and Audience and Applying for Your TLD (advice of getting in on the second round of new gTLD allocations).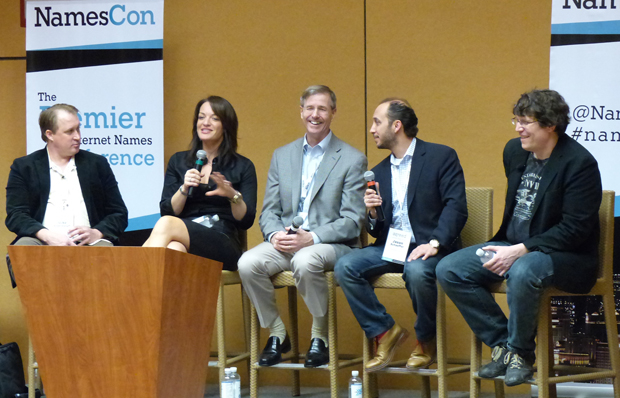 Applying for Your TLD panelists (L to R) were Mike Rodenbaugh (Rodenbaugh Law), Jennie-Marie Larsen (DomainDiction.com), Roland LaPlante (Afilias), Jason Schaeffer (ESQwire.com) and moderator Frank Michlick.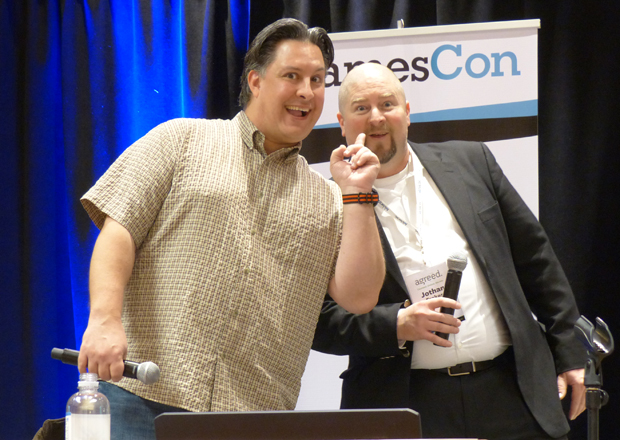 In the final business session of NamesCon, Bing.com's Senior Product Manager Duane Forrester (at left, just before beginning his talk, mugging for our camera along with Jothan Frakes - we admittedly egged them on!) delivered the closing keynote address to all attendees. Forrester provided a wealth of information on what will and will not work when you are trying to improve your search engine ranking.
Business was now done, but not the fun! You probably heard about the 16-man East vs. West ping pong tournament that went on after work at NamesCon. ESQwire.com sponsored the East team and Agreed.com the West. In the end two team members from the West, Ammar Kubba and Ray King were the last men standing.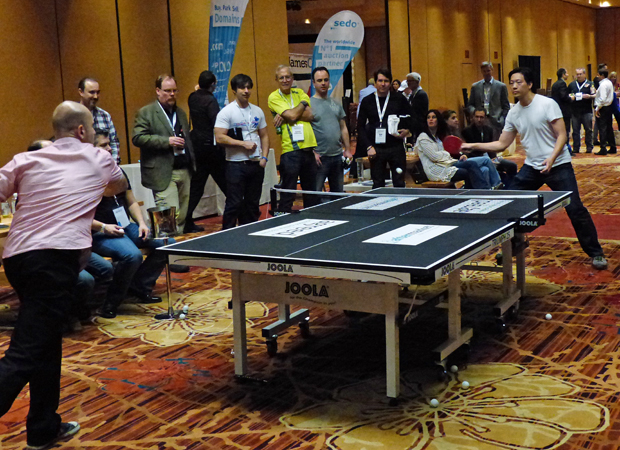 The championship match in the East vs. West ping pong tournament, Ray King (at right)
held off teammate Ammar Kubba to take the individual crown.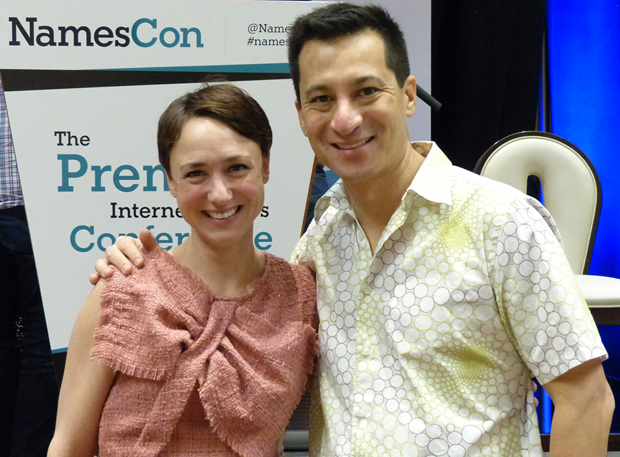 NamesCon Founder Richard Lau with show Co-Director Jodi Chamberlain, who,
along with Co-Director Jothan Frakes, delivered a major hit in their first time out.
Judging from what we saw and the feedback we heard from attendees, NamesCon was a home run on just about all counts. The real winner was the industry at large though. Nothing prepares us for the way forward better than getting together face to face to exchange ideas and debate the merits of the many opportunities we have to choose from in what contiues to be one of the world's best businesses (on many levels, not just financial) to be in.
(P.S. if you want to see more photos from NamesCon check out the wall at Pixt.com set up by our long time friend Ron Sheridan.)