The NamesCon Global 2020 conference continued with its final business day Friday, January 31 at the Omni Hotel in Austin, Texas (a Saturday casual networking Fun Day officially closed the show). Day three, like the first two days of the show, was packed with business sessions and social events that attracted attendees from all of the world to the industry's marquee event.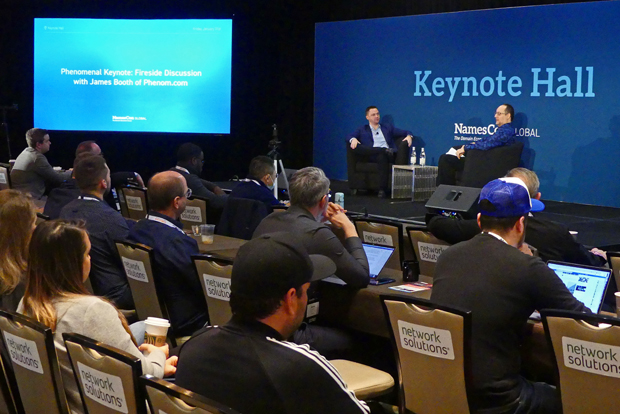 Above & below: The Friday business day began with a Keynote discussion with Phenom.com Founder James Booth, one of the most successful domain brokers in the industry. Bill Sweetman (Name Ninja) conducted the insightful interview with Booth (below) who, earlier in the week, received the Escrow.com Award as the #2 broker worldwide in total sales closed on the Escrow platform.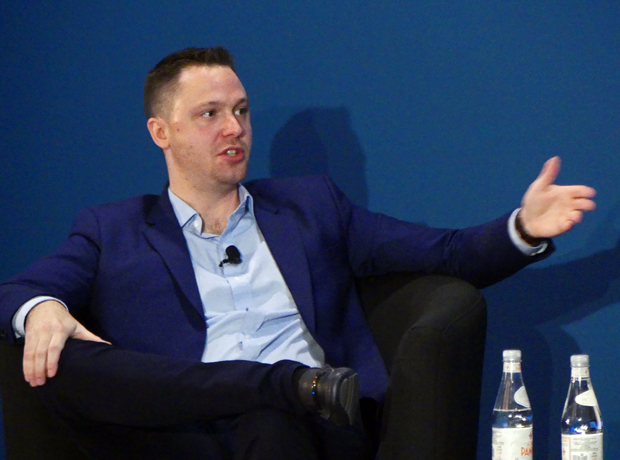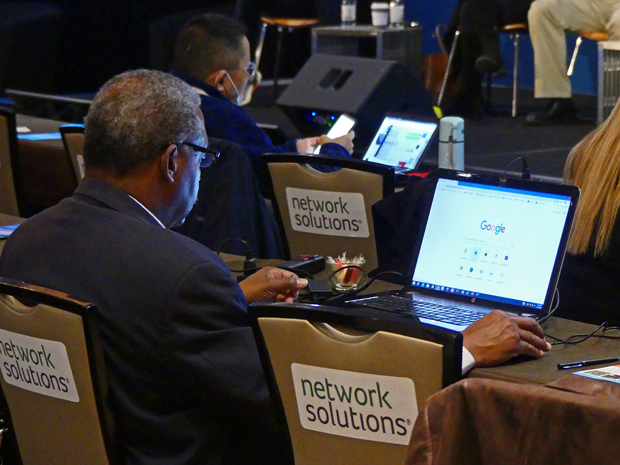 Above & below: After Booth's talk most attendees stayed in the Keynote Hall to watch a panel discussion titled On the Other Hand: Sales form the Buyer's Perspective that featured, left to right, Jeff Gabriel (Saw.com), Kate Buckley (BuckleyMedia.com), Alan Shiflett (GoDaddy), Dave Evanson (Sedo), corporate domain manager Carla Westerdale and moderator Bill Sweetman.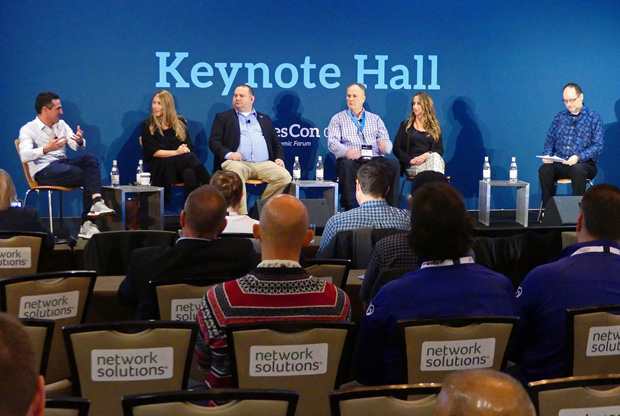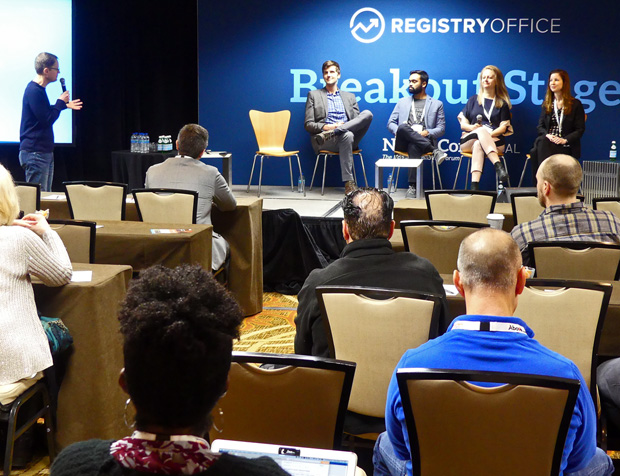 Above: In another 11am session on the RegistryOffice stage, Andrew Allemann (far left) from DomainNameWire.com moderated a panel discussion on Threats and Opportunities: New TLDs 5 Years In. The panelists were Matt Overman (Donuts), Karn Jajoo (Radix), Christina Beavis (Vox Populi) and Christa Taylor (MMX)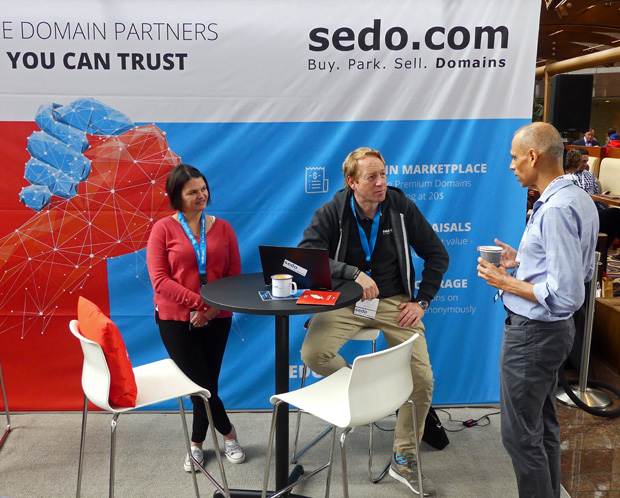 Above: On another stroll through the Exhibit Hall we caught Omar Baig (right) paying a visit to the Sedo both where Carolyn Rodon (left) and Christian Voss were welcoming attendees and answering questions.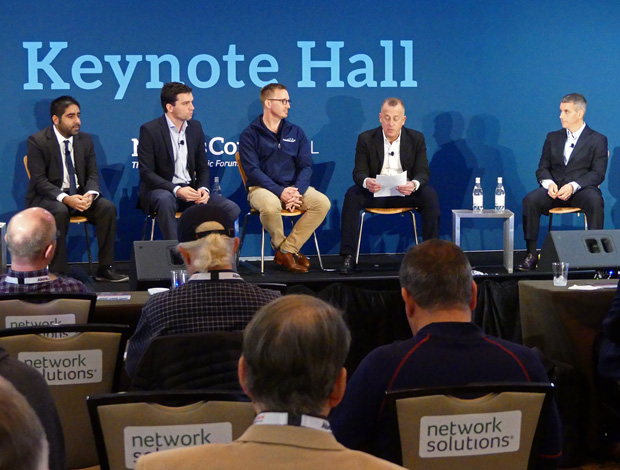 Above: Back in the Keynote Hall at 12 noon, a panel discussion got underway titled Your Portfolio Never Dies: Estate Planning for Domain Investors. It featured, left to right, Munish Dayal, Michael Gargiulo (VPN.com), Michael Robertson (Fabulous.com), Ari Goldberger (ESQwire.com) and moderator Derek Newman (Newman Du Wors LLP).
Below: At the same time on the RegistryOffice stage the topic was WTF is a Registry? - Economics of a Registry featuring the .CLUB team, (left to right) Jeff Sass, Michelle Van Tilborg and Colin Campbell. Fortunately, this one was videotaped so you can watch it at YouTube here.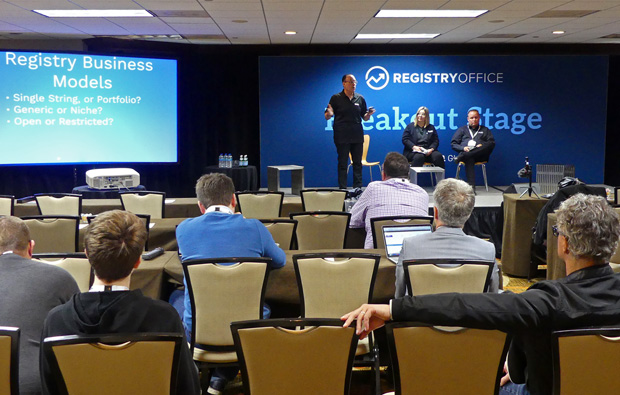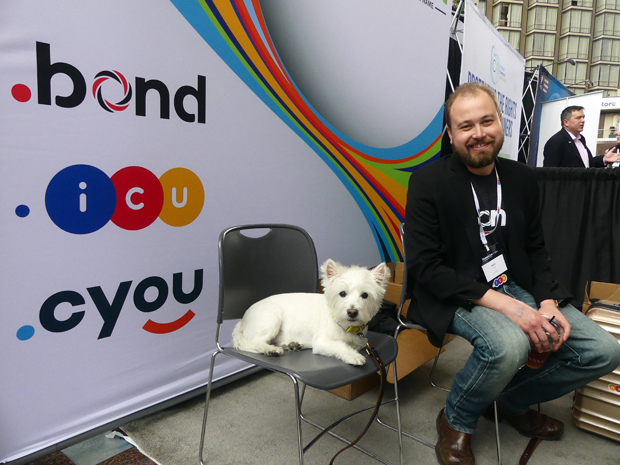 Above: Exhibitors have long used a variety of cool swag to attract visitors to their booth but dog lover Kevin Kopas from Short Dot SA knew nothing attracts a crowd like a friendly dog! So Kevin put his best buddy, Winston, to work at the new gTLD registry operator's booth and it worked like a charm (reeled us in didn't it)!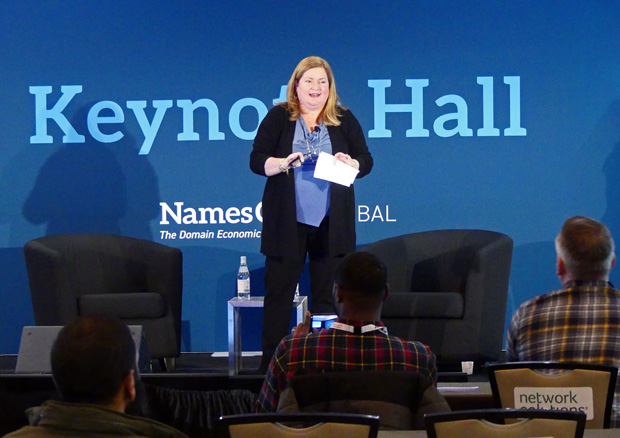 Above: after the lunch break it was time to head back to the Keynote Hall to catch a 2pm session on Generation Entertain Me: What Startups Need to Know About Selling to and Hiring Generation Z that was presented by Lisa Box (WP Engine).
Below: At the same time on the RegistryOffice stage the topic was Lessons Learned Managing a Large Corporate Domain Portfolio. The panelists were, left to right, Olga Yaguez, James Holland (Intel), Carla Westerdale and moderator Statton Hammock.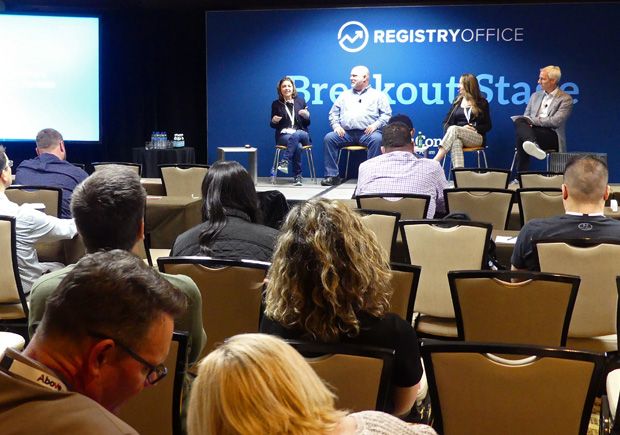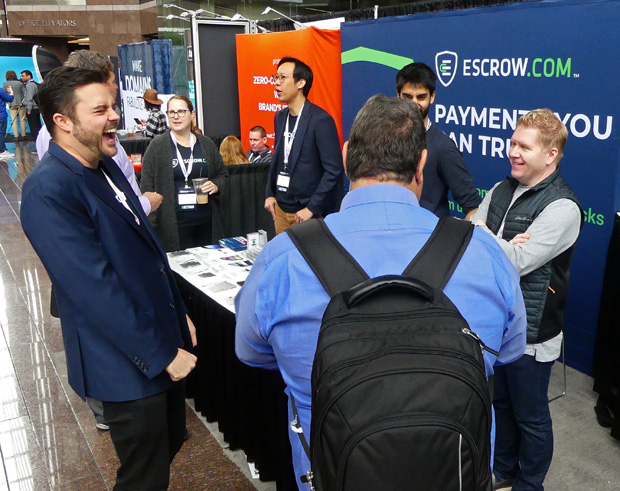 Back in the Exhibit Hall, Escrow.com General Manager Jackson Elsegood was clearly enjoying greeting visitors at the Escrow.com booth.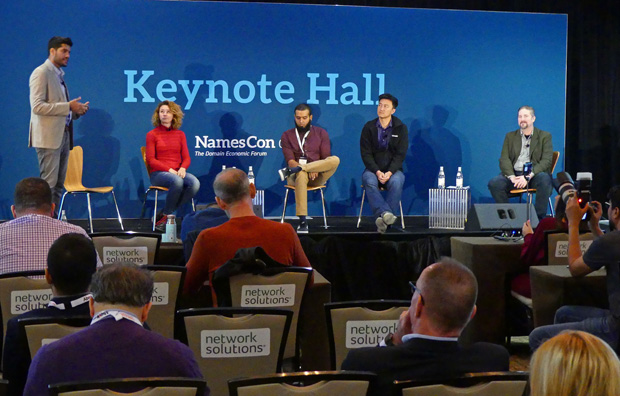 Back at the Keynote Hall at 3pm, the next panel discussion centered on The Power of Domains in Ecommerce and Social Media. It featured, left to right, Haseeb Tariq (Disney), Natasa Djukanovic (.ME), Dave Janjua, Todd Han (Dynadot) and moderator Jothan Frakes.
Below: Also at 3pm on the RegistryOffice stage, another panel outlined DNS Abuse: Threats and Responses. The panelists were, left to right, Michele Neylon (Blacknight), Kelly Hardy (.ME), Kellie Peterson (Automattic), Rolf Larsen (DNS Global & Desktop.com), Andreas Musielak (DENIC eG) and moderator Derek Newman.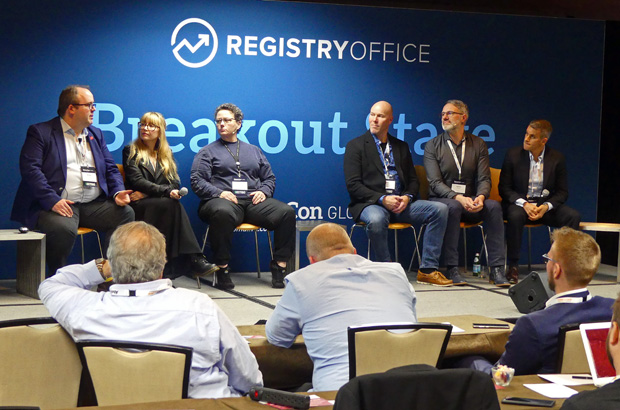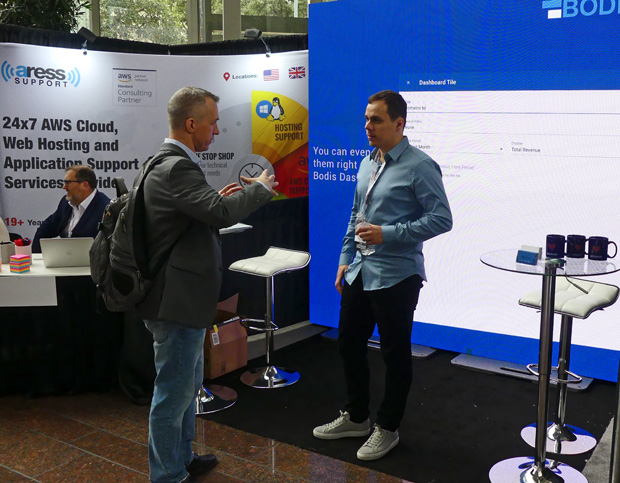 While making one last pass through the Exhibit Hall we saw Sean Stafford (right) visiting Matt Wegryzn at the Bodis.com booth.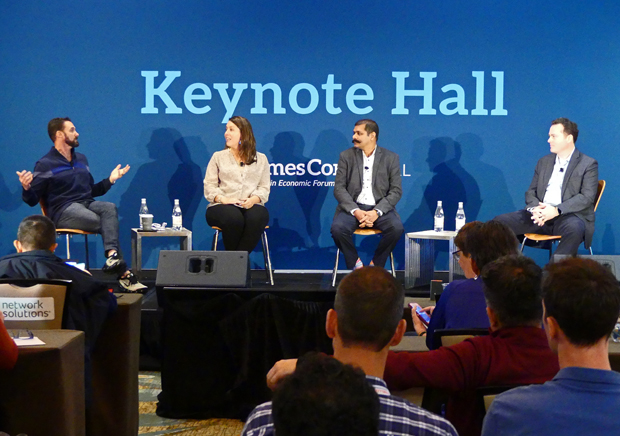 At 4pm, in the final discussion of NamesCon Global 2020, panelists in the Keynote Hall answered the question What Is My Domain Worth? The experts on the panel were, left to right, moderator Braden Pollock (LegalBrandMarketing), Amanda Waltz (Saw.com), Deepak Daftari (eSiksha.com) and Joe Styler (GoDaddy).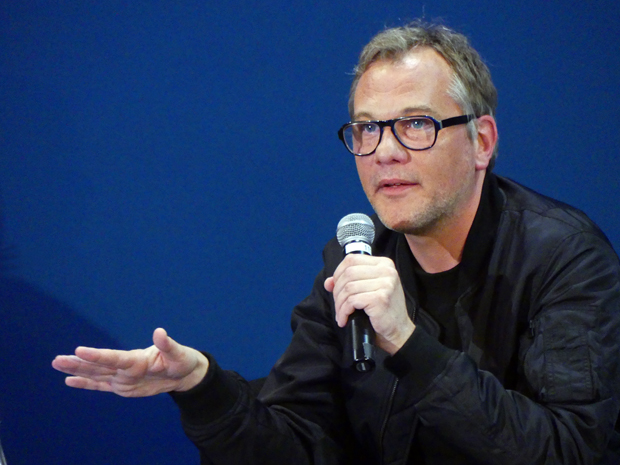 At 5pm, the business portion of NamesCon Global 2020 officially closed with some final comments from NamesCon President and CEO Soeren von Varchmin (above). Soeren said the NamesCon team loved Austin and are strongly leaning toward bringing it back to the Lone Star State's capital city next year, but will also consider attendee feedback and all options before making a final decision and announcing the January 2021 show dates and location. Between now and then they will be putting on the NamesCon Europe conference in Budapest, Hungary August 6-8, 2020.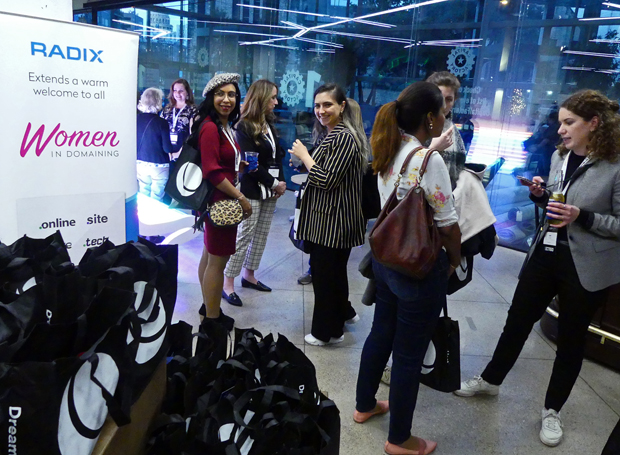 Above & below: While the business day was over, the fun was not, especially for the industry's professional women who got together for the annual Women in Domaining networking event held Friday evening in the Afilias Lounge. Kudos to Lisa Box and Susan Lawrence for organizing another outstanding event.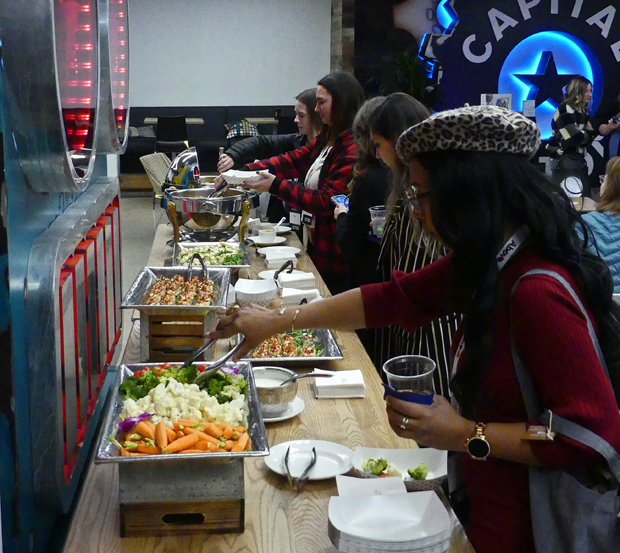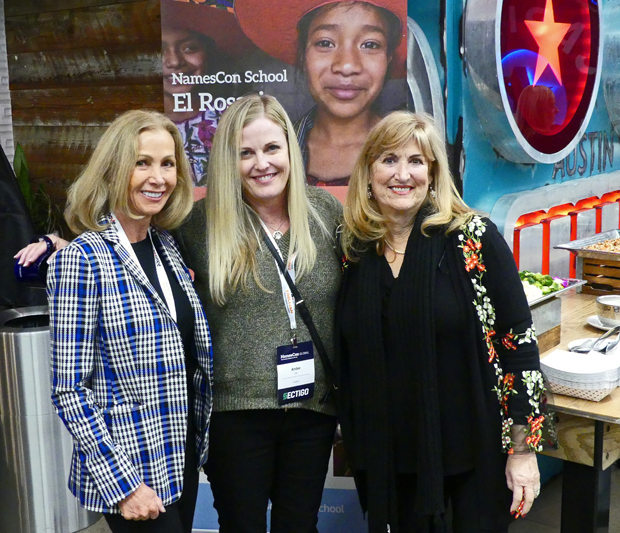 Above: Three of the most well-known women in the domain industry reconnected at the Women in Domaining event. Left to right are Nancy Bianchi (Above.com/Trellian), Andee Hill (ICANN) and veteran conference promoter Barbara Neu.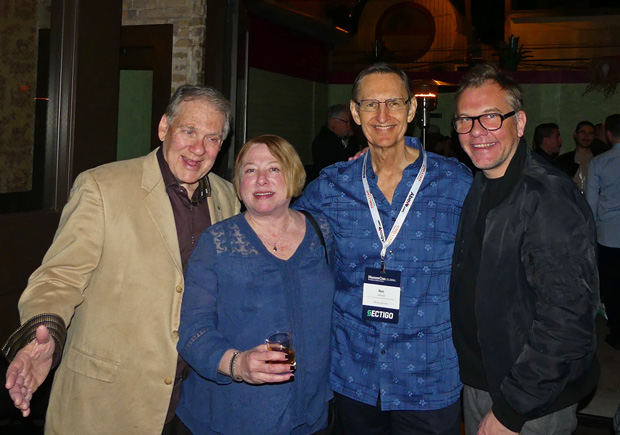 At the same time the Women in Domaining event was going on, Uniregistry was hosting a social event just a block away at the Elk Lounge, close enough for guests to do both. Here, left to right are attorneys Howard Neu and Karen Bernstein, Ron Jackson (DNJournal.com) and Soeren von Varchmin, President and CEO of NamesCon.
But wait - there's still more! - continue on to DAY FOUR, to checkout the Saturday, February 1 Fun Day that closed the show. You can also go the opposite direction by heading to the OPENING DAY section of this report, the DAY TWO coverage Thursday or the DAY THREE recap for Friday, January 31.