The NamesCon Global 2020 conference continued with day two Thursday, January 30 at the Omni Hotel in downtown Austin Texas. It was another very busy day for the domain investors, developers and service providers that came in from around the world for the event.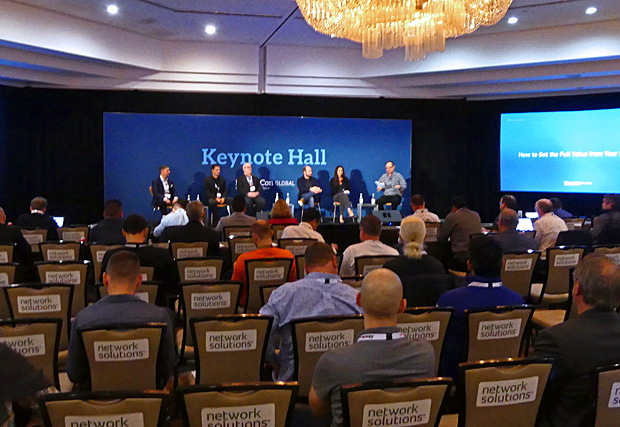 Above: Thursday began with a 10am panel discussion on the Keynote Hall stage covering How to Get Full Value From Your Domain. The panelists (left to right) were Adam Wagner (CEO & Founder of six start-ups), David Warmuz (Trellian/Above.com), James Tuplin (Bodis), Marco Hoffman (InterNetX), Negar Hakajani (Sedo) and moderator Bill Sweetman (Name Ninja).
Below: Also at 10am on the RegistryOffice stage, the topic for another panel discussion was Blockchains - Threat of Opportunity for Domaining. The panelists were, left to right, Tieshun Roquerre, Brantly Millegan, Bradley Kam, Mike Toutonghi, Christa Taylor and moderator Thomas Barrett.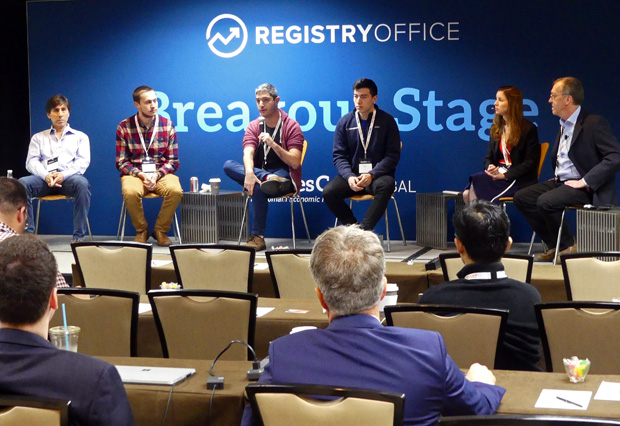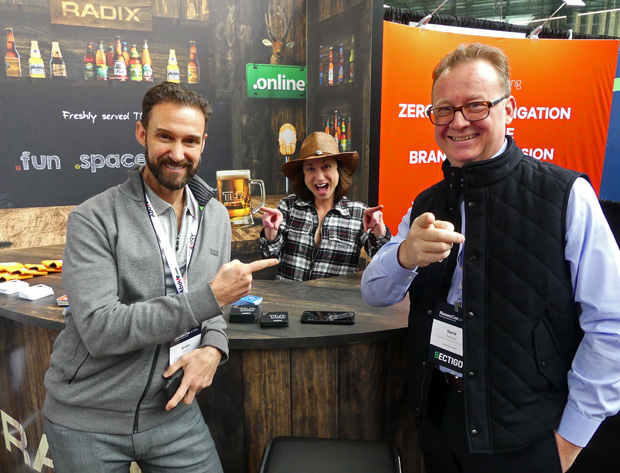 Above: The first floor Exhibit Hall also continued to attract visitors Thursday. Here, Braden Pollock (LegalBrandMarketing.com), left, and David Clements (Brannans.com) called on Jodi Chamberlain who was tending bar at the Radix booth.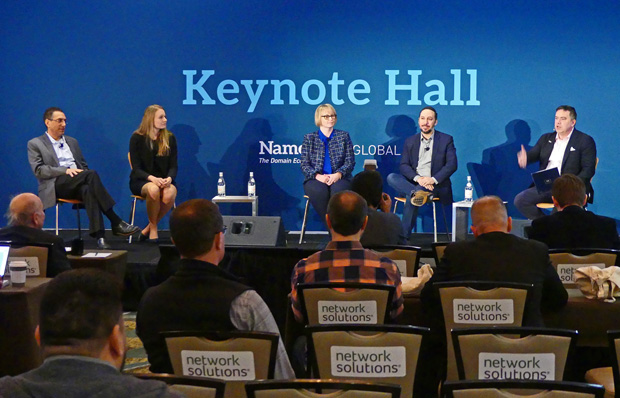 Above: Back at the Keynote Hall stage at 11am Thursday, a panel discussed tackled The UDRP After 20 Years: Opportunities for Improvement? It featured, left to right, Nat Cohen (ICA), Lenka Nahlovska (Czech Arbitration Court), Rene Fossen (Forum), Jason Schaeffer (ESQwire.com) and moderator Zak Muscovitch (ICA General Counsel & Muscovitch Law Firm).
Below: At the same time on the RegistryOffice stage, Stuart Fuller (CentralNic) and Tony Kim (Hexonet), at right, offered advice of How to Maximize Profits as a Domain Registrar or Reseller.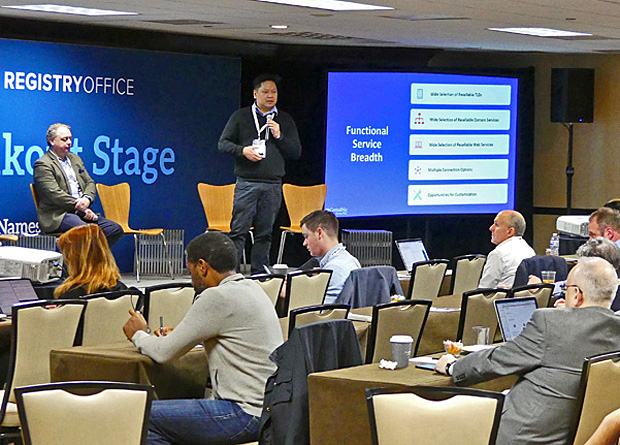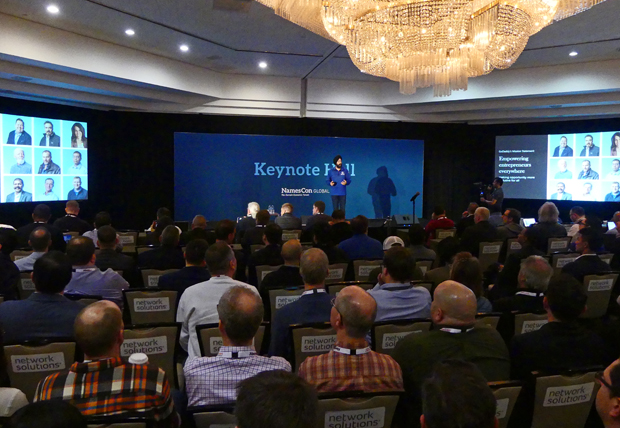 After a noon lunch break, NamesCon Global served up the highlight of the Thursday business day, a 1pm Keynote Address that new GoDaddy CEO Aman Bhutani delivered in front of a standing room only audience. After seeing his talk Thursday I am very impressed and am convinced Aman's arrival is going to have an enormous positive effect on the domain investment and website development community. The first thing you saw on the side screens were photos of domain investors who were at the conference. Mr Bhutani told their individual entrepreneurial stories and even ran a film produced at Peter Askew's onion farm in Georgia (buying the VidaliaOnions.com domain put Peter in the onion business where he has thrived).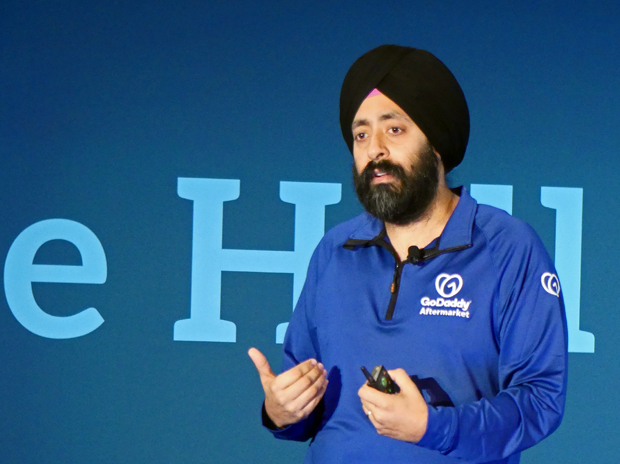 Bhutani has committed to putting domain investor/developers front and center as part of his makeover of the industry giant (even labeling one of the newly defined pillars of the business "Domain Investors") and that is going to do wonders for positive recognition of an entrepreneurial category has been mis-understood and unfairly characterized since it began. Aman recognized and understood the many incredible entrepreneurial success stories that sprung from buying one or more domain names. Bhutani is a master story teller and I couldn't be more excited to see what his advocacy for domain investors and developers will do to help our industry fulfill the extraordinary potential it has always had.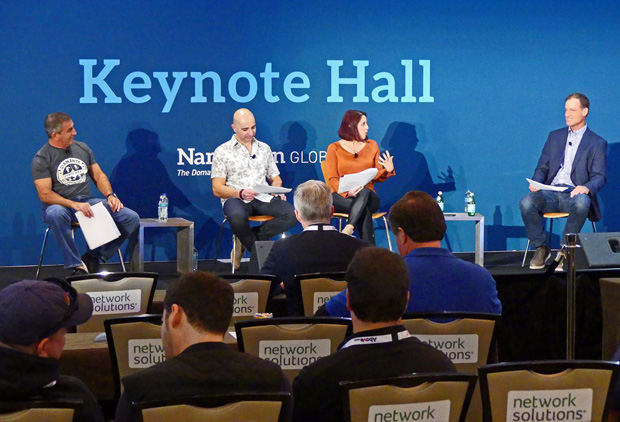 Above: Another major highlight of Day Two at NamesCon Global 2020 was RightOfTheDot/GoDaddy Live Domain Auction that was held later that afternoon afternoon. To prepare attendees for the big sale this special DomainSherpa session on Auction Preparations was presented on the Keynote Hall stage. It featured, left to right, Monte Cahn (RightOfTheDot.com), Ammar Kubba (afterTHOUGHT), moderator Tess Diaz (DomainSherpa.com) and Shane Cultra (DSAD.com).
Below: Meanwhile, in the RegistryOffice room, the Expert Round Tables were underway. This popular concept has experts on a particular topic seated at multiple tables around the room. Attendees can then sit down and ask questions of any expert they are interested un getting guidance from.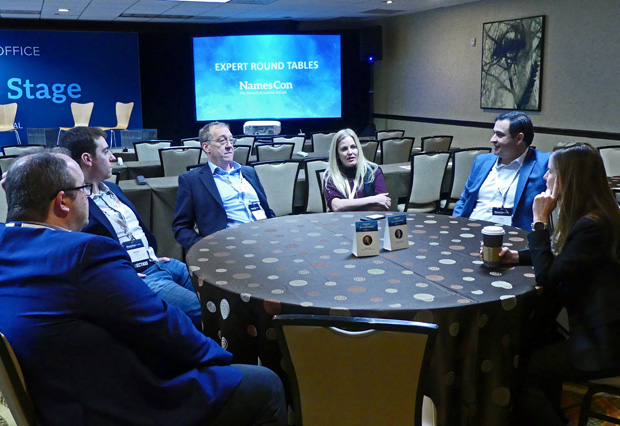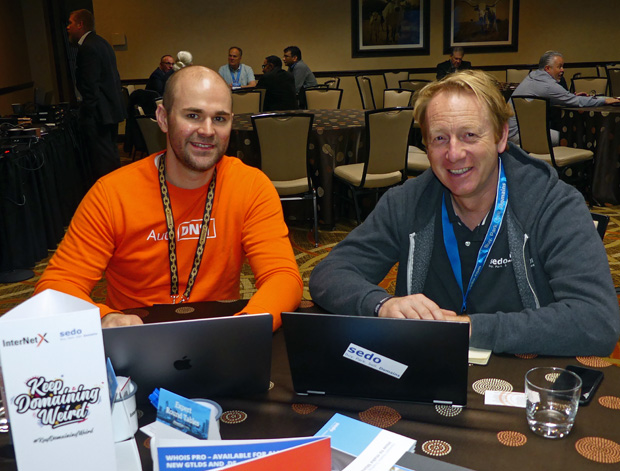 Above: Michael Piotrowski (InterNetX) and Christian Voss (Sedo) take a seat at the Expert Round Table they staffed.
Below: At another, LegalBrandMarketing's Braden Pollock (facing the camera in the gray sweater) held court.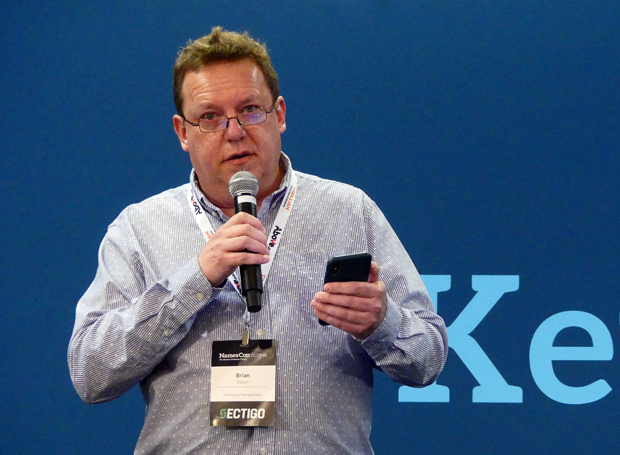 Above: At 4pm Thursday NamesCon devoted the Keynote Hall stage to a special memorial and awards presentations. It began with the memorial for Charlotte Gilbert (photo at right), the universally loved domain investor/developer who passed away exactly one year ago, shortly after undergoing unsuccessful heart and lung transplant surgery.

Charlotte's husband Brian Gilbert (above) was by her side throughout the battle and recalled the bubby personality and ever present sense of humor that drew so many people to Charlotte, an amazing, courageous woman none of us will ever forget.

Below: Next the Internet Commerce Association (ICA) presented their 4th annual Lonnie Borck Memorial Award, named for another beloved

Charlotte Gilbert

domain investor that we lost much too soon. I was honored and humbled to receive the award from ICA Executive Director Kamila Sekiewicz (and owe moderator Bill Sweetman (at right) a thank you for his very kind introduction).
If you read yesterday's photos and highlights post from NamesCon you know the award winner was first announced at the annual ICA Dinner last night. Both then and Thursday I tried to convey why Lonnie was so widely loved and respected, but words really can't do it. The closest I could come is to say that Lonnie made every person he met feel loved and respected in a way that was so genuine and heartfelt you couldn't help being deeply moved by it. For me, receiving an award with Lonnie's name on it is the highest honor the domain investment community could bestow on anyone and I could not be more appreciative to the ICA and its members for giving the nine of us nominated this year the honor of being considered for it.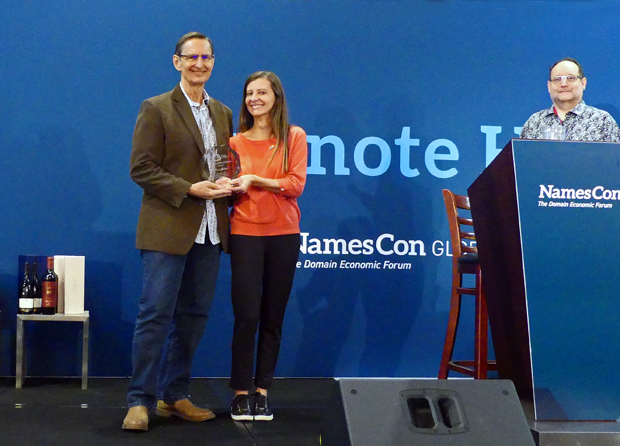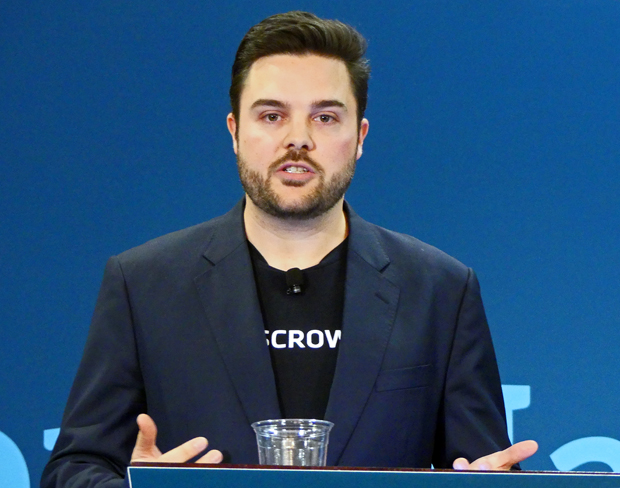 Above: Next it was time for Escrow.com General Manager Jackson Elsegood to take the podium to oversee the presentation of the highly anticipated Escrow Awards that went to the top ten domain sellers worldwide on the Escrow.com platform for 2019.
Below: This year's the #1 seller was Andrew Rosener from MediaOptions.com. Andrew had to cancel his trip to NamesCon at the last minute but two other members of the MediaOptions team, Tess Diaz and Chris Zuiker, were there to pick up the award for Andrew.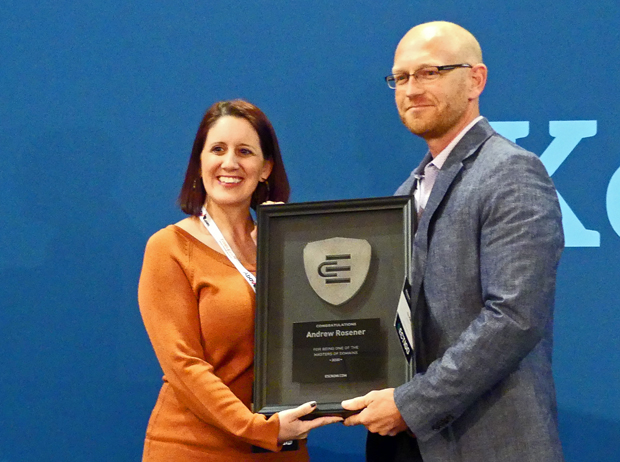 Escrow.com also presented awards to the rest of their global top ten. Those were #2 James Booth, #3 Brent Oxley, #4 Andy Booth, #5 Todd Reum, #6 Ryan McKegney, #7 Hobi Michalec, #8 Joe Uddeme, #9 Mark Thomas and #10 Nat Cohen.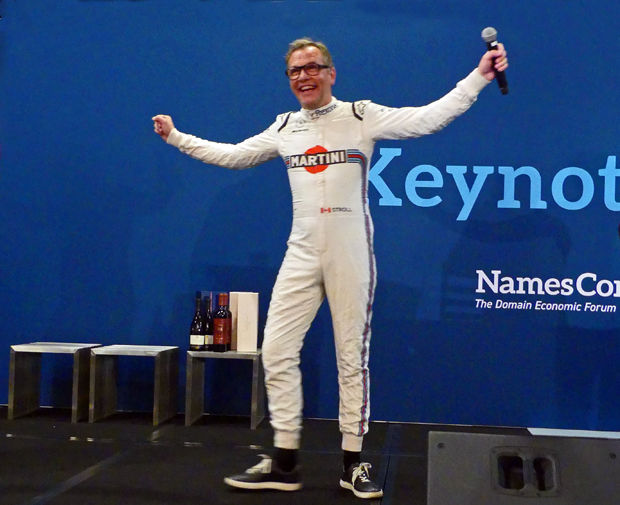 Above: There is a reason that NamesCon President & CEO Soeren von Varchmin is wearing an auto racing suit. Prior to Thursday's RightOfTheDot.com/GoDaddy live domain auction, NamesCon held a charity auction to raise funds for the NamesCon School El Rosario in Guatemala. The racing suit was one of several cool items auctioned off, along with bottles of very high end wine and champagne (a perfect way to toast a new year and celebrate NamesCon's effort to break the cycle of poverty by making educational opportunities available in places where few if any exist now).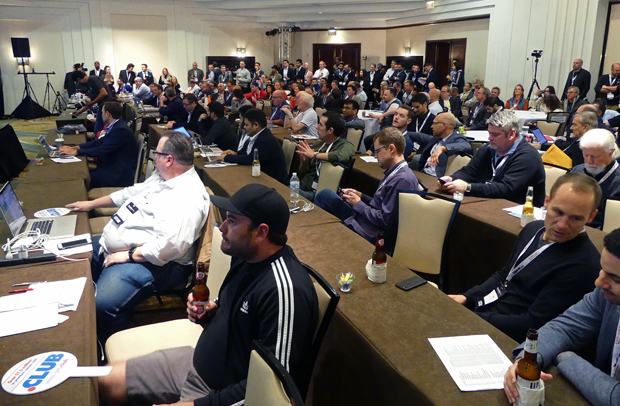 Above & Below: A standing room only crowd filled the Keynote Hall for the Live Domain Auction that closed the day Thursday (January 30). With world class auctioneer Wayne Wheat once again calling the action, 74 premium domains were sold totaling more than $1.8 million. The top sales were Add.com at $800,000, Offices.com at $260,000 and Please.com at $141,000. OnlineDomain.com has a full recap of auction results you will want to check out.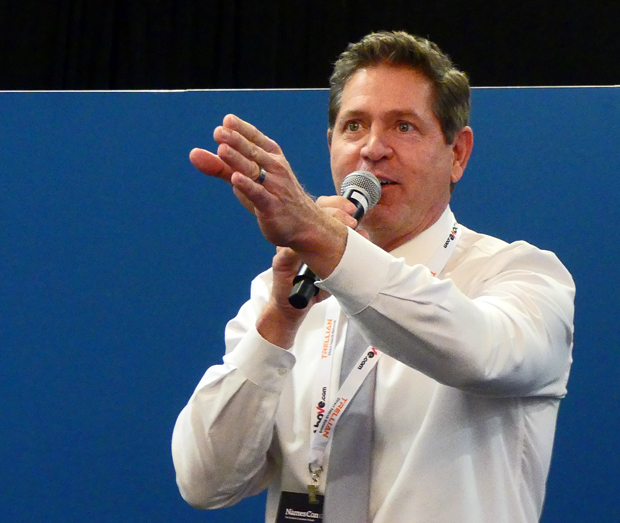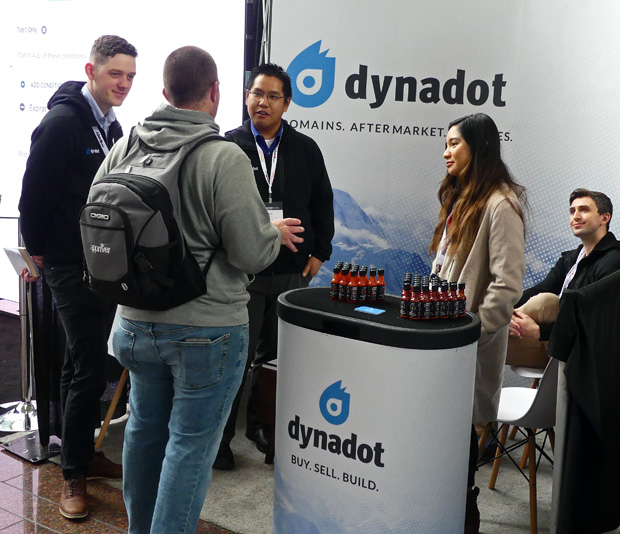 Above: For those who prefer hand registering their domains to buying on the aftermarket, the auction was a good time to visit some of the popular registrars set up in the Exhibit Hall. It always helps to know people at your preferred registrar. Dynadot, a long time favorite with domain investors, drew a steady flow of visitors to their booth.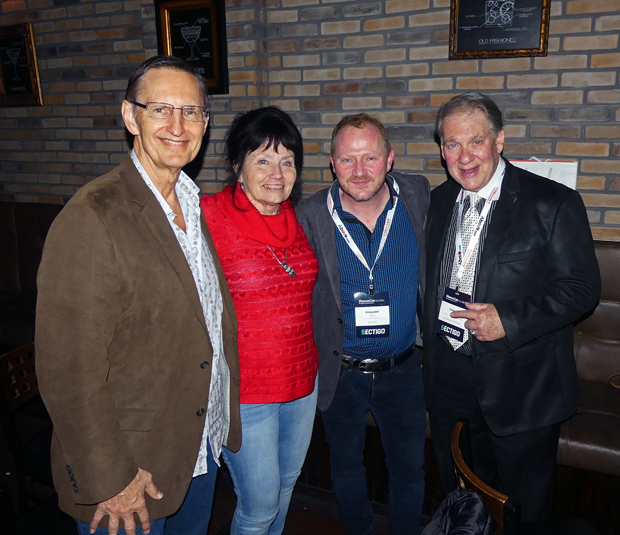 With the business day done, many attendees scattered around Austin for an evening of exploring on their own or with friends. Others attended one several private corporate parties. We headed across the street from the Omni to the CU29 Lounge that CentralNic booked for a wonderful Thursday evening event hosted by COO Alexander Siffrin (3rd from left) with Ron & Diana Jackson (DNJournal.com) and domain attorney Howard Neu. Over the past couple of years I have been astounded by CentralNic's explosive growth as they have acquired one top quality asset after another. I think the smartest thing they have done (in addition to identifying the right companies to go after) is keeping the talent that made the companies they acquired great in the first place. Alexander, who founded Key-Systems over 20 years ago (a company acquired by CentralNic in 2018) is a prime example of that. As COO and a major CentralNic shareholder Alexander will continue to help grow what has become one of the most important companies in the industry to watch.
Now lets move ahead with our wall to wall coverage of DAY THREE Friday, January 31. You can also skip ahead to DAY FOUR, the Saturday, February 1 Fun Day that closed the show - or go the opposite direction by heading to the OPENING DAY part of this report.