Rick Schwartz: Only 3 years…seems like about 10 years! It's been tough, it's been great and it's been rewarding. T.R.A.F.F.I.C. came to be when there was no industry in an effort to establish one. Looking back, looks we played a substantial role in making the conditions for that to become a reality. It's up to others to comment and judging by their comments I think we have moved mountains in the last 3 years. T.R.A.F.F.I.C. facilitated and escalated the inevitable. We harnessed the power of a group of folks doing well and living in obscurity as far as the business world was concerned. Then we introduced them to those that could help them realize their dreams.
T.R.A.F.F.I.C. co-founders Rick Schwartz (left)
and Howard Neu at their New York City
conference in June 2007

T.R.A.F.F.I.C. played a major role in not only exposing domain investing but has also helped to drive prices up with the new awareness brought on by our Silicon Valley show in early 2006. Each show we have had a focus, a mission and a successful result. In 2004 sponsors and domainers and registrars had largely never met face to face even though many had done business for years. T.R.A.F.F.I.C. changed that. In 2005 nobody paid attention to domain hijacking. T.R.A.F.F.I.C. changed that. In 2006 we decided there were not enough serious investors in our domains so we went to Silicon Valley and T.R.A.F.F.I.C. changed that. In 2007 we took on Madison Avenue and went toe to toe. The result may not yet be evident, but when it is, T.R.A.F.F.I.C. will have changed that.

Plus we have changed the face of the marketplace by partnering up with Moniker and having live domain auctions that have resulted in $25 million in sales during the past 3 shows. Plus we go to other vertical markets to introduce domains and auctions to them. I think friend or foe alike would have to admit that T.R.A.F.F.I.C. has played a major role in the industry and that it has had a profound effect on how they do business, their earnings and the increased values in their portfolios.
DN Journal: As the industry has grown, so has the schedule of conferences focused on the domain business. That has raised a challenge for you to keep the programs and venues fresh and relevant to those who have now been to numerous conferences. In many fields shows would soon become "old hat" but the rate of change in this business occurs at such a phenomenally fast pace that, if show promoters do their job well, there is something new and important to learn and take away from each event. What do you have in store for attendees next month that, in your view, makes this a show that people should not miss?
| | |
| --- | --- |
| Rick Schwartz: I think going forward domain owners and sponsors are going to be much more choosey of where they are going to invest their time and money. T.R.A.F.F.I.C. proves with every show that we give a great return for the investment. When folks come to T.R.A.F.F.I.C. they are struck by the quality of people there and the array of companies represented. T.R.A.F.F.I.C. has set the tone and agenda for 3 years now. But it is not me setting the course, it is the attendees because we listen to their feedback. Yes, there have been a lot of shows popping up and sometimes we see it is not as easy as everyone believes. Our reputations are on the line with each event, each seminar, each meal, each registration. We have to make them successful. We have to make them important. We have to make an agenda that trail blazes the path with IDEAS. Others have taken some swipes at us, but you can't build another show by trashing T.R.A.F.F.I.C. and then copying what we do. | Rick Schwartz |
You can't copy T.R.A.F.F.I.C. and let just anybody attend and then consider yourself a leader. You can't have the quality of networking we provide when there are distractions or folks that are just not qualified and therefore waste your time or end up spamming you after the show. So because of our basic formula to begin with the shows are always fresh and cutting edge and more important it is always timely to what is going on and what is to come. All one has to do is read the before show interviews and match them with the post show reviews that DN Journal does at each show and there is not much more to be said. Each time I would make bold predictions and knowing that all eyes were on me to see if Howard and I
Keynote speaker Steve Forbes

would deliver and each time we did. We could not hire people to do what we do. I think about it all day every day. I look far down the road. Years down the road and at the same time figuring out how it plays with today's realities.

On another front, I think when you get someone with the stature of a Steve Forbes (the keynote speaker for this year's event), it says more than I can possibly say. He does not sell us one extra ticket. He costs a hell of a lot of our profits. But what he does do is make folks sit up and take notice. Notice that we are serious about what we do and want to discuss what we have learned with someone who could actually appreciate it and even possibly help move things forward either directly or indirectly. It raises the level of the industry and we believe there will be dividends realized when we engage folks of this caliber. Steve Forbes is first class. T.R.A.F.F.I.C. is first class. The attendees are first class. When you use the best ingredients, you have a damn good chance of putting out the best product.
DN Journal: Recent times have been very good for those who had the foresight to see the value inherent to high quality domain names. Yet there is no guarantee that the good times will go on forever. Threats are starting to appear from several quarters from over-reaching trademark interests to reverse hijacking attempts to character assassination aimed at an entire industry by those who would like to see laws changed to make it easier to take domain assets away from their rightful owners. Will these dangers be addressed during the Hollywood show?
Rick Schwartz: Definitely no guarantees in any business at any time but still a very bright outlook even as the storm clouds gather. We will be addressing these threats in a multitude of ways with different folks, different panels and different points of view. For example, we have an IP panel made up of the industry's top lawyers (Ari Goldberger, Steve Sturgeon, John Berryhill, Paul Keating and Jeremiah Johnston) and they are going to address the "Gray area" and the future ramifications of wrongful decisions. This has the possibility to be a very explosive panel.
(Editor's note: here is how the program describes this session) "Meet the Lawyers IP discussion. Do domainers know where to draw the line? "There is no question that the TM laws and how they are applied online are NOT consistent with the decision making for offline enterprise. Someday there will be hundreds of reversals as domains taken wrongly from domainers that were not actually violating a trademark.
Then we have a separate issue as it is Google and Yahoo that actually T.R.A.F.F.I.C. and make all this profitable whether right or wrong, violation or not. There are a lot of moving parts to all this and not everything is obvious. There are nuances that can be legally exploited. The thinking has yet to catch up with the technology. Some of the issues are so gray that one could argue on either side for or against. This panel will let it all hang out. A heated debate from all sides will be the result."
We will also have a panel discussing "Parking under attack" and we will be hearing from the Internet Commerce Association (ICA) as to the current challenges we face. I am sure the bloggers panel (that includes Frank Schilling, Sahar Sarid, Michael Gilmour, Owen Frager and myself) will discuss this as will the meeting of the chiefs. So the threat that is gathering is high on our agenda and we will fight back with everything at our disposal.

There is no question we are entering a period of some turmoil. The good news is that domains will continue to increase in value as the fight heats up. If the assets were not so valuable, why would they be investing such resources into painting all domain owners as cybersquatters? There is an outright campaign of slander, name calling and outright lies against legitimate domain name investors practicing capitalism at its truest form and some of it is coming from companies that should know better.

Frank Schilling
Will be part of Bloggers Panel
They want what we have because they blew it. Some don't think I should make harsh statements like that…..but what color lipstick should I use to color the picture any differently than it is? The truth is that they finally recognize the value and they will try alternate means to get what we own. They can try, but they won't succeed. Some may be intimidated, but the majority of domain investors will fight. Fight and win. That is why the ICA is an important organization for domain investors to support both verbally and financially. The harder they try the more value will be associated with our assets and the more eyes will be watching who is
doing what. Eventually their conduct will backfire and they will pick on some mom and pop, reverse hijack their domain, drive them out of business and a ground swell will develop.

They will try to save money by using their legal department instead of mergers and acquisitions. They use methods to intimidate folks that can't afford to fight. However, when one of these popular companies gets caught, it will cost them hundreds of millions of dollars or more in the brand they spent so much to develop. This will only have to happen to one major company and the rest will learn not to pee on the electric fence. I can't tell you when this will happen, I hope it is tomorrow, but there is no question in my mind that it will happen and when it does, this practice will stop in its tracks.
DN Journal: It is common knowledge that the highest value from attending T.R.A.F.F.I.C. comes from the networking opportunities presented there. You have always preached the value of assembling a unique mix of people at your events. Tell us about your views on that and whether or not they have changed at all since you started.
Rick Schwartz: As you might imagine I come under a lot of pressure to change this or that or to open the show up to everyone. I analyze things to the nth degree. Whenever I go against my gut instincts, I live to regret it. So yes, they have changed. My convictions have only gotten stronger. Our formula works and works well and while others take their shots at us, we still provide something that nobody else has been able to duplicate.
We offer events that are life changing and I repeat that often. I repeat that because nobody else can make such a claim and actually be telling the truth. Howard and I have taken the bull by the horns and we have history as our witness. From no industry to a worldwide industry that is both powerful and cutting edge. We have demonstrated with each show that we are at the forefront and clawing our way to the future. We don't do it alone. We do it with the help of every single attendee. THAT is part of the formula.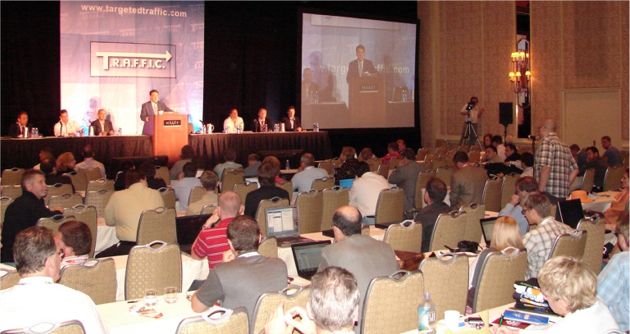 Scene from T.R.A.F.F.I.C. New York conference in June
We are very proud of what we have created and hope that the show will live longer than our personal involvement. The one thing attendees comment on more than any other single issue is when they look around the room they are awestruck by the quality of people filling the seats. Everyone there is qualified and most capable of doing business on a handshake. To assemble such a fantastic group and be able to accomplish so many great things in just a short amount of time is a sense of great gratification for everyone that participates.
DN Journal: I just heard a very powerful testimonial about what T.R.A.F.F.I.C. can do for a domain business when I was in Los Angeles researching our upcoming October Cover Story on TrafficZ founder Kevin Vo and his partner Ammar Kubba. Their business has exploded over the past couple of years and Ammar told me it all started when they drove from L.A. to Las Vegas (across the desert in a van with no air conditioning) to tell people about their company at the T.R.A.F.F.I.C. West show in May 2005. He said their business doubled as a result of attending that conference (and has gotten a huge boost from every show they have attended since then). They were so impressed they have since become T.R.A.F.F.I.C.'S lead sponsor. They say word of mouth advertising is the best kind and that is quite an endorsement.
Rick Schwartz: First of all I want to say it could not happen to two nicer gentlemen. We have had the pleasure of working with Ammar and Kevin and their teams since 2005 and that relationship has only grown closer and I am glad T.R.A.F.F.I.C. has had a hand in their destiny. Their LIFE CHANGING destiny. Their story is one shared by many that have come to T.R.A.F.F.I.C. and have had their businesses and lives transformed. We have a testimonial page on the website that has some 50 completely unsolicited letters and notes from folks that found T.R.A.F.F.I.C. important enough to take their time and write a note.

I think we have helped many of the companies in our space grow by providing them an opportunity to slow down. Compare notes. Break bread. Party together and stay out all night. We believe we have helped to facilitate and accelerate every aspect of the industry

TrafficZ partners Ammar Kubba (left) and
Kevin Vo. Their company is the lead sponsor
for T.R.A.F.F.I.C. East 2007

by providing an environment and a vehicle to make GREAT things happen. You can look as far back as our first shows to see we aimed very high and were not just going to produce a "trade show." We wanted to create an atmosphere and a climate to allow networking in a way that would allow major deal making and that is exactly what T.R.A.F.F.I.C. has become, a place to make BIG deals.
Yes, there are many ways to advertise but the oldest is still the best and most powerful. Word of mouth advertising is my personal guiding light. I believe in it that much. T.R.A.F.F.I.C. is proof that it is still powerful and it still exists.
DN Journal: You hinted after T.R.A.F.F.I.C.'s successful show in New York City in June that you are considering stepping away from the conference business and returning to "civilian life". You have had some time since going through the rigors of staging an event of that magnitude to think more about this. During that time you have also hired a new Executive Director for the conference, John Epp to shoulder some of the load. What are your thoughts on stepping away now?
Rick Schwartz: My thoughts are still the same. I was retired before we started T.R.A.F.F.I.C. and I want to get back to that. T.R.A.F.F.I.C. was never set up to be a recurring event. It was just to be a series of shows to get us from point A to point B. From where we started to where we are today, we have largely accomplished what goals we set out with 3 years ago. I now see T.R.A.F.F.I.C. entering another phase, another stage, another orbit of sorts with a redefined mission as the industry continues to grow and mature.
Howard Neu

I would say that this show in Miami is the crown jewel of what Howard and I wanted to accomplish and having Steve Forbes is like the diamond on the crown. So when I look back on the show on October 13th I will be able to see clearly where we are at, how far we have come and what yet needs to be done. We already have the 2008 schedule in place and are actually working on 2009. Either way, this will be a very special T.R.A.F.F.I.C. that nobody reading this should miss. We would never have another T.R.A.F.F.I.C. if we felt we could not exceed what was accomplished at the events prior. Each show MUST be the best we ever put on. Each show MUST be the best.

DN Journal: Let's close with an invitation for you to address any other points about the upcoming show or the industry in general that you would like to make as T.R.A.F.F.I.C. East kicks off the always key fourth quarter of the year for this industry.
Rick Schwartz: The New York show was a great success beyond any of our expectations and it has opened many new doors. I believe many of the dividends of the New Yok T.R.A.F.F.I.C. event will be paid at the Miami show. We are positioned for a turbo charged fourth quarter. The fourth quarter is what it is all about. This is the time of the year where we see the fruit of our labor. This is the time of year that online advertising skyrockets and with each passing year the percentage of their overall ad budgets rely more and more on the Internet and less and less in print, broadcast and other media. What a great place to be and what a great time to be here. What will things look like when there will be more online advertising than all other media put together? When "Critical mass" is achieved?
I think the big story at the Florida show besides what we accomplish with Steve Forbes may be the auction. The list may be out by the time this article is published (Editor's note - it is and can be downloaded from this page). I can tell you it is the BEST list of domains I have EVER seen at Moniker/T.R.A.F.F.I.C. event. I believe the headliner will be Computer.com which is owned by TigerDirect.com and will be sold at T.R.A.F.F.I.C.. But there are so many other good names, I think we could sell more than the New York auction which was the largest domain auction in history.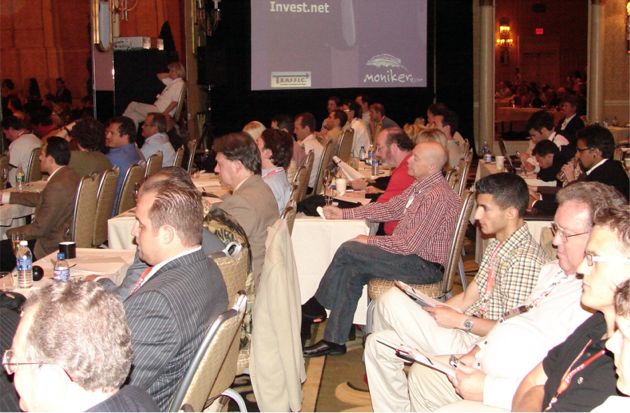 Part of the crowd at the Moniker Live Auction at T.R.A.F.F.I.C. New York in June 2007
I don't know what we will end up with, but I will say our target is in excess of $20 million in sales. I think that is pretty ambitious and we may not make that number but we sure are going to aim for it. I am sure we would all be satisfied to hit that $10 million mark again. With a weak Dollar and a strong Euro, Europeans can come and buy GREAT dotcom domains with a HUGE discount. They will probably never have such an opportunity again and it would be a good indication of just how strong the European market is. This promises to be the most exciting and competitive domain auction ever.
We will all witness history in the making. Each auction we raise the bar in quality and overall sales. To watch millions of dollars in domains change hands in 210 minutes is exhilarating. To know that eventually we will have $20 million, $50 million, $100 Million auctions coming is nothing short of stunning and in the next 3 years we will see exactly that. With every passing day my entire premise for being here gets stronger and stronger. "Domains will continue to go up in value faster than any other commodity ever known to man." I said that and believed it over a decade ago among laughs and snickers. I stand by it today and wait for the day that the world actually recognizes the power of that statement.
In closing I just want to remind folks that we may have many agendas and different goals, but we all share a common direction. I believe that the next 12 months will prove to be a very important period and that things will accelerate to a pace that will even surprise me. I would say we are entering the "Sweet spot" of domain name investing. This period that may last anywhere from just 5-7 years to one that can last thru all of our lifetimes and beyond. I believe it will be the latter. I strongly believe that.

The only confusing thing to me is which parallel is the strongest? Is it the traffic that is like the mineral rights from oil pumping from the land that the oil wells are on? Is it the domain itself that is like real estate and property in the real world? Is it broadcast media like TV and radio? Is it print media like magazines? Is it buying a share of the entire stock market? Is it an investment like gold? Is it an investment like diamonds that can be easily transported throughout the world? Is it a collectible like art or stamps or coins? Is it a storefront at the

intersection of the universe? Is it just brandable widgets looking for a clever marketing plan? There are many more. Whichever parallel you would like to talk about there is a profitable discussion worthy of having.
The depth and width that a discussion like that would have would take quite a long time to truly grasp. It is why I believe domain names are an historical opportunity that will be written about when future generations look back at this period of time. For those that believe otherwise, they are simply wrong and have missed a great and unique opportunity in time. Our mission at T.R.A.F.F.I.C. is to take advantage of the greatest opportunity in any of our lifetimes.
*****
---