Next up on the agenda Tuesday was an 8-man panel discussion of the respective merits of domain development versus domain parking, a topic that was the primary theme for this T.R.A.F.F.I.C. conference.

This distinguished group included Mark Van Dyke, President of Army.com, Lou Doctor of Arbor Advisors, Dan Warner, COO at Fabulous.com, Andrew Beckman, President of SearchAdNetwork, Adam Dicker, President of High Impact Sites (and owner of DNForum.com), Ammar Kubba, CEO of TrafficZ, Brian Carr, VP of Direct Search Services for NameMedia and Divyank Turakhia, President of Skenzo.

Doctor was a strong advocate for development, noting "Companies want to buy companies, they don't want to buy domains."

If you do develop, Beckman cautioned that you should understand that it is no guarantee of success because you will have to develop something better than other sites devoted to the same topic if you want to attract an audience. "It is very competitive," Beckman said, "You have to build content and links, put out press releases and continually update your site. Building some content and then sitting on it will not work – it is an ongoing process."

Warner favored a balanced approach, recommending that the best names be developed while some are sold and others are monetized through PPC.

Kubba championed a hybrid model using new PPC technology his company has developed to produce great looking multiple page websites en masse with content on every page. Kubba said that TrafficZ is working on content partnerships with major providers so that it would be possible to automatically put content on 50,000 domains if a portfolio owner wanted to do so.

Mark Van Dyke (left) and Divyank Turakhia

Dan Warner (left) and Lou Doctor

Andrew Beckman (left) and Brian Carr

Adam Dicker (left) and Ammar Kubba

Kubba, whose company is the lead sponsor for all three T.R.A.F.F.I.C. shows this year, talked in depth about this topic in a solo seminar that followed the panel session and said "we think we have found the holy grail for domains – which is to create pages with content that will get indexed and generate search engine traffic." The company's new pages also pull in news headlines, maps and other material related to the domain name. He demonstrated that by showing TrafficZ generated sites for Candy.com, Reno.us, Property.com and other domains.
Kubba noted that Property.com, a parked page, now had the #2 listing in Google, out of more than 600 million pages with the word "property". He added that the company's new pages had generated traffic increases of 10-100% during testing with traffic coming from Google, Yahoo, MSN and AOL's search engines.
Kubba said TrafficZ had been working on the concept for years and that "no one else has anything even close to this." However, to keep identical content from appearing on too many domains, Kubba said that some of the best new templates would be reserved for high quality domains.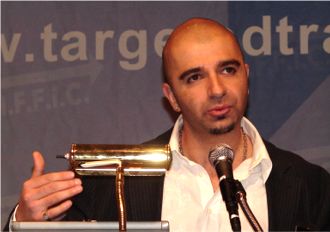 TrafficZ CEO Ammar Kubba

Still, the attractive site generated for Candy.com, with java animated graphics and deep content show how the lines between developed sites and PPC pages are finally beginning to blur.

If you follow our daily Lowdown section, you may have seen my post Tuesday (March 5) about my notebook computer's hard drive dying the previous evening in Las Vegas. There is no downtime in the T.R.A.F.F.I.C. schedule, so in a last ditch effort to resurrect the laptop I had to skip the 5:15pm Speed Networking session to run some diagnostic tests on the machine with the hope that I could revive it and get daily show updates posted.

Unfortunately, my rescue attempt was in vain and even worse it made me miss GoDaddy girl Candice Michelle's autograph signing party! Michelle appeared in the cyber café that was set up by first time sponsor GoDaddy.com in the hall. Fortunately, GoDaddy's Nate Curran provided us with the snapshots below.
Above: Candice Michelle signing autographs.

At right: Candice with T.R.A.F.F.I.C. attendee
Bruce McLeod

See other pics of Candice at TrafficPics.com
Those who participated in the networking session said it featured a new wrinkle this time around. Instead of having people sit opposite from each other and rotate every two minutes, 48 attendees were picked to go to the podium where each delivered a 90-second pitch to the rest of the crowd. In the old format 30 people were able to meet 30 others. Schwartz said the new format multiplied that exposure by a factor of 8. Since the networking session was immediately followed by a DomainSponsor.com cocktail party, you could approach anyone you saw on the podium who had a product or service you were interested in.
The cocktail hour that followed also provided a good opportunity to stroll through the expanded exhibit hall and chat with representatives from the companies on hand. There were several newcomers including Pricester.com who was there to introduce a new low cost development service for domain owners.

Given that the theme of this show was development, their booth attracted a lot of attention, especially since the company (which started as a web development firm) offers to produce websites (including hosting) for a total outlay of just over $300 annually. Those who were at the conference were able to take advantage of a show special offering development of up to five free websites so the company could prove their value to domain owners.

Pricester.com booth
I ducked out of the cocktail party briefly when I found out that some of the industry's best legal talent was in a meeting in Howard Neu's suite on the top floor of the Venetian. I walked in to find the crème de la crème of domain attorneys gathered around the dining room table; John Berryhill, Ari Goldberger, Paul Keating, Phil Corwin, and Neu himself. In another illustration of the kind of support the Internet Commerce Association is building, these gentlemen had all volunteered their time to serve on a special advisory panel to the ICA's legal subcommittee. Steve Sturgeon and Stevan Lieberman, who were not at this meeting, are also on the panel.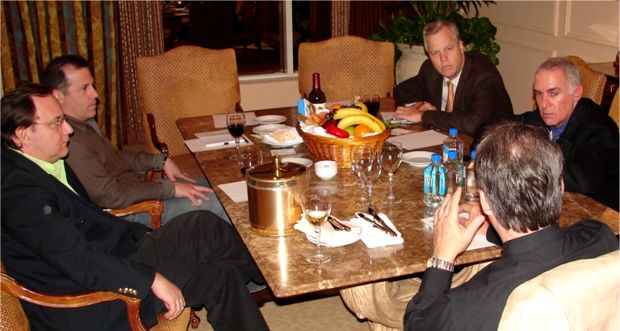 (Clockwise from the far left): John Berryhill, Ari Goldberger, Paul Keating,
Phil Corwin and Howard Neu (with back to camera).
When I started thinking how much this kind of firepower would cost if the ICA were being billed for it, I started getting woozy! Maybe it was just the altitude of Neu's 36th floor suite, but I decided to play it safe and head back down to the party while our much appreciated legal eagles continued to plot strategy on behalf of domain owners.
Following the cocktail hour, TrafficZ.com sponsored Tuesday night's dinner in the main ballroom and after another one of the great meals that have become a T.R.A.F.F.I.C. trademark, the conference's keynote speaker, John Reese, founder and CEO of Income.com, took the stage and promptly stole the show. Reese has been involved in online marketing since 1990 and is probably best known for his "Million Dollar Day" in which he produced over $1 million in sales for a new product in less than 24 hours! Better yet, he did it without spending a penny on advertising! Reese has owned over 35,000 .com domains and has been involved in this business since 1995.
T.R.A.F.F.I.C. has had some great keynote speakers, but let me say this - when it comes to giving the audience practical detailed advice that they can take home and immediately start making money with, Reese was the best I've ever heard.

I was fortunate to be sitting at the head table in front of the podium with some of the smartest people in the domain business. Soon after Reese started talking, I noticed two of the industry's top pros, Larry Fischer and Ari Goldberger, had started scribbling notes as Reese talked. I don't think there is any better endorsement than that!

Reese made so many great points there is no way to cover them all in the scope of this article about an entire conference, but I'll pass along a few pieces of his advice.

John Reese
Keynote Speaker
Reese told the audience to take some early profits because sitting on your assets forever can cost you a lot in missed opportunity. Years ago he sold Ship.com for just $1,000 - obviously an incredibly low price, but Reese said that sale helped make him rich. He took that $1,000 and bought 10 more domains at $100 each, in turn selling those for $5,000-$10,000 each. That snowball kept rolling down the hill, getting bigger and bigger as it went.
He also told the crowd not to be afraid of spending a little money, suggesting outsourcing as a way to grow their businesses. Reese summed up the tip this way, "Write small checks – cash bigger checks." He noted that there are people who will write original 500-word articles for you for $7 each. "You can develop properties without having to write a word," Reese said. Adding forums to your sites is also an inexpensive way to get user generated content and boost search engine ranking.

I think the single best piece of advice was Reese's emphasis on the importance of building a mailing list. "Having a list is like having cash on demand," Reese said, noting that if he needed money he could instantly email a product offer to his vast mailing list.

"Let's say Sailboat.com gets 1,000 visitors a day. What's worth more, those 1,000 visitors or a list of half a million people who have visited that site (and demonstrated their interest in sailboats and related products)?" Reese asked. "I can't believe how much money domainers are leaving on the table!" If you are not getting those visitors to sign up for a list, many are lost forever, depriving you of a chance to cash in on each visitor over and over for years to come.
"Leverage what you have," Reese said, "if you only get 20 type-ins a day on a domain, you can keep that customer on file and recycle that traffic rather than get paid one time for a single click from someone who never comes back."
When Reese's talk was over, I went to the back of the ballroom to talk with some people I had an appointment with. When I came back out a half hour later, expecting the place to be empty, I noticed a big crowd gathered around someone I couldn't see. When I walked over to the group and peered inside, I saw Reese was still there fielding questions from a pack of appreciative domainers. Elvis had not left the building!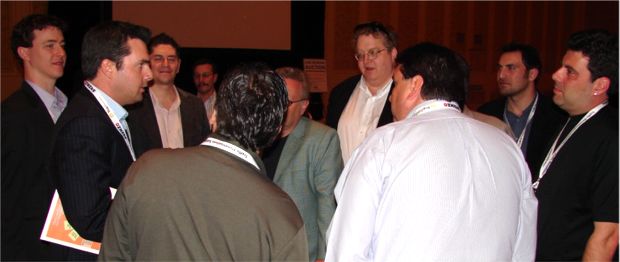 Reese (second from left) surrounded by attendees long after his speech ended
Reese even hopped on one the buses that took the crowd to TraffcZ's post-dinner party at GameWorks. In a departure from previous T.R.A.F.F.I.C. parties that are usually presented in a night club setting, this event gave people a valid excuse to act like a kid again. People were given game cards they gave them free reign in the popular arcade playground throughout the evening. The huge building also had quiet corners where people could veer off to pursue their favorite game – networking. With GameWorks situated on the Las Vegas Strip, those who preferred traditional night club/casino fare were just steps away from the other attractions in the Entertainment Capital of the World.
| | |
| --- | --- |
| | |
| | |
| | |



(At right and above): Scenes from the
TrafficZ Party March 6, 2007 at GameWorks



A little after midnight I was on the way back to the Venetian to get a few hours sleep before the Wednesday agenda got underway.
Paddles Ready - On Your Mark,
Get Set, BID!

Moniker's Multi-Million Dollar Live Domain Auction!

Is the Domain Sales Market Headed Up or Down?

More Advice for Developing Your Domains

Emme Rocks and Ray Dillman Rolls!
Continue to Page 3 of this story