The Thursday (Sept. 25) schedule at T.R.A.F.F.I.C. New York 2008 opened with a speed networking session at 9:30am. That's a little early for people who stayed out late partying, but a good portion of the crowd got out of bed to take advantage of the chance to meet dozens of potential business partners in a single hour. In a tried and true format, one row shifted down a seat every two minutes, bringing people face to face with a new contact after each move.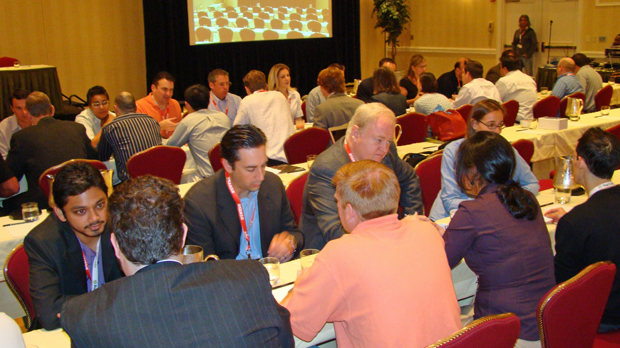 Scene from the Speed Networking session Thursday morning
The first Thursday seminar at 10:30am - A View from the End User - was one of the best of the conference. Brad Geisen of Foreclosure.com was there to explain why purchasing that domain for a little over a million dollars turned out to be a great bargain. The man he bought it from, Kevin Wood (ByOwner.com), was also on the dais, along with Rick Schwartz who recently signed a deal to sell Geisen a 90% interest in Property.com in a deal that Schwartz said will rank among the biggest of all time.
| | |
| --- | --- |
| Brad Geisen | Kevin Wood |
When Geisen started his online business, he didn't believe a domain name was worth much and passed on a chance to buy Foreclosure.com for just $50,000. After that, every time he decided he should get the name, he went back only to find out the price had risen dramatically from the previous offer. That happened several times before he finally realized (after spending hundreds of thousands dollars on ads to bring traffic to his site) that he would save money by paying up for the category killing domain name.
At one point in the session Wood revealed that he had originally bought Foreclosure.com for just $1,600 in 1997, causing Geisen to exclaim, "I didn't need to know that!!!" Everyone, including Geisen, laughed. Geisen now has no regrets. He said, "No one can comprehend how big the Internet will be in 10 years. It will dominate everything."
The show's final seminar at 11:30am featured a seven-man "Meeting of the Chiefs" but unlike past shows where this panel was dominated by PPC executives, the Chiefs were all domainers who run their own businesses. Sitting on the dais were Rick Schwartz, Sahar Sarid, Lonnie Borck, Nat Cohen, Larry Fischer, Elliot Silver and Michael Berkins.

A hot topic that dominated much of the discussion was the state of Kentucky's move to try to confiscate 141 gambling related domain names (never mind that Kentucky has no jurisdiction over those domains). Berkens, who owns over 70,000 domains talked about the need for domain owners to band together to head off these kinds of unfounded claims to domain names. He was instrumental in getting the Internet Commerce Association (ICA), involved in challenging the Kentucky action.

Sarid noted that if a single state like Kentucky succeeds in hijacking domains they are not entitled to, geo domains would likely be the

Michael Berkens

next target that government entities would go after. Schwartz chastised registrars like Enom who handed over their customer's domains to Kentucky with no questions asked. He praised Moniker for standing up to Kentucky and refusing to turn over domains.
At the 1pm luncheon, Fabulous.com's Mike Robertson updated attendees on plans for the T.R.A.F.F.I.C. Down Under conference that Fabulous will host on Australia's Gold Coast in November.
I spoke after Mike, giving an update on how the domain aftermarket was faring in the current quarter. With two weeks remaining in the quarter when I spoke, sales for the first 11 weeks of 3Q-2008 were running about $6 million below sales from the same 11-week period in 2007. The big difference was at the very high end of the market. In 2007, there were four 7-figure sales in that time frame that accounted for all of the difference as there were none at that level over the same period this year. As our weekly domain sales reports show, the the low to mid range of the market is holding up very well, but in these economic times, buyers are proving more reluctant to place bets on domains priced above $1 million.
After lunch it was time for the live auction main event - Moniker's big sale conducted by auctioneer Wayne Wheat. In a very respectable outing, just under $3 million worth of sales were booked in this event and another $900,000 was added in the online silent auction that ran in conjunction with the show. Moniker's hit list was led by FinancialAid.com at $800,000 and four more six-figure sales; Floor.com ($275,000), Camps.com ($110,000), LT.com ($100,000) and Cleaning.com ($100,000). A number of .me domains also sold at impressive prices, led by Date.me at $70,000. Again, you can see all of the Moniker (and other) auction results here.

The auction segued into the 5th Annual T.R.A.F.F.I.C. Awards Dinner at 6pm. Honors went to winners chosen by their peers in seven different categories. More than 2,000 voters participated in the email balloting. The winners are shown in the photos below.

Auctioneer Wayne Wheat directing
Moniker's live domain auction
---

Best Overall Solution - Fabulous.com

Mike Robertson accepted the award
for Fabulous.com

Best New Developer - Kevin Ham
(for Vancouver.com)

Don Ham accepts award for brother Kevin

---

Best New Monetization Solution - Sendori.com

Michael Feeley of Sendori.com

We Get It Award - Foreclosure.com

Stephen Chip accepts award
for Foreclosure.com

---

Sponsor of the Year - TrafficZ.com

Ammar Kubba accepts for TrafficZ

Domainer of the Year - Rick Latona

Rick Latona accepts his
Domainer of the Year Award

---

T.R.A.F.F.I.C. Domain Hall of Fame

- (Two new members are elected each year, but a tie in the voting resulted in three people being elected this year). The 2008 inductees are:


Yun Ye, Scott Day

and Dr. Chris Hartnett.

(They join Frank Schilling, Sahar Sarid, Rick Schwartz and Ron Jackson who received the honor over the past two years).

Rick Schwartz looks on as Howard Neu announces
three new inductees to the T.R.A.F.F.I.C. Domain Hall of Fame
In another bit of news that was released during the Awards Dinner - Skenzo.com will become the lead sponsor for the T.R.A.F.F.I.C. conferences in 2009 when shows will be held in Silicon Valley and New York City. The Silicon Valley show will be held April 27-30, 2009 at the Santa Clara Marriott which hosted a previous T.R.A.F.F.I.C. show in January 2006. The New York show scheduled for October 20-23, 2009 will return to the Marriott at the Brooklyn Bridge.
An awards night after party hosted by Parked.com got underway in an adjacent ballroom at 9pm. It was a final opportunity to network and wind down with friends, new and old.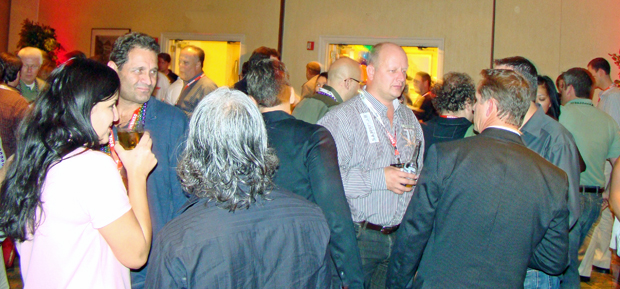 Part of the crowd at Parked.com's awards night after party.
Most people headed home Friday morning (Sept. 26) after enjoying a farewell breakfast. However, several people stayed over for a day or two to enjoy the weekend in New York. My wife, Diana, and I stayed an extra day and joined Howard Neu, his wife Barbara and their son Ray to catch a Broadway play Friday night (Mary Poppins at the New Amsterdam theater).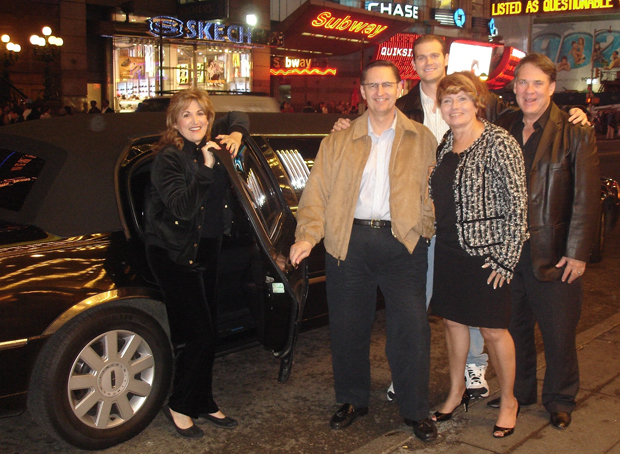 On Broadway - Arriving at the New Amsterdam Theater Friday night (left to right):
Barbara Neu, Ron Jackson, Ray Neu, Diana Jackson and Howard Neu
As they always do, Barbara, Ray and Rick Schwartz's wife, Alina, played a key role in helping Howard and Rick stage the conference. It has been a family affair from the start and their warm hospitality has been a major factor in giving T.R.A.F.F.I.C. the unique personality that has earned the show so many loyal fans.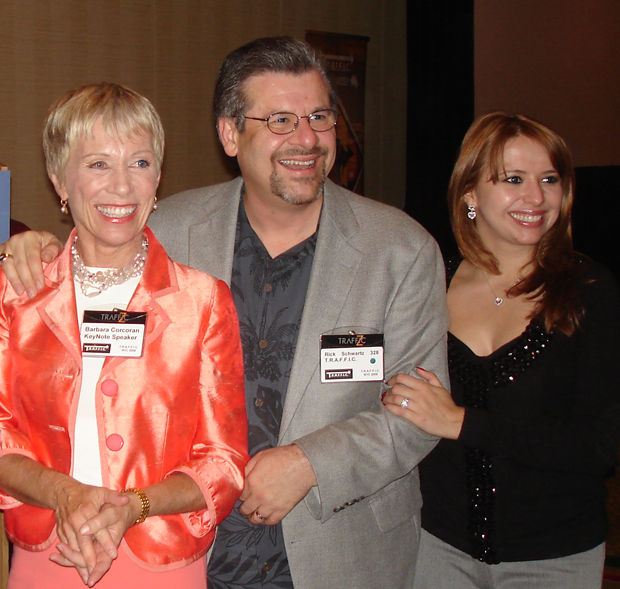 Rick and Alina Schwartz with keynote speaker Barbara Corcoran (left)
T.R.A.F.F.I.C. #12 is now in the books. Next up - T.R.A.F.F.I.C. Down Under November 18-20 on Australia's Gold Coast. Hope to see you there!
*****
Before you go here is some bonus coverage for you. Check out our Exclusive T.R.A.F.F.I.C. Photo Gallery with dozens of additional pictures you won't want to miss!