India has already given us some of the world's top domain entrepreneurs and companies, perhaps most notably brothers Bhavin Turakhia and Divyank Turakhia who created an empire at Directi before selling the company for over $100 million to the Endurance International Group in 2013. Bhavin is still very much on the scene as founder of one of the top new gTLD registry operators - Radix Registry - and Divyank is staying very busy as the Founder & CEO of Media.net. While the Turakhias made a huge splash on the corporate front we are witnessing something different now with grass roots growth starting to sprout throughout the Indian domain investment and development community. This past year, for the first time, interest in domains rose to a high enough level in India to support the country's first conferences devoted entirely to domain name investment.
For a closer look at what is happening there we got together with some people who have been

Deepak Daftari

successfully plying the domain trade in India as well as the world at large. To kick things off, we asked how they would characterize the current state of the domain market in their country to that in the U.S. in terms of both new registrations and aftermarket domain sales.

Veteran entrepreneur and domain investor Deepak Daftari of eSiksha.com, who many in India consider to be the father of the country's domain investment community, told us, "The Domain Market in India for new registrations is very active and thriving both for Individual and Business Requirements but the secondary market, when compared to the U.S., lags it by a couple of years. Even so, individuals and businesses in India are now waking up to the power and branding potential of a good domain name. The same set of end users and investors are also realizing the fact that good domain names cost a lot of money in the secondary market and are now opening up to paying these prices. Although the percentage of this segment that gets the value of a good domain name is small, it is growing every day now that mainstream media is writing actively about this segment."
Another well-known Indian investor, Aishwin Vikhona, who just released a new book titled Sell Domains Fast, said, "I feel this is the beginning era and with the growing awareness the market is flourishing. In India there are lot of small to medium enterprises (SMEs) and entrepreneurs who have begun to understand the role of a correct domain name in the process of web development."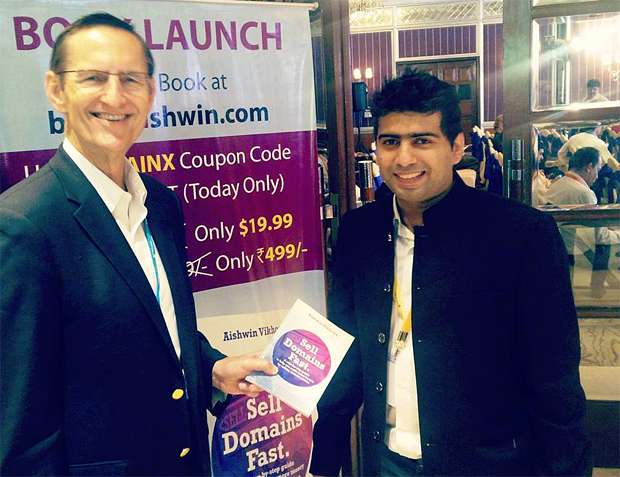 Indian domain investor/author Aishwin Vikhona (right) with DNJournal.com's Ron Jackson at the Book Launch for Sell More Domains held at the DomainX Conference in Bangalore, India August 8, 2015.
Vikhona said, "If you look into the top 50 growing startups of India, you will see Housing.com was acquired by Housing.co.in for $500,000 USD. Almost everyone here prefers .com, .in and last co.in, based on the availability. In recent months a lot of .in inquiries have been coming in to me and people in my circle asking about possible acquisition of the domains, though some of them aren't converting because of low budget, which simply means there's a need to explain the price justification."
For another view from someone with a unique vantage point we contacted Rajiv Sodhi, the Vice President in charge of India and Australia for the world's largest domain registrar, Go Daddy. Rajiv told us, "When you look at the domain name penetration relative to the internet population of a country, India stands at just about 2% in comparison to a more mature market like the U.S. where domain name penetration is upwards of 20%. Looking at businesses specifically, of the 51 million small businesses in the country, only 10 million are IT-ready and a mere one million have websites. We see there being a few key characteristics that make the Indian market unique:

In more developed countries such as the U.S., we see not only businesses, but also individuals, buying domain names to build personal websites, create blogs, wedding registries, portfolios etc. This is not currently the case in India. But we believe that the culture of domain name buying for personal use in India is also slowly gaining traction.

Rajiv Sodhi
Go Daddy Vice President
India and Australia
Unlike the west, India is a 'Do-It-For-Me' market where customers expect someone to find the right domain name and set up their web presence for them.

In addition, it is widely believed that India is a price sensitive market. However, with affordable domain names available for as low as Rs. 99 per year (about $1.50 US), it is clear that India is a value sensitive market. Wherein business owners will only spend even a small amount of money if they recognize the value it provides.
With everyone agreeing that there is room for great growth in India, the obvious question is what has to done to ignite the market and turn that vast potential into a reality. On that point, Mr. Sodhi noted, "India has one of the largest and fastest growing populations of Internet users in the world, estimated at 300 million, and expected to go up to 500 million in the next two years. India already has the second largest Internet population in the world today, after China. Though impressive, strikingly not all businesses in India are reaping the benefits of the radical shift the internet can have in the way they engage with or acquire customers and grow. As I mentioned earlier, a mere 2% of India's small businesses have their own websites.
"
| | |
| --- | --- |
| Website building image from Bigstock | "Small businesses, especially those in India, are strapped for resources and can often be charged with the harsh reality of just keeping the lights on," Sodhi added. "Most small businesses are reticent of technology and intuitively don the 'Not-for-me' syndrome, and believe that the Internet is only meant for bigger players. For others, it is the perceived 'complexity' and 'high investment costs' that keeps them from getting online. Technology and the Internet at large are complex and even somewhat obscure to the general public, and investing in them is often perceived as 'expensive'. They think that buying a domain name, setting up a website and selling online is very difficult and requires 'professional' help, especially in a country like India which is largely a 'Do-it-for-me' country unlike Western countries, which are more in the 'Do-it-Yourself' mode." |
Even so, Sodhi said, "India is at the cornerstone of GoDaddy's growth strategy and we believe that SMBs will lead the charge for the Internet in India. Our aim in India is to educate small businesses on what the Internet can do for them. Our strategy India is three-pronged and we are focused on:
Educating small businesses on how easy and affordable it is to get online and the benefits of getting a website.

Continuing to improve our products and services by keeping them simple.

Providing the best customer service through our 24/7, local customer care centre.
"In addition to this, we are also working towards working with our robust partner ecosystem that is helping reach out to the customer and making the internet relevant to them. This is critical given India's position as a Do-It-For-Me market," Sodhi said.
Advocate Ankur Raheja

Advocate Ankur Raheja from Cylaw Solutions, who is also an Arbitrator for the .IN Registry/Nixi, echoed one of Mr. Sodhi's points saying, "People need to be educated about Domain Names and the industry. DomainX Conference is one of the steps in this direction and in the times to comes, more participation is expected.

India's very own .IN Registry is also making a lot of marketing efforts and have an official Facebook page. The .IN Registry has been advertising extensively in media lately and some of the samples are available on their Facebook page, including TV commercials and print ads. Also, with the launch of IDN domains .BHARAT in August 2014, names are available in seven different Indian regional Languages, in addition to Hindi. Efforts are being made to reach the rural areas of India, which includes more than 50% of the Indian Population. More and more awareness will bring demand both for IDN and other Domain Names as well."

Deepak Daftari noted another high growth area that present both a new opportunity and a challenge to traditional domain marketers, pointing out, " The majority of new users

connecting to the Internet for the first time might be doing so on a smart phone or a tablet. Mobile Internet is one of the fastest growing segments in India and in some cases apps are completely overshadowing the traditional web based model."
That doesn't mean the role of domains won't remain extremely important though. Daftari said, "Internet penetration is set to grow even faster given the focus of the new government in making the majority of its offerings and services available via web / mobile based delivery models. Also, some of the greatest opportunities in the Indian market lie in the vast and rapidly tapped consumer demand markets and all kinds of solutions are being built and tested out by newer and newer start-ups each and every day."

"Another potentially big opportunity lies in an India specific domain market place catering to the niche segment of Indian Businesses and start-ups going online, understanding their requirement and then offering them tailor made solutions for which these businesses would be more than willing to pay.

"

Aishwin Vikhona concurred, adding, "India is an emerging market with entrepreneurial success stories all over the news. I have seen a lot of young college students who are full of exciting and interesting ideas, but lack family support, trust, guidance and funding to bring the idea to life. If there's a way we can encourage this segment, I am very sure there's a huge growth opportunity all over India. The lack of awareness for how to get the funding, how to get started, what works and what doesn't is the root cause. People in the U.S. respect and encourage entrepreneurs over a jobber, while in India it's vice versa, and this attitude is like a road block towards more development." The experts we talked to think these roadblocks will eventually fall one by one allowing India to experience the breakout success so many predict.
While .com is king in America and well-known throughout the world, the local ccTLD is also very popular in many countries, with Great Britain (.uk) Germany (.de) and many other European countries major supporters of their country code. For that reason many who look at investment prospects in a major developing nation like India wonder what the prospects are for .IN.
Deepak Daftari told us, ".IN's and .CO.IN's are very prevalent in the Indian market alongside .com, .net, .org, .info and .biz domain names. Previously anyone trying to get a new name for their business would try to acquire the .com or .in domain name, failing which they would move on to register the .co.in / .net / .org / .info / .biz equivalent. However that is changing now and if the .com is already registered but not in use, they will try to acquire it from the owner."
"Indian businesses prefer the .in extension whereas any multi national company opening their subsidiary prefer to do so using the .co.in extension. Even that is changing now and the new age start-ups and businesses are trying to set shop on .com or .in extensions, primarily. The Indian market is evolving rapidly and as more and more of the population goes online this percentage will continue going up and category defining or one word .in domain names are going to get more and more scarce and valuable, although it might take a few more years to reach that stage but things are changing for good."
Aishwin Vikhona also sees bigger things ahead for the Indian ccTLD saying, "India's .in is shining bright and I see an increase in demand for it every day. If an SME / individual decides to develop a website in India, they first look for .com and the second choice is .in. Most of the sites with only local presence prefers .in. A lot of growing startups are very popular with the .in extension which shows the growing awareness. The active sales of .in also adds to this, there are lot of .in domains that I have sold and went unreported and I have heard this a lot in my group. There are over 11,800 popular .in websites which has huge traffic and increasing every day. Compare this with Great Britain (.co.uk) at 16,575 and Canada (.ca) at only 4,283."
Indian businesswoman
image from Bigstock

Go Daddy's VP, Mr. Sodhi, is on the .IN bandwagon too. "We are noticing that country-specific extensions (ccTLDs) are generating greater interest. Globally, the uptake is a lot higher because of higher domain name penetration compared to India. Ideal for brands, companies and individuals, .IN immediately implies an association with 'India' or 'Indian' for people around the world. Through relevant and easy-to-remember domain names, it enables instant recognition and helps businesses stand out in the clutter. It is also among one of the world's most protected top level domains."

Sodhi added, "The local ccTLD crossed the 1.7 million mark recently. The National Internet Exchange of India (NIXI) is mandated with the registration and operation of .IN domain names and it expects to register 2.5 million .IN domain names by the end of 2015. We have been running integrated marketing campaigns to drive demand for .IN among consumers and by partnering resellers and the ecosystem to fulfill the demand."
Of course, today, with hundreds of new gTLDs now on the market, competing with both ccTLDs and legacy extensions like .com, .net and .org, one has to wonder how their arrival will impact the Indian market. Mr. Sodhi said, "While .COM and .IN continue to remain two of the most popular TLDs in India, from a functional perspective, new gTLDs work just as well as any TLD and are starting to witness greater uptake among businesses and individuals. A lot of businesses and individuals are purchasing new gTLDs for their business not because a .COM domain costs much more or isn't available but because new gTLDs allow them to market their brand, products, community or cause in new and innovative ways. With an increase in the popularity of new gTLDs and increasingly more gTLDs being introduced, the internet is undergoing the most radical transformation since its inception. In order to capitalize on these changes and ensure that they remain present, protected and prosperous online, Indian businesses need to seize the opportunities that these changes present."
| | |
| --- | --- |
| Viewing the new gTLDs from an investment standpoint, Deepak Daftari has a slightly different take. "There is some demand in the newer gTLDs being released but primarily in the domain investor category and not to an end user. New gTLDs are a completely new phenomena and the majority of the businesses don't get them since there's not too much promotion in India surrounding these. But I feel strongly that if some of these gTLDs marketed their offerings proactively in the Indian market, they might be able to corner a good chunk of the market since a lot of businesses would still try to grab their preferred name in that extension when they find that the .com is already long gone," Daftari said. "Still, only a few will be able to make a substantial mark in the Indian market as an Indian user typically tries to get the .com followed by the .net / .org / .info / .biz / .any other extension, in that order. I doubt if they would be able to present a competitive threat to the .com and .in market, in the near foreseeable future." | |
While we were in India for DomainX we were struck by the excitement and passion for domains shown by attendees there. Even so, it is a business where many newcomers have been burned by making investments before they really understood what makes a domain valuable. We asked the local experts what advice they would give newcomers to the Indian domain market - both home grown and those from other countries interested in investing the growth potential represented by the Indian market.
Go Daddy's Rajiv Sodhi said, "Buying and selling domain names is an exciting adventure and often conjures up images of finding hidden pirate treasure or guessing the winning combination on the next Powerball. We often hear stories of domains that were purchased for a few hundred rupees a few years ago being sold today for millions. That said, investing in domains is serious business and requires a lot of planning and strategizing. Domaining is a lot like stock investing, the very best in the field have moved beyond basic strategies and have developed their own specific formulas for success. But just as with stocks, to obtain the skills necessary to reach that advanced stage, newcomers must first understand the fundamentals of strategic domain buying."
"There are millions of domains already registered by someone and endless combinations of available domains to register, especially when one considers the hundreds of new domain name extensions like .guru and .shiksha. If you plan on buying a domain to resell it, you should start by narrowing your focus. Understand your audience, and the sales will follow."
Domain for Sale sign from Bigstock

"Think of ways that the domains you buy would be a valuable asset to the buyer and based on that identify domain names that are worth investing in. Once you have narrowed down on domain names you should be buying, check to see if the names are available to purchase as new registrations. If the names are taken, head over to the aftermarket to buy from people who already own the names or who let them expire because they no longer plan on using them. A great place to look is auctions.godaddy.com."

And finally, Rajiv added, "It is important to remember that there is always a learning curve in buying domains with the purpose of

reselling them and one must keep abreast with latest trends and developments in the Internet space to succeed in domaining."
Deepak Daftari provided his advice is this bulleted list:
Stick to .coms, the gold standard when it comes to Domain Investments.

Keep an eagle eye on your cash flows.

Buy liquid domain names like CCC.com, LLL.com, One word .com, Two word .com's and category defining aged .com's which can be flipped overnight, if ever there might be a need for liquidity.

There's still money to be made in the expired domain name lists.

Don't over-stretch when it comes to investments in newer gTLDs.

Don't get greedy and if a domain is fetching you good returns, flip and them invest the proceeds in acquiring more better names.

Move up the value chain and try to acquire one and two word .com's whenever the market presents and opportunity to do so.

Keep some cash handy for those distress sales by others where some quick and easy money can be made.

Never stake your reputation for short term gains.

Never spam.

Never try to offer $100-500 for names which are worth five figures even in the reseller market.

Network, Network, Network!
Investor/author Aishwin Vikhona said, "Any business if not done correctly is a risky one but here is my advice:
Do your research. Let's say you found a domain available or at a cheaper price in the aftermarket. Before making a decision to invest, you should first Google the exact term and see what comes up, understand who could be a potential buyer, if you still feel its a good domain you should go for it. There are lot of free / paid tools available on the internet that gives you lot of information at the fingertips.

Don't just register/acquire the domain and sit back with a hope that some day someone will come to make an offer. Either develop the domain into a website - a website sells for a lot higher than a domain name as a thumb rule (only applicable for keyword domains). Or start outreaching people you feel could be a potential buyer. If you're not sure how to outreach correctly, learn this skill or hire an experienced broker to get it done for you.

Do not hesitate to reach me in case you think I can help you in anyway. I have also written a book "Sell Domains Fast" that can prove to be an effective guide for you while selling your domains.

Don't waste your time with trademark domains, because they will never sell and even if it does, its a risky thing to get into. Domains like CreateGmailAccount.com is a trademark domain because the trademarked term "Gmail" is used in the domain.
Aishwin's comment on trademark domains leads us to one final topic that is important to familiarize yourself with wherever you engage in the domain business. That is ensuring you operate in accordance with the law and with respect for the rights of trademark owners. Otherwise you could find yourself in hot water rather than high cotton. We asked attorney Ankur Raheja to close for us with some insight into legal issues unique to India that domain investors, both home grown and from other countries, should know about before investing in domains there.

"As regards the Top Level Domains, the laws are the same globally and the Domain Disputes are governed by UDRP Policy," Ankur noted. "However, in case the Domain Owner and Trademark Holder both are located in India, they have additionally the option available to move to a local court, which are the normal

India legal graphic from Bigstock

legal proceedings and the Trademark Holder can apply for Injunction and also claim damages. India's top job portal "Naukri.com" (owned by Info Edge Ltd) is quite active in this regard (Related article on Info Edge: http://www.advocate.domains/udrp-filed-by-info-edge-india-ltd-owner-naukri-com).
But when it comes to .IN Domain Name Disputes, it is governed by the .IN Domain Dispute Resolution Policy (INDRP), which is a little different from UDRP in the following ways:
I) INDRP is not as comprehensive as UDRP, therefore additionally a Domain Dispute filed under INDRP is governed by Indian law of Arbitration as to procedures to be followed (clause 5 of INDRP Policy). And therefore jurisdiction in appeal remains with a High Court in India, mainly Delhi High court. Further, Domain is not transferred until 90 days from the date of decision.
II) Remedy (clause 10 of INDRP) provides for costs in addition to Transfer or Cancellation of a Domain Name. That is, costs can be imposed in an .IN Domain Dispute decision by an Arbitrator and in few cases costs up to Rs 10 Lakhs (i.e. aprox $15,000) has been imposed. Though in 75% of .IN cases no costs are imposed, but it could be quite risky, specially when it is a strong trademark.
At DomainX, Mr. Zak Muscovitch was very surprised to know the same and he pointed the same during the legal discussion panel as well :)
In the following recent matters (Decisions: https://registry.in/Policies/DisputeCaseDecisions) huge costs have been imposed as indicated:
INDRP/607 Airemirates.co.in (Rs 10 Lakhs)
INDRP/617 parajumpers.co.in (Rs 10 Lakhs)
INDRP/630 zanussi.in (Rs 10 Lakhs)
I have covered the remedy part in an article which can be read here: http://www.advocate.domains/indrp-v-udrp-the-remedies.
III) Lastly, only one Arbitrator/Panelist is appointed under the INDRP rules and there is no option for a three-person panel, which may make Domainers feel insecure.
For example, at the 2015 DomainX conference, Mr. Ned O'Meara from Australia was quite concerned about not having the three panelists option under INDRP and said he would be wary of investing in .IN Domains for that reason.
To further illiustrate that risk, if you have a look at the decisions under INDRP at https://registry.in/Policies/DisputeCaseDecisions, you will see some surprising results that resulted in the loss of several generic domains in 2006 including jobs.in, hotels.in, web.in, internet.in and isp.in.
We would like to thank Mr. Raheja, Deepak Daftari, Rajiv Sodhi and Aishwin Vikhona for their generous time and assistance in helping us put this look at the Indian domain market together. With events moving quickly in that country and the pace expected to accelerate we expect to hear a lot of good industry news coming from India in the months and years ahead.