Our 2015 Panel of Experts

Top Row (L to R): Frank Schilling (DomainNameSales/Uniregistry), Michael Castello (CCIN.com), Braden Pollock (LegalBrandMarketing.com), Larry Fischer (GetYourDomain.com).

Center Row (L to R): Daniel Schindler (Donuts.co), Bhavin Turakhia (Radix Registry), Paul Goldstone (.CO.COM Registry/DomainIt.com), Tobias Flaitz (Sedo.com).

Bottom Row (L to R): Tessa Holcomb (Igloo.com), George Hong (Guta.com), Daniel Law (Rook Media), Karen J. Bernstein (BernsteinIP.com).
Domain Investors
Our primary audience has always been the domain investing and development community, so we will start with four very well-known representatives from that sector. All of our panelists agreed that the introduction of new gTLDs was the most significant development in 2014 so we will follow with four experts who are active in that space, from Donuts Co-Founder Daniel Schindler to Sedo.com CEO Tobias Flaitz, whose company crosses many boundaries including PPC monetization and aftermarket sales (all of which Tobias comments on). With aftermarket sales replacing domain parking as the most important revenue stream for many portfolio owners we will then segue into key players in the brokerage space, Tessa Holcomb and George Hong and a major figure in domain monetization, Rook Media Co-Founder Daniel Law. Finally, none of your assets are going to do you any good if they are stolen or lost through a URS or UDRP action, so attorney Karen Bernstein of BernsteinIP.com will take us home with some thoughts on that.
Several of our experts have a foot in multiple sectors including legendary domain investor Frank Schilling. Frank has also become a leading domain services provider through sales platform/brokerage DomainNameSales.com and new gTLD registrar/registry operator Uniregistry.com. Since Frank has first hand experience in everything from making a fortune with .com domains to trying to build an even bigger one with new gTLDs, we'll have him get the ball rolling.
Frank Schilling
Founder & CEO, DomainNameSales.com / Uniregistry.com
Frank Schilling

Unrelenting growth in 2014 was the biggest surprise. 2014 was an unusually strong year - very surprising to me. It was a real shift and the sales team at DNS/Uniregistry did an exceptional job serving that growing marketplace for secondary market resale domain names. Second most surprising was the slower uptake of new gTLD SLD's (second level domains). Skeptics were everywhere in 2014 due to the past roll-out of lackluster strings like .biz and .name and others, and turf-protection skeptics unsettled by the value-risk to their existing namespace domain portfolios, created an anticlimactic buzzkill vibe.

I think new gTLD operators like Uniregistry were too close to their product in 2014. We have been living and breathing new gTLDs since 2011, so the official launch in 2014 was the end of a 3 year relay for us, and we were surprised that the consuming public and other registrars were not standing there eagerly to take the baton and run forward with the same zeal that it took us to get that baton to them. That is going to absolutely change in this year because

the price of punting in new SLDs is so laughably low and the reward is so high. 2015 and 2016 are going to be the years of dot anything and the bloom is going to be more and more on this rose as people and retailers wake up and smell the opportunity and difference of "better" names. Hardly anything has happened yet. .Com will still go strong but the bigger growth and uptick in values (like from $0 gaining overnight to $5,000) is in the resale market for new gTLD domain names.
Looking ahead to 2015, I am getting worried about the broader economy again. Costs are up everywhere and returns are low. It may not breakdown this year or maybe not till late this year but the market is really rich and returns are low. This is a great time to build cash and register registration price new G's in low cost, fixed price renewal namespaces. That's about all I'm doing. That and using Uniregistry's tools and secondary marketplace to get premium-price liquidity on high end resale names.
Uniregistry has a great system for boutiquing names and spinning straw into gold. That system is going to get a lot stronger and better in 2015 and now is a perfect time to start moving your names into Uniregistry.com to make more money reselling. If you're a long time .com holder you would be crazy not to start taking profits this year. I love Rick Schwartz dearly, but he and I disagree that .com names are all going up in price to the moon and forever. It's just not going to happen fast enough for most investor's time horizons and there is a greater risk that your heirs or trustees will fritter away the value of your portfolio during succession to the next generation before prices go astronomically high. So this is a year to let go a bit and sell. I'm buying but I'm selling more and just looking to get returns where I can.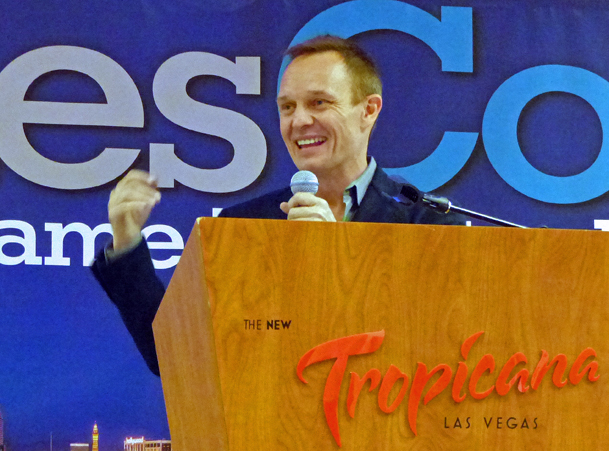 Frank Schilling delivering his keynote talk at the 2015 NamesCon conference in Las Vegas
Challenges in 2015 are going to come from competition in the new GTLD arena. Dropping prices are going to drive opportunity and competition or consumers but it will be hard on some registries. At some point, competition is going to put pricing pressure on .com resales, but probably not this year. That said, remember to get out of the room before it fills with smoke. If the economy softens and everybody starts selling it becomes too late to move to the exits and some folks will get trapped.
Within 3 years Google and Amazon are going to be big retailers of domains. Within 5-7 years I think they will be the biggest retailers. I think between here and there you will start to see more of them in the retail market and that is good for us all. More names = more opportunity. I'm just not sure how that plays out in a softening economy so I'm biasing more conservative right now.
Michael Castello,
Co-Founder, President & CEO, Castello Cities Internet Network
Michael Castello, who, along with his brother David, was profiled in a 2006 DNJournal.com Cover Story, has been one of the world's most successful domain investor/developers for over a decade now. His $3.1 million sale of Whisky.com was one of three biggest sales reported in 2014 and his development successes include PalmSprings.com and Nashville.com.
| | |
| --- | --- |
| Michael Castello | Sale prices soared for domain names especially .com in 2014. We also saw the introduction of hundreds of new gTLDs, which had opponents predicting the end of .com and proponents predicting the overall failure of the new TLDs. In reality, the industry grew on both fronts and an emerging hierarchy that is indicative of a healthy future for web addresses. I'll also include NamesCon, because it was such a successful event which evolved from the new extensions. Anyone can have a "free" web address. Those that attended NamesCon believe that a domain name supersedes search. A domain name is not needed if someone is using Google, Facebook, Wix or any number of companies that offer searchable content. In reality those companies are costing us our data, privacy and security. People are realizing how important it is for their future to own memorable web addresses which advances our industry and profitability. It's an awakening that exponentially will continue and domainers are at the forefront. |
The buying public likewise needs a clear and simple message. They want what simply works. A memorable web address can pay big dividends to its owner and a descriptive brand can save a company a fortune as the internet becomes more integral to our future.
I've completely lived off of domain names for 20 years. In a 2005 article, I answered a question about the future: "In my opinion, everything is going toward smaller, modular, wireless, hands free and heads up. Picture the guy next to you on the train looking through his heads-up sunglasses and making voice command reservations through his high-speed wireless phone/computer. The less buttons, the better. "
Understanding the future and knowing what social impulses it will produce, will make for a successful domain investor and the web addresses they buy. We have to think out of the box. It is essential to prioritize our assets and time without over reaching in our abilities. Simply put; place your time were it is most productive for your goals. If everyone is doing it, maybe there is a more productive way to do it differently. Be creative and find your own path.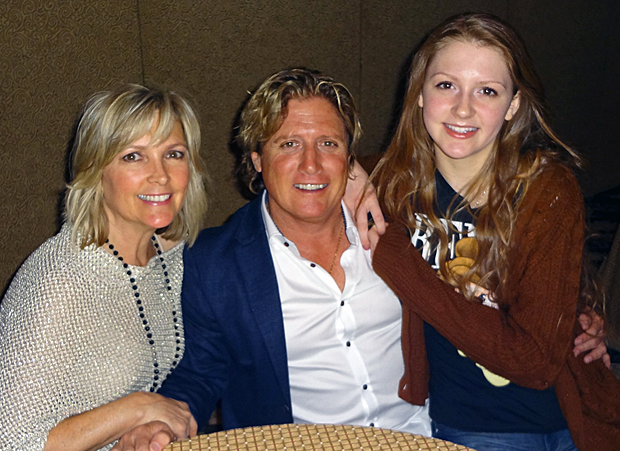 Michael Castello with wife Sheri and daughter Jessica
at the 2014 T.R.A.F.F.I.C. West conference in Las Vegas.
Virtual reality will continue to grow into our live experience and we will become more a part of it and it becomes us. Google and Facebook will continue to wield great leverage until the geopolitical climate changes and curbs its over-reach. In my opinion, Google is a monopoly and has brought great losses to many smaller businesses by creating a kind of class warfare within the first page of search and obscuring web addresses and direct navigation. As one example; simply searching for Nashvlle.com in Google produces results for just the word Nashville, stripping away the TLD and thus promoting its own advertisers. I believe that is an abuse, especially if the user is trying to find Nashville.com. Likewise, search algorithms have become an instrument of control; a sort of reshuffling of advertisers to remind them who is in charge. Hopefully that will soon change. Inevitably it will have to. Open Source is going to play a larger role to balance and counter these injustices. Our goal should be to survive with most of our assets in place while not being overly exposed to risk.
In the next few years, major corporations will have to pour more money into competing with their heavy weight rivals OR they can be creative and advertise with smaller niche businesses that can upstream clients. Either way, it will be a war of attrition and companies would fare better to conserve and not overspend while trying to control their markets. That happened in the late 90s and it did not turn out so well.
If you are a domainer and developer, do so in productive niche markets. People are becoming more selective on where they spend their time. They will do so with likeminded people who support their views. Cater to them!
Braden Pollock,
Founder, LegalBrandMarketing.com
Braden Pollock is one of those people who seems to have the ability to be everywhere at once. He has built a premium domain portfolio as well as many successful businesses, while also finding time to moderate sessions and/or speak at all of the leading domain conferences.
Braden Pollock

I think it goes without saying that the most significant event in 2014 was the release of all the new gTLDs. I can't think of a category in the domain industry that wasn't affected by, at least, a ripple effect of all the new strings. As domain investors jostled to find their place in the new landscape, reallocating funds for the new strings, the overall wholesale market for .com, .net and .org has softened. I believe the entire market has softened across the board with the only exception being super premium names i.e. mid-six figures and up. This is simply due to investors liquidating their current assets to reallocate funds for new strings. Of course, this is prior to any meaningful adoption from the end-user market. Meaning, retail prices have remained unchanged or possibly increased for premium .coms. Anyone focused on premium .com domains as an asset class will weather this storm very well.

That said, I believe some of the new strings are cratering the value of long- tail .com, .net and .org. As an end-user with a limited budget, what is a better name: CrazyHorseClub.com or CrazyHorse.club? Assuming the general public understands that .club is a gTLD then you can only assume the shorter domain is the

better choice. As for "premium" gTLD names like Divorce.Attorney (my domain) and any other SLD+descriptive string, price and availability will drive eventual adoption.
While I've acquired some "premium" gTLDs through several Founder's Programs (e.g. .co, .club, .attorney, .lawyer, .co.com, .green), I'm most confident in my high value .com acquisitions. The premium .com domains are far less speculative than any new gTLD. I'm not saying that the new strings aren't a good investment, I'm saying that the jury is still out until there's mass end-user adoption. That may take years.
For those that are still chasing parking revenues, more power to you. Google is not your friend! The ROI is in the appreciation of our assets. Rule #1: Buy low and sell high.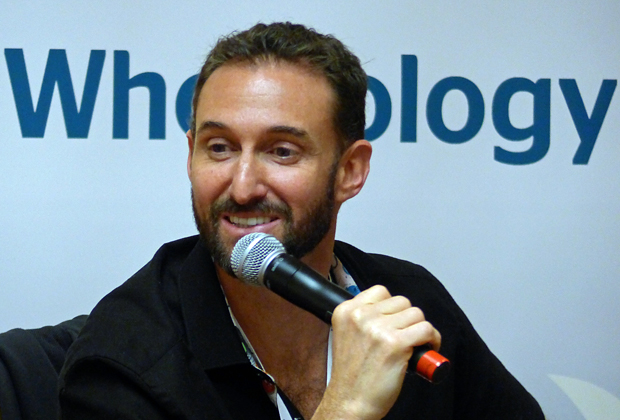 Braden Pollock speaking at the 2015 NamesCon conference in Las Vegas (Jan. 11, 2015)

In 2015 the dust will start to settle in the new gTLD landscape. There will be a major consolidation in the registry space. The big dogs will eat the little dogs. The large and well-funded registries will start acquiring the mid-size and smaller registries. We may even see a merger between two large registries. Economies of scale certainly apply here and in a couple of years there will be several massive registries with many hundreds of strings. Make no mistake, the new gTLDs will be very profitable – at least for the registries and their stake-holders. In other words - buy Donuts stock when you have the chance.

Another prediction I'll make is that there are lots of end-users out there that either don't care about the new strings or are playing the waiting game. At the end of the day, they will acquire the best domain that they can afford. And at the top of the market, that will be a .com.

Larry Fischer,
Founder, GetYourDomain.com

Larry Fischer has been involved in some of the biggest domain sales of all time - most of them subject to NDAs which is why you don't see his name constantly in the news. But make no mistake, every industry insider knows what Larry has accomplished and his vast knowledge of the space (he and partner Ari Goldberger also built a successful parking company, SmartName, that they later sold to NameMedia).
Larry Fischer

2014 was an extremely strong year for High Value Generic .coms. The number of transactions along with sale prices that GetYourDomain was able to achieve for clients was at the highest levels in years. Industry specific, I have to say 2 notable domain sales occurred in the Chat / Messaging market. Chat and mobile are two of the hottest areas on the net. The domains Chat.com and Messenger.com proved that having a strong .com related domain is as important as ever for both large corporations and startups.

One big trend was the meteoric rise in prices in 2 and 3 letter .coms along with 2 and 3 number .com's. Chinese investors were largely responsible for the run up in prices, but large Corporations were also realizing the importance of short 2 and 3 letter .coms.

One significant event in the industry was the rollout of many new gTLDs. Early on, domain investors put money into .Guru. As time went on .club, .xyz and .NYC saw some serious investments. Wine.Club recently sold for $140,000 at the Namescon auction. However

it's a long road ahead for many of the GTLD registries and only time will tell success or failure (remember Flowers.Mobi's $200,000 sale?)
It seemed that Domain Parking revenue continued to decrease on a year to year basis. Some domainers have started to display their domains for sale on pages designed for selling their domains as opposed to parking pages that include PPC links.
Lastly, Namescon became a major force. The show was probably the best run show this industry ever had. Over 900 attendees along with a strong sponsor backing helped make it a roaring success. Congrats to Richard, Jothan and Jodi and thank you for what you have done for the industry.
Looking ahead to 2015, I think it will be interesting to see how the new GTLDs play out. Most end users have very little understanding of what they are. In addition, very little marketing effort has been put into them by most of the registries. Many of these domains have been purchased by domain investors. If these investors do not have resales, many of these domains will not be renewed. In addition, the yearly renewal prices for some of the most premium of the gTLDs can run from $10,000 to $60,000. not to mention similar upfront initial fees.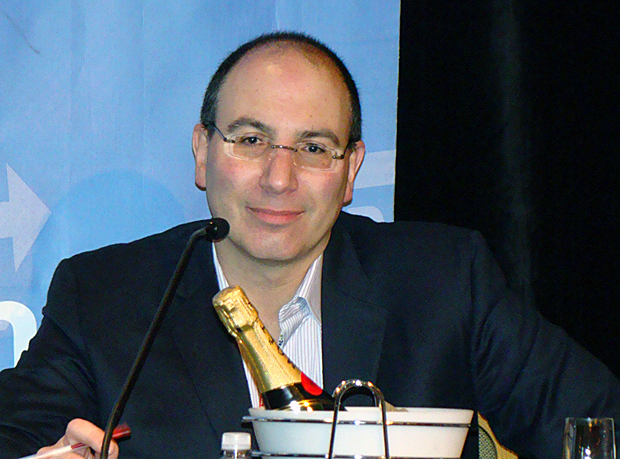 Larry Fischer closes so many big sales its a good idea to keep a bottle of champagne
nearby to celebrate! (photo from the 2009 T.R.A.F.F.I.C Silicon Valley conference).
I see prices continue to increase this year on premium and short 2 and 3 letter .coms. I predict this based on both sales that have happened or are in the pipeline that I'm already involved in. I also predict that the record for the highest price domain only sale of all time will occur. Yes it will be a .com. (but will it be under NDA?).
PPC parking revenue will continue to decline in mobile RPC with the upcoming Google changes but n all I look forward to the year ahead!
Daniel Schindler,
Co-Founder & Executive VP, Donuts.co
Daniel Schindler is the Co-Founder and EVP at Donuts.co, the largest player in the new gTLD space having applied for over 300 extensions, dozens of which are already in operation.

The most significant event, clearly, was the expansion of the domain name system. For the first time in decades, the industry established competition at the registry level, introduced new and varied naming options, and brought fresh choices to consumers. 2014 was a year of introduction and building as registry operators introduced new gTLDs and began building customer bases; 2015 will be the first of many years of significant growth in adoption and usage.

There is a tremendous opportunity to further make consumers aware of the utility and availability of new gTLDs. Donuts, and other industry colleagues, will be devoting significant resources to educating the marketplace and increasing awareness of these and other associated services.
Bhavin Turakhia,
Founder & CEO, RadixRegistry.com
Bhavin Turakhia is a wildly successful serial entrepreneur based in India who co-founded and sold industry giant Directi before making a big move into the new gTLD space with his current company, Radix Registry.
Bhavin Turakhia

2014 was a momentous year for us. The most significant event that made this year an unforgettable one in our journey – we went from being a registrar business to becoming Asia's largest registry business. It was a long time coming, but I'm glad that the new TLDs are finally here.

My team has been as excited about this as I have. We spent countless days and nights researching and building our new TLD applications for a period spanning almost 2 years. We sincerely believed (and continue to believe) in the disruptive power of new TLDs, and so we immersed ourselves in tracking the progress of the program, supporting the program vociferously at each step of the way. It is immensely satisfying to see that effort pay off, Radix now owns the rights to operate 7 amazing new top level domains - .Online, .Tech, .Site, .Website, .Host, .Press, .Space, and we continue to be in the running for several more exciting ones including .Web, .Shop, and .Music.

From the perspective of the industry as a whole, I believe that the advent of new TLDs has made

the registry business an incredibly dynamic one. For several years, relationships between the players in the industry were linear, registries sold domain names (without the need for much innovation) through registrars and resellers, who in turn marketed their services to end customers. Registries today cannot afford to ignore any player in the value chain. As a registry, we recognize the necessity to engage with registrars, resellers, affiliates, influencers, strategic partners, and customers alike in order to build a brand that the end consumer can identify with and trust. The need for innovation has never been greater than it is now.
On the registrar side of the business, I believe that consolidation is the order of the day. My belief is strengthened by the rising number of acquisitions in the industry of late, including EIG's acquisition of some of our businesses. Their expansion strategy makes a lot of sense to me – they are now leading the industry by successfully building a multi-channel, multi-geo, and multi-brand presence. I believe that this trend will continue for the foreseeable future.
About 500 new TLDs have launched in the last 1.5 to 2 years, and several more are on their way. All of these are not going to be equally successful – a tough battle lies ahead of us. By mid-2015, most registries will have acquired the TLDs that will form the core of their registry business for many years to come.
That said, I do not think that the industry will become static in any way. We expect consolidation even in the registry business. The "portfolio registry" companies have a significant advantage over single TLD registries, with economies of scale playing in. But stronger, more passionate teams, with dedicated focus on their standalone TLD will be what will drive these boutique single TLD registries to become as valuable as any other TLD, if not more.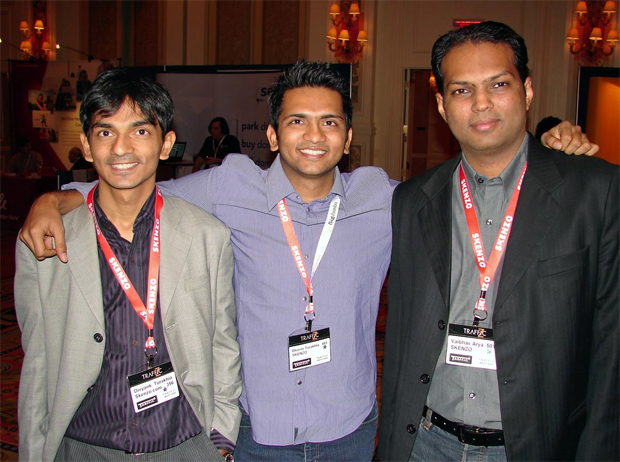 Bhavin Turakhia (center) with his brother and business partner Divyank Turakhia (left)
and Vaibhav Arya (right) at the 2008 T.R.A.F.F.I.C. West conference in Las Vegas.
2015 is going to be a big year for us here at Radix. We are part of some hotly contested contention sets including .web and .shop, which are likely to be settled. We are psyched about the prospect of adding more exciting TLDs to our growing portfolio in 2015. Though 2014 was significant in its own way, we foresee the next year bringing a very different set of challenges. We are planning an elaborate multi-pronged marketing campaign to create awareness for our extensions, and the new gTLDs in general. Like I mentioned before, we cannot afford to lose sight of any stakeholders.
Amongst other significant events to watch out for during the year, I believe I would put GoDaddy's forthcoming IPO, and the launch of Google's registrar business at the top of my list. All in all, the industry will definitely continue to be in a transformational phase, and innovation and adaptation would be two things that I believe would serve all participants very well.
Paul Goldstone,
President, .CO.COM Registry, Founder & CEO, DomainIt.com
Paul Goldstone runs one of the oldest domain registrars in DomainIt.com and last year he made a unique moved into the registry space - but not with a new extension. Instead, Goldstone used his .CO.COM domain name as the foundation for a new .CO.COM registry.
Paul Goldstone

When I think of the coming year, I'm reminded of the mid 90's when I was just getting started in domains. Only a very small percentage of people had heard of domain names let alone knew of their potential, but as time passed, domains slowly became more prevalent. At one point I saw a domain on the back of a bus, the next week I saw a couple of domains in a magazine, and of course eventually, domains were on billboards, backs of buses, business cards, magazines and everywhere else. That didn't happen overnight, and neither will the adoption of new gTLDs, but for some extensions.

As I've said in years past (but it continues to apply in 2015), awareness will continue to grow for the new gTLDs among Registrars and consumers. Registrars (and to some extent registries) will promote awareness to the public through increased offerings, greater options, and consumer education. As a result, new domain names will become more mainstream through search results, marketing materials, social media, and by visiting the websites of early adopters.
In 2015 we're going to see the industry make things simpler for consumers. With the increasing number of TLDs, there needs to be an emphasis on finding new solutions to ease the domain searching and registration process to fit customer needs. Providing clear information and methods for finding the perfect domain in a sea of new gTLDS will help expedite growth.
Domains that end in .com will continue to demand the highest prices in the aftermarket while investors will pick up strong new gTLD domains at rock bottom prices (AKA ground floor opportunities!) Not all of those domains will increase in value but there is certainly opportunity for good investments right now.
I can't speak for all new domain extensions, but at .co.com we are already seeing a surprising number of registrants actually developing their domains, not just for parking or a landing page, but with fully-fledged websites such as orbit.co.com, iteam.co.com and anza.co.com. I believe this early acceptance and usage among the general public is a trend that will grow significantly in 2015.
As I've said in the past, the growing demand for mobile-friendly products will continue to influence the industry, especially new gTLDs. Users will seek out new names in order to get shorter and more targeted domain names for mobile businesses. Look for a trend toward names that are easy to say/pronounce as reliance on voice commands within search and mobile products increases and wearable tech, such as smart watches, are introduced.
One thing is for sure, that 2015 will be an interesting year to watch, as the number of gTLDs grow, compete for market share, and end users continue to adopt new domain names.
Tobias Flaitz
CEO, Sedo.com
Domain Investors
Domain Investors
Domain Investors
As the CEO at Sedo Tobias Flaitz is closely involved in almost every aspect of the domain industry from new gTLDs to domain monetization to running a huge aftermarket platform that is known around the world.
| | |
| --- | --- |
| Tobias Flaitz | 2014 was a remarkable year for the industry and for Sedo. We saw a high demand for premium names under .com achieving record prices, and ccTLD domain sales remained strong (.de was the second most successful TLD after .com). New gTLDs entered the market with new approaches and saw a very realistic start and growth even though many players in the industry had way higher expectations. Buy Now domain sales saw another huge increase proving that buyers prefer to know the price for the sake of a fast purchase. Did you know that Buy Now domain listings at Sedo grew by almost 300% during the last 4 years? 2014 revealed to the industry that in order to market domains properly and leverage the business potential of the new gTLDs and in general the extended domain space (including .com/.de, etc.), industry players such as Registries, Registrars and Service Providers like Sedo have to join forces. Sedo has already begun this approach in 2014 and will expand its global marketing activities together with our partners to achieve a high-flying year in 2015. My expectation is that 2015 is going to be a better year for new gTLD registries and in general a good year for the domain industry. |
With respecting to the marketplace and domain trading, our assumption in 2013 that prices of .com domains would increase in 2014, came true: both mean and median prices saw an upturn and despite the introduction of many new gTLDs there was still a high demand for premium names and also exact match keyword domains. At Sedo, we saw a 25% year to year growth rate of the .com median sales price. In addition, a study from CanIRank, a SEO software company, provided a possible explanation for the trending category of keyword domains: the study found that exact match keyword domains still have a positive impact on search engine ranking despite the fact that Google has recently changed its algorithm.
Another highlight that we saw in 2014 was an increase of domain trading originating from China. Since we launched our marketplace with all its functions and services in Chinese, we saw a huge impact on domain sales statistics, especially those originating from domain buyers within China. Many of our new Chinese clients were focused on purchasing LL.com or LLL.com domain names, domains including numbers and so called PinYin domains, which was reason enough to add the Pinyin category to our domain search engine at Sedo. This made it easy and accessible for this audience to find the domains they were looking for right at their fingertips.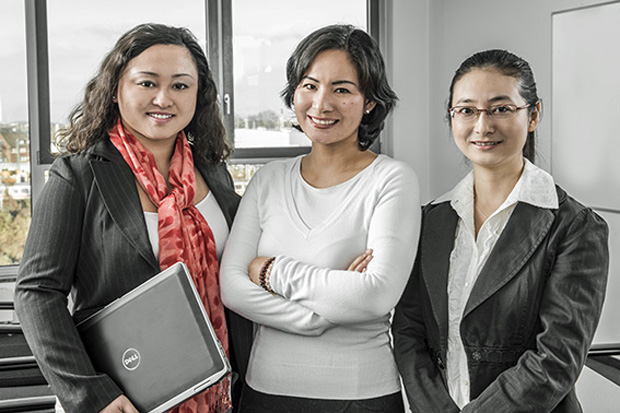 Sedo's Chinese Country Management Team
The competition in domain trading, specifically in the brokerage sector, grew but only a few players were actually successful. The market has an excess of for sale inventory and the challenge is to get eyeballs on this and find buyers. Multi-Channel players like Sedo do have a huge advantage over Single-Channel organizations.
ccTLDs continued to experience sales growth and proved that that they will remain successful: domain sales such as kaffee.de for €100,000 or chat.fr for €99,999 are prime examples of this feat. Now more than ever users are more likely to trust businesses if they have their website presence under a ccTLD and they are essential for any company's expansion strategy. That's why there was and always will be a demand for domains under ccTLDs such as .de, .at, .fr and many more. As for the Top 20 of ccTLDs, there was a year to year growth in the median price of 13%. According to 2014 DN Journal figures, Sedo is absolutely dominating the ccTLD aftermarket. At the same time domain sellers benefit from the global extent and vast reach of our platform.
New gTLDs started off slowly in the beginning of 2014 but they eventually got going in the right direction. Average sales prices are absolutely comparable to Sedo's experience and are hence in the expected range (please see further below for more details). So far the number of sales has been relatively small, i.e. compared to .com and .de, but expectations need to be realistic and new gTLD sales grew quite nicely over time with an upward trend. The trajectory for better performing new gTLDs is very promising and supports existing partnerships with new gTLD registries.
With respect to domain parking, even though in previous years the industry in general, Sedo included, has seen a downward trend in the parking monetization arena, 2014 was the first year where parking earnings were stable. Our Mobile Traffic also performed very well. In addition, we made modifications and optimizations to our parking templates that were met with much success and led to increases in productivity. The EPC has recovered our client base is consistently growing.

Looking ahead to 2015,

we can expect to see some shifting when it comes to the way premium domains are sold. Setting fixed prices for names will be essential for successful selling. At the same time, there will be almost no big change in 2015 when it comes to quality: consumers will still invest in high premium names.
2015 will definitely be an exciting and eventful year for the domain industry. This was already evident by the large draw of participants at the recent NamesCon in Las Vegas. And this was just a launching point for a wide array of international conferences and events across various industries that we'll be participating in.
Improvements to provide an even easier path to purchase premium domains are a priority for us in 2015 as we continuously enhance the user experience and drive more sales. Reaching end users still remains one of our primary objectives and getting these user's attention and acceptance regarding domains is essential in order to continue to grow premium and aftermarket sales. Our domain sellers will benefit more when consumers that are unaware of the aftermarket get an understanding of the importance of a good domain name. Who can do this better than domain brokers? On a daily basis they have to explain to companies why domains are valuable. We definitely need to hire more of them in 2015, so if you know of someone who would be a good fit as a broker, talk to us!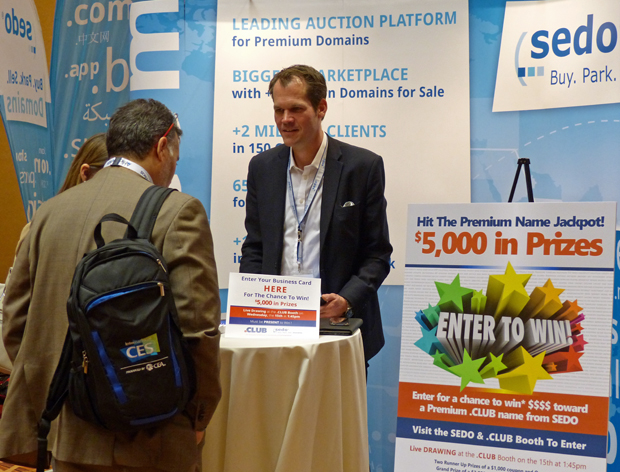 Sedo.com CEO Tobias Flaitz welcoming visitors to the company's booth
at the first NamesCon conference in January 2014.
In 2015 we can also expect to see the first considerable marketing campaigns to use a new TLD domain which could be a brand TLD or a gTLD. This is a crucial step in order to gain momentum and increase the acceptance of new TLD domains for end users. 2015 is also critical when it comes to Google and how they will treat these new gTLDs in their search algorithms. These facts combined with ongoing collaborative efforts between Sedo and our Registry and Registrar partners will be even more important in 2015 to ensure that the TLDs remain successful. In addition, businesses with city TLD domains such as .berlin or .vegas may become prevalent since they already have a low acceptance threshold. But there is still so much that needs to be done in 2015 to thrust domains into the public's consciousness.
Lastly, we are focused on our strengths that have led 2 million clients to choose us as their preferred marketplace and partner: providing a high performing marketplace that reaches 180 countries making it even more practical and convenient for all parties to trade domains. Our roadmap for 2015 is full of tasks on how to improve the domain trading experience for our sellers, buyers and parkers and we are looking forward to introducing them to this audience soon!
Tessa Holcomb,
Founder & CEO, Igloo.com
Tessa Holcomb

After a very successful career as a broker at Sedo Tessa Holcomb founded her own shop at Igloo.com where she has continued to enjoy exceptional success, including several 7-figure sales.

It was predicted that 2014 would be a year of change for the domain industry and that it was! From fruitful partnerships to exciting acquisitions and significant staff changes to familiar faces returning to the industry, 2014 left little time to get used to the norm as there really didn't seem to be any. And, although the new gTLDs commanded so much of the domain industry's attention throughout 2014, they weren't necessarily on the forefront of our clients' minds.

While Igloo did see some interest in premium gTLDs from our client base, our focus remained strong on selling and acquiring names on the secondary market. On the acquisition side, the majority of our clients were looking for premium .coms when it came to building a brand or launching a new a new product. Additionally, we saw significantly more requests to acquire TMs, supporting ccTLDs and social media handles in 2014.

It's no secret the Chinese market has been on fire recently and although it's always been a strong market for Igloo, 2014 marked a huge upswing in offer volume and price point from this region and we're definitely seeing that trend continue into 2015.
There has also been a renewed interest and sales activity on the portfolio front. We saw a increased number of requests in 2014 for custom domain portfolios from investors looking to enter the market to industry veterans interested in growing (or replenishing) their existing portfolios. Portfolios ranged in type and were priced based on quality and revenue and sold for as low as mid five figures to as high as mid seven figures.
I predict there will be more confusion in the new gTLD space in 2015. At the rate that new gTLDs are currently being released, it's enough to make our head spin, let alone the general public!
As a self-pronounced .com believer, I have to admit that even I shared in the enthusiasm when Bill McClure bought Coffee.Club (for $100,000) because it "just makes sense." However, while I love the fact that Coffee.Club has been given the opportunity to shine, is it because it's just a far superior site than CoffeeClub.com or would it make a difference if CoffeeClub.com were a viable competitor? Would it cause confusion? Coffee for thought.
Along these lines, Igloo is seeing an interesting swing in the pendulum that is very much in line with a post in TheDomains recently where Michael Berkens pointed out that 51 out of 64 finalists in a startup competition were using a .com. Igloo clients who registered gTLDs in the past year to launch their business or product are now contacting us for .com acquisitions. While they may not have been ready to invest in the .com initially, once their business plan is proven, etc., they are now finding the .com is necessary. We've had several similar requests this month already and I wouldn't be surprised to see this trend continue.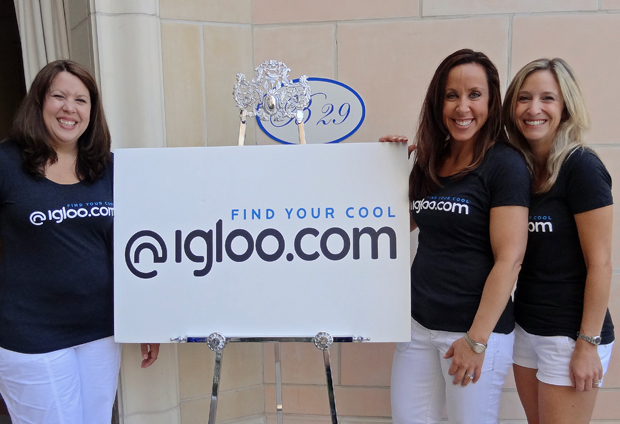 (L to R): Igloo's Amanda Waltz, Tessa Holcomb & Christina Oakland at the Igloo cabana
at the Bellagio Hotel in Las Vegas during the T.R.A.F.F.I.C. West 2013 conference.
I feel that acquisitions will continue to be a significant portion of the domain brokerage business. Buyers are realizing the benefits of using an experienced broker to acquire their name, confidentially, on their behalf rather than attempting it on their own. I predict that, although we will see some compelling marketing among the new gTLDs in an effort to attract new users, we may not be as far along as one would hope or expect this time next year. I believe the value of the .com will continue to hold strong and that we're going to see some blockbuster sales take place this year. Lastly, I think we can expect to see more consolidation and movement within the industry.
The collaboration and undeniable energy and at NamesCon provided the perfect start to the new year and reminded me how fortunate we all are to be part of such a dynamic yet generous group of people. Overall, my outlook for the domain industry in 2015 is extremely positive and I'm happy to report that we are already seeing the sales to support that. We are especially excited here at Igloo to be putting the finishing touches on our new marketplace and can't wait to share our new look and feel. Stay tuned!
George Hong,
Founder & CEO, Guta.com
Philadelphia based broker George Hong has been one of the prime beneficiaries of the explosion in the Chinese domain market. With his fluency in both Chinese and English and his intimate knowledge of the markets in both countries, George is uniquely positioned to facilitate sales between buyers in the East and sellers in the West.
George Hong

One key trend in 2014 was seeing, due to strong demands from Chinese domain investors, the value of short domains, such as LL.com, LL.cn, LLL.com, NN.com, NNN.com and NNNN.com, taking a big jump. For example, at the beginning of 2014 there were some LL .com domains available for sale at the 100K-150K level. At the end of 2014, It was tough to buy any LL.com for under $500,000.

Another important trend was domain investors buying domains from end user (rather than selling to them). For example, in 2014 Schneider Electric, a Fortune 500 company, sold WX.com and Hasbro, one of the largest toy makers in the world, sold Game.com. Both buyers were domain investors. Typically selling domains to end users (especially large corporation) is a dream goal for domain investors. Things are changing. Domain investors are willing to pay more than end users in certain scenarios.

Important events included the .CN Registry Auction at the beginning of 2014/end of 2013.

Tens of thousands of premium .cn domains were auctioned off. The auction attracted end users and new domain investors along with experienced domain investors. The auction gained a lot of media exposure. It educated the public about domain names and their values. Many of the sold domains went up in value significantly by the end of 2014; which should draw new money and investors into the domain market.
Looking ahead, domain theft will be a major and growing concern. Domain name owners should make domain name protection a part of their security policy and take measures, such as watching out for phishing emails & using two factor authentication email as registrant email, to protect their domain names. Registrars that provide better security services will gain more customers. Registrars that don't take security seriously or slow to react to domain theft issues will lose customers. Smart registrars will enhance their own security mechanisms and co-operate with each other to fight domain hijacking.
With respect to trends, the demand for short and other highly liquid-able premium domains (especially .com domains) will remain strong. The value of these kinds of domains will continue to go up in value in 2015. However, it will grow at slower pace compared with 2014. The majority of short domains that come to the domain aftermarket will be sold to Chinese buyers.
Daniel Law,
Co-Founder & COO, RookMedia.net
While domain parking has gone through a widely-publicized slump in recent years, Rook Media has managed to thrive and gobble up previous competitors along the way. Co-Founder Daniel Law, after previous stops at Sedo and NameDrive, has been a key figure in their rapid rise to prominence.
Daniel Law

Last year, when answering the question on what I saw as upcoming major changes and/or trends for the monetization segment of the Domain Industry, I felt somewhat like a guilty student who had acquired the questions on an upcoming exam ahead of time. As is well known now, at the timing of answering that question, I was working feverishly towards bringing our acquisition of the DomainSponsor business from Oversee.net to a successful close, under strict confidentiality agreements. So while not being able to talk about the specific consolidation and maturation that I was specifically working towards, I was able to able to generically foreshadow what was to come about for Rook and DomainSponsor, as well as seeing and commenting on the signs that similar processes were underway at other monetization providers in the industry.

As major of an event that the acquisition of DomainSponsor by Rook Media was, combining the number 1 and 2 monetization platforms, respectively, in the industry together, it was certainly not the only event of its kind in 2014.

There were number of changes to the strategic terrain of the industry all through the year, leaving us with a much different playing field at the end of 2014 than at the beginning. TrafficZ's parent, Thought Convergence, sold and subsequently closed down operations of the monetization business. HitFarm was another platform to close up shop after a long and storied history. Matomy Media acquired a controlling stake in Parking Crew and subsequently did a small scale IPO on the London Exchange. Many other smaller platforms also either closed down, attempted to sell but were not able to find a suitor, and/or reduced operations and offerings to clients.
The full affects of a variety changes and improvements on the advertising affiliate side of the business, such as Google's CAF changes and implementation late in 2013, drove the strategic dynamic and really forced the all the participants to adapt for the better, or move out of the space. On the balance, the resulting maturation of the remaining participants and monetization segment itself, have led to an overall better industry outlook starting 2015 than we left 2014 with. Earning trends have stabilized and now improved over 2013 for the bulk of the quality portfolio owners. Affiliate Advertising relationships continue to be made and existing ones strengthened, offering more variety and flexibility in monetization for clients. Synergies of the combinations and lessons learned during integrations are being leveraged and are resulting in better offerings and services for clients. I see 2014 as a banner year for our industry and one that points to many good things to come, notwithstanding some structural speed bumps in our path as we continue to move forward.

With full realization that my answer to this and last years 2014 review/outlook, might put a high bar on an expectation of some prophetic knowledge to be gained, I have to reluctantly admit that I don't have anything immediately pending that is quite on the scale of last year's activities to forecast 2015's outlook with. While we certainly are still working on many potential strategic partnerships to solidify our place in the market, and expect and hope to be a part of some of the necessary and continued consolidation in the industry, I feel the full the bulk of the attention on progress in 2015 will be caught by the continued organic maturation of the industry.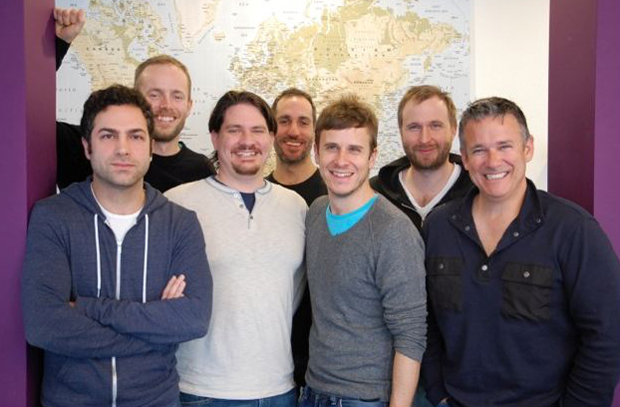 (L to R) Rook Media Co-Founders Ash Rahimi, Martin Andersson, Daniel Law, Simon Pupo,
Ed Russell and Matthias Muller with Senior Sales & Strategy Consultant Joe Higgins. - See more at: http://www.dnjournal.com/cover/2013/april.htm#sthash.lDwfZ2nK.dpuf
(L to R) Rook Media Co-Founders Ash Rahimi, Martin Andersson, Daniel Law, Simon Pupo,
Ed Russell and Matthias Muller with Senior Sales & Strategy Consultant Joe Higgins. - See more at: http://www.dnjournal.com/cover/2013/april.htm#sthash.lDwfZ2nK.dpuf
(L to R) Rook Media Co-Founders Ash Rahimi, Martin Andersson, Daniel Law, Simon Pupo,
Ed Russell and Matthias Muller with Senior Sales & Strategy Consultant Joe Higgins
The landscape will continue to change, with modifications in the terms of monetization on some devices looming on the horizon on the affiliate advertising side, as well as the resulting opening this will provide for the continued growth of additional and alternative means of monetization. If anything near the investment that went into acquiring the rights to the various new gTLDs goes into marketing and developing of them, we could and should see this as a source of new growth in direct navigation and monetization.
Without a doubt, 2014 and the changes coming this year have shown us that the old mantra that 6 months in the domain industry is like 2 years in many others, holds as true now as it ever did. As much as the industry maturation in 2014 lead to many improvements in the core elements of domain name monetization, even more and broad reaching change is needed. Existing platforms and their technological basis, current partnerships and the resulting value add for customers, as well as the various assumptions surrounding the fundamentals of how quality sustainable monetization is best achieved, all need to continue to evolve, be retooled and/or rethought and fashioned into the form best fitting the emerging challenges. The requirements in evolving to meet these challenges will continue to weed out the weaker, less prepared and devoted participants, leaving the more dynamic and adaptive platforms in place.
We at Rook and DomainSponsor are working hard towards being in a solid position to offer significantly improved and tailored solutions to our clients, whether sourced internally or leveraged from our strategic partnerships. Expectations are high that 2015 should increase the tempo in the positive development of our industry, with benefits for both the immediate and the long term, as the continued maturation and new strategic consolidations and partnerships streamline and improve the eco system for all.
Karen J. Bernstein, Attorney
Founder, BernsteinIP.com
There are only a handful of veteran attorneys in the world who really understand the domain space inside out. New York City based Karen J. Bernstein of BernsteinIP.com is one of those elite few that domain owners turn to when their assets are on the line.
Karen Bernstein

The domain industry saw an increase in stolen domain names in 2014. It appears that hackers/thieves are getting more sophisticated at breaking into registrants' e-mail addresses and then taking over the administrative functions so the domain names can be transferred away from their rightful owners and sold on the open market to unwitting buyers.

The New gTLDs were also prominent in 2014 and, in particular, the launch of geo gTLDs like .NYC and .BERLIN, which are showing an increase in registrations. With all the hoopla over the URS in 2014, there were only about 87 URS domain disputes over New gTLDs filed at the National Arbitration Forum, one of two ICANN appointed providers.

In 2015 you will probably see more registrars touting two-factor authentication and other security methods in an attempt to mitigate domain thefts. The rise in instances of online security breaches for large companies like Sony, however, could prove to be a challenge for securing your domain names.
Financially, with back end providers gobbling up New gTLDS and Web.com's acquisition of SnapNames, we will probably see more consolidation in the industry for 2015. And we may start to see Dot Brand TLDs (like .AXA and .Canon) marketing their services to the public, which could increase public awareness of New gTLDs which, in turn, may help the open New gTLDs gain traction in attracting more registrations. With respect to domain disputes over New gTLDs, I believe that UDRP cases will continue to outpace URS proceedings in 2015.