As detailed in those daily posts from Las Vegas there were many highlights from NamesCon 2015. One that will be especially memorable for me was meeting longtime online friend Thunayan K. AL-Ghanim of Future Media Architects in person for the first time. For more than a decade, we've conversed in forums, through email and by phone but it took NamesCon to finally put us both in the same place at the same.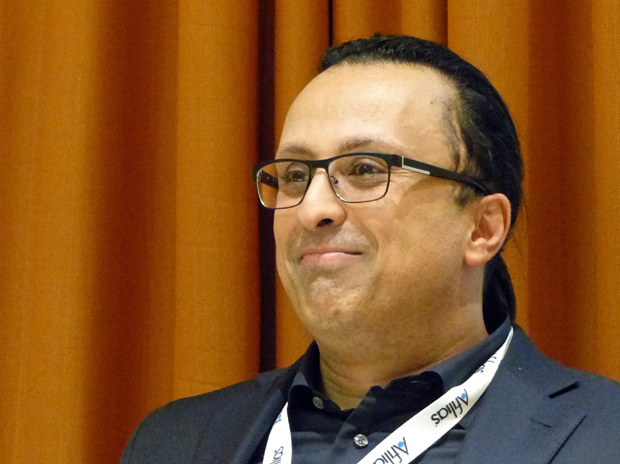 Above: Thunayan K. AL-Ghanim (FMA.com) at one of the two sessions in which he was a featured speaker during NamesCon 2015.
Below: Another highlight of NamesCon was the opening night cocktail party when attendees get a chance to catch up with old friends and start making new ones. In this shot from that event Sunday night (Jan. 11) are Sandy Brooks (DomainTaxGuide.com) and her husband Darryl.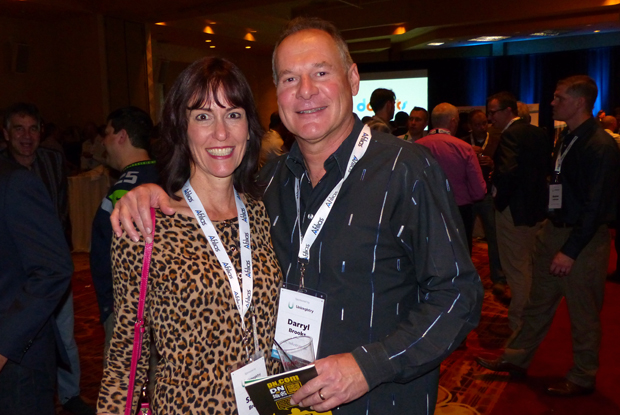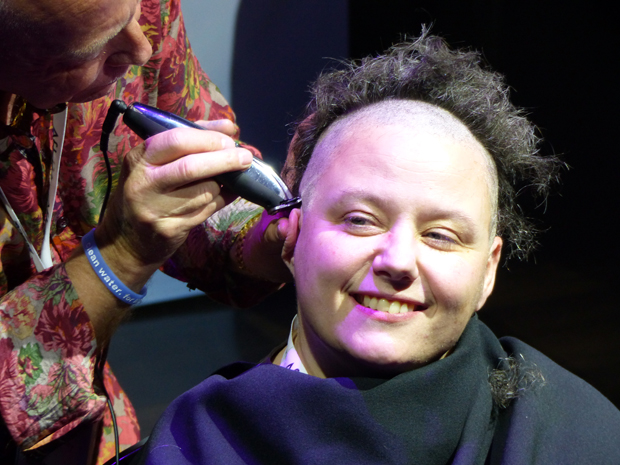 Above: An even bigger party was held Monday night (Jan. 12) - NamesCon's huge Water Night fundraising event for the Water School. Kellie Peterson (DNC Holdings) was one of three brave and generous souls (joined by her DNC Holdings colleague Mike Robertson and Kevin Kopas of Radix Registry) who allowed their heads to be shaved by Gregg McNair in exchange for donations to the Water School. With NamesCon and NameCheap.com each matching all donations made by attendees, the event raised $138,000 for the life saving charity!
Below: Barbara Neu (left) and Ilze Kaulins, seen here with Adam Dicker, came to the Water Night party right after a special Women in Domaining event where the industry's many outstanding ladies pooled their resources to raise $8,000 for the Water School - a sum that tripled to $24,000 with the matching funds from NamesCon and NameCheap.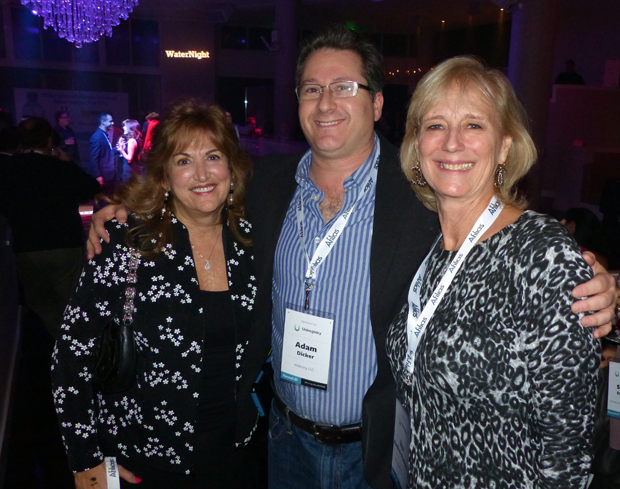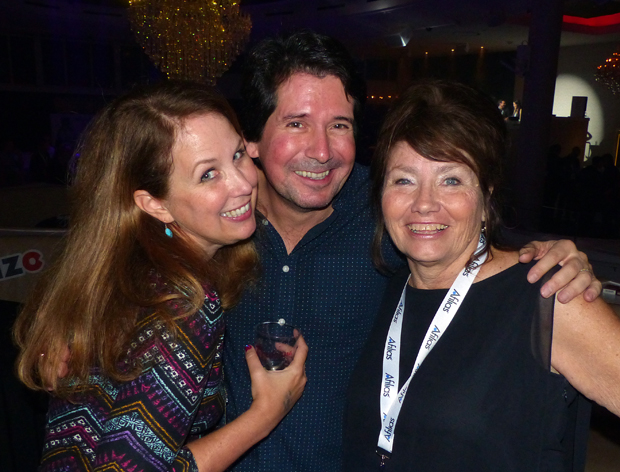 Above: Also on hand for Water Night were Trudy Olea, her husband Bob and Diana Jackson.
Below: The entire team from Winged Media raise their glasses in a Water Night toast celebrating a record breaking fundraiser for the Water School. Left to right are Michael Thandi, Rebecca Alva, Eugene Wood, CEO Troy Rushton and Jon Hewitt.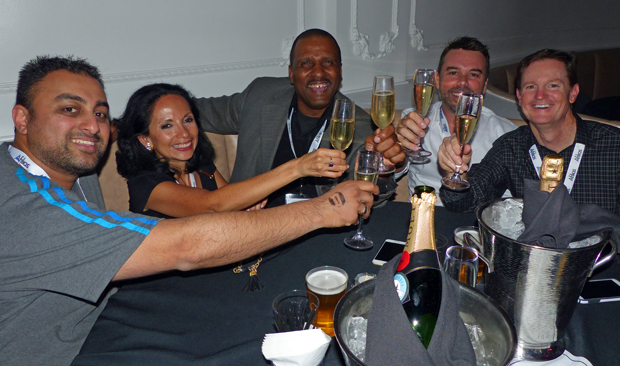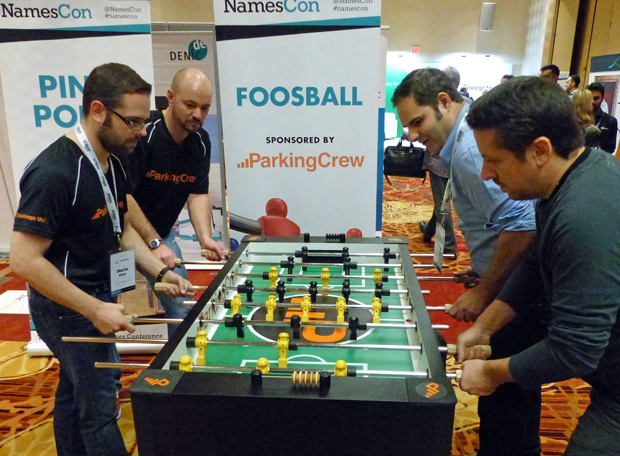 Above: Water School fundraising wasn't restricted to Water Night. Throughout the week, executives from ParkingCrew.com took on all comers at their foosball table in the Exhibit Hall and donated $100 to the Water School for every match they lost! Mario Witte and Axel Kaltz (both at left) are defending the ParkingCrew goal in this match. Konstantinos Zournas (OnlineDomain.com) is at front right on the challenging team.
Below: The Exhibit Hall provided a popular and comfortable meeting place for attendees throughout NamesCon. With white leather chairs and sofas spread throughout the lounge area there was always room to hold meetings, check email or just kick back with friends.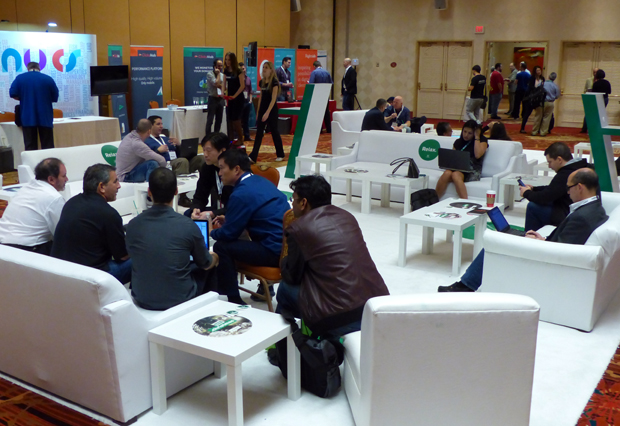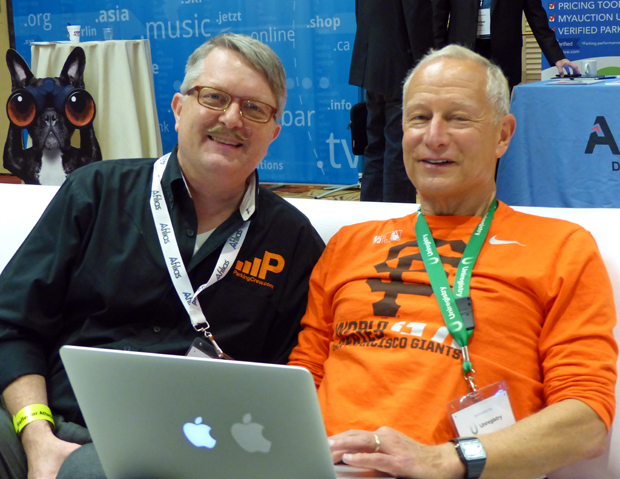 Above: Jim Grace (ParkingCrew.com) and Howard Hoffman (domain investor from Palo Alto, California) did some catching up in the Exhibit Hall lounge at NamesCon.
Below: With sponsors handing T-shirts and all manner of free swag, the Exhibit Hall was heaven for domain memorabilia collectors. As you can see in this shot, DomainCapital.com came well prepared with Gregg Freeman (left) and Vince Harasymiak on hand to distribute a mountain-sized stack of DomainCapital T-shirts.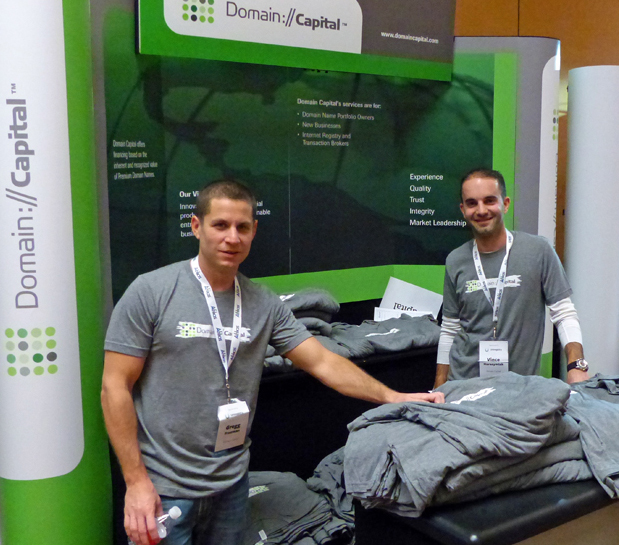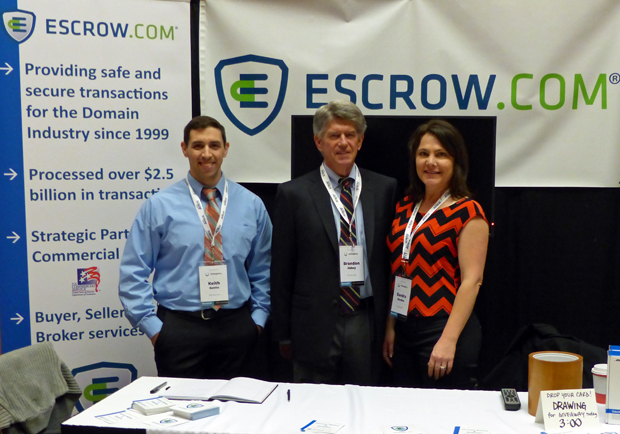 Above: Even better than the free swag, drawings and giveaways was the chance to meet key service providers face to face at their Exhibit Hall booths. With (left to right) Keith Gettle, President Brandon Abbey and Sandra Gordon at the Escrow.com booth, attendees could see and talk to the people who secure so many of their domain sales transactions.
Below: As you would expect, especially with industry giant Frank Schilling (seated, 2nd from right) often on hand to chat personally with visitors, things were always busy at lead sponsor Uniregistry's booth.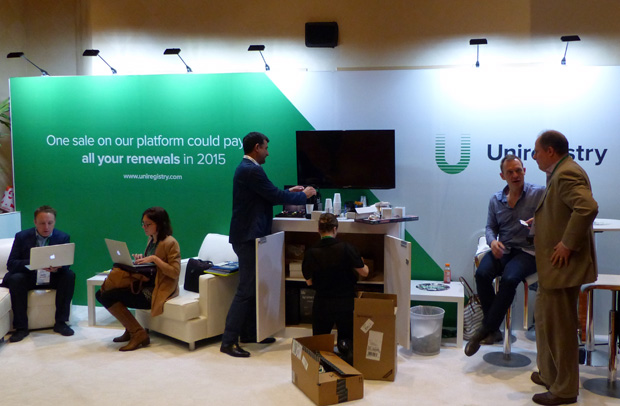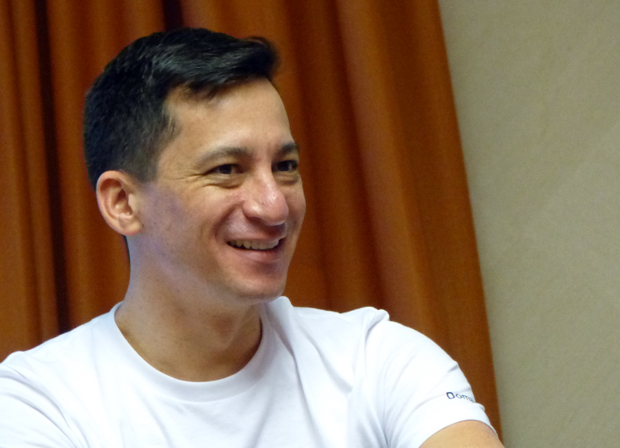 All in all, Namescon Co-Founders Richard Lau (above) and Jothan Frakes (below) couldn't have had a better week. When you have 900 people over for a party a lot can go wrong but, at least as far as attendees could see, the conference ran like well-oiled clockwork.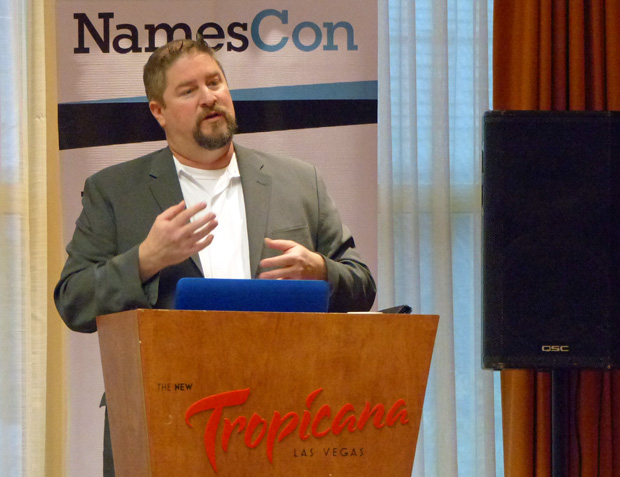 Below: Richard and Jothan will both be quick to tell you that their show Co-Producer Jodi Chamberlain deserves much of the credit for the smooth logistical sailing at NamesCon. Jodi is seen 2nd from left in this photo from the Women in Domaining event at NamesCon. Left to right are Natalie Lambert (Uniregistry), Jodi, Syan Stevens, attorney Karen Bernstein and Nancy Bianchi (Above.com).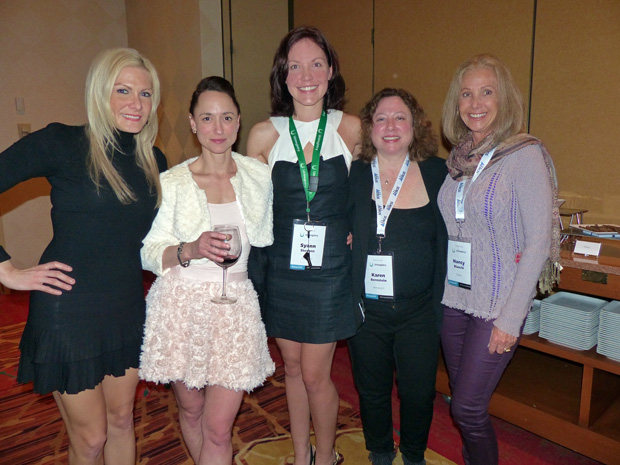 So NamesCon 2015 is now in the books. There is an old show business saying - "Always leave them wanting more" - and no doubt this year's attendees will want, and no doubt receive, even more when NamesCon returns to Las Vegas in 2016.