lot of money for anyone to plunk down on a domain name, especially when they aren't yet sure exactly what it will be used for. To find out exactly who this extraordinary European entrepreneur/aspiring philanthropist is and what motivated him to go all in on Great.com we connected with Erik to get the inside story.
"Iím from Sweden, a small town called JŲnkŲping and I was born on the 11th of February 1988," Bergman began. "I was raised in a very normal Swedish family, a family that I believe fit pretty much all expectations of a Swedish family that non-Swedes might have (at least what I think they have). Very caring, really organized and generally engaged in the world problems. I care a lot about the people around me and I want to put as many smiles on faces as I possibly can."
Bergman said the most vivid memories from his youth go back to evening conversations his family had at the dinner table. "My family was pretty much always talking about what was wrong in the world. The conflict between Israel and Palestine, the global warming, whatever epidemic was haunting the planet at the moment. The dinner table was a serious place for me. To contrast this, I remember my first dinners at my fiancťe's house. She has three sisters and at the dinner table, pretty much the only thing you can hear, is giggle. It took me years to accept that this was a way of eating together as well. Over time Iíve grown the really appreciate all the focus on whatís fun and joyful rather than whatís deep and worrying."
Here is a recent - and perfect - example of Bergman's fun and joyful approach to life. The top photo is Erik and his brother as kids. A few days ago, to celebrate their mother's birthday, the boys got together to pose for a new photo they wanted to surprise her with (the 2nd photo below).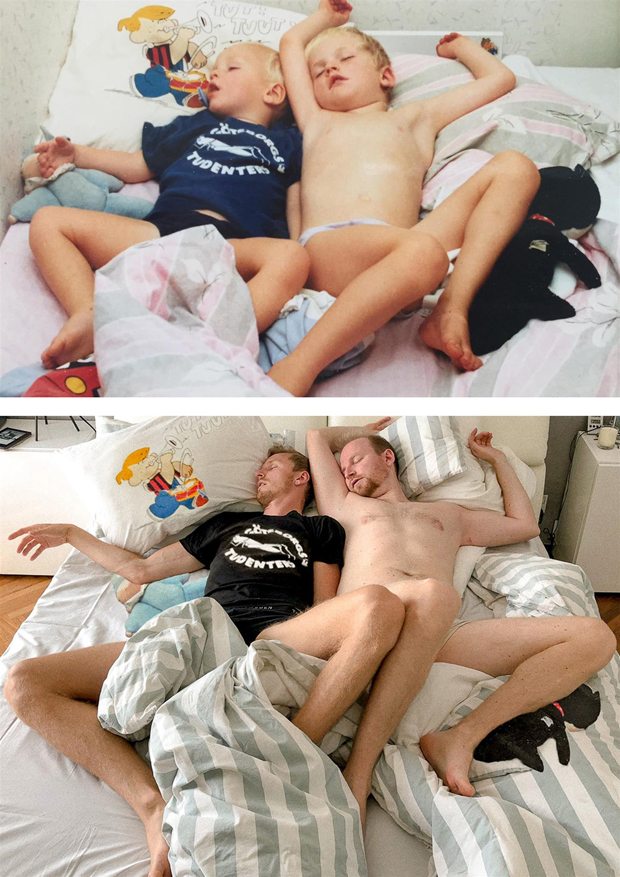 Some might say that's a photo only a mother could love but the attention to detail tells you
a lot about why Bergman has been a success in the business world as well as his family life.
Bergman's appreciation for the fun side of life today may stem from some childhood years that weren't as joyful. "School was a pretty rough time for me," Bergman recalled. "Especially the first years between ages of 7-13. I wouldnít say that I was bullied but the other kids werenít always that nice and if I should use one word, I would say that I was lonely. I didnít have many, if any, friends to hang out with on a regular basis."
Things finally changed when Bergman was 13 years old and moved to a new school. "The school I had changed to was the ďrich schoolĒ in my town and we were a very ordinary family," Erik noted. "I had everything I needed but I had a lot less than the other kids so this made me feel like a poor kid! I was desperate to fit in so money and fashion labels became very important to me so I could reach my goal of fitting in." At first, putting superficial things worked and Bergman suddenly became one of the popular kids overnight, so he doubled down on that path.
"At 17 I started playing online poker and at 18 I got really good at it," Bergman said. "I made up to $10,000 per month. The poor kid was now the rich kid Ė and I wanted everyone to know! I spent all my money on things that could be seen - expensive clothes, champagne, a car, a fancy TV Ė and I was the first one of my friends to get my own apartment."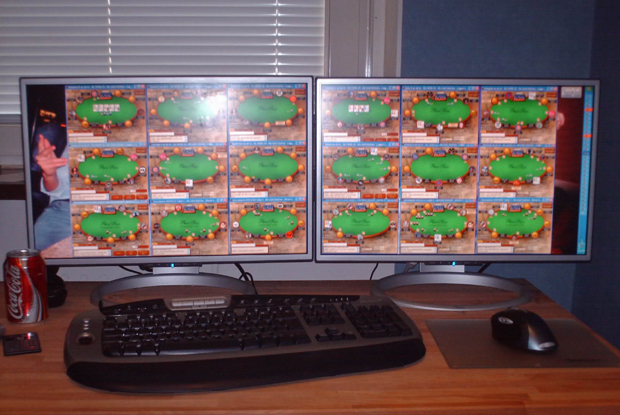 A shot of the dual-monitor set up for playing online poker that
Bergman set up in his first apartment while still in his teens.
"Unfortunately, the luck didnít last, and I stopped winning," Bergman continued. "When money had become my identity, my burn rate was high, and I had soon spent all my money on crap and just after graduation, at 19 years old, I had to move back into my parentís house." It was a valuable lesson that remains with him today, superficial things are often short-lived. However, that early experience of being on his own and paying his own way did lead Bergman to decide to skip going to college and dive directly into the business world in a new search for success.
"Right after school I started my first company together with my childhood friend Emil," Bergman said. "We were actually born in the same hospital on the same day by parents that knew each other! So, we have been friends for pretty much as long that itís physically possible. It was a small web agency and we didnít reap much success with it. So we started building affiliate websites for ourselves. From poker I had gotten a bit into online bingo as well, so this became our niche. This was still just a hobby for a couple of years but in 2010, at the age of 22, we decided to take the leap and do it full time."
While they were getting serious about the business, Erik and Emil were still determined to make sure they had fun along the way. "We were playful with everything (we even had a ball pit in the office!)", Bergman recalled. "We tried every strategy we could come up with and whatever worked we did more of. Bingo remained our main area at the time, but we also built sites about loans, business cards, fashion, hotels, and pretty much everything else."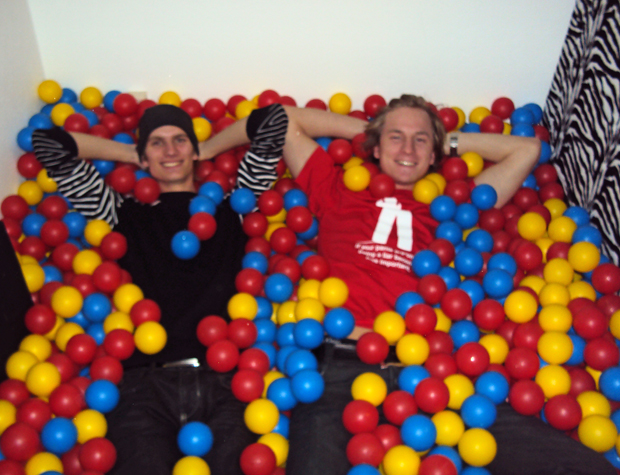 Erik (right) and Emil in their office ball pit.
All the while Erik and Emil's network and skill sets kept growing, so much so they attracted the attention of investors with deep pockets. "In 2012 we sold half of the business to an investment company and everything changed," Bergman said. "We went from having no employees and no plans to hiring like crazy and organizing everything. From doing a little bit of everything to focusing 100% on online casino affiliation."
Bergman said the sudden changes made 2013 a very stressful year, so much so he thought he might break down, but he hung onto the wild horse and they finally caught up with the demands of a business that was running so fast it was hard to keep up with. "2014 and 2015 became really successful years with very high growth and 2016, on the 11th of February, my 28th birthday, we took the company public on the Swedish stock exchange," Bergman smiled. "The market valued the company at about $200 million! For me, a guy who had been chasing money all my life to fit in, this was a huge day! I had finally reached all my goals. I was so happy, however, the feeling didnít last very long. Pretty soon I felt empty and unmotivated instead."
That feeling was the first step in a journey that would eventually lead to Bergman's acquisition of Great.com. A lot of people believe that even at $900,000, Great.com was an excellent buy. When it comes to domains, Bergman knew what he was doing long before he began his pursuit of that name. "When it came to domain names it first started out with actual websites - small affiliate sites in various segments. At first, I was only interested in exact match domains for all the SEO benefits but later on itís been more about being able to build a big brand with it," Bergman said.

"In the beginning it was mainly .se and.nu which are the top Swedish TLDs. I had bought smslŚn.nu (meaning "payday loan") for about $10,000 and lŚnapengar.com (meaning "lend money") for about $3,000. In 2013 I focused more on the .com side of things and we bought Thrills.com for

about $40,000. The prices and the market really interested me so even if Iíve mainly been on the sideline Iíve been following the market for years," Bergman noted.
Regarding Great.com, Bergman said, "Iíve been having this idea for a long time that I would like to build something that can be both commercial and for charity. Where all profits can be given away. I wanted something that can work in any industry, be a name that everyone can spell, have positive connections to and will remember. I had gone over tons of options but after I came up with Great.com I just couldnít let that idea go. When the domain appeared in the NamesCon auction, Bergman decided it was now or never. "Iím not sure how long I would have been able to go in the auction. My mind was really set to get it, so I probably would have gone higher than $900,000 if I had to," Bergman said.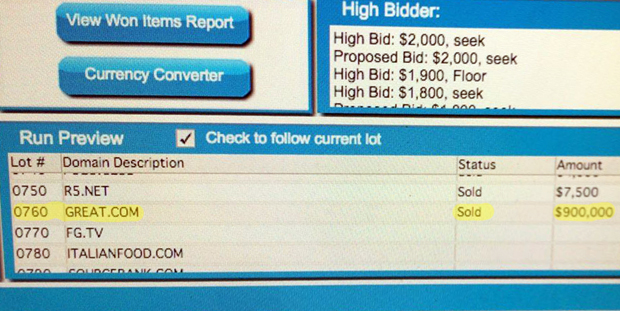 Bergman snapped this shot of his computer screen right after the auction
for Great.com ended. He said "my heart was beating 200bpm at that moment!"
Bergman remains certain that he made the right choice. After the Ring.com company was sold to Amazon for $1 billion Ring.com CEO Jamie Siminoff, who had paid $1 million for the Ring.com domain name, estimated the name alone had been worth as much as $50 million in fueling the company's growth. "I share his way of thinking," Bergman said. "I believe that Great.com will have a huge value to my project - $50 million if not more over time. For me this will be a life project. I want to do this for 50 years and with that perspective the investment isnít that big."
As I noted earlier, Bergman has not yet settled on final plans for Great.com but he has a clear concept in mind. 'This will be a charity project but only in the sense that all profits will be given away. In every other sense it will be a proper business, so the name will be equally important here as if it was a regular company. It can be thought of as a usual company, where Iím the only shareholder, I just donate all the money I earn instead of spending it on material stuff," Bergman explained.
While the nature of the business remains to be determined, Bergman has settled on the charity that will benefit from it - IT for Children - an organization that is already up and running in Ghana where it is making a major impact. "The long-term goals are to have a significant impact on information technology education in Ghana," Bergman said. "We want to open more schools around the country and be able to provide this for as many kids as possible. My hope for the project is that we will be able

to add a more entrepreneurial-spirited education that the kids can take after a few years with us. The aim would be to help them start their own online businesses, maybe with things on Fiverr, maybe ecommerce, maybe even turn some of them into domainers. Not just stop at giving them an education but really giving them an opportunity to earn money and provide for their families as well."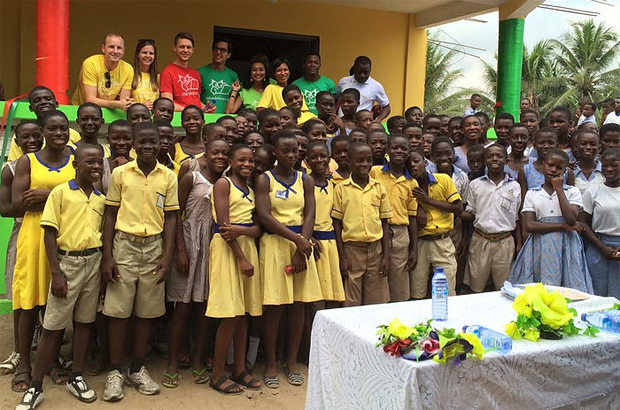 January 2017 opening of the first IT For Children school building in Ghana.
Bergman added, "The organization is based out of Sweden, so in Sweden they do regular collections of used computers and technology that they ship down to Ghana. For people based outside of Sweden the easiest way to contribute is financially and there is a form on the website where you can easily make a donation."
As far as Bergman is concerned, his life will be all about Great.com from now on. He has no interest in starting any other kind of company from scratch again. "For me Great.com will be a life project and I want Great.com to be a life project for anyone else who gets involve," Bergman said. "That means that I want to understand what makes people happy at a workplace and then continuously make sure that everyone has that. I want to create an organization that loves what they do, that feels seen and appreciated, that has all the responsibility and flexibility they want and where everything is transparent, from revenues and costs, down to individual salaries. I want everyone to feel that this is their purpose in life, this is their best way to contribute!"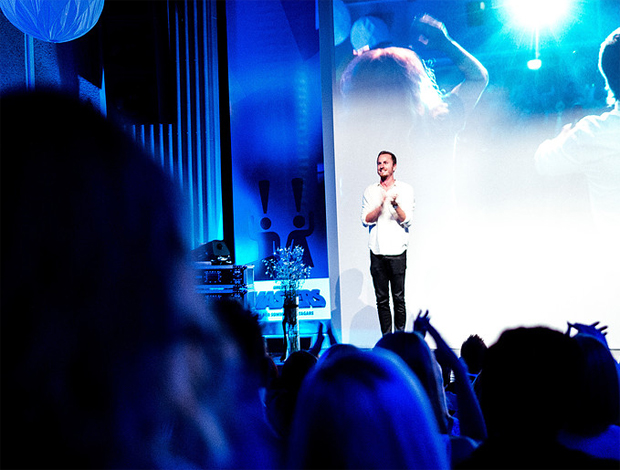 Erik Bergman speaking to a crowd of enthusiastic teems at a 2017 conference in Sweden.

"Iím not sure how to create this but I have a very clear vision of what I want it to become. Anyone who wants to be a part of this journey is more than welcome to contact me. If anyone has examples of other companies doing something similar I would greatly appreciate hearing about those as well." Bergman concluded by inviting people to view a personal video he posted at Great.com detailing his journey to date and where he hopes to go from here.

For Bergman good will not be good enough, it has to be great.