After a late night out at the Versace Mansion Monday evening, T.R.A.F.F.I.C. Miami organiizers waited until 10am Tuesday morning (Oct. 19) to resume with another one of the conference's signature events - the annual T.R.A.F.F.I.C. Awards brunch.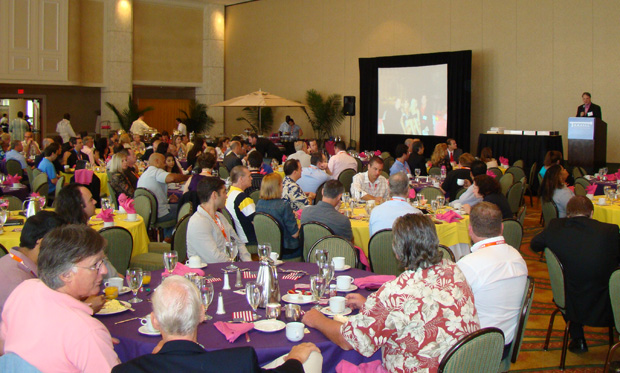 Part of the crowd on hand to see who won the 2010 T.R.A.F.F.I.C. Awards
Awards were presented in seven categories and two new members were also inducted into the T.R.A.F.F.I.C Hall of Fame. The winners were:
Best New Monetizing Solution
Winner: WhyPark.com
Accepted by: Craig Rowe

Best Overall Domain Solution
Winner: Sedo.com
Accepted by: Kathy Nielsen

Developer of the Year
Winner: Epik.com
Accepted by: Rob Monster

The "We Get It" Award
Winner: National A1
Accepted by: Gary Hertigan

Best Domain News Blog
Winner: ElliotsBlog.com
Accepted by: Elliot Silver

Sponsor of the Year
Winner: .CO Registry
Accepted by: CEO Juan Calle

Domainer of the Year - Winner: Gregg McNair (center)

McNair told us he thought being voted recipient of the prestigious Domainer of the Year Award was as much about recognition of the worthiness of The Water School (the charity he tirelessly promotes and supports) than it is about him or his company (PPX.com). We're sure that is part of it as the industry has rallied around The Water School cause, however there is no doubt in our mind that McNair is also deserving of the award for a number of reasons and voters clearly agreed.

T.R.A.F.F.I.C. Domain Hall of Fame Inductees:
Rick Latona (2nd from left) and Monte Cahn (2nd from right)

The other major individual awards went to the two new inductees voted into the T.R.A.F.F.I.C. Domain Hall of Fame; Rick Latona and Monte Cahn. They join previous inductees Rick Schwartz, Ron Jackson, Frank Schilling, Sahar Sarid, Yun Ye, Dr. Chris Hartnett, Scott Day, Michael Castello, David Castello and Michael Berkens. All award winners were selected in pre-show balloting among T.R.A.F.F.I.C. attendees.

In a related note, Frank Schilling was voted into the Hall of Fame in 2007 but was not at the awards ceremony that year to receive his plaque. Frank was at T.R.A.F.F.I.C. Miami 2010 though so T.R.A.F.F.I.C.'s Ray Neu (at left in the photo below) took the opportunity to present Frank (at right) with the HOF Award Ray had been holding for three years so he could present it to Schilling in person.

Another feature of the awards brunch was an opportunity for any attendee who had a new service or product they wanted to tell the crowd about to take the stage and deliver their best 2-minute elevator pitch. Several took advantage of the opportunity including Tom Chapman and new Domainer of the Year Gregg McNair who used his time to - what else - urge people to support The Water School!

After the award brunch attendees heard a bonus guest speaker - legendary boxing promoter Don King, a local Miami resident, who was a surprise late addition to the show agenda.

King was a controversial choice with some who questioned his relevance to a domain industry audience as well as incidents in his past that led to time in prison. While his colorful, but somewhat meandering speech was hard for some to follow several worthwhile nuggets emerged from a question and answer session with King that followed and brought the topic of domains to the forefront.

Rick Schwartz asked King what he would do if he owned domain traffic but received only a miniscule share of the proceeds from selling that traffic via upstream "partners" Google and Yahoo. King said he had run into almost exactly the same situation in his business career. He said that he essentially "made" the HBO and Showtime cable networks with his exceptionally popular boxing cards, however he was paid a pittance compared to the profits he generated for those companies. He said the answer was to find a way around them, perhaps by creating your own distribution channels to sell traffic directly to advertisers. He said he is planning to do something similar with a new People's Network to distribute his shows and promotions.

Don King speaking at T.R.A.F.F.I.C. Miami
King said domain owners are currently like "tenant farmers" who produce the crops but get a meager share of the profits from their landlords. "The boss decides what your cut will be," King said. He encouraged domainers to educate themselves so they can create new avenues from which to sell their product.
While there were people who had reservations about King it was obvious that many others did not. A big crowd gathered around him to take pictures and get autographs when his talk ended. King accommodated every request and wound up staying over for two hours to chat with those who had questions for him.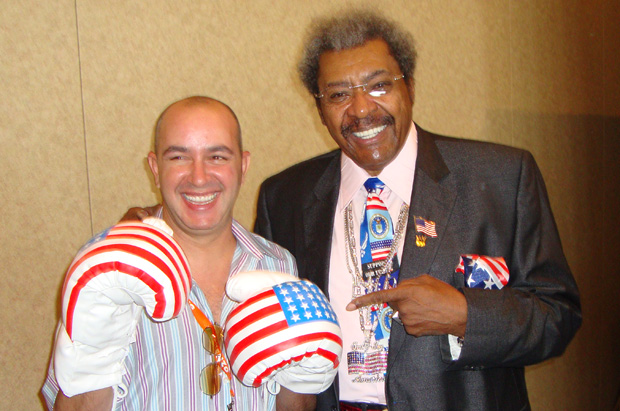 Don King may have found a new boxing prospect in T.R.A.F.F.I.C. Domain Hall of Fame
member Sahar Sarid (left) who showed the legendary promoter his stuff.
(Photo courtesy of Barbara Neu)
The Tuesday afternoon schedule included another round of three seminar session, conducted under the same open format that was introduced Monday.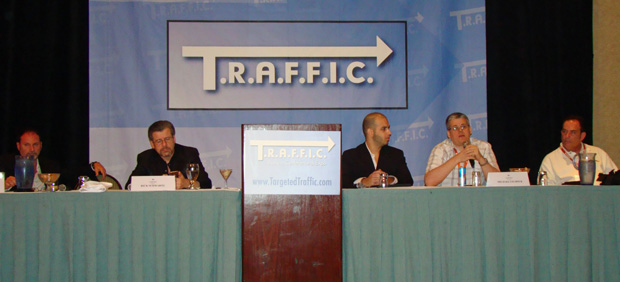 The first seminar Tuesday afternoon (Oct. 19) was titled Anatomy of a Type-in and
featured (L to R above) panelists Michael Berkens, Rick Schwartz, Jean-Pierre Khoueiri,
Michael Gilmour and Owen Frager. They discussed the importance of knowing
who is typing in your domain name and what they are looking for.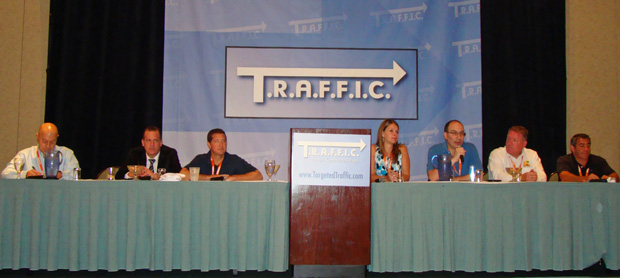 Two more seats were added to the dais for the next session - Prospecting for End Users -
featuring panelists (L to R) Kevin Leto, Ari Goldberger, Neil Kavanaugh, Kathy Nielsen, Larry Fischer, Rob Sequin & Monte Cahn. They provided tips on revving up your domain sales.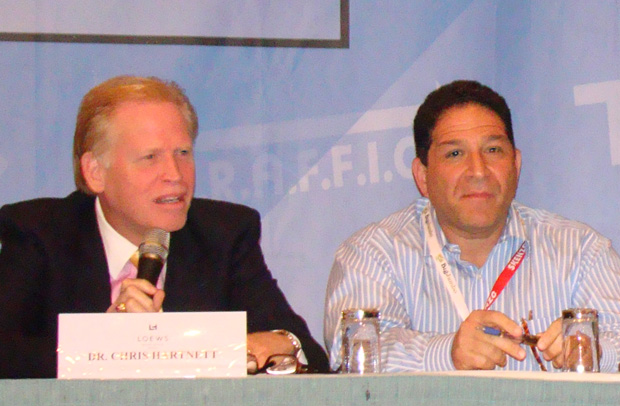 Dr. Chris Hartnett (left) and Albert Angel (right) joined five other panelists for the
final seminar - an Emergency Security Session that covered recent incidents of
domain theft. They were joined on the dais by Donny Simonton, Divyank Turakhia,
Jeffrey Eckhaus, Gregg McNair, Michael Berkens and Michael Robertson.
An incident in which Dr. Hartnett was victimized by a domain thief triggered the session. Angel was there because he and his wife Lesli, who had been victimized in a previous domain theft involving P2P.com, pursued the thief, helped catch him and wound up being the first victims to see a criminal go to jail for stealing domains. They are assisting Hartnett in building a case against the person who victimized him.
Hartnett believes he knows who the thief is and startled the crowd by telling them that person was in the conference room. He didn't identify the suspect because the case is still being built against that person (Hartnett said the FBI is involved in the investigation). Hartnett noted that the individual could be stealing other attendees' information through the free wifi system or by installing a keystroke logger on their computers. He added that the perpetrator had threatened his family and he vowed to bring the individual to justice. In the meantime he and other panelists urged attendees to pay attention to security and gave them tips on how to protect their domains.
Tuesday's business schedule closed with a live domain auction conducted by Rick Latona Auctions. Winning bids totaled close to $500,000, however a week after the sale Latona announced that the winning bidders in what would have the two biggest sales; Shock.com ($200,000) and BVI.com/BVI.co ($110,000) did not pay. That left Idle.com ($20,000), MZH.com + MZH.co ($15,000) and Coches.co ($15,000) as the largest sales.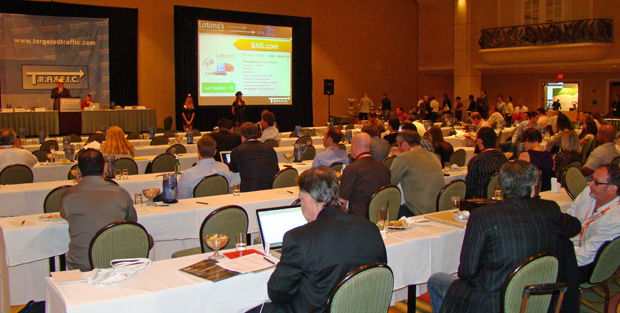 Tuesday evening NameMedia hosted a three-hour cocktail reception/buffet dinner in beautiful weather on the outdoor terrace at the Loews Hotel. It was the perfect way to spend the final evening in Miami.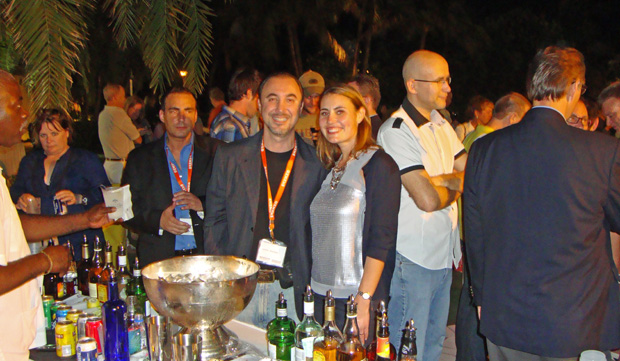 Above: guests enjoy NameMedia's outdoor party at the Loews Hotel Tuesday night (Oct. 19)
Below (L to R): Barbara Neu, Diana Jackson and Tessa Holcomb at the NameMedia event.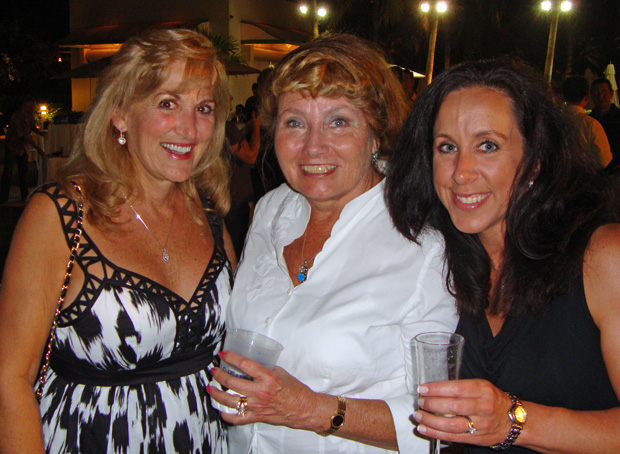 When the NameMedia event wrapped up new Domainer of the Year award winner Gregg McNair opened his suite at the Loews for an open to all party for those who wanted to stay up late (judging form the crowd in Gregg's suite, that was just about everyone)!
The big show wrapped up Wednesday morning (Oct. 20) with a farewell breakfast and an Epik.com Swapfest - a domain sale, involving thousands of names, conducted under a Dutch auction format (prices start high and fall until they hit a price a bidder likes - or reach the minimum bid level without selling). Several things make Swapfest a unique sale. For one, all domains include a website developed on the Epik platform and for another, you can pay for winning bids with either cash of Epik bucks, a new form of currency invented by the company to bring added liquidity to the market. For more on that event, check out this post on the Epik blog that includes a big slide show that covers all of the action.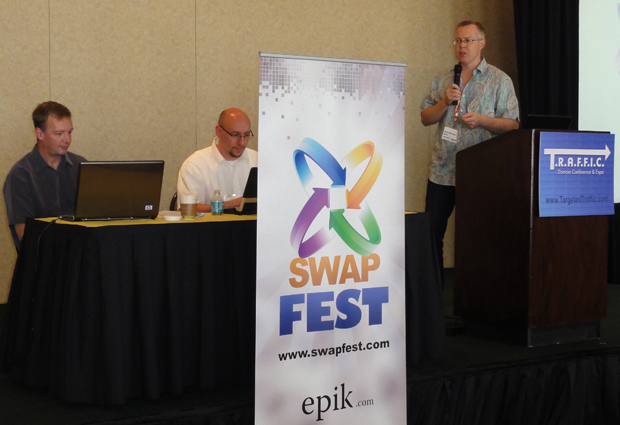 When the current came down on T.R.A.F.F.I.C. Miami 2010, Rick Schwartz, Howard Neu and their tremendous family support team of Barbara Neu, Ray Neu and Alina Schwartz could take pride in successfully pulling off the kind of transcendent event they had envisioned after 12 months of careful planning. In doing so they have also followed the late great Walt Disney's golden rule of show business, "Always leave them wanting more." Those who were there undoubtedly want more and they are already counting the days to a 2011 South Beach encore.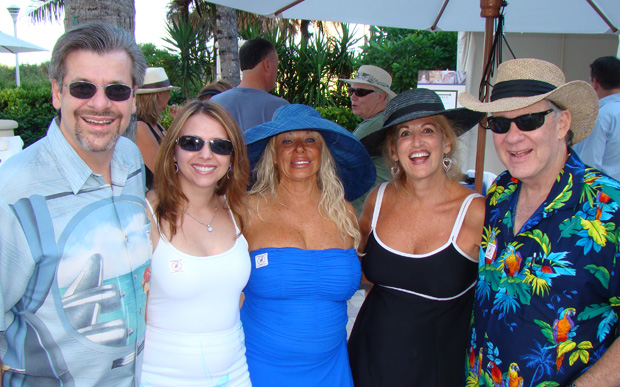 Rick & Alina Schwartz at far left and Howard & Barbara Neu at far right
(seen with the two couples' close friend Judi Berkens in the middle) left
T.R.A.F.F.I.C. Miami 2010 attendees looking forward to more in 2011.
*****