By Ron Jackson

The 2010 T.R.A.F.F.I.C. Miami conference was hailed by many as the best show in the six-year history of the ground-breaking series. The event, the only 2010 T.R.A.F.F.I.C. conference produced by the show's co-founders, Rick Schwartz and Howard Neu, was held October 17-20 at the perfectly located Loews Hotel on Miami's world famous South Beach.

The fabulous venue had a lot to do with the conference's rave reviews, prompting Schwartz and Neu to say there is a good chance the Loews Hotel will become the permanent home for their South Florida shows.

At right: The Loews South Beach Hotel, site of T.R.A.F.F.I.C. Miami 2010.

Below: The oceanfront swimming pool at the lavish Loews Hotel on Miami's South Beach.

Below: View of the Atlantic Ocean beach, just steps away from the Loews Hotel pool.
While the conference was going on I published daily show photos and highlights from Miami in these posts in our Lowdown section:
So, you may ask, with those posts on the record, what is the purpose of this article? While those daily posts provided an inside look at some of what was going on as the show unfolded, the busy schedule while the event was unfolding didn't leave enough time to tell you about all of the activities that deserved attention. This comprehensive review will allow me to do that (and to include many previously unseen photographs) and also organize all of the landmark show's highlights in one convenient place for posterity. It will also give me a chance to put into perspective how this show impacts the overall conference space.
One reason this was a landmark event, aside from the overwhelmingly positive feedback from attendees, is that it brought some clarity to a domain conference picture that had become muddled over the past couple of years by an explosion of shows that came with varying themes, lengths and locations around the globe. Equally important, it brought T.R.A.F.F.I.C.'s high end brand back into sharp focus.

The tsunami of conferences has caused the ground to shift under the feet of many show promoters. While the sudden wealth of options has made it much easier for people to find more affordable events located closer to their homes, having the pie cut so many ways left promoters with a quandary. With revenues driven down as a finite number of conference goers were spread across more events, what kind of product could they deliver that would draw the largest possible crowd and also keep them out of the red?

Schwartz and Neu had decided

T.R.A.F.F.I.C. Co-Founders Rick Schwartz & Howard Neu

to turn all of their 2010 shows, except Miami, over to Rick Latona to promote under a licensing agreement with the founders. Latona simultaneously trimmed expenses and took the T.R.A.F.F.I.C. brand to new locations outside the U.S., including Milan, Italy, Vancouver, Canada and Dublin, Ireland. However, his ambitious gambit did not pay off with profits so he cancelled the final show he had planned (for November 2010 in Hong Kong) and decided to exit the conference battlefield.
With a full year to re-think their strategy while Latona's experiences in the field gave them more insight, Schwartz and Neu decided to go back to their roots and polish up T.R.A.F.F.I.C.'s

Scene from the .CO Registry's T.R.A.F.F.I.C. Miami Party at
the Versace Mansion on South Beach (Mon. Oct. 18, 2010)

luxury mark for their return to the show wars in Miami. They would pull out all the stops - a world famous high end oceanfront venue, a fresh approach to programming, great food and drink and unforgettable parties led by a night at the spectacular Versace Mansion sponsored by the .CO Registry.

Recession or no recession, it worked. A sizeable crowd returned and enjoyed an experience that will bring them back, along with a lot of other people that will hear about it from them.

With T.R.A.F.F.I.C., the pioneer in the conference space, now clearly back in high end mode it is easier to make sense of the show landscape. How each show fits into the overall picture is more apparent and it is good to see the various events forming clear identities of their own that makes it much easier for a conference goer to pick an event that best suits their interests and budget.
At the top end you have two giants. In one corner, T.R.A.F.F.I.C. with its focus on the interests and needs of individual domain investors and a reputation as the place where major deals get done. In the other you have DOMAINfest Global, a show that has become a key matchmaker between domain investors/developers and the mainstream business world. Domain Roundtable is also ready to re-enter the heavyweight ring. After sitting out 2010 to re-calibrate their sites, Roundtable, run by Thought Convergence, will return in March 2011, staking out a piece of high end ground for themselves with a show at the Atlantis Resort in the Bahamas. How they will position themselves vs. T.R.A.F.F.I.C. and DOMAINfest Global will be revealed next spring.
One step removed from the mega shows are a series of well run special interest and regional events like - to name just a few - the GeoDomain Expo, DN Cruise, the recent IDN Event in New York City, DOMAINfest Europe and DOMAINfest's new Power Networking Days - one day events held at least a couple of times a year at varying locations in the U.S.
I think this is a positive development for the industry at large as it takes the domain story far and wide and opens up affordable networking opportunities within traveling distance of just about anyone that is interested in meeting industry leaders and fellow domainers while learning more about the business. Some will get their feet wet at a local show and as their businesses bloom, eventually migrate to the biggest events that attract the heaviest hitters.
With interest in domains still growing and the aftermarket holding up well despite the recession and a downturn in traditional monetization revenues, the conference field should benefit. With their Miami show, Schwartz and Neu replanted the T.R.A.F.F.I.C. flag on the mountain top, marking it as a can't miss event for those who want to meet and do business with the industry's biggest players.

T.R.A.F.F.I.C. Miami actually opened two days ahead of the regular schedule. Schwartz and Neu telegraphed their intention to give guests the royal treatment throughout the day Friday and Saturday (Oct. 15th and 16th) by hosting early Miami arrivals at a string of private cabanas they had rented along the south side of the sparkling Loews pool for the exclusive use of T.R.A.F.F.I.C. attendees. To monitor the entry points and serve their guests, they also brought in a bevy of lovely models from Miami's ModelStore.com (owned by Bianka Krausch, the fiancé of veteran domain investor Chad Folkening who was profiled in our October Cover Story).

Throughout the conference guests could lounge
with friends at the private poolside cabanas
reserved for T.R.A.F.F.I.C. attendees.

Bianka Krausch (center) with six of her models from the ModelStore.com.
(photos above courtesy of Barbara Neu)
The conference officially got underway Sunday evening (Oct. 17) with one of T.R.A.F.F.I.C.'s most popular traditional events - the opening night cocktail party that gave friends old and new a chance to get acquainted or re-connect and it set the stage for a busy week ahead.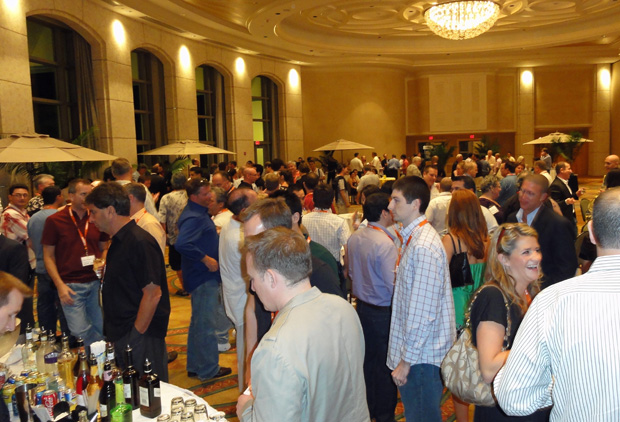 Above: Part of the wall to wall crowd at the opening night cocktail party.
Below: Faces in the crowd included (L to R) Divyank Turakhia (Directi), Rob Grant (RealEstateDirectory.com) and Rob Sequin (HavanaJournal.com)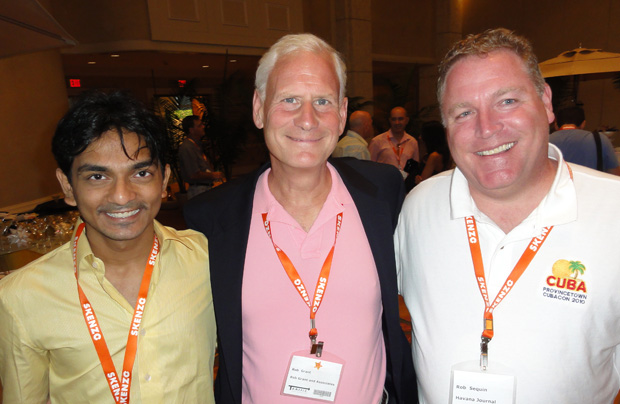 After the cocktail party several private events were held at various locations around South Beach. In two of the biggest, Chad Folkening's new company, Domain Holdings LLC, held a launch party at the Yuca Restaurant and Thought Convergence's new domain sales platform - Aftermarket.com - previewed their service with a dinner party at Devito (the South Beach restaurant owned by actor Danny Devito).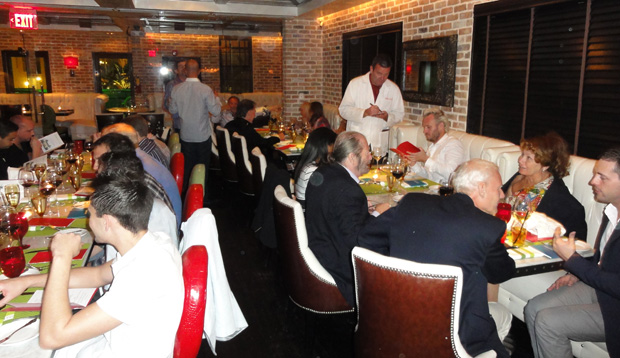 Above: Guests at Aftermarket.com's dinner party at Devito on South Beach Sunday (Oct. 17)
Below: Guests at the Domain Holdings LLC launch party at the Yuca Restaurant included
(L to R): Natalie Lambert, David Castello, Alina Schwartz & Michael Castello.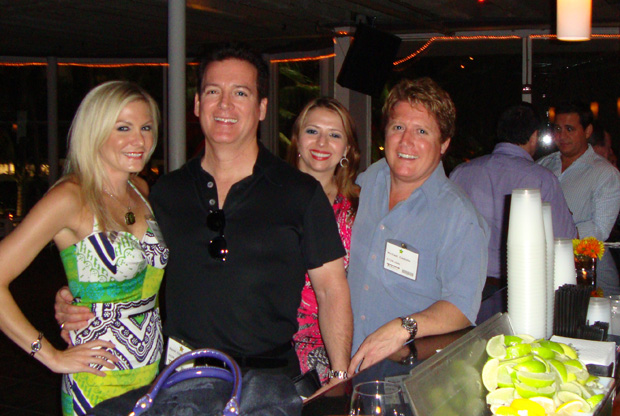 Coming Up on Page 2

Time to Get Down to Business!

A complete rundown of the first full day of business at T.R.A.F.F.I.C. Miami 2010.

Speed networking with a new twist!

Keynote speech from Simon T. Bailey & and in a domain conference first - a U.S. Congressman addresses the crowd.

The show's first seminars and another edition of Test Track

The Versace Mansion party everyone has been talking about.

Stefan Wiegard and Susan Lawrence
at the Versace Mansion