I was tied up working on our comprehensive review of the T.R.A.F.F.I.C. Vancouver conference so didn't have a chance to post a Lowdown item Friday (the review article has show details, plus previously unseen photos, that we did not have time to bring you in our daily highlight posts from this month's event in one of the world's most beautiful cities).
Today let's play some catch up and bring you up to speed on some other things going on in the domain industry. For starters, the 38th international ICANN meeting just got underway in Brussels, Belgium where it will continue through Friday (June 25). One of the hot topics will again be the status of ICANN's plan to roll out an unlimited number of new gTLDs. It is now looking like we won't actually see any of these new extensions actually operating until 2012, if then.
Today also marks the start of the .CO land rush during which the most desired domains are available at a premium price before they become available to the general public. If more that one applicant wants the same domain it will go to auction. Land rush continues through July 13, then one week later on July 20 .CO domains will become available for general registration. In a related note, MY.CO has rolled out a gateway solution for registrars (who are not among the ten major registrars selected to offer the extension) that will allow them to offer .CO domain names as well. MY.CO is offering an EPP gateway option for these smaller ICANN accredited registrars.
One other note today - the Castello Brothers (Michael and David) have been covering a lot of ground of the past couple of weeks. They were in Vancouver, Canada to speak at T.R.A.F.F.I.C. June 9, then, as soon as their session was over, they headed 250 miles east to visit industry pioneer Garry Chernoff at his Penticton, British Columbia home (see our Lowdown post about that). From there it was on to Las Vegas for last week's West Coast Tanning Expo at Caesar's Palace. So, why in the world were the Castello Brothers at a Tanning Expo? Well, they happen to be co-owners (with LZ Domains) of the nicely developed Suntan.com website. David sent me a photo of his business partners hard at work in the Suntan.com booth.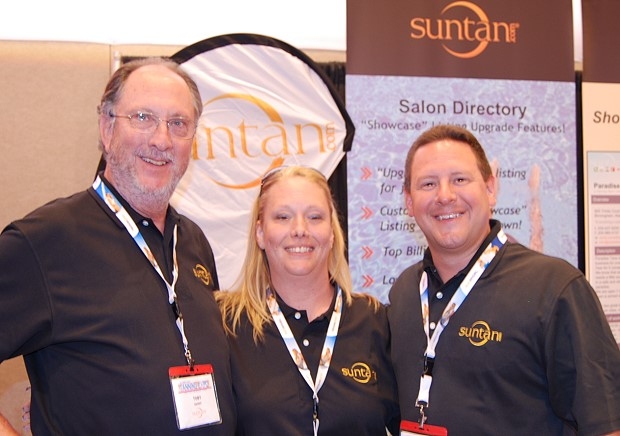 (Left to right) Toby Hardy, Tanya Fallis and Andy Botzer of LZ Domains
The Castello Brothers and the LZ Domains crew know a winning formula when they see one. There is no firmer foundation for a business than a category killing domain name that, along with some hard work and marketing panache, can be parlayed into a globally recognized brand name.