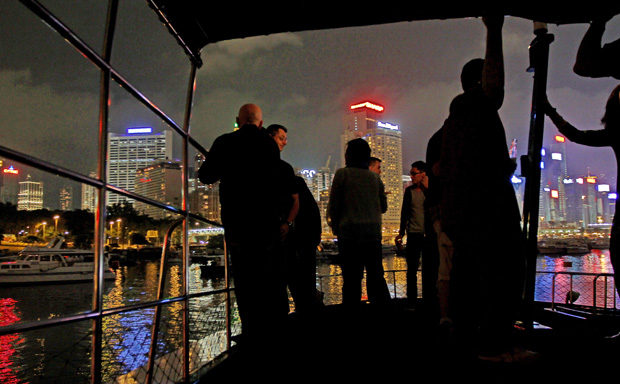 Above: PPX guests getting a grand tour of Hong Kong's Victoria Harbour.
Below: A group shot of the guests on PPX's opening night cruise.
(Photos courtesy of Cindy Ho)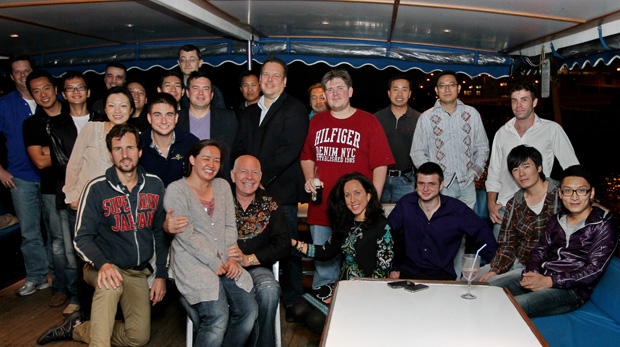 Day two (Monday, Nov. 15) began at 10:30am with guests meeting at the Hong Kong ferry terminal to board the TurboJET Ferry that would take them on a 40 mile trip from Hong Kong to Macau. There they had a chance to tour the historic Portuguese city and visit the famed Ruins of St. Paul's.

They were also treated to lunch at the Wynn Casino where some chose to stay and test their luck at the Blackjack tables. They apparently fared pretty well. PPX's Tessa Holcomb said, "Let's just say we all came away with smiles on our faces and treated ourselves with an upgrade to "Super Class" on the ferry ride back to Hong Kong!"

Above: Part of the PPX entourage at Macau's
famous Ruins of St. Paul Monday (Nov. 15, 2010).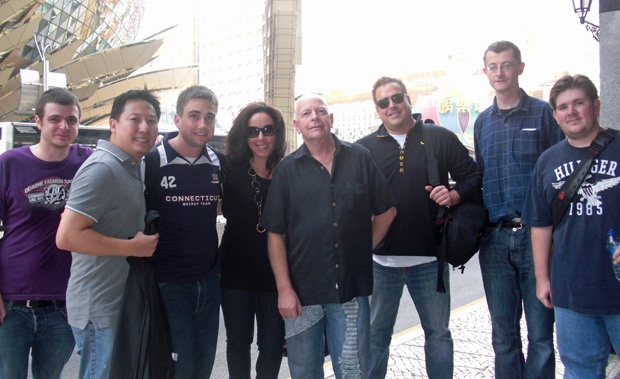 PPX's Tessa Holcomb and Gregg McNair (4th and 5th from the left respectively)
with some of their guests who enjoyed a great outing in Macau Monday (Nov. 15).
The final day of the gathering (Tuesday, Nov. 16) got started with a tour of PPX International's Hong Kong offices.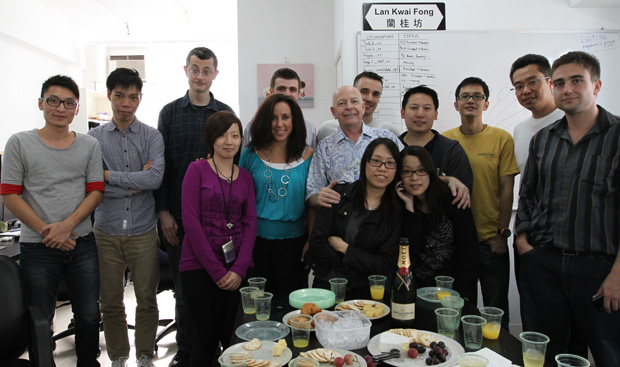 Above: Guests visiting PPX International's Hong Kong offices Tuesday (Nov. 16)
Below: After the office visit, NameDrive treated attendees to a
traditional Yun Cha (Dim Sum) lunch in central Hong Kong.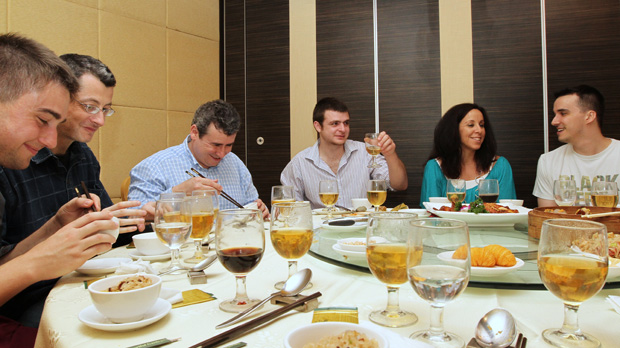 After lunch, the afternoon was left open so guests could take advantage of Hong Kong's rich sight seeing and shopping opportunities. Everyone then got back together for the grand finale - a 7pm dinner sponsored by DomainSponsor.com at the Azure Restaurant on the 29th Floor of a tower in the popular Lan Kwai Fong district.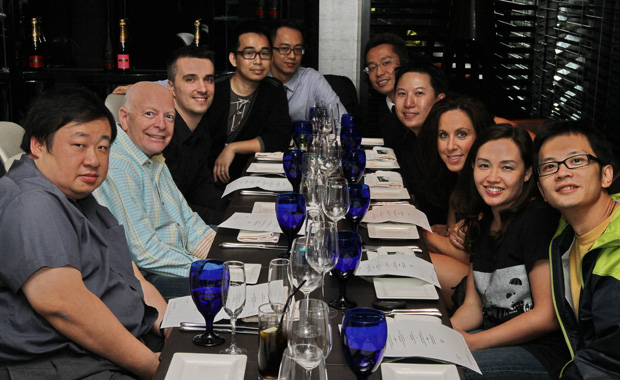 Scene from the DomainSponsor closing night dinner (Tuesday, Nov. 16) in Hong Kong
Kudos to PPX for graciously stepping up and giving those who had already made travel plans to Hong Kong (for the cancelled T.R.A.F.F.I.C. show) the kind of memorable experience they had been looking forward to. By the way, I understand that there have been some interesting developments at PPX recently. I expect to get a briefing on those this week and will tell you more about that as soon as the information comes in.