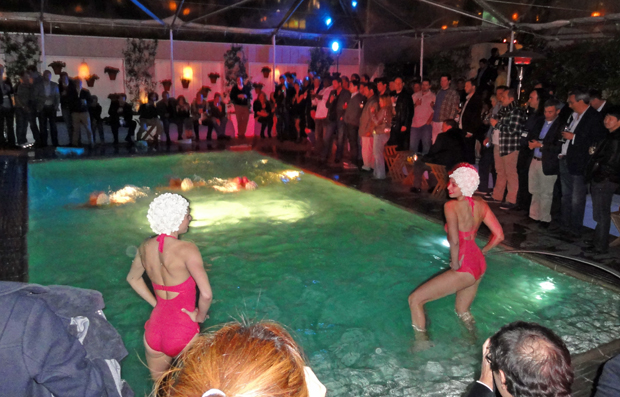 The Aquafillies performing at last night's DOMAINfest Global
Golden Age of Hollywood Party at the Mondrian Hotel's Skybar in West Hollywood.
Perhaps the surprise of the night was that only one domainer got pushed into the pool! The party was still going strong when my wife Diana and I left at 11:30pm (2:30am back home in Florida - which is way past our normal bedtime). We had a great time hanging out with friends and meeting new ones who had traveled from countries around the world for DOMAINfest.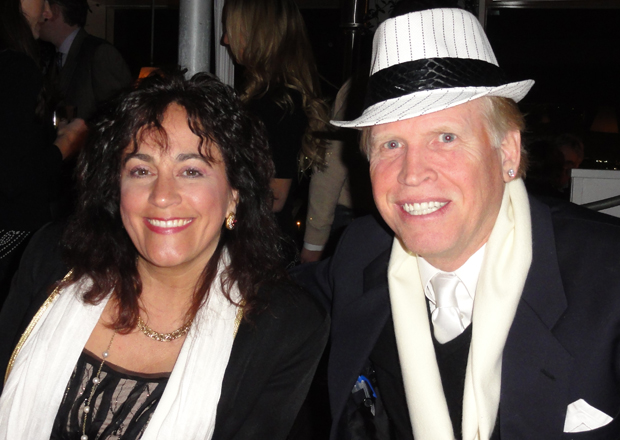 Dr. Chris Hartnett and his wife Dr. Linda Hartnett at the Golden Age of Hollywood Party.
Chris is a conference veteran but this was Linda's first trip to a domain event.
The final day of DOMAINfest Global got underway at 9:30 this morning (Thursday, Feb. 3) with an excellent session offering Tips and Strategies for Buying and Selling Domain Names.
Moderator Lisa Box, Senior Director of Sales at Oversee.net, (at far left in the picture below) had an all-star panel to call on. The featured experts were (left to right after Lisa) Michael Berkens (MostWantedDomains.com), Larry Fischer (DirectNavigation.com), Tessa Holcomb (PPX.com), Jason Miner (Name Media) and Kathy Nielsen (Sedo).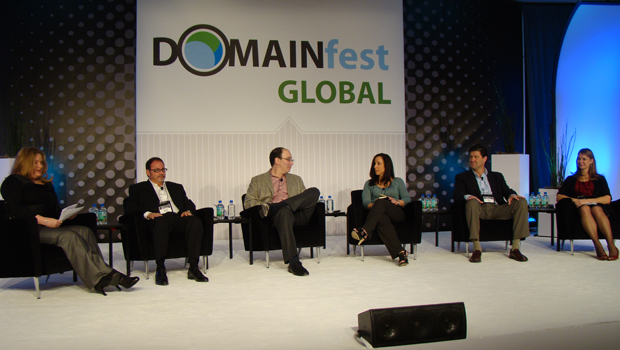 Conference organizer Oversee.net followed with another major coup - a Fireside Chat with Ben Mezrich, the author or the book that the smash movie The Social Network was based on (The Accidental Billionaires: The Founding of Facebook, A Tale of Sex, Money, Genius and Betrayal).
Mezrich has written 11 books including another (Bringing Down the House: The Inside Story of Six M.I.T. Students Who Took Vegas For Millions) that was also turned into a hit movie . That best seller (63 weeks on the New York Times Best Seller list) was the basis for the film 21 starring Kevin Spacey.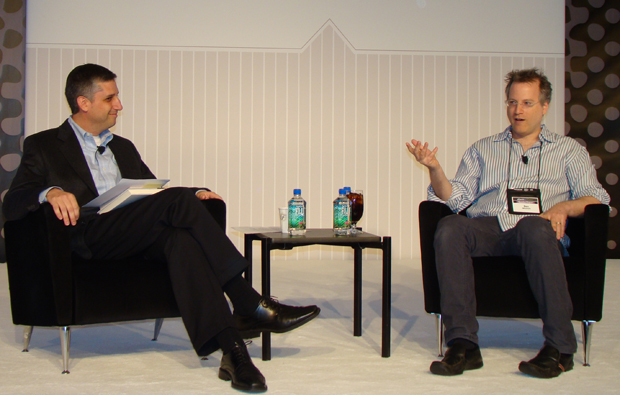 Oversee.net President Jeff Kupietzky conducting a fascinating Fireside Chat
with author Ben Mezrich (right) this morning (Thursday, Feb. 3, 2011)
Ben is obviously already a star in the publishing world, but - this being the time of year for predictions - I predict he will become one of the few authors who will ascend to the kind of superstar status that makes them household names. In addition to being an excellent writer who finds amazing stories to tell, the 40-year-old Harvard graduate has a remarkably magnetic personality. He is funny, down to earth and gifted with that elusive special quality that makes audiences instantly like him.
With the popularity of the The Social Network as a catalyst, Ben should start popping up on all of the popular talk shows from Leno to Letterman to Oprah. Once the rest of America sees him that is all it will take to seal the deal - and we can all say we saw him first at DOMAINfest.

Mezrich shared many anecdotes with the audience - one of the most interesting being that buying a domain name led him to his biggest success. Mezrich wanted BenMezrich.com which was held by a fan who liked his books. He was able to buy the name for $750 and the site he set up soon started attracting

Author Ben Mezrich

ideas for stories from his visitors. One told Mezrich he had a friend who was a co-founder of Facebook. That turned out to be Eduardo Saverin, who was suing his estranged partner Mark Zuckerburg for pushing him out of the company. The site visitor put Mezrich in touch with Saverin and that started the wheels turning in bringing the previously untold blockbuster story to life. Considering the millions of dollars the movie and book have made from that one website lead, Mezrich's $750 domain purchase would qualify as one of the best domain investments of all time.

After a lunch break, the show's final seminar - The Latest/Greatest SEO and SEM Tips - drew a sizeable crowd back to the ballroom. Moderator Ryan Berryman of Oversee.net conducted the session.

In the photo below you see (left to right) Mr. Berryman and his panel of experts; Andy Atkins-Krueger (WebCertain.com), Bruce Clay, Scott Dotterer and Danny Sullivan (Search Engine Land).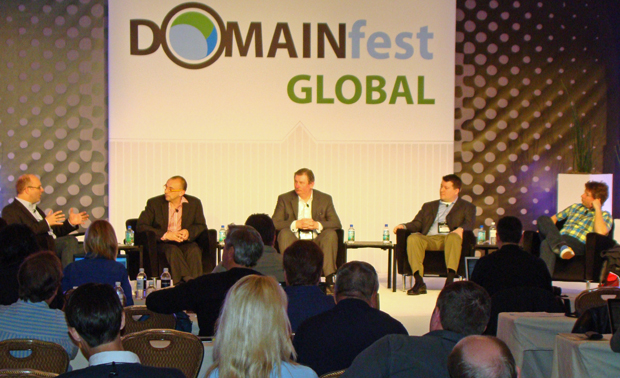 As I write this, the final business event of DOMAINfest Global 2011 - Moniker's Premium Live Domain Auction - is just getting underway. I'll have the auction results for you in my final post from Santa Monica tomorrow, along with photos and highlights from the big social event tonight that officially closes the show - a gala party at the Playboy Mansion that will benefit Jenny McCarthy's Generation Rescue Autism Foundation.