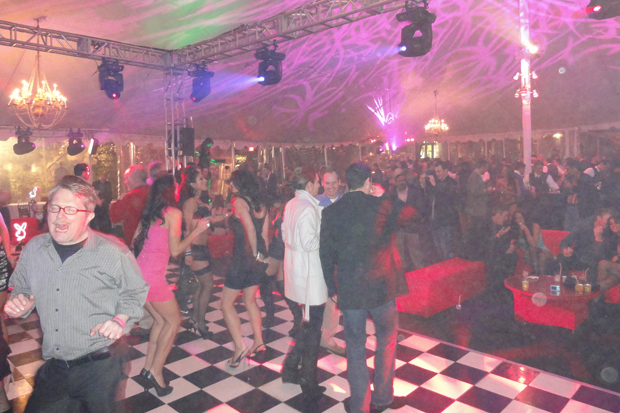 A fog shroud hangs over the dance floor at the Playboy Mansion
Thursday night (Feb. 3) in the grand finale of the DOMAINfest Global conference.
In most cases I have heard about involving couples, both individuals fell ill. I can only think of one reason why Diana may have caught it while I did not. I rarely get sick so over the years it became apparent to me that when I fell ill it was almost always immediately after coming home from a trip. In planes, hotels and in meet and greet sessions, you touch so many surfaces and people that the odds against you go up astronomically. Knowing that - and that we are in the middle of flu season - I made a special effort on this trip to frequently wash my hands with soap and water or use a hand sanitizer. I also tried to avoid touching my hands to my face, but that is a tough one as we all do it frequently without thinking about it. If you make those things a habit though, it at least gives you a better chance to stay healthy.
I am no germaphobe though and nothing is going to stop me from shaking everyone's hand that I meet, hugging my friends or going to conferences like DOMAINfest. Those are the kind of things that make life worth living. As bad as it feels to be sick, I haven't heard anyone say they wouldn't do DOMAINfest again next week. None of us wants to live in a bubble - we get enough of solitude in all of the endless solo hours we spend in front of our computers! So, all we can do is take some simple precautions and hope those tilt the odds in our favor when so many of us get together in one place. After what happened this year, I will probably be getting a flu shot next winter too! For those who are currently under the weather we wish you all a very speedy recovery.
Update: I received two more notes since posting the info above that underscore how important it is for your to see a doctor if you are not getting better. Both notes point to the possibility that this could be a bacterial infection rather than viral as many assume - and that opens up a different set of issues.
First, a well-known domainer who fell ill wrote, " I was as sick as ever till yesterday so my meet and greet immunity failed despite having a flu shot! Further my condition responded to strong antibiotics suggesting to me, the layman doctor, that it is bacterial in nature.
Second, my daughter, who is a 2nd year medical school student, wrote, "If there is a suspected water source as the culprit - like you mentioned the fog machine - and people are getting pneumonia you have to worry about getting a bacterial infection. If people aren't getting better they definitely need to see their doctors. So many people getting sick in one place, sounds like a case for the CDC."
So, if you are ill, do not take this lightly. We want to see everyone back at 100% as soon as possible.