The Lowdown
April 2013 Archive
Subscribe to our RSS Feed

Here's the The Lowdown from DN Journal,
updated daily to fill you in on the latest buzz going around the domain name industry.

The Lowdown is compiled by DN Journal Editor & Publisher Ron Jackson.
Photos & Highlights From the Final Day of Business at Domaining Spain 2013 in Valencia
The 2013 Domaining Spain conference closed Saturday in Valencia with a social day that gave guests a chance to visit the Roman Theatre and Museums of Sagunt and other casual networking activities. After opening at the Hotel Sorolla Palace with a full day of business Thursday (April 25), the show continued with a equally busy day two Friday (April 26) that featured eight sessions on a variety of hot topics.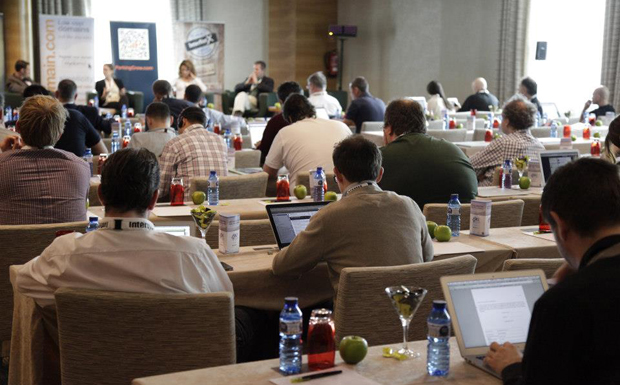 A scene from Friday's final business day at the 2013 Domaining Spain conference.
(this photo and the others in this post are courtesy of Rook Media)
The day began with an address from veteran Internet entrepreneur Xavier Buck, followed by Friday's first panel discussion - a session in which several experts laid out their strategy for branding a new gTLD.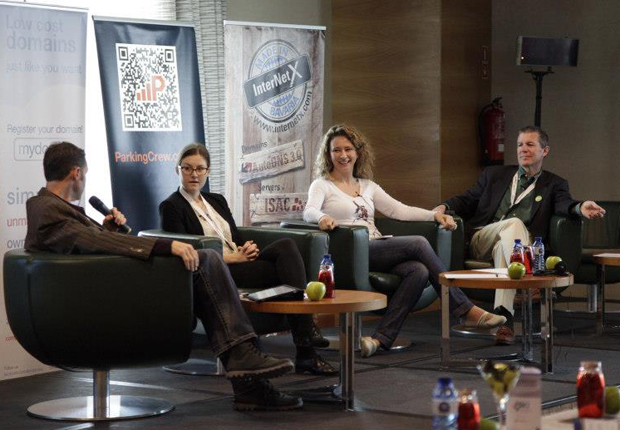 (Left to right) Moderator Braden Pollock, Estelle Bretez (Startingdot.com), Natasa Djukanovic (.ME Registry) and Tim Switzer (DotGreen Community Inc.) offering advice on branding a new gTLD.
In the next session the topic turned to Myths and Truth about Traffic Portfolios. With things continually changing in this business the panelists explained why it is important to run a check list each year on your portfolios.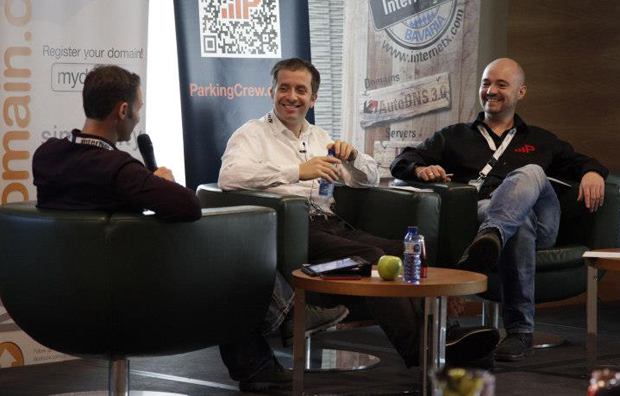 (Left to right: Moderator Braden Pollock talks with Michael Marcovici (Domain Developers Fund) and Axel Kaltz (ParkingCrew.com) about maintaining domain traffic portfolios.
The sessions continued throughout the day with guidance on everything from buying domains to legal matters to selling a business (and everything in between.

Friday evening was devoted to a special Awards Dinner and a Water Night Spain event in which Domaining Spain Co-Promoter Jodi Chamberlain had her head shaved in exchange for donations to the Water School - an effort that wound up pulling in more than $35,000 in pledges to the life saving charitable organization that is widely supported throughout the domain industry.

I posted a separate article yesterday about this latest WaterShave event and a special Humanitarian Award that was given Friday night to Gregg McNair, who has worked tirelessly to win support for The Water School and its good work around the globe.

The Domaining Spain conference was founded by

Domaining Spain Co-Promoter Jodi Chamberlain allows Escrow.com's Andee Hill to shave her head in a fund raising effort to benefit The Water School.

Dietmar Stefitz of Inverdom.com who brought Jodi in as his co-promoter last year. With the job Dietmar did promoting the first few shows alone and the back to back crowd pleasers since he teamed up with Jodi, Domaining Spain has established itself as one of the most popular and productive events on the global domain conference circuit.

Domaining Spain Founder Dietmar Stefitz (right) with one of his 2013 guests,
Rook Media Vice President of Sales Simon Pupo.

Valencia (which is Dietmar's home town) provides a gorgeous backdrop for the show and the hospitality extended by Dietmar and Jodi has consistently won the conference high praise from show goers. Next stop - 2014!
(Posted April 30, 2013) To refer others to the post above only you can use this URL:
http://www.dnjournal.com/archive/lowdown/2013/dailyposts/20130430.htm
Jodi's Mane Goes Down the Drain in Spain and the Man Responsible For It Gets a Special Honor!
The 2013 Domaining Spain conference ended in Valencia over the weekend. We're expecting some photos to come in from the final business day Friday and the social day Saturday that concluded the conference with a a visit to the Roman Theatre and Museums of Sagunt. In the meantime we have some candid photos for you from one of the show's most highly anticipated events - conference co-promoter Jodi Chamberlain having her head shaved Friday night to raise money for the Water School - an effort that has now attracted more than $35,000 in pledges! (To see how Jodi look before the clippers were fired up, see the first photo in my last post Friday morning).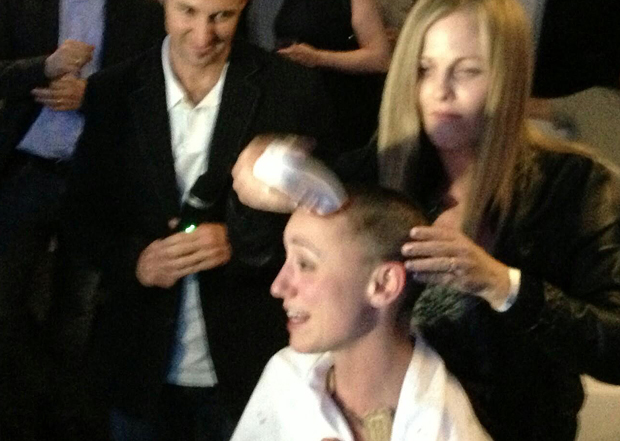 Jodi Chamberlain on the hot seat as Escrow.com's Andee Hill wields the hair clippers Friday
night in Valencia, Spain while show moderator Brian Pollock looks on approvingly.
(Photo courtesy of Duane Bailey)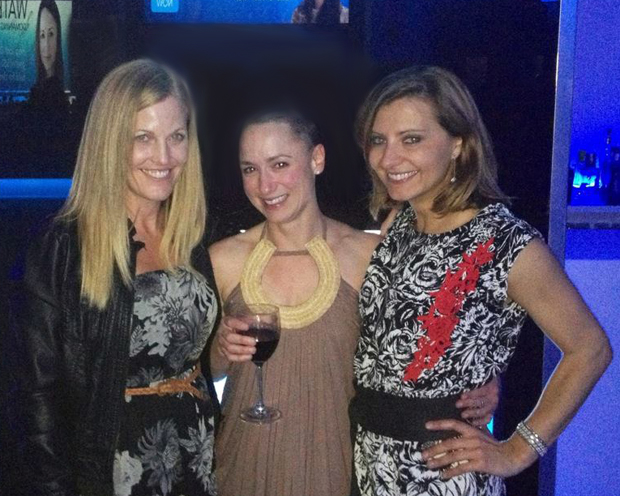 Once the deed was done Jodi celebrates her new look with Andee and Kamila Sekiewicz (right).
If I were Andee and Kamila I don't know if I would be seen standing that close to Jodi - you could be next! On the other hand - Jodi is rocking that look awfully well, so Andee and Kamila may want to try it out anyhow. (Photo courtesy of Andee Hill)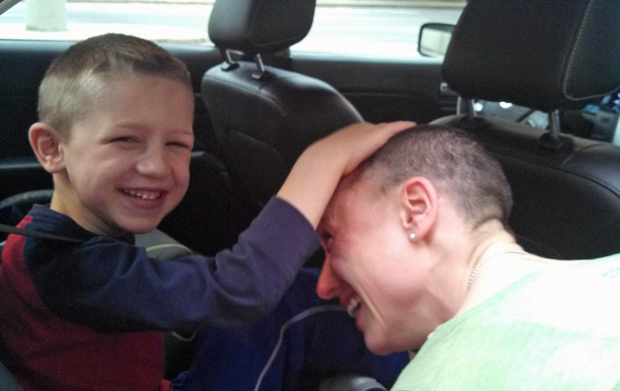 When Jodi returned to her upstate New York home from Spain Sunday her son Noah got his first look at mom's new style and didn't seem to mind that her hair is now even shorter than his!
On the same night Jodi sacrificed her locks for such a good cause, the guy who started all of this (five people have now had their heads shaved to benefit the Water School), PPX International Chairman Gregg McNair, was honored in Valencia with a much deserved Humanitarian Award.

Through this and many other efforts, McNair has had a hand in raising hundreds of thousands of dollars and saving countless lives in developing nations around the world by helping the Water School to provide inexpensive but efficient disease eradicating clean water solutions to local residents.

On Friday night Gregg was also surprised with a special video featuring clips from his many friends around the world who wanted to honor the incomparable Aussie for everything he has done for so many people in dire need of help. You can view that video here.

Gregg McNair
(Posted April 29, 2013) To refer others to the post above only you can use this URL:
http://www.dnjournal.com/archive/lowdown/2013/dailyposts/20130429.htm
More Opening Day Photos & Highlights from the Domaining Spain 2013 Conference in Valencia
The 2013 Domaining Spain conference opened yesterday (Thursday, April 25) at the Hotel Sorolla Palace in Valencia, the beautiful Mediterranean seaside city that is the 3rd largest in Spain. I had some more opening day photos come in overnight and appropriately one of them featured paella, the famous Spanish dish that actually originated in Valencia. In the photo below conference co-promoter Jodi Chamberlain prepares to dig into one of the huge pans of paella show goers were treated to at lunch.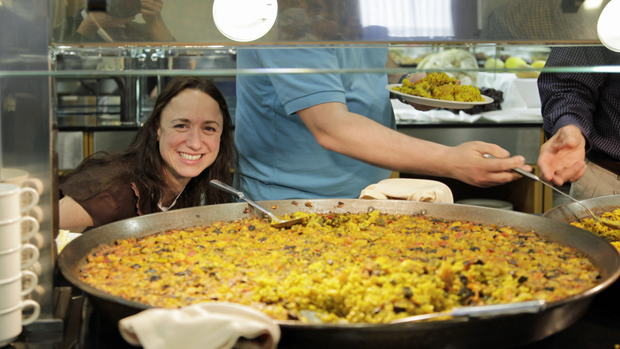 Incidentally, at tonight's dinner Jodi will have those long brown tresses shaved off in a fund raising effort for the Water School. A $3,000 donation from RookMedia yesterday pushed the pledges past the $21,000 mark and donations are still coming in!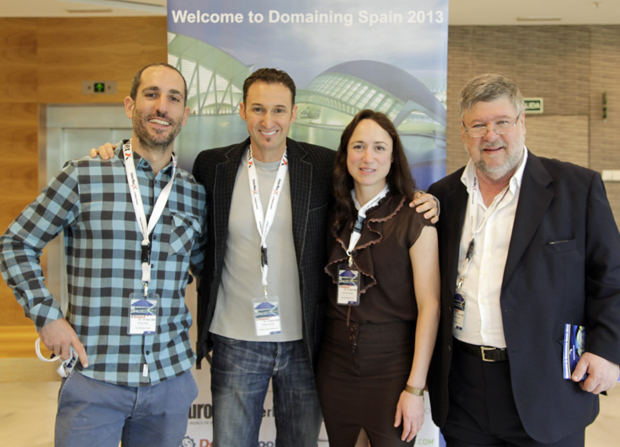 (Left to right) Simon Pupo (RookMedia), show moderator Braden Pollock
and conference co-promoters Jodi Chamberlain and Dietmar Stefitz.
A half-dozen business sessions (panel discussions, talks and presentations) were held opening day with new gTLDs being a a recurring theme.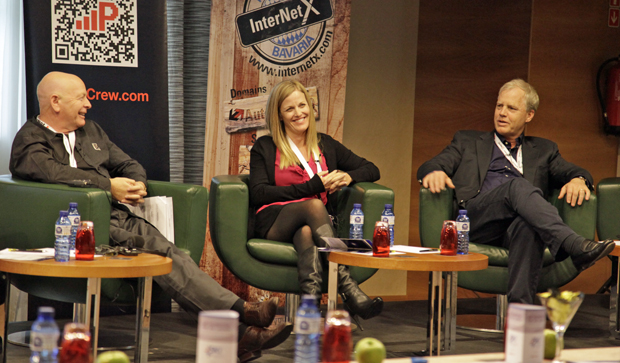 (Left to right): Gregg McNair (PPX International), Andee Hill (Escrow.com) and Paul Keating (Law.es) participating in a Thursday afternoon discussion of how the domain industry is changing.
The opening day of business closed with a panel that covered how registrars, service providers and domain brokers are preparing for the hundreds of new gTLDs that are due to begin arriving this year.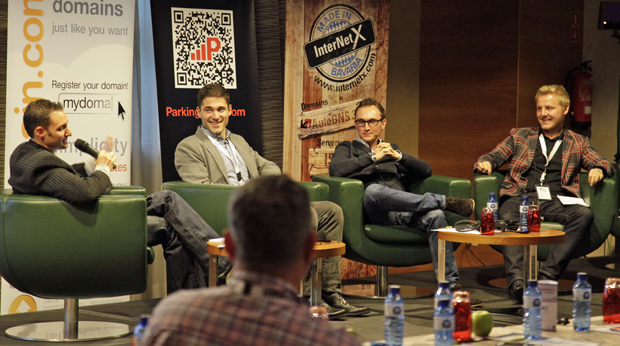 (Left to right): Moderator Braden Pollock (LegalBrandMarketing.com), James Morfopoulos (DomainTools.com), Claus Barche InterNetX) and Daniel Eisenhut (EuroDNS) answer questions in the final business session of day 1 at Domaining Spain 2013.
As I write this, day 2 at Domaining Spain 2013 is underway with a slate of seven business sessions scheduled to address some of the hottest industry topics. Just before registrants headed to the ballroom for today's opening session, many of them were rounded up and directed to the steps in front of the Hotel Sorolla Palace for the Domaining Spain 2013 "Family Photo" below.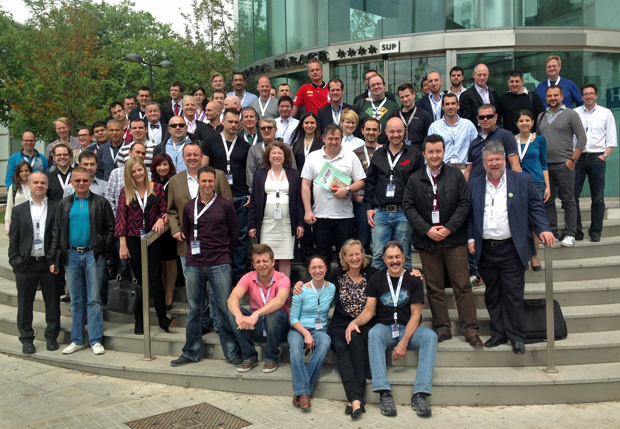 Domaining Spain 2013 Family Photo
(Photo courtesy of Daniel Dryzek)
Domaining Spain 2013 will close tomorrow (Saturday, April 27) with a social day highlighted by a visit to the Roman Theatre and Museums of Sagunt followed by paella at Puerto de Sagunto Beach. More to come in my next post.
(Posted April 26, 2013) To refer others to the post above only you can use this URL:
http://www.dnjournal.com/archive/lowdown/2013/dailyposts/20130426.htm
The Domaining Spain 2013 Conference Got Underway Today in Valencia With New gTLDs Leading the Agenda
The 2013 Domaining Spain conference got underway today with a good crowd on hand for the start of the three day event at the Hotel Sorolla Palace in Valencia.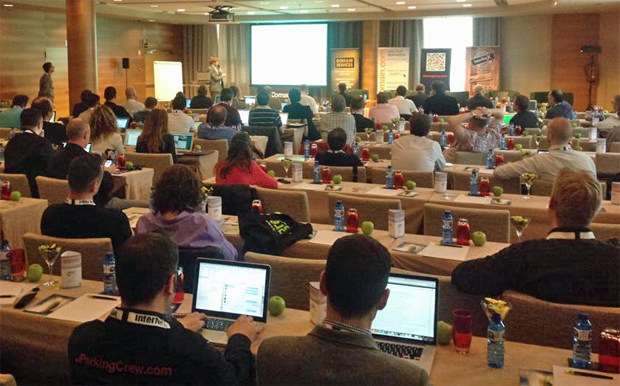 Scene from the opening day of Domaining Spain 2013 Thursday (April 25) in Valencia.
(Photo courtesy of Daniel Dryzek)
Show moderator Braden Pollock kicked things off with welcoming remarks at 12 noon, then Godefroy Jordan, the CEO and founder of Paris-based registry operator Starting Dot, delivered a keynote speech about new gTLDs titled "The New Frontier in Domain Names."
New gTLDs would remain a key theme throughout the day, figuring into almost all of the five business sessions that followed. In the photo below, you see Pollock (at far left) moderating a panel discussion that featured (left to right after Pollock) Xavier Buck (EuroDNS), Michele Neylon (Blacknight) and Tim Switzer (.Green).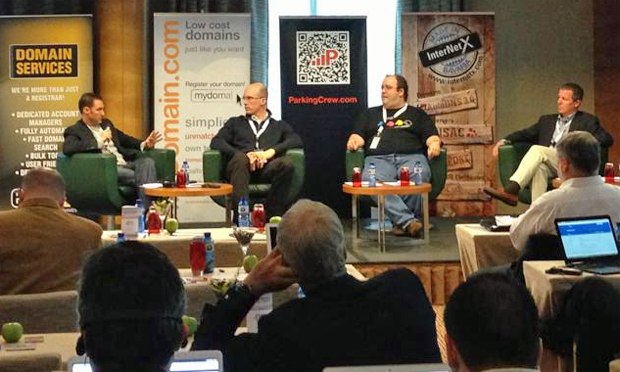 New gTLD panel discussion at Domaing Spain 2013 Thursday
(Photo courtesy of Natasa Djukanovic of the .ME Registry)
Another full day of business is on tap tomorrow when Mr. Buck will kick things off with a 10am talk on recent changes in the industry. The Friday agenda also includes a half dozen more sessions covering a variety of hot industry topics. Tomorrow night's gala dinner will also be of special interest. That is when Jodi Chamberlain, who is producing the conference with Dietmar Stefitz, will have her long brown hair shaved off in exchange for donations to the Water School. Over $21,000 has already been raised and it's not too late to make a donation!
(Posted April 25, 2013) To refer others to the post above only you can use this URL:
http://www.dnjournal.com/archive/lowdown/2013/dailyposts/20130425.htm
Early .PW Registrations Exceeding Expectations - Visa Gives .ME High Visibility - NAF Reports Drop in UDRP Cases

When the .PW Registry began taking orders for .PW registrations from the general public March 25, 2013, CEO Bhavin Turakhia was hoping the re-launched TLD could reach 100,000 registrations within a year. Looks like they will hit that mark well ahead of schedule. The .PW Registry reported today that 50,000 .PW domains have been registered in the three weeks since it became open to all.

Officially, .PW is the country code for Palau

but, under a new marketing agreement with Directi's .PW Registry, it is now being offered globally and positioned to mean the "Professional Web"

Turakhia, who is also CEO of Radix Registry, a company that has applied to operate a number of new gTLDs, said, "Considering that no competing extension had come anywhere close to achieving 100,000 names in the first year, it was a goal that most considered ambitious. The feeling of achieving 50% of the goal within the first three weeks is surreal. The team put together and executed a brilliant marketing plan. We are eagerly looking forward to leveraging this experience for our new gTLDs"

Last November, credit card giant Visa announced a service designed to compete with PayPal that, in a boon to the .ME registry, was set up at V.me where Visa touts the service, saying, "Whether you're using a computer, tablet, or mobile phone, V.me by Visa makes online payment as easy as online shopping."

Of course, for V.me to take off, merchants have to accept it. I do a lot of shopping online but had never run across anyone accepting V.me until today when I received a daily deals email I get from Buy.com.

At the top of the email was an option to "Sign up and use V.me at checkout to receive a great discount on these select items." The items, already on sale before the additional discount, ranged from cameras and watches to boomboxes and juicers. Though there was nothing I needed in this particular mailing it was a good promotional idea and if V.me continues to gain "shelf space" as a payment option at major retailers it will give the .ME TLD a tremendous boost in name recognition. There aren't many more powerful players than Visa to have in your corner.

One other note today, the National Arbitration Forum (NAF), one of the two services (Along with WIPO) that hear UDRP cases, reported that the number of cases they handled in 2012 dropped slightly from the previous year, falling from 2,082 to 2,060.

While that appears to be a miniscule decline, it is more significant when you consider that over the same 12-month time frame, the number of registered domains jumped by well over 10%, without a corresponding increase in the number of UDRP filings at NAF. I would like to think that some high profile Reverse Domain Hijacking decisions was making people think twice before filing a UDRP without good cause, but there is no way to know for sure why filings have been treading water in recent months.

(Posted April 23, 2013) To refer others to the post above only you can use this URL:
http://www.dnjournal.com/archive/lowdown/2013/dailyposts/20130423.htm
T.R.A.F.F.I.C. Announces Show Plans Through 2015 - Florida Conference Will Move to New Venue Next Year + Domaining Spain Opens Thursday!
Just five weeks from now I'll be getting on a plane to Las Vegas for the first show T.R.A.F.F.I.C. Co-Founders Rick Schwartz and Howard Neu are running there since 2008 (Rick Latona staged a Las Vegas show under the T.R.A.F.F.I.C. banner in 2010 as part of a
licensing agreement). In addition to the upcoming event May 29-June 1 at the Bellagio Hotel, Schwartz and Neu have laid out plans for the pioneering conference for the next two years.

The biggest news in a letter that Schwartz sent out to those on the T.R.A.F.F.I.C. mailing list this morning was that the Florida edition of the show will be re-locating to an undisclosed new venue starting in 2014. This year's show will run in October when it makes its third and final appearance at the Ritz

Carlton on Fort Lauderdale Beach. Schwartz said contracts have now been signed for 2014 and 2015 shows at a new Florida venue that will be publicly announced at a later date. He added that contracts for a second year in Las Vegas at the Bellagio in 2014 have also been signed.
In today's letter Schwartz also extended a special offer for next month's show in Las Vegas. If you register for the conference by Friday (April 26) and book your room at the Bellagio, T.R.A.F.F.I.C. will give you a free voucher that will cover the cost of your first night at the spectacular hotel on the Las Vegas Strip. You can check out the preliminary show agenda here.
On the other side of the pond, Dietmar Stefitz and Jodi Chamberlain are making final preparations for this week's 2013 Domaining Spain conference. The big event will return to the Hotel Sorolla Palace in Valencia Thursday through Saturday (April 25-27). I was at last year's show at the same location and the hotel and city could not have provided a more beautiful setting for a highly productive conference.

There is still time to register for the event and at just €600 it is one of the world's best domain conference bargains. The rates at the Sorolla Palace, starting at €70 a night, are also astonishing for such a top notch European hotel.

A good place to spend some of the money you save on the hotel and

registration would be to make a donation to WaterShave 2013. Show co-producer Jodi Chamberlain has agreed to have her head shaved completely bald in return for donations to The Water School! It's a brave and beautiful thing for Jodi to do as well as a great cause that has saved many lives.
(Posted April 22, 2013) To refer others to the post above only you can use this URL:
http://www.dnjournal.com/archive/lowdown/2013/dailyposts/20130422.htm
People & Companies in the News: Chicago.com, Oversee.net, Bill Sweetman and Chad Folkening's New VentureCamp

Last year I told you about Chicago.com owner Josh Metnick finding a rich new domain monetization vein by selling Chicago.com email addresses and sub-domains (sold in teh same form as his own identity.chicago.com). Today Metnick announced another major step forward - the signing of a marketing partnership agreement with the Chicago Tribune Media Group.

The multi-year deal will bring hundreds of thousands of dotChicago domain names and @Chicago email identities to market in three auction phases. Registration for initial bidding closes on June 25, 2013.

Metnick said, "Chicagoans can now upgrade their Yahoo!, Gmail, Hotmail and AOL email address to get an exciting new Chicago.com email address, without needing to change their existing email provider. Additionally, we are proud to donate a portion of the proceeds from the domain name auctions to benefit A Better Chicago" (a non-profit organization that helps many worthy Chicago causes.)

Bill Adee, Vice President of Digital Development and Operations at Chicago Tribune Media Group, added, "We see tremendous opportunity in offering Chicago.com's innovative products to our loyal readers and users. Now, everyone can

Josh Metnick, Chicago.com
Co-Founder, @Identity LLC

own a small, digital piece of the greatest city in the world, while benefiting from a simple, memorable email address or website URL."

Elsewhere, domain industry giant Oversee.net has announced major upgrades to one of their signature developed properties - AirportParking.com. The site provides an easy way for web and mobile users to find and compare rates, features and consumer reviews of money-saving off-site airport parking lots and also book reservations, locking in the rate and a reserved parking spot.

AirportParking.com announced new responsive design and navigation elements that enhance the search and booking experience for smartphone users. iPhone owners can add their AirportParking.com reservations to their Apple Passbook, eliminating the need to carry a printed confirmation of the reservation.

Also today - congratulations are in order to Bill Sweetman, the Domain Portfolio General Manager at Tucows. Bill will be opening his own consultancy shop a week from today (Friday, April 26) when he closes out a five and half year run with the well-known Canadian company.

"I've never worked at any place this long, and if I could clone myself I'd stick around Tucows forever," Sweetman told me. "However, after much reflection and soul-searching, I decided to follow my dream to do consulting work full-time under my own new brand. I will be launching a boutique domain name consulting firm later this quarter, and we will offer a variety of services to startups, entrepreneurs, and marketers, as well as individual and corporate domain name owners. More details, including

Bill Sweetman

the name of my new venture, will be announced later." You can read more about Bill's decision in this post on his blog.

One other note - in case you missed it - our April newsletter went out to opt-in subscribers today. It's all about Chad Folkening's ambitious new enterprise - VentureCamp. Chad is shooting for the stars with this one - a unique business

start up incubator/web-based reality docu-series in which 3 teams of four entrepreneurs each will compete to build the best online business while living in a mansion with world class mentors! We have all of the details on the show that debuts in June in the full newsletter that can also be read here.

(Posted April 19, 2013) To refer others to the post above only you can use this URL:
http://www.dnjournal.com/archive/lowdown/2013/dailyposts/20130419.htm
Domain Broker's Family Mourns the Loss of Their 13-Year-Old Daughter - Friends Seek Help For Them in Their Time of Need

I received a heartbreaking message yesterday from veteran domain entrepreneurs Sean Stafford and Dan Kimball, two trusted friends that I have always had the utmost respect for (both of whom are also well known by many of our readers). They wrote to convey the tragic

news that Brianna Berrier, the 13-year-old daughter of domain broker Matthew Berrier, had passed away under difficult circumstances last Friday and was laid to rest yesterday afternoon in the family's hometown, Louisville, Kentucky (Before going into brokerage Matthew had worked for Sean and Dan when they owned DNS.com and he has been running his brokerage out of their current office).

Brianna, a math scholar who was still in middle school, was also a domainer. After her dad taught her the ropes she started assembling a little portfolio of her own and was running her own small business. The loss of Brianna is the kind of news that is every parent's worst nightmare and with a daughter of my own I found it especially distressing. I can't imagine how difficult it would be to deal with such a loss.

Sean said, "we know there is nothing that could ever solve or cure the wound they are enduring, but we do know the fiscal issue the family faces as a result of Brianna's untimely passing can be solved. Dan and I setup a website at BriannaBerrier.com to take donations to help brunt the blow of the cost of the service." Matthew remains the sole provider for his wife, their infant child and a 12 year old son.

If you are moved to do so, Sean said a donation of any amount would be greatly appreciated by the family (you can also donate directly to the fund's PayPal address - [email protected]). Starting with a goal of $10,000, he and Dan have been beating the bushes all week and, as of this writing, thanks largely to a great response from their friends in the domain industry, were less than $2,800 away from meeting it and taking a huge worry off of the Berrier family's backs at this already overwhelmingly difficult time.

For more information visit BrianaBerrier.com to learn more about this special young lady. Comments can be left on a blog page there and you will also see some touching photos of Brianna from the few short years she was with us. Our thoughts and prayers are with the Berrier family.

(Posted April 18, 2013) To refer others to the post above only you can use this URL:
http://www.dnjournal.com/archive/lowdown/2013/dailyposts/20130418.htm
Release Date Set for Debut CD From bree - the Rapidly Rising Rocker Discovered by Domain Hall of Famer David Castello
It has been a few months since I last updated you on how T.R.A.F.F.I.C. Domain Hall of Fame member David Castello's return to the rock music world has been going. It has been full steam ahead for the Castello Cities Internet Network co-founder and rapidly rising young Nashville based singer-guitarist-songwriter bree (David, whose company owns Nashville.com, operates his own music publishing company and independent record label there and also both manages bree and plays drums in her hard rocking trio).

In fact, the big moment they have been working toward - the release of bree's self-titled debut CD has now been set. It will happen exactly two months from tomorrow - on June 18, 2013. Since BREE won the 2012 RAW

bree photograph by Rocky Browning

Nashville Musician of the Year Award last fall, the independent music world has been buzzing about her and what the trio has been doing in the studio under the direction of world class producer/engineer Justin Cortelyou (who has worked with such superstars as Taylor Swift, KISS and Alice Cooper).
If you want to read more on what all of the fuss is about, including details on the upcoming bree album, check out this article by Jack Stovin at AltSounds.com. Stovin wrote, "With explosive power chords, unshakable hooks, and liberated lyrics, the album unleashes a refreshing turn from a young free-spirited female rocker."
If you want to hear what Stovin and others talking about, you can listen to the first of the album's 11 tracks - "All American Girl" - here. And, if you are one of those who agree that "seeing is believing", check out the trio's video for "Whisky" that has now been viewed over 400,000 times on YouTube! (the photo below is from the performance featured in the that video).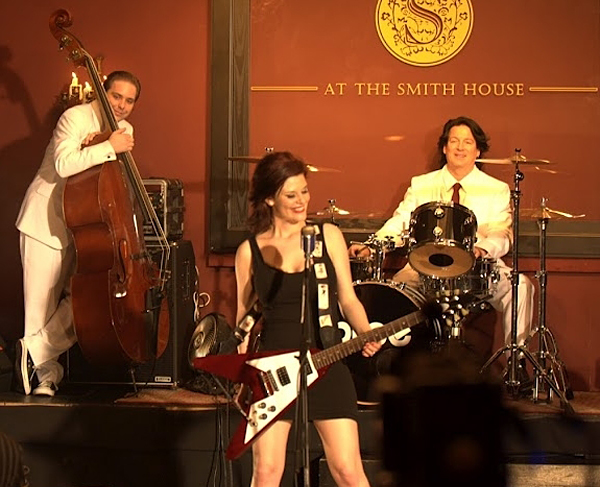 bree with Maryk McNeely (left) and David Castello (right) on the set
for their "Whisky" video filmed at The Standard in Nashville.
(Posted April 17, 2013) To refer others to the post above only you can use this URL:
http://www.dnjournal.com/archive/lowdown/2013/dailyposts/20130417.htm
Boston Marathon Bombing Brings Out Vultures Looking to Profit From Tragedy
It never fails. Whenever disaster strikes, vultures apparently missing a conscience, come out of the woodwork to register domain names related to the tragedy. As Michael Berkens detailed at TheDomains today, dozens of such domains were registered immediately after the news of a terrorist bombing at the Boston Marathon broke. Michael identified who some of those registrants are and many more names are likely to be registered in the next 24 hours and beyond (with less than a handful likely meant to be used for something other than trying to make a few bucks at someone else's expense).
If you look at the WhoIs record on these domains (assuming they were not registered under WhoIs privacy) you will see names that you most likely have never heard of before. That is because the professional domain investors known throughout this industry don't register these kinds of domains and they would take a dim view of those who would register such domains with the idea of making money from them, either through PPC or - considerably worse - by setting up a fraudulent website to collect money they say will go to victims (the latter group will hopefully wind up in jail and I would be happy to help put them there).

Image from Bigstock
Though domain professionals have nothing in common with such people, they are often tarred with the same brush these miscreants are deservedly tarred with - a situation that rightfully raised Michael's ire. As a result we need to do everything we can to combat this kind of abhorrent behavior.
Internet fraud image from Bigstock

Toward that end, I liked an idea that industry veteran Scott Ross posted on his Facebook page today (and expanded on in a private message to me). While registering these domains is offensive to many it is not illegal - however if any are used for fraudulent purposes that is a different story of course. Scott suggested volunteers from the industry, using Michael's list as a good starting point, could monitor these domains to see how they are used - and if an unauthorized fundraising site pops up the authorities could be alerted, the owner publicly outed and, with any luck, penalized to the full extent of the law.
Scott, who is also a public relations professional, also suggested formulating a public service announcement asking mainstream media outlets to advise readers and viewers to make sure any site asking for money on behalf of the Boston Marathon victims is legitimate and fully vetted by the proper authorities and agencies. You will hear about legitimate and well established fundraising sites in the days ahead and you will hear about them through respected media channels - something that will not be the case with the fly-by-nighters who are not just a stain on domain investor/developers, but a stain on humanity itself.
(Posted April 15, 2013) To refer others to the post above only you can use this URL:
http://www.dnjournal.com/archive/lowdown/2013/dailyposts/20130415.htm
Facebook Founder Mark Zuckerberg and Top Tech Leaders Launch New Political Action Site on .US Domain

Facebook Founder Mark Zuckerberg and some of the world's top tech leaders, representing companies including Google, Yahoo, LinkedIn, PayPal and Cisco and many others, has launched a new bipartisan political advocacy group called Forward U.S. that has set up shop on the domain FWD.us.

Zuckerberg wrote about the joint effort to keep the American workforce competitive in the

global marketplace in an op-ed piece he penned for the Washington Post. Zuckerberg made it clear that immigration reform and support for education would be the first issues the organization will tackle.

Zuckerberg, whose grandparents came through Ellis Island, wrote "My parents are doctors. I started a company. None of this could have happened without a welcoming immigration policy, a great education system and the world's leading scientific community that created the Internet. Today's students should have the same opportunities — but our current system blocks them. We have a strange immigration policy for a nation of immigrants. And it's a policy unfit for today's world."

Josh Constine has a very good article at TechCrunch.com today detailing who all of the players in the Forward U.S. effort are, what their goals are and how they plan to reach them. Constine noted, "Beyond immigration, FWD.us plans to campaign for policies that will produce more math, science, and technology graduates, and ensure every child gains a great education from high-quality teachers in accountable schools."

Domainers will find the choice of FWD.us as the powerful group's home base to be an interesting sidelight. While .US, as America's country code, is a perfect fit for the organization's mission, these kinds of groups typically choose .org or .com domains. Though it may not have been part of their educational plan, it's likely that many average citizens will learn about the American ccTLD for the first time by virtue of Forward U.S.'s use of the extension.

I found it interesting that the group didn't find it necessary to elaborate on its .US address - the assumption apparently being that people will recognize it as a web address and no further explanation is needed. If more Americans see it the same way, that vote of confidence will give their country's TLD a welcome boost.

Given the Zuckerberg group's name, I did wonder why they didn't go after the exact match Forward.us domain rather than an acronym (one would assume money would be no object to this group of players). However, a WhoIs search showed that Forward.us, though currently inactive, is owned by the State of Wisconsin who may have other plans for it. If they don't, it would be nice if Forward U.S. could get the name, or at least have Wisconsin re-direct it to the FWD.us site. After all, the group's efforts to create more and better American jobs could benefit Wisconsin and the rest of the country greatly, given the amazing line up of tech powerhouses supporting the initiative.

(Posted April 11, 2013) To refer others to the post above only you can use this URL:
http://www.dnjournal.com/archive/lowdown/2013/dailyposts/20130411.htm
Why Brandroot.com's Michael Rader is Banking on Brandable Domains
Generic domains tend to get most of the attention in this business. People naturally like category defining keyword domains like cars.com, insurance.com, computers.com, etc. because people searching for products or services frequently type in what they are looking for and add .com at the end. So when you base a business on a relevant generic word or term, odds are you are going to get a steady flow of traffic to your enterprise.

Even so, when you look around the web, you see a lot of the most successful sites built on brandable domains - names that may not mean anything at all - but come to be associated with whatever product or service the successful site offers.

.Com image from Bigstock

Google.com, Flickr.com, Digg.com, etc. are just a few examples of that. When companies decide to go that route they typically look for names that are short and, often from their sheer quirkiness, memorable.
Since large companies often have their own creative teams to come up with cool brandable names, it can be harder for individual entrepreneurs to come up with names that are catchy enough to attract corporate buyers. That didn't stop San Diego's Michael Rader from deciding to focus entirely on brandable domains for his new business at Brandroot.com. In taking that path Rader joined an exclusive fraternity of domain sellers with barely a handful of members (one of the best known in that field is Domaining.com owner Francois Carrillo who runs an aptly named brandable domain sales platform at Catchy.com).
Rader's slickly designed site and his toll free phone number (1-866-WE-BRAND) gives him the kind of professional look that would instill confidence in corporate buyers. He was able to build the site himself after studying design and web development in

college. During his school years Rader also became fascinated with the processes and craft involved in naming enterprises. As a result, when he started registering domains he instantly gravitated to brandable names.
Rader started offering domains on eBay and was blown away when he got $120 for a domain he registered for under $10 - however he soon learned the same lesson countless other newcomers have learned the hard way. "I was soon fully engulfed in the mania, buying up hundreds of names I wrongfully perceived as valuable," Rader recalled. "I managed to get some money back by selling a few here and there but the past few years have been a long and expensive learning process for me. Still, all of it has helped me discover my niche and hone my skills."
Michael Rader
Founder, Brandroot.com

"Being the gung-ho creative that I am, I naturally fell for brandable domains," Rader said. "Their innate values, unique qualities and substantial potential for world prestige had me reeling. I started out by listing my brandable domains in other marketplaces. I soon set out to start my own after experiencing a lot of frustrations from them. Many of these marketplaces lacked usability, had very slow response times (in terms of support and the listing, selling and transfer process) and had such strict and rigid rules that reminded me too much of an online dictatorship."

"My ideal marketplace would be simple, it would be responsive and quick, it would have options instead of directives, and it would be an open and self-governing marketplace of strictly .com brandable domain names. And that is exactly what Brandroot is and continues to grow towards," Rader noted.
While Rader initially built the platform for his own domains, he now also accepts selected listings from other owners. "To keep Brandroot's inventory fresh and valued we must review every name submitted to the site, which unfortunately results in a lot more rejected names than accepted. This includes names from my own portfolio as well," Rader said. "Only a small percentage of them make the cut for a Brandroot listing."
"Our company is very new, launching just a couple of month ago, and is being developed further every day," he added. "We ask anyone interested in submitting a name for consideration to use our contact form for now. Within a few months, domain owners will be able to open an account with Brandroot and experience a very smooth and thorough listing process. Once a domain is accepted it is Brandroot's job to describe it and get it sold."
Money from computer image from Bigstock

Rader said Brandroot offers a variety of listing options ranging in cost from free to $75. Rader, who believes an accompanying logo dramatically helps boost sales said, "If a logo designer is needed for an accepted name, sellers will have the ability to specify a logo award amount ($100-$500) that will be added to the domains listing price and released to the designer only upon the sale of the domain. Brandroot will recommend a total listing price of the domain, which will include the logo award and a 30% commission that will be released to Brandroot upon the sale of the

domain. Essentially, the domainer will have the option to pay nothing to get listed. Monies are distributed only after a successful sale."
(Posted April 9, 2013) To refer others to the post above only you can use this URL:
http://www.dnjournal.com/archive/lowdown/2013/dailyposts/20130409.htm
Number of Registered Domains Passes a Quarter of a BILLION - Plus George Kirikos Scores Big Court Win for Domain Owners

Verisign released their latest quarterly Domain Name Industry Brief (covering the 4th quarter of 2012) today. Over the course of the quarter the report revealed that the total number of domains registered across all TLDs soared well past the 250 million mark in 4Q-2012. With over 6 million new domains adds in the three-month period, 2012 ended with more that 252 million domains registered worldwide, a 2.5% rise from the previous quarter (representing an a double digit annual rate of growth). This was the 8th consecutive quarter that domain registrations went up by more than 2% from the preceding quarter.

Verisign, who administers the .com and .net TLDs, said those two extensions reached 121.1 million combined registrations in 4Q-2012, a 6.4% jump

over the same quarter the previous year. Those two popular TLDs also maintained a strong renewal rate at 72.9%.

In news from other TLDs, The Dot ML Registry, representing the African nation of Mali, has announced it will offer free registrations in Mali's country code extension - .ml. The extension will be a generic, unrestricted global TLD for individuals and businesses in and outside Mali. The free registrations will begin July 15, 2013 following a Sunrise and Landrush period designed to protect trademark holders worldwide. Renewals will also be offered at no charge.

| | |
| --- | --- |
| | Also, PIR, who runs the .ORG registry, sent out a reminder to registrars last week that the wholesale cost of .ORG domains will rise to $8.25 on July 1, 2013 (a 55 cent jump). Registrars are free to set what they charge you at any level they wish, so the rate you pay will depend on where your domains are registered and, for large portfolio owners, how much of a discount you can negotiate. |

Elsewhere, there was some good news from the legal front with industry veteran George Kirikos winning a court case he filed against an Italian cosmetics company that tried to reverse hijack his domain name - Pupa.com (Last year Michael Berkens wrote about the MICYS Company S.P.A. filing a UDRP against George's company - Leap of Faith Financial Services Inc. - in an effort to wrest the generic .com domain away from him without paying for it).

Kirikos, not one to take this kind of thing lying down, filed suit against the Italian company in Ontario, Canada (where he resides) and Madam Justice Victoria Chiappetta of the Ontario Superior Court of Justice ruled in his company's favor in a default judgment, and also ordered the defendant to pay court costs.

When lawsuits are filed UDRP cases are suspended, leaving the matter for the courts to

Cyber law image from Bigstock

decide. You can read the judgment details in two documents on the WIPO site: Court Case and Decision.

Kirikos credited attorney Zak Muscovitch for his "superlative representation in the UDRP and legal advice" and also thanked Andrew Bernstein and Sarah Whitmore of Torys LLP for "their excellent performance in the court action."

In another matter with legal overtones, you may have heard about a stir in the new gTLD community a couple of weeks ago when a question arose as to whether or not the U.S. Department of Justice might find private auctions to be an illegal way to award new gTLDs to competing applicants.

RightOfTheDot.com, a prominent firm in the new gTLD consulting arena, took an immediate interest in the issue

as it could impact their clients. They hired their own attorneys to research the matter and they concluded that such auctions would be legal. The Right of the Dot position (with detailed legal references) has been published on their blog.

(Posted April 8, 2013) To refer others to the post above only you can use this URL:
http://www.dnjournal.com/archive/lowdown/2013/dailyposts/20130408.htm
Escrow.com to Unveil New Website This Weekend - Here is a Sneak Peak
Starting tomorrow Escrow.com visitors will be greeted by a sleek new look featuring a completely revamped format and color combination. To see what is in store at the popular financial security service check out the screenshot from a sneak peak we obtained below.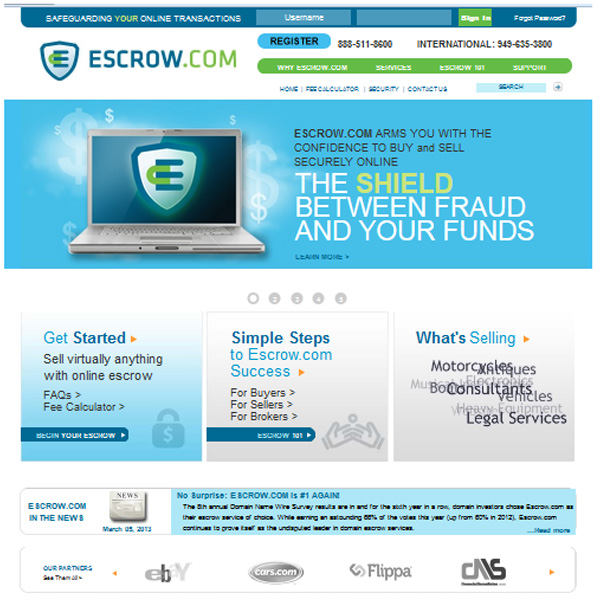 Screenshot of the top half of the new Escrow.com Home Page that will debut Saturday.
While the entire corporate site has been given an extensive makeover, current Escrow.com clients won't have to worry about feeling disoriented when they log into their accounts this weekend. When signing in users will see the clean interface they have become accustomed to

Andee Hill
Director of Business Development
Escrow.com

with only the colors on those screens changed. Escrow.com's Director of Business Development, Andee Hill, told us the company wanted to make sure they didn't overwhelm clients by disrupting the quick and efficient escrow process they already know and love.

There will be some big changes in other Escrow.com features though. Ms. Hill said, "We have completely overhauled our "Milestone Transactions" (a product that was previously called "Professional Service Transactions"). With our Milestone Transactions, users will now be able to create a much more complex transaction. We secure the entire transaction amount from the buyer and then allow multiple releases of payment to the seller. This product works great when a transactions involves multiple triggers. For instance during the sale of a business that includes a domain name, web content, trademark and 30 days of support, each of those items could transfer at a different time and this would allow Escrow.com to pay the seller after each is completed."

Ms. Hill added that Euro transactions will follow this release within a few weeks.
(Posted April 5, 2013) To refer others to the post above only you can use this URL:
http://www.dnjournal.com/archive/lowdown/2013/dailyposts/20130405.htm
Friction Over New gTLD Program May Produce Fireworks at ICANN Meeting Opening Sunday in Beijing
ICANN's new gTLD program may trigger some fireworks at the organization's 46th Public Meeting that gets underway Sunday (April 7) in Beijing, China. ICANN heads into the meeting playing defense after powerful .com and .net registry operator Verisign, financial giant PayPal and the Association of National Advertisers (ANA) all publicly blasted plans to proceed with a new gTLD program that they claim is no where near ready for prime time.
ANA predicted a "Train Wreck Ahead" if ICANN stays on its current schedule. In a story published today, ANA representative Dan Jaffe told The Register "if you add up gTLD registration fees, domain buying to protect brands, and the costs of legal action against those who try to piggy-back on them, business could face a billion-dollar bill for little or no reward."
Expect delays image from Bigstock

Despite the growing criticism ICANN is sticking to its guns with the new gTLD launch slated for later this month. However, an ICANN spokesman acknowledged the initial launch was more a public awareness exercise - not a date when the first new gTLDs will actually begin appearing. ICANN's VP of security Jeff Moss told The Register, "Timelines will be adjusted depending on when registry and clearing houses are ready. It's going to be August, I think, maybe."

In other words, after more than eight years in the works - the date when people will actually be able to register new gTLDs remains in flux. It will be interesting to see if the picture comes into better focus after the Beijing meeting plays out, or if the divisions between competing interests grow even wider and creates further delays in what has already been an extraordinarily long, drawn out process.
(Posted April 4, 2013) To refer others to the post above only you can use this URL:
http://www.dnjournal.com/archive/lowdown/2013/dailyposts/20130404.htm
eNom's Auction of 39 One and Two Character .ORG Domains Including 1.org Opens Sunday + Today is Last Day for Discounted T.R.A.F.F.I.C. Las Vegas Tickets

The Public Interest Registry's Project 94 auction of 94 previously unreleased one and two character .ORG domains continues this month with eNom's portion of the sale opening Sunday, April 7. It is scheduled to run for 12 days, concluding April 19.

PIR chose eNom and Go Daddy to handle the auctions with proceeds earmarked for "programs that empower non-commercial organizations to have an effective online presence – one that is essential to helping organizations achieve their core missions". Go Daddy was assigned 42 domains to sell in auctions that were to run March 18-28, but they decided to extend the sale with a one-week silent auction that is still underway.

eNom Executive VP Taryn Naidu

eNom has partnered with aftermarket domain name service, NameJet, to handle the sale of the 39 domains PIR assigned to them. eNom Executive Vice President Taryn Naidu noted, "The .ORG brand is one of credibility and community, and as a longtime partner of PIR, we're thrilled to offer these premium .ORG names...access to these new domains allows more organizations to elevate their brands by making themselves more visible online and credible to consumers who know they can trust the .ORG brand."

To participate in the NameJet auctions you must be validated by the registry and registered with NameJet before April 7. You can do that and learn more about the auctions and qualifications here. A complete list of the domains to be auctioned can be found here.

One other note today - now that we have hit April 1 we can start talking about T.R.A.F.F.I.C. Las Vegas being next month. Since the big event at the Bellagio Hotel doesn't begin until May 29 you still have eight weeks to make plans - but you don't have time to save $200 on your admission ticket unless you register today. The price rises from $1595 to $1795 effective tomorrow.

This will be the first Las Vegas show T.R.A.F.F.I.C. co-counders Rick Schwartz and Howard Neu have staged since 2008 (Rick Latona

staged one as a T.R.A.F.F.I.C. licensee in 2010), so there is a lot of anticipation surrounding this year's event that will run May 29 - June 1 in its first visit to he beautiful Bellagio (home of the world famous dancing fountains).

(Posted April 1, 2013) To refer others to the post above only you can use this URL:
http://www.dnjournal.com/archive/lowdown/2013/dailyposts/20130401.htm
---
If you've been out of the loop lately, catch up in the Lowdown Archive!
---
We need your help to keep giving domainers The Lowdown, so please email

[email protected]

with any interesting information you might have. If possible, include the source of your information so we can check it out (for example a URL if you read it in a forum or on a site elsewhere).
---
Home Domain Sales YTD Sales Charts Latest News The Lowdown Articles
Legal Matters Dear Domey Letters to Editor Resources Classified Ads Archive About Us